Our liver, the master metabolizer, filters the entire blood volume every three minutes. How about that? All our organs have their special role, but it's the liver that processes and neutralizes all the chemicals our body is exposed to, from our food, environment, or personal care products. In healthy diets or detox diets, when we consume appreciable quantities of vegetables and fruits, our cells receive high concentrations of potassium which flushes out excess water and toxins, creating an alkaline environment.
The toxins are then sent via the bloodstream to the liver, which neutralizes them for excretion either by the kidneys or through the colon, via the bile. During detox diets, lots of toxins are flushed out from our cells, so the liver is exposed to a greater pressure and needs to be stimulated to cope with the higher bile production. A healthy production of bile is essential for eliminating the toxins, so we should help the liver with key nutrients, such as antioxidants (for instance the detoxifying betalains in this Beet and Ginger Detox Elixir) and fiber.
Soluble Fiber Sources: oatmeal, lentils, apples, oranges, pears, nuts, flaxseeds, chia seeds, beans, celery, carrots.
Insoluble Fiber Sources: seeds, nuts, brown rice, zucchini, celery, broccoli, cabbage, onions, tomatoes, carrots, cucumbers, green beans, dark leafy vegetables, raisins.
My three detox soups are not only packed with potassium for creating an alkaline environment and to help flush out the toxins from our cells, but also with fiber, soluble for stimulating the bile secretion and insoluble for promoting bowel movement and elimination of toxins. The soups come with gorgeous colors, taste delicious, and I actually added them to my comfort food recipe section because they make me feel amazing.
These soups are part of my 3-Day Detox and Restore Plan, one that you can actually keep, but you can also have one of them for dinner during my cleansing program The Simplest 1-Day Detox. Also, this Brussels Sprouts Soup or the Vegan Mushroom Soup will perfectly fit any detox diet.
UPDATE JANUARY 2018
To make any of these soups  even sexier for my body cells, I sprinkle two teaspoons of my home-made detox mix on top of the bowl to boost their flavor and trigger the natural detoxification process with healing spices.
You'll find the details, recipe and photo at the end of this post, after the soup recipes.
Broccoli Detox Soup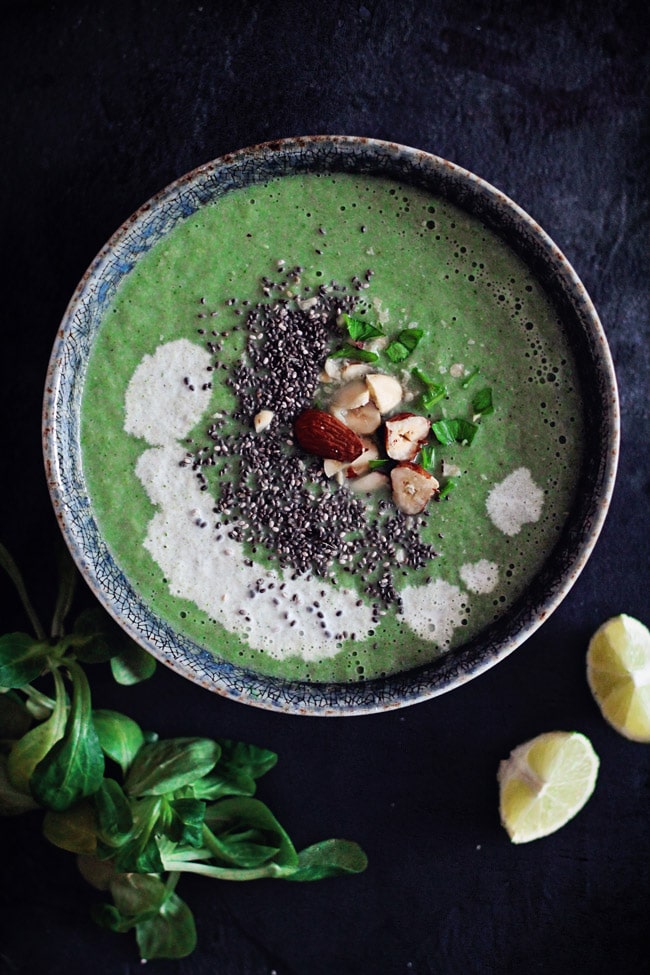 Pin
Beet Detox Soup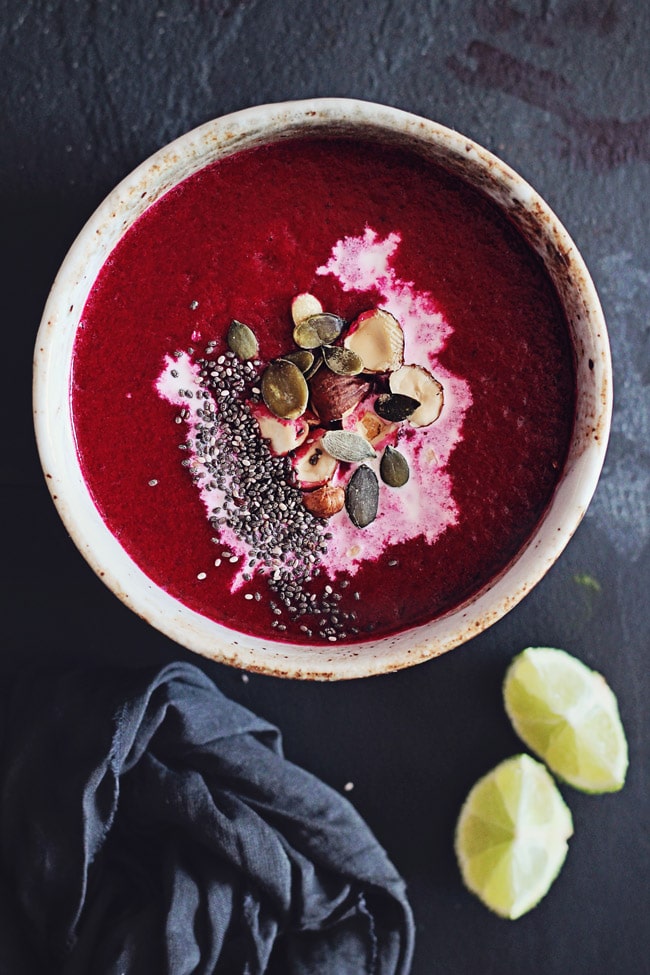 Pin
 Sweet Potato Detox Soup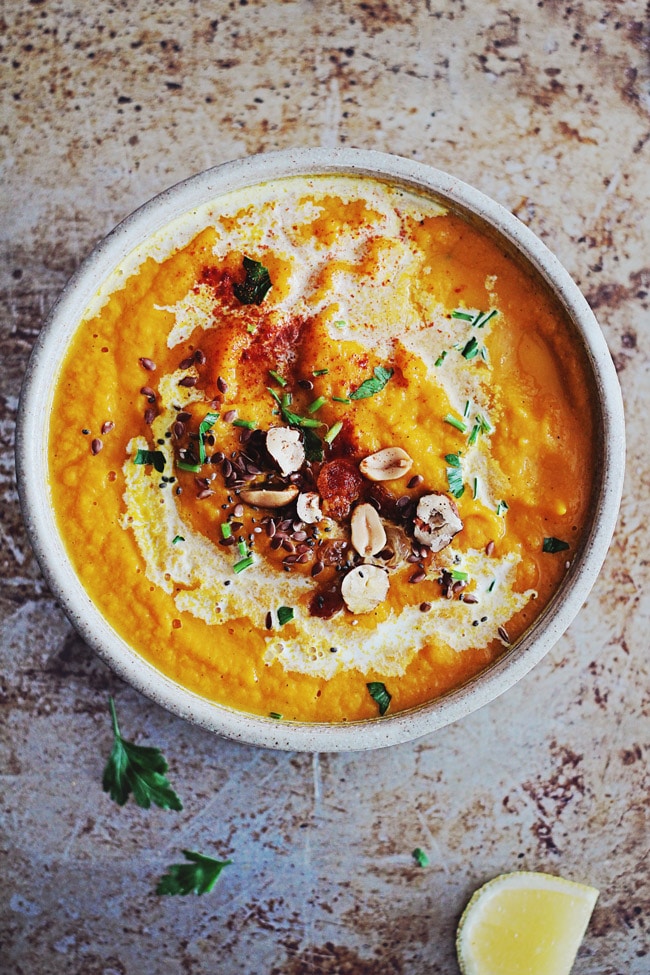 Pin

Spice and Seed Mix for Detox Soups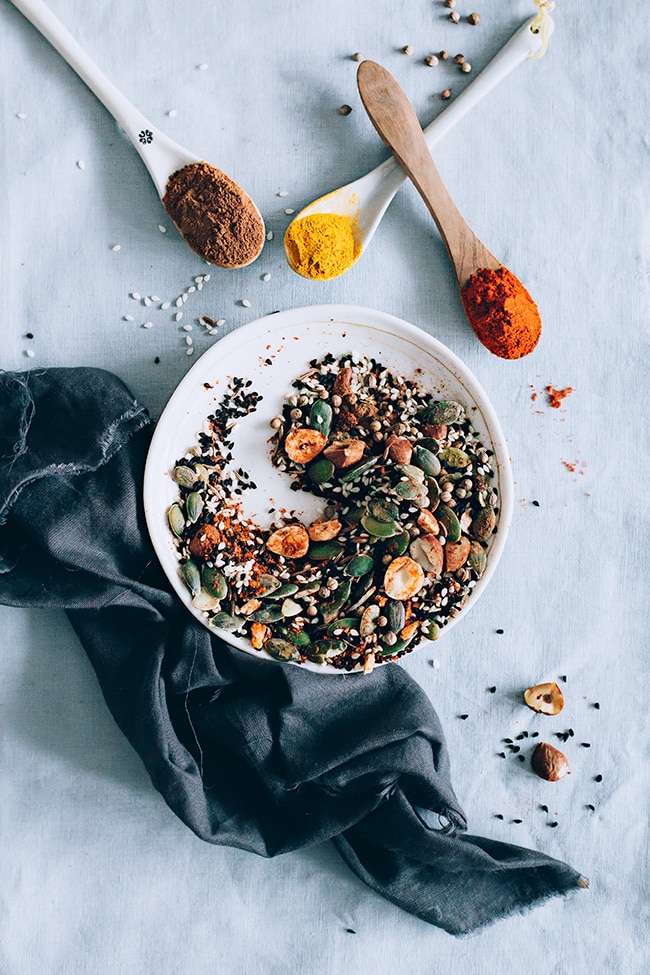 Pin
This mix matches any soup taste, because the flavor isn't too strong, but actually balanced. I use my favorite spices:
Turmeric – for it's warm, peppery taste and exceptional anti-inflammatory effects (it works magic on digestion).
Cinnamon – because it stimulates the natural detoxification and enhance vegetable flavors when used in small, discrete doses.
Cayenne – because a girl likes things really spicy, and cayenne comes with health benefits too, stimulating circulation and neutralizing the acidity.
I also add a few crushed coriander seeds, a little ground cumin, then mix them all with a mix of lightly toasted seeds – crushed hazelnuts, nigella, sesame, and pumpkin seeds. The result is a gorgeous flavored spice and seeds mix that you can you for soups, stews and salad, whenever you need a little twist with healthy effects. Here are the detailed quantities:
Save
Save
Save
Save
Save
Save
Save
Save