Did you know that your liver is your busiest organ? It's true! An adult's liver weighs around 3.3 lb and performs a few hundred important biological functions (over 500!). Just to name a few key functions: macronutrient metabolism, toxin removal, and the production of bile.
Having such a central role in your body, keeping your liver healthy means working for your overall health. Not overburdening it with unhealthy habits, alcohol, and other toxins is one way to do so. Another way is to make this absolute best liver detox juice.
Beetroot is the central ingredient in this easy liver detox juice made with only 7 ingredients and in 5 minutes or less. Beets are considered a traditional remedy for liver problems. They're rich in powerful antioxidants that were found to protect the liver from oxidative stress and inflammation.
The other ingredients in this juice have similar effects and enhance the detoxifying action you get by adding this healthful drink to your daily routine.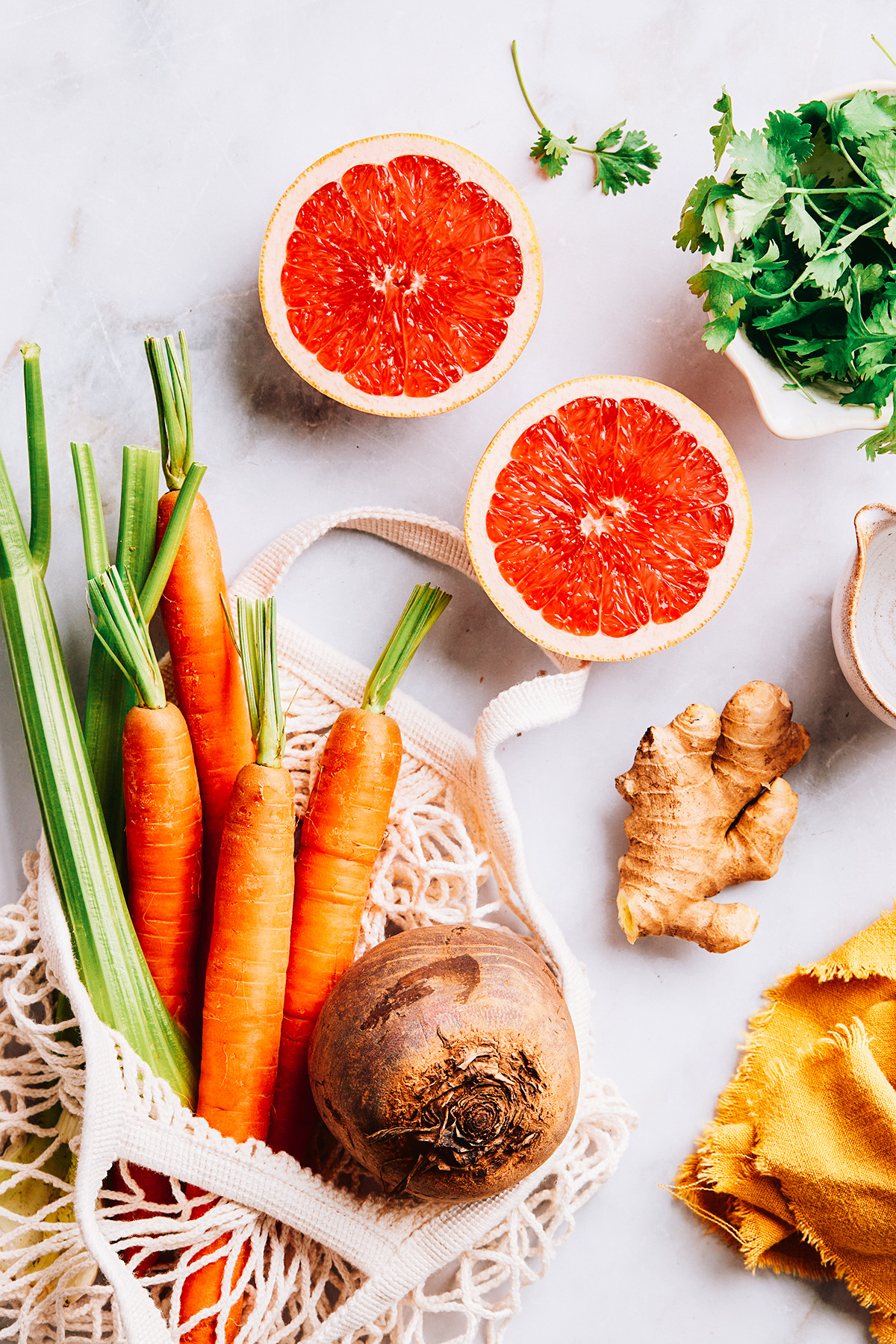 Pin
Does Juicing Help Cleanse the Liver?
Juicing may help cleanse the liver, at least that's what some preliminary studies found. These studies, which are usually done in mice, show that the antioxidants and vitamins in fruit and vegetable juice protect liver cells from oxidative stress.
Your liver is busy metabolizing nutrients and toxins 24/7. This process often leads to the formation of free radicals, unstable molecules that cause oxidative damage if left unchecked.
Luckily, your liver is able to remove most of these harmful compounds by itself with the help of antioxidant enzymes; however, getting an antioxidant boost from foods can help it recover when it's overloaded with free radicals. And one way this is done is with juicing.
But what exactly is juicing?
Juicing is simply the practice of extracting juice from fruits, veggies, and some herbs. This process leaves behind the pulp while preserving water-soluble nutrients and other compounds found in these foods.
To get the most out of juicing, however, you need to use a slow juicer because this one uses mechanical force instead of heat to extract these nutrients. Many vitamins and antioxidants degrade when exposed to light and heat, so how you juice is just as important as which foods you choose.
Pin
What Is the Best Juice for Liver Cleansing?
There isn't one best juice for liver cleansing. But if you had to choose, go for a liver cleanse juice with beets.
The reason? Beetroot juice is considered a traditional remedy for liver problems and has been studied the most for this very reason.
Beetroots were found to have a range of compounds that can exert a positive impact on liver health. But a class of pigments called betalains abundantly found in beets are by far the ones most responsible for their liver-protective action. Studies found that betalains increase the expression of detoxifying/antioxidant enzymes in human liver cells.
The best liver detox beetroot juice recipe will ideally have additional ingredients with the potential to boost liver health — and this recipe definitely fits the bill.
Pin
How to Make Liver Detox Juice
Now that we know what a good liver cleansing juice is, let's move on to preparing it.
To make liver detox juice at home, all you need is a good quality slow juicer and 6 fruits and veggies, including:
Beet
Carrots
Celery stalks
Cilantro
Pink grapefruit
Ginger
I've already explained why beets are found in many liver detox juice recipes. But what about these other ingredients?
Well, they're added to improve the taste of this liver detox juice but also to boost its detoxifying action. Carrots, for example, add mild sweetness to this juice to balance out the earthy flavor of beetroot. They're also a source of beta carotene, which is the most abundant carotenoid in the liver known to scavenge free radicals.
Celery stalks add a beautiful aroma to this drink that makes it more palatable, but it's also rich in unique compounds with antioxidant action, such as p-coumaric acid, ferulic acid, tannin, and kaempferol.
Similarly, grapefruit can also help add a boost of antioxidant protection to the liver as well as a tangy/sweet flavor. However, keep in mind that pink grapefruit was found to interact with certain medications, reducing their efficiency or even increasing their presence in the bloodstream, thus putting you at risk of overdosing. Make sure to speak to your doctor if you're on any medication before adding grapefruit to your juicing routine.
And as for ginger, this powerful spice adds zing to this drink while also reducing your risk of non-alcoholic fatty liver disease (NAFLD). Ginger seems to enhance insulin sensitivity in liver cells while also reducing inflammation — two things important in the fight against this common liver problem.
Pin
If you're into detox drinks, you can also try my Liver Cleanse Smoothie, Detox Water for Weight Loss, or Liver Detox Tea recipes. Also check this colon cleanse drink.
If you make any of these detox drinks don't forget to tag me on Instagram @theawesomegreen so I can see them and share with the community!
Liver Cleanse Juice
A simple to make detox juice, loaded with nutrients and antioxidants, that helps unload the burden of your liver and maintain its health and good functioning.
Ingredients
1

medium

beet

peeled, cubed

5

medium

carrots

diced

2

celery stalks

chopped

1

cup

fresh cilantro

1

pink grapefruit

peeled, sliced

½

inch

ginger knob

peeled

⅓

cup

water
Instructions
Add the beets, carrots, and celery stalks to a slow juicer. Juice and alternate with pieces of grapefruit. Add the ginger, cilantro, and, finally, the water.

Mix well and drink in the morning on an empty stomach or between meals.

Keep in the refrigerator for up to 24 hours.
Nutrition
Serving:
200
ml
|
Calories:
119
kcal
|
Carbohydrates:
27.9
g
|
Protein:
3
g
|
Fat:
0.4
g