I'm not keen on converting classic meat dishes into meatless ones by any means, but when it comes to veggie burgers, I just can't stop exploring the combinations. It took me quite a while to hit the perfect texture, and I have to tell you – it isn't about the veggie you choose as a base, the spices you use or the grains you combine for texture.
To show you the secret to the perfect veggie burger, I would tell you one single word – roast. There is no other cooking method to better enhance the flavor and get the most out of your veggies than roasting them.
Smoky flavor, succulent and chewy texture – this is what everybody's expecting when taking a greedy bite from a veggie burger.
The main ingredients for a veggie burger are practically the same every time, but it's the cooking method that really turns things upside down. Roasting your veggies is definitely a must, and although I personally prefer baking my patties because it's the healthiest way to go, lightly frying or grilling will enhance your burger taste.
As for the ingredients, here are the basic foods to have on hand when thinking about putting together a veggie burger: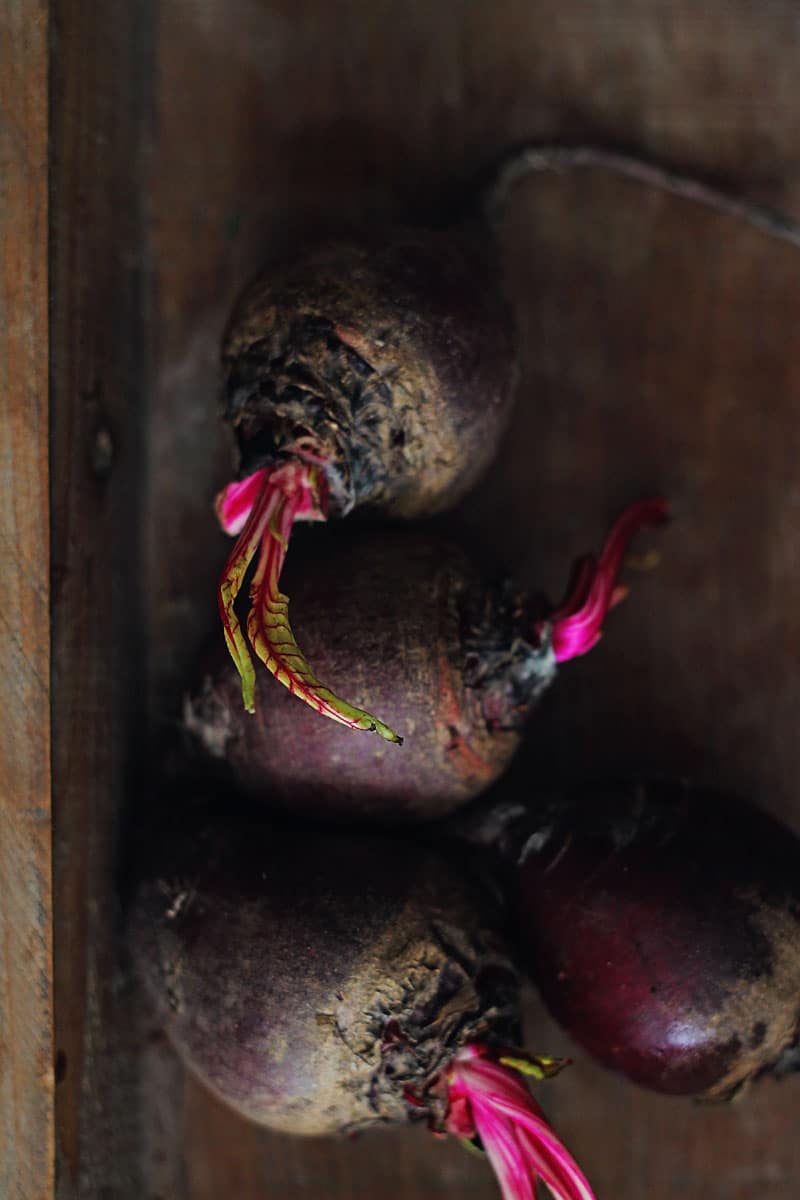 Pin
– vegetables as base – beet roots, sweet potatoes, eggplants, mushrooms, corn, carrots, cauliflower, potatoes.
– grains, legumes, or cereals to give texture – rolled oats, millet, bulgur, sprouted wheat berries, lentils, chickpea, beans, quinoa.
– seeds or nuts to add more texture and nutritive value – sunflower, pumpkin, flax or chia seeds, hemp hearts, walnuts, hazelnuts.
– garlic, onion, and different spices (cumin, turmeric, curry, aromatic herbs) for flavor.
– eggs or egg substitutes for keeping all the above together.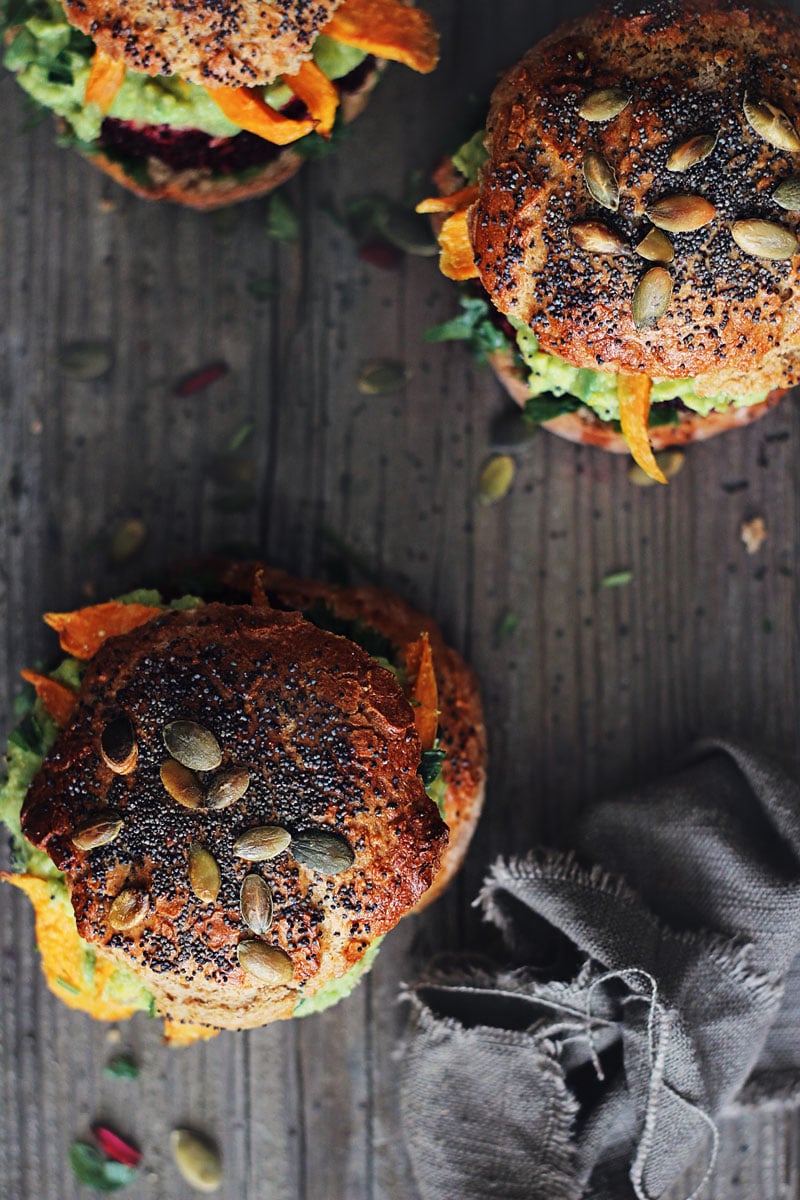 Pin
The burger I made today has it all – texture, succulence, delicious dressing, fries and tons of healthy stuff (you could tell this just by looking at its gorgeous colors). This veggie burger is made with beets and quinoa.
The dressing is a delicious and zingy combination of avocado, tahini, and lime, and it's topped with baked sweet potato fries, all packed in a puffy wholemeal and buckwheat bun.
Take a look at this nourishing yumminess:
– beets have antioxidant, anti-inflammatory, and detox properties (I add beets to my smoothies and my Ruby Detox Elixir, it's so nourishing!).
– quinoa is a great source of quality proteins, but also minerals like manganese, magnesium, and zinc.
– sweet potatoes are one of the richest foods in beta-carotene, which is turned into vitamin A by our cells.
– avocado is packed with minerals, but also healthy fats that increase the intake of the beta-carotene from sweet potatoes (by the way, you should always combine orange and purple veggies with a healthy fat – olive oil, nuts, seeds, or avocado, to facilitate better absorption of the antioxidants).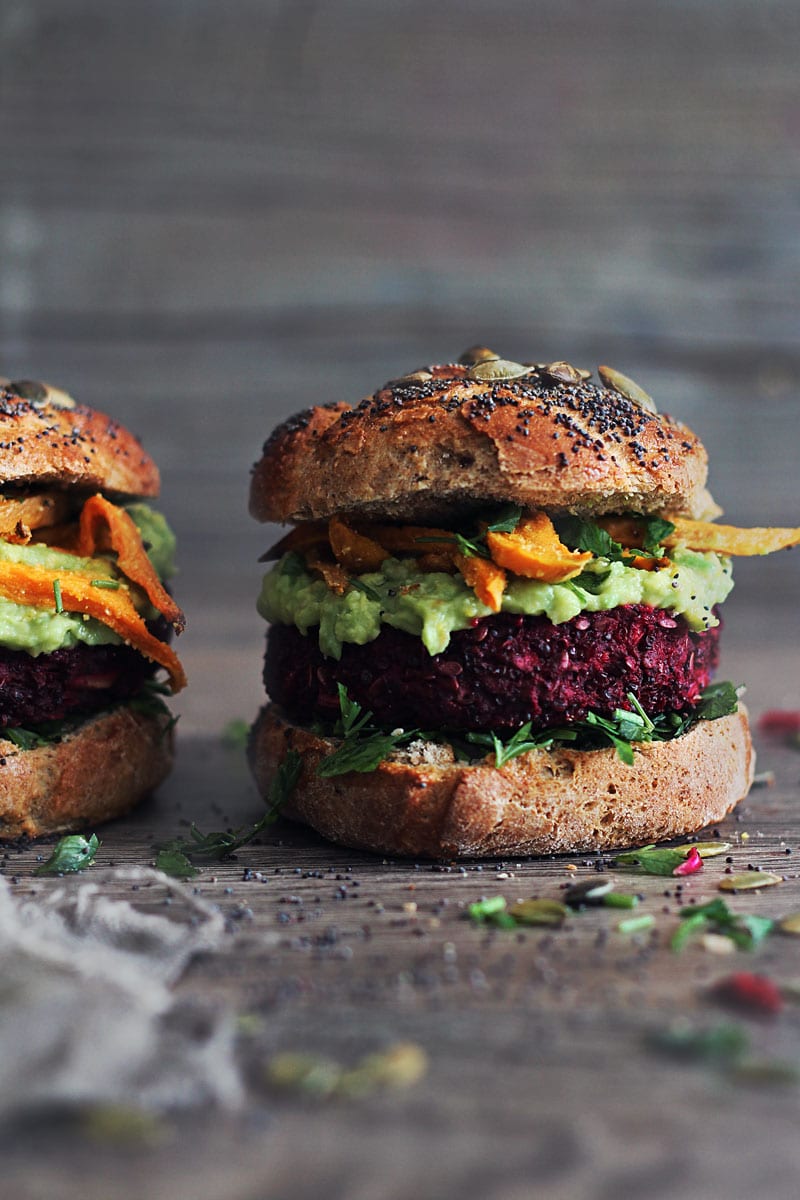 Pin
I baked the veggie patties in the oven, but you can grill or fry them in a few drops of coconut oil. The whole process might look quite complicated, but it's all about good planning of every step to have all the food ready at the same time.
They are pretty hearty, so you would be just fine with only one burger.
If you're looking for another delicious fast food recipe tuned healthy, check out my Falafel Wrap recipe.
If you make any of these recipes don't forget to tag me on Instagram @theawesomegreen so I can see and share them with the community!
The Ultimate Veggie Burger
Crispy on the outside, succulent and smoky-flavored on the inside, combined with delicious avocado-tahini sauce and baked sweet potato fries – this recipe has everything you would expect from a burger.
Ingredients
For the Burgers

2

cups

beet root

peeled and cut into cubes

1

cup

red quinoa

white is just as fine, cooked

1

tbsp

olive oil

1

egg

1

onion

finely diced

2

garlic cloves

crushed

2

tbsp

wholemeal bread crumbs

1

tbsp

flax seeds

1

tsp

coconut oil

melted

2

tsp

lemon juice

1/4

tsp

chilli flakes

1

tsp

pink Himalayan salt

For the Dressing

1

ripe avocado

2

tbsp

tahini

sesame paste

3

tbsp

lime juice

1

garlic clove

1/4

tsp

pink Himalayan salt

For the Fries

2

sweet potatoes

peeled and cut in 1/4-inch long slices, then 1/4-wide inch strips

1

tsp

olive oil

1

tbsp

cornmeal

For assembling

4

Wholemeal buns

1

bunch of parsley

finely chopped

For the buns (6-8 buns)

1

cup

whole wheat flour

1

cup

buckwheat flour

1

tsp

active dry yeast

1

tsp

unrefined sugar

1

tbsp

ground flax seeds

1

tbsp

virgin olive oil

1

tsp

sea salt

½

cup

filtered water

½

cup

warm vegan milk of choice
Instructions
Preheat the oven at 175°C/347°F.

Place the beet root cubes on a lined baking tin, rub with olive oil and roast for 30 minutes.

Remove from the oven and set aside to cool.

Place the roasted beets in a food processor and pulse two or three times - you need some texture for the burgers, so make sure you don't mash them completely.

Transfer the beets into a large bowl, add all the other ingredients and stir to combine. If the texture is too mushy add more bread crumbs until you obtain the desired consistency.

With slightly wet hands, shape the burgers and place them on a lined baking sheet.

Bake in the oven for 15 minutes on one side, then flip over and bake for 15 more minutes.

Place the sweet potato strips on a lined baking sheet, rub with olive oil, than sprinkle with cornmeal and toss to combine.

Bake for 25-30 minutes, or until golden brown. They will be ready in the same time with the burgers.

While the burgers are baking, prepare the dressing and the buns. Place all the ingredients in the food processor and process to obtain a creamy sauce.

For the buns

Mix the yeast with sugar and let dissolve in a small bowl with the filtered water for five minutes, to activate it.

In a large bowl mix the flours with salt and ground flax.

Transfer into the food processor bowl, add the olive oil, vegan milk and dry yeast mixture and process to obtain an elastic dough.

Grease the large bowl with olive oil and transfer the dough into the bowl.

Cover with a clean kitchen towel and let rise in a warm place for at least 30 minutes.

Heat the oven at 200°C/392°F.

Line a baking sheet with parchment paper. Shape the buns and line them on the sheet. Let rise for another 15 minutes.

Bake for 5 minutes, then reduce the temperature at 175°C/347°F and bake for 30 minutes.

Let cool completely before slicing.

*This is a vegan version. For the vegetarians – just replace the ground flax with one organic egg. You can use an egg white to brush the buns top and sprinkle with mixed seeds that will stick on the buns while baking.

For assembly

Assemble the burgers immediately after removing from the oven.

Cut the bun in halves, spread bun bases with dressing, add the beet burger and sweet potato fries, top generously with avocado dressing, parsley and put on the bun top.

Serve immediately.
Notes
Nutrition