This is the best liver detox smoothie, both flavor-wise and when it comes to health benefits. It is made with 9 ingredients, in 5 minutes or less, in a high-speed blender. Its ingredients include a green apple and avocado base with healthy greens to give your liver a health boost.  
A great thing about detox smoothies compared to detox juices is that they also pack a nutritional punch. This smoothie is no exception, as you'll learn in the lines below.

What Is a Liver Detox Smoothie?
A liver detox smoothie is a nutritious beverage made with ingredients known to help detoxify the liver. Examples include leafy greens, antioxidant-rich superfoods, and sources of vitamin C. 
Most recipes call for a non-dairy liquid and a fibrous fruit or veggie for easy digestion. This liver detox smoothie recipe is no different. It follows the above principles with its addition of almond milk and avocado base and kale, celery, and wheatgrass as liver-protecting superfoods. 
Using a whole avocado also makes this smoothie heartier than what you'd find with other recipes. So, feel free to enjoy this instead of your usual breakfast or as a lunchtime liquid meal.
Although a healthy liver is perfectly capable of eliminating toxins on its own, studies show that a little help in the form of detox foods improves liver functioning and increases well-being.
Ingredients
For this liver cleanse smoothie, you will need just under a dozen ingredients. Some of these are available in most supermarkets, but you'll need to look for others in health food stores.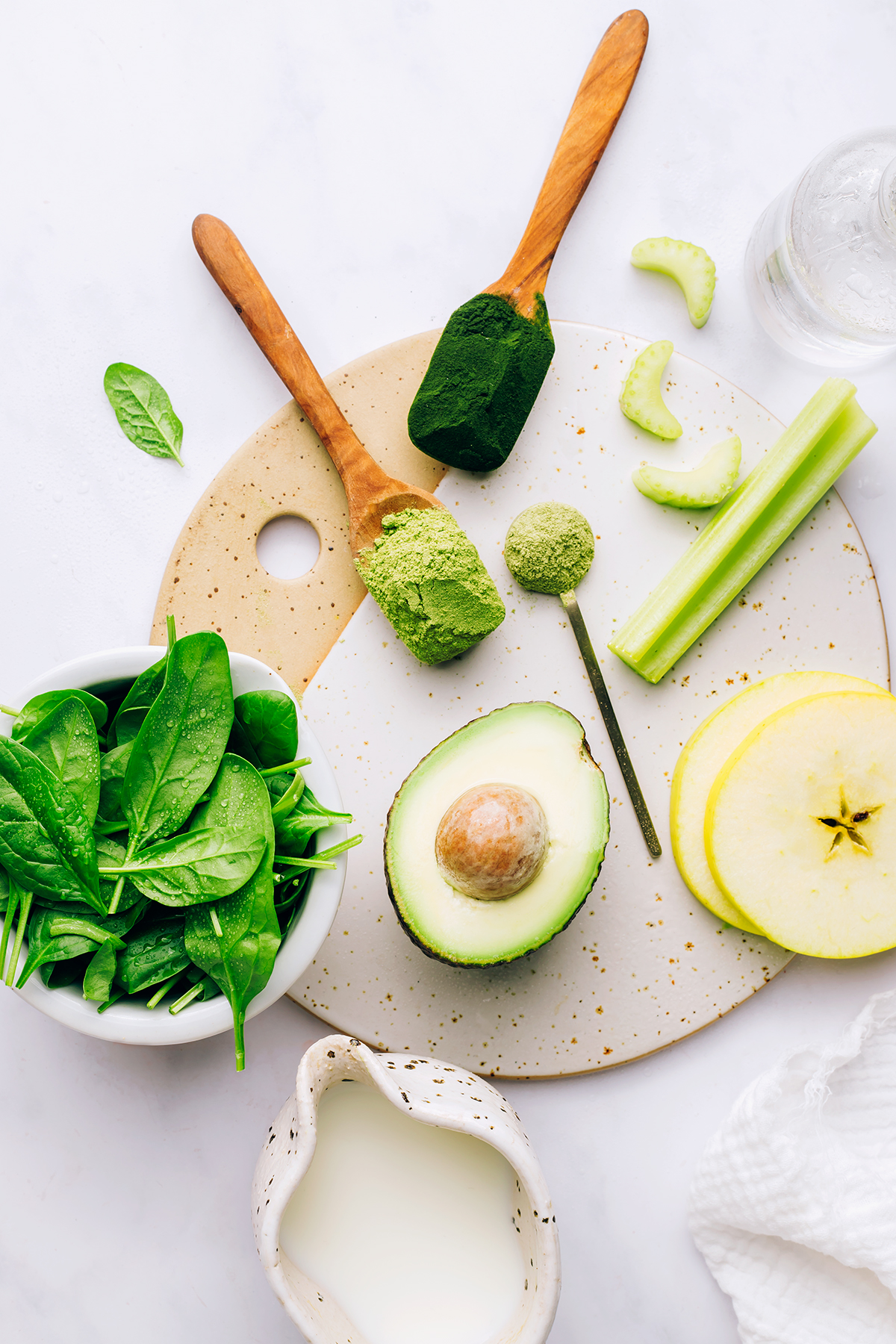 Pin
Spinach
Spinach works great a detox smoothie ingredient because it's delicious, nutritious, and due to its nutritional profile it can be considered a functional food. As far as liver health is concerned, studies suggest the antioxidants and polyphenols in spinach have a beneficial impact on fatty liver condition. 
Celery
A liver detox smoothie with celery gets a nice note of herb and peppery flavors. Besides lending a wonderful aroma, celery also helps prevent liver disease, according to some studies. It is also low in calories. 
Avocado
Avocados add much-needed body and creaminess to smoothies. Healthwise, this green fruit not only reduces cholesterol with its monounsaturated fats, but an old Japanese study found that some of its compounds protect the liver against toxin damage more than any other fruit tested.
Green apple
To balance out any earthy flavors from the added greens, one green apple, like Granny Smith or Pound Sweet, is all you need. Green apples also have less sugar and more fiber than other apples, which can help liver health. 
Wheatgrass powder
Wheatgrass juice is earthy and mildly bitter but adds a beautiful green hue to drinks. It is a popular health tonic with many health benefits, including antioxidant protection of the liver against alcohol-caused damage. Its antioxidants include glutathione, vitamin C, and vitamin E.
Spirulina powder
Another green-hued superfood, spirulina also adds earthy and seaweed-like flavor. Its antioxidant action can also help boost liver functioning, according to clinical research. Its antioxidants namely seem to significantly reduce oxidative stress in the liver.
Matcha
Vibrant-green match provides all the benefits of green tea, only more! One cup of matcha has 10 times the antioxidants of regular green tea, most notably epigallocatechin gallate (EGCG). This particular antioxidant polyphenol can reduce inflammation, protect against free radicals induced cellular damage and sustain weight loss.
Water
To improve the texture of this drink but not add any further calories, add plain water. Or, if you're serious about your health, add spring or alkaline water instead. 
Unsweetened almond milk
Almond milk is neutral-tasting and low in calories, making it the perfect vessel for the above flavors and colors. Its mild creaminess tones down some of the more earthy flavors in this drink while also improving texture.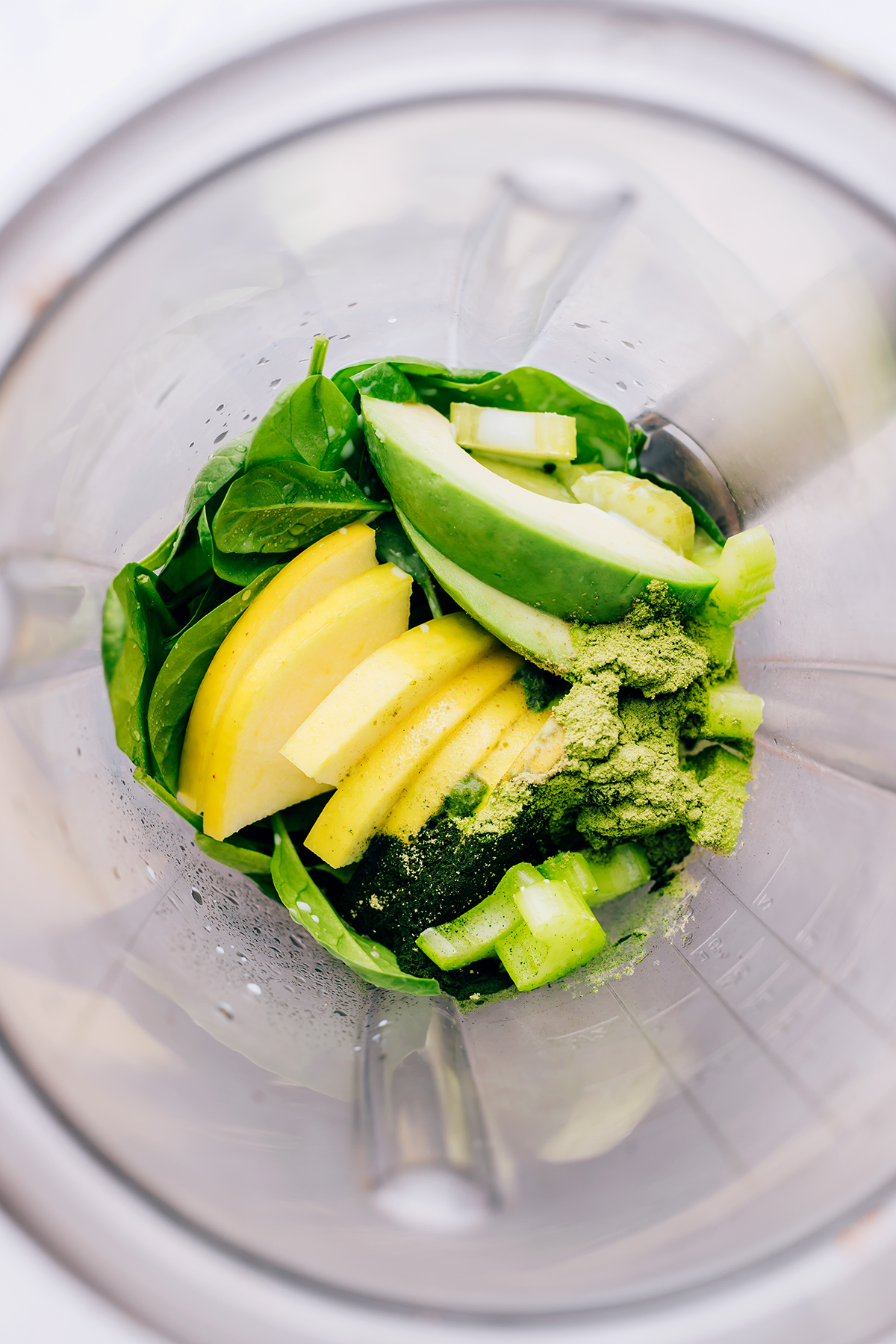 Pin
How to Make the Smoothie
Now that you've gathered your ingredients, it's time to follow these three simple steps for the best smoothie recipe for liver cleanse:
 Gather the ingredients.

 Put everything in a blender and blend on high until creamy. 

Pour into glasses and drink up. 
That's it! You will need to peel and chop the avocado and cut the apples first, but that's all the necessary preparation there is.
Making smoothies to cleanse the liver is easy, as you can see. The only downside is that you cannot make this in advance. The avocados and other greens tend to oxidize fairly quickly, which changes the flavor and reduces the health benefits of this drink.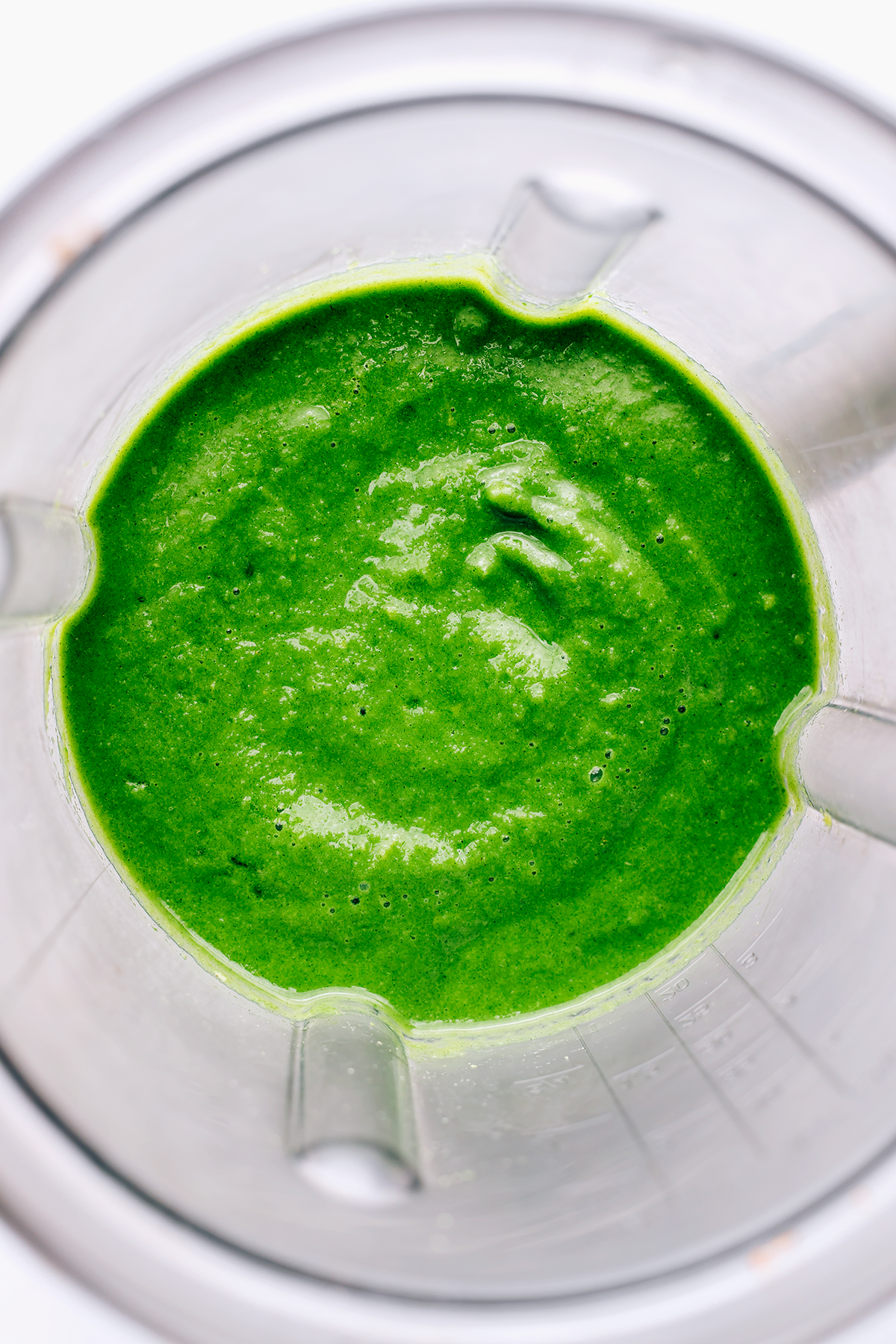 Pin
How Often Should You Drink a Liver Detox Smoothie?
Feel free to enjoy this drink two or three times a week for the best results. This smoothie for liver detox contains a blend of potent antioxidant-rich ingredients, notably spinach, matcha, wheatgrass, and spirulina.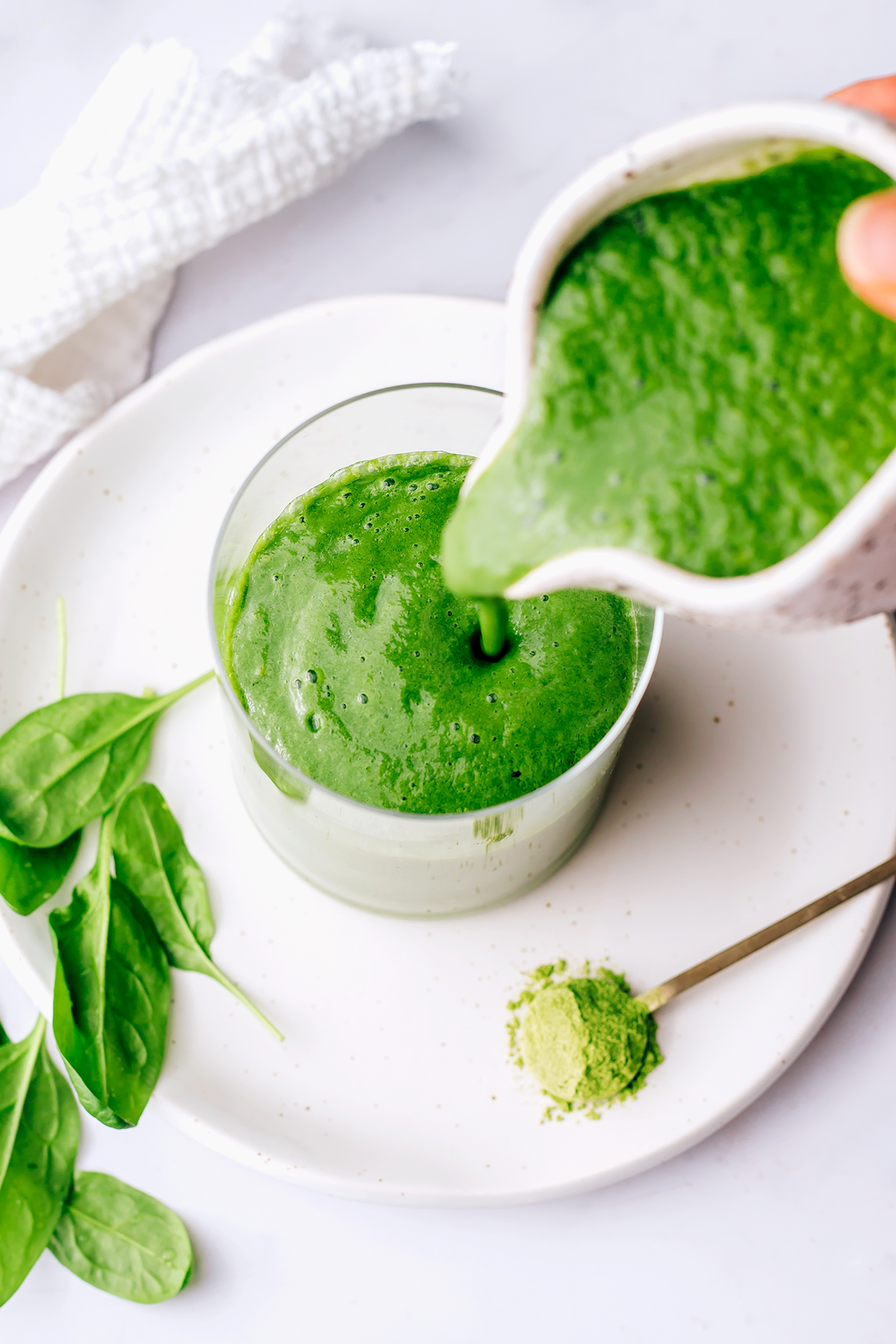 Pin

Looking for other ways to detox your liver? Check out my book: 3 Day Detox for Each Season. Or try these Soups For Liver Cleanse, this Liver Detox Juice, this Liver Detox Tea or my 3 Day Detox and restore Plan.

Make sure to check out my Oatmeal Smoothie (for weight loss)

If you make any of these recipes don't forget to tag me on Instagram @theawesomegreen so I can see them and share with the community!
Liver Detox Smoothie
Packed with chlorophyl and antioxindant-rich foods, this liver detox smoothie fuels your natural detox function.
Ingredients
1&1/2

cup

baby spinach

2

celery stalks

diced

1

avocado

peeled, pitted and chopped

1

green apple

chopped

2

tsp

spirulina

2

tsp

wheat grass powder

1

tsp

matcha

1

cup

almond milk

unsweetened

1

cup

water
Instructions
Add all the ingredients into a high speed blender and process to get a smooth, creamy liquid.

Evenly pour into serving glasses/jars and drink straight away.
Nutrition
Serving:
470
g
|
Calories:
270
kcal