I tried so many versions of "magical" detox diets and struggled a lot until I understood exactly how it works. The concept is really basic – unless you suffer from chronic illness, a detox should be actually a re-connection with the whole food, an easy to do and intuitive one, adapted to the season and to your own lifestyle. For me, it would be impossible to keep a juice-only detox during winter when my body craves warm food.
Putting lots of pressure on your body and feeling guilty about all the little things that you just can't handle will not lead you to a balanced state of body and mind. Moreover, you will feel stressed, your body will react, and your detox will have no results.
Why do you need a 3 Day Detox?
Your body neutralizes and eliminates toxins every day, so the so-called detox is happening all the time. However, sometimes we loose track and eat foods that aren't exactly good for us, we eat sugar, junk food and refined carbs, and our body has a harder time metabolizing it, nutrients are consumed in the process and the liver gets tired.
This is when you should reconsider a nutrient-dense diet, to fuel the cells with everything they need for a healthy activity.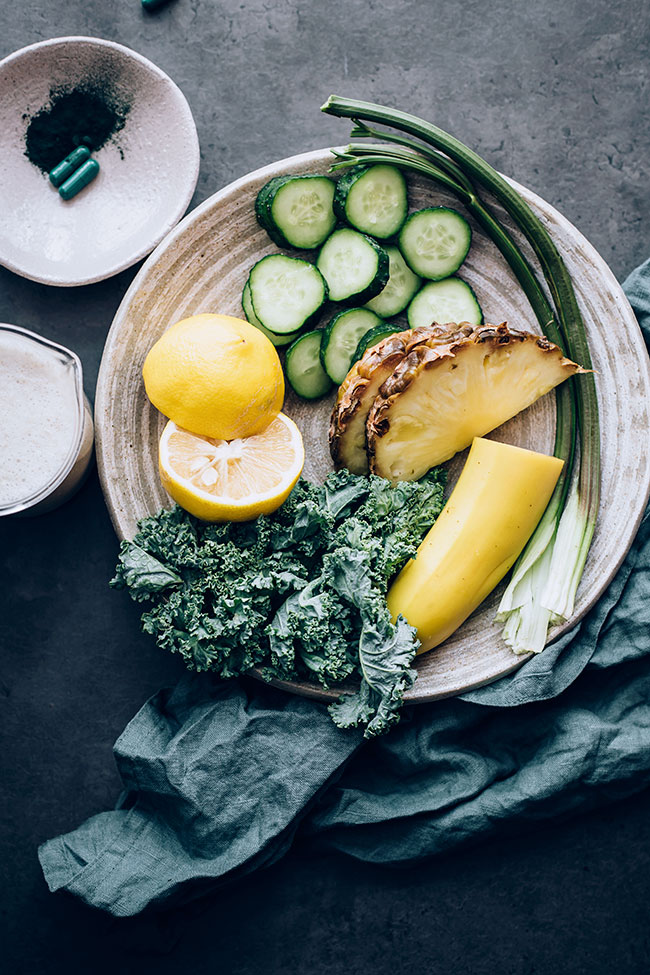 Pin
I see the nutrient-rich diet should as a lifetime objective, rather than a 1, 3 or 7 day of "detox".
Since we don't always have the time or possibility to eat healthy, getting a few days of healthy eating, or "detox", every now and then is a thing that will body will thank you for, and a new occasion to reconsider the attention and time you give to your health, and why not, to set a healthier lifestyle intention you can try stick to.
When I plan short periods of detox, I always have in mind two main objectives – nourishing my body with high quality nutrients and keeping my mind calm and focused.
It may sound overwhelming, but it's actually easy if you don't view the detox as a stressful must-do, but more as a treat, a pleasure for your mind and body, and an opportunity to reconnect with your inner self. It will need your full attention, but it's just another way to take control over your life and your state of wellness, to feel and look your best.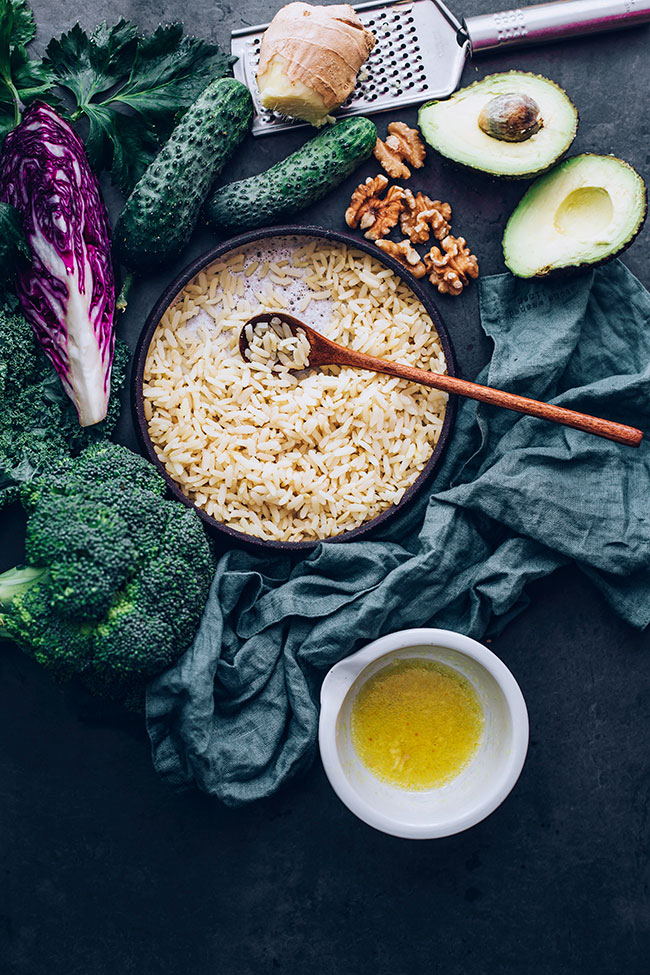 Pin
I think the best period for a short detox is during the weekend, because you have more time to focus on your needs, to mindfully prepare the food, and to pay more attention to your thoughts and emotions.
However, if you decide to handle your detox during the weekdays, starting on Monday is a great idea, as you can plan everything, shop, and cook during the weekend.
Do I lose weight during a 3 Day Detox?
Yes, you will lose weight during a 3 Day Detox.
However, I haven't designed this detox program for a quick weight loss but as a way to reconnect to your body, mind and regain inner balance.
Your body will be nurtured with fresh nutrients and since you won't be eating processed and fat foods anymore the weight loss process will naturally occur.
You will find the basics of my 3 day detox below.
How to do a complete Body Detox?
– Eat clean – eliminate meat, fish, seafood, dairy, eggs, processed food, fast food, fried food, alcohol, caffeine, sugar and gluten. If possible stay away from salt.
– Drink fresh fruit and vegetable juice twice a day for a high intake of nutrients (about 2 cups).
– Snack carefully – eat nuts and seeds soaked overnight for magnesium intake.
– Add nourishing and colorful ingredients to your diet, freshly prepared vegetables with greens, legumes or brown rice.
– Supplement with super foods for detoxing the liver – turmeric, ginger, spirulina.
– Increase fiber intake for flushing out toxins – chia, flax seed, greens, broccoli, oranges.
– Drink two liters of filtered water (with lemon, chia seeds, turmeric, ginger, or grapefruit) or herbal tea every day.
– Consume healthy fats only – cold pressed virgin olive oil, flax seed oil, coconut oil, or avocado.
– Choose organic fruits and vegetables.
– Don't skip meals.
– Make enema to flush out the accumulated toxins in the colon (this one is recommended especially if you eat meat and/or junk food daily), and/or try this homemade drink for colon cleanse.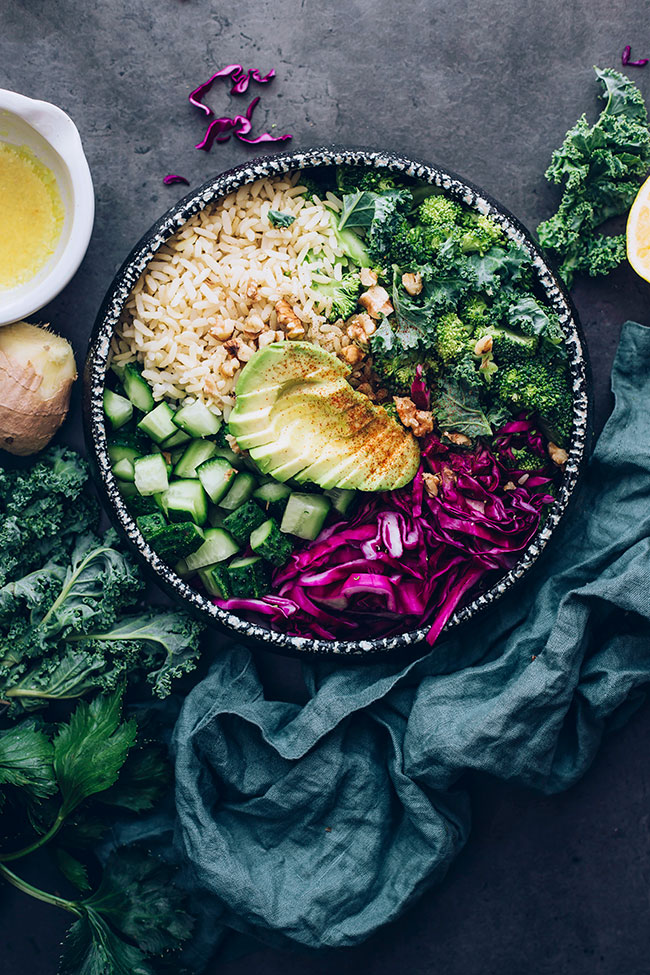 Pin
How can I do a Mind Detox?

– Start your day with 15-20 minutes of yoga practice to relieve stress and focus your mind.
– Take long walks every day (if your schedule is very busy, maybe walking to work would be an option).
– Be present and focused on your body changes and emotions during the detox.
– Stay away from negative thoughts and emotions, don't watch the news and annoying television programs.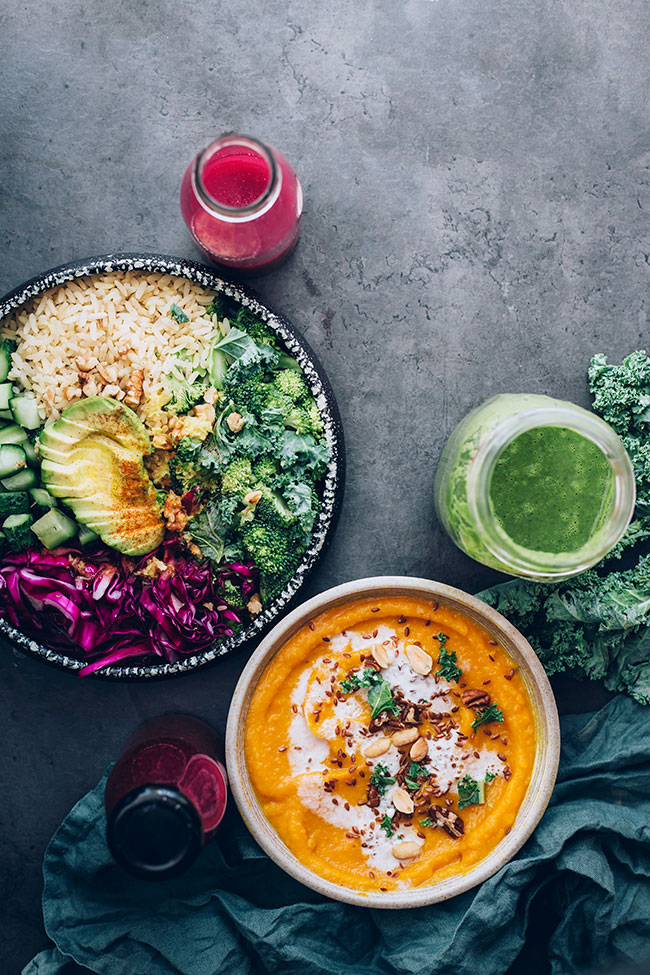 Pin
Watch the video below for a quick overview of the detox plan and get the recipes:
Although this is an easy to keep detox plan, if you find it difficult you can start with my 1 Day Detox recipe or, even simpler, you can have one of my famous Liver Cleanse Soups or the newest Red Cabbage Soup for detox . You can pair them with one of the Liver Detox Smoothie  or Liver Cleanse Juice , they're the perfect ones to start experimenting with detox. Also make sure to check out this article on how to restore gut health.
If you try any one of these don't forget to tag me on Instagram @theawesomegreen so I can see them and share with the community!
3 Day Detox and Restore Plan
An easy 3 day detox, designed to gently cleanse your body cells, boost your metabolism and balance your hormones.
Ingredients
Cleansing Juice

4

carrots

1

medium beet root

1

lemon

peeled

1

green apple

Power Detox Green Smoothie

1

celery stalk

½

cup

mixed greens

any of the following: spinach, dandelion leaves, kale, chard, watercress, beet greens

½

green apple

or ½ ripe banana

½

cup

fresh pineapple

1

tsp

spirulina

small cucumber

1

lemon

juice only

2

2 Brazil nuts

optional, for their Selenium

½

cup

almond milk

Mega Detox Salad (serves 2)

1

avocado

cut into cubes

1

cucumber

½

cup

broccoli florets

4

kale leaves

chopped

1

bunch fresh parsley

chopped

½

cup

red cabbage

thinly sliced

½

cup

cooked brown rice

¼

cup

toasted walnuts

dressing: 2 tsp extra virgin olive oil, ½ lemon – juice only, ½ inch ginger, peeled and grated, 1/2 tsp turmeric, freshly ground black pepper

Cleansing Juice

4

carrots

1

medium beet root

1

lemon

peeled

1

green apple

Snack

1

1 handful mixed nuts and seeds: almonds, walnuts, sunflower seeds, hazelnuts

soaked overnight and well drained

Dinner
Serve one of the soups from my Liver cleanse detox soups post
Instructions
DETOX PLAN FOR THREE DAYS (the same routine every day)

Start your day with 1 cup of cleansing juice. Double the portions and pack into a glass bottle for drinking over lunch

Breakfast

Power Detox Green Smoothie

Blend all ingredients until smooth and drink right away.

Lunch

Add everything into a small jar, lid it and shake well, then pour the dressing over the salad and mix to combine.

Cleansing Juice

Juice everything and drink right away.

Snack

Serve it whenever you feel hungry.

Dinner
Nutrition