Throughout the years I've learned that most often our health issues, such as brain-related, immunity, digestive and autoimmune are directly linked with gut microbiota imbalance. That's why I'm always focusing on restoring gut health naturally and preventing unfriendly bacteria proliferation, by nourishing my microbiome with the right food ingredients.
There are plenty of ways to
restore gut microbiota
and one of the easiest is the regular consumption of this golden smoothie. It that packs most of the gut-friendly ingredients I use on daily basis and helps restore gut health the natural way.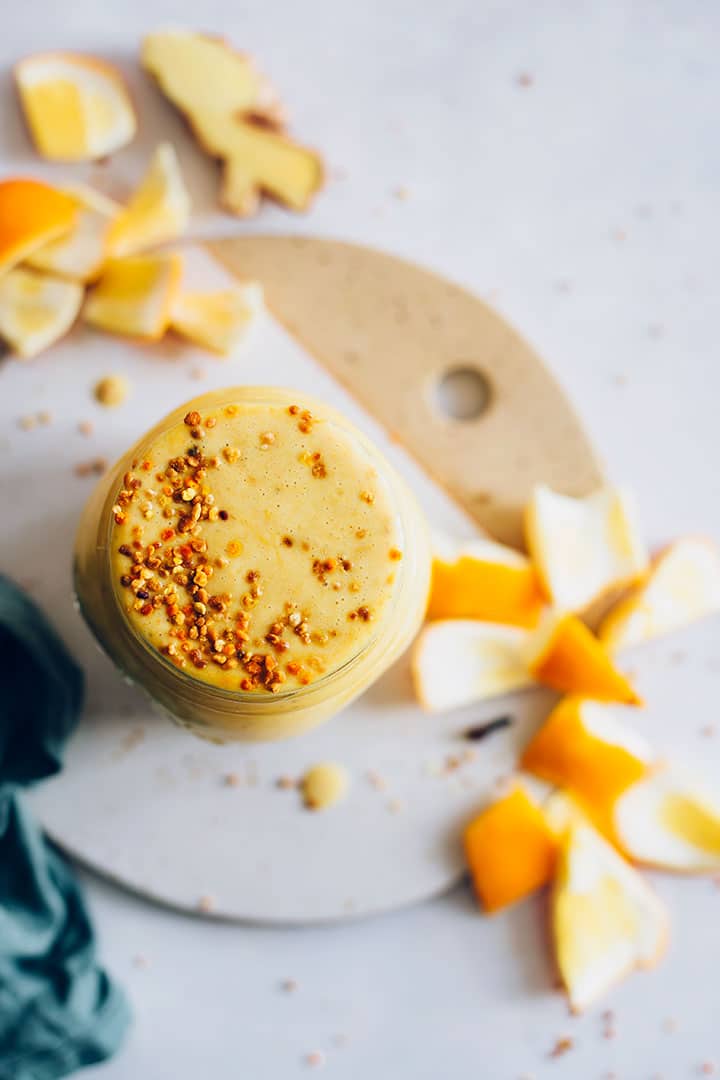 How to Restore Gut Health?
Your inner ecosystem can keep you away from diseases or can lock you forever in the trap of allopathic medicine. Taking good care of your microbiota by constantly replenishing it with friendly bacteria and avoiding foods that support the proliferation of unwanted microorganism should be a priority, just like keeping yourself hydrated. It really is that important!
All body systems are interconnected and we need to nourish them with the right foods in order to activate the proper enzymes, to produce the right hormones and replenish the micro-flora, boost the immunity and trigger the natural systemic cleanse.
Eat Fermented Foods

.
This is the easiest way to replenish your microbiome with a diverse range of friendly bacteria, and this dates way back before the supplements era. Fermented vegetables like sauerkraut, kimchi or
Kkakdugi
; miso paste, which is fermented soy; bee bread: fermented pollen; kefir: dairy or plant-based. These are some of the best and easiest to access options. Consumed on a regular basis they prevent unwanted microorganism to proliferate and to maintain a diverse microbiome population.
Eat Prebiotic Foods.
Prebiotics are the dietary fibre that nourishes the friendly bacteria in our microbiome. Consider greens, flaxseeds, oats, garlic and onion, asparagus, bananas, apples and citrus fruits, unpasteurised
apple cider vinegar
.
Diversify Your Diet.
Each food has its unique effect on your body ecosystem so aim for a diverse diet with plenty of fresh vegetables, fruits, greens and whole ingredients.
Avoid Unwanted Bug Proliferation.
Refined flour, sugar and oil, processed meat and artificial sweeteners consumed on a constant basis may lead to
inflammatory response
and proliferation of unwanted microorganisms in our ecosystem. Only use these occasionally and try to replace with healthier versions as much as you can.
Foods to Restore Gut Health
As mentioned above, fresh and fermented vegetables, whole grains and legumes, leafy greens and fresh fruits are simple but effective to restore gut health ingredients anyone can include in their diet. If you want to be more specific, and if you're rather aiming to restore than maintain, there are some gut healing foods you need to consider:
Fermented Foods.
Any of the fermented foods listed in the previous section work wonders for the overall body health. Replenishing to microbiome with friendly bacteria improves nutrient absorption, boost the immune system, curbs sugar cravings and lowers cholesterol.
Fibre
.
Both soluble and insoluble, fibre is great for the whole digestive system. It helps eliminating toxins, metabolized hormones and cholesterol and nourishes the colon wall cells and the good bacteria. Bu the way, to maintain intestinal health, you can also try my
colon cleanse drink
, which you can easily make at home.
Protein.
Ensure that your body is getting all the amino acids necessary to restore your body tissues and to activate specific enzymes and hormones. This can be done by combining different plant-based sources, by eating quinoa and hemp which are complete protein sources or free-range eggs.
Green Vegetables.
Leafy greens, especially dandelion, and broccoli contain detox boosting nutrients, alongside vitamins and minerals that support your liver activity and have cancer protective effects.
Healthy fats.
Avocado, cold pressed oils, nut butters, flaxseeds and hemp – these are all exceptional fat sources that reduce inflammation, stimulate hormone production and create the pathway to restore gut health.
Herbs and spices.
Turmeric, cinnamon, cloves, dandelion powder, rosemary, garlic – these are simple and in-hand ingredients to add to your smoothies, teas or oatmeal bowls, given their anti-inflammatory, antiviral and antimicrobial effects.
Supplements to restore gut health.
A quality probiotic supplement to support the healthy growth of micro-flora, digestive enzymes for turning your food nutrients into their digestible form and a fibre supplement is all your need to restore your gut health naturally. Any other supplement should be taken as advised by doctors but, from my own experience and clinical studies I've researched, sticking to the simple gut restoring rules and eating the right foods will make wonders. Supplements industry encourages consumerism too, so don't take too much of the things you don't really need.
Gut Health Restore Benefits
Preventing and healing the gut health imbalances is the key to maintaining a healthy body. There are so many issues and illnesses that are linked to an imbalanced microbiome, and on the other way so many benefits of nourishing it right and keeping it replenished. Some of the most important:
– Reduced anxiety and depression. The friendly bacteria actually produces neurotransmitters that regulate your mood and brain activity through the gut-brain axis.
– Reduced inflammation and food allergies
– A stronger immune system
– Balanced hormone production
The Gut Health Restoring Smoothie
Simple ingredients with huge health benefits. In just 10 minutes you can obtain a magical potion that is healthy and delicious. Just add the ingredients into the blender:
and the result will delight both your taste buds and gut microbiota. For best results consume it at least once per week. Get the recipe below.
As always, if you try any of these recipes don't forget to tag me on Instagram
@theawesomegreen
so I can see them and share with the community!
Restore Gut Health: How to, Plus a Supporting Citrus Smoothie
Creamy and cozy spiced, this citrus smoothie is a simple way to restore gut health naturally, using fresh and fermented foods and spices.
Ingredients
2

oranges

peeled, cut into slices

1

banana

peeled, chopped

2

tsp

flaxseed

1

tbsp

hemp hearts

1

tbsp

nut butter

1

cup

kefir

1/2

cup

light coconut milk

1

tsp

turmeric

1/4

tsp

clove powder

2

tsp

bee pollen

1

tsp

freshly grated ginger

1/4

tsp

freshly ground black pepper
Instructions
Add all the ingredients into a blender and process on high speed until creamy.
Notes
Nutrition