Yes, you can read everywhere that detox is overrated and your body does it naturally. Well, I have a different opinion. Our body cells definitely do their natural work of pumping out and neutralising toxins, but they definitely need consistent help.
Fibre, whole foods loaded with minerals and vitamins, fermented vegetables – they all boost the natural cleanse process. After a period of overeating and stress, I like to take maximum advantage of the soup season and give my body an awesome treat – a healthy vegetable soup recipe, loaded with nutrients and comforting in every way.
WHAT IS A VEGETABLE SOUP MADE OF?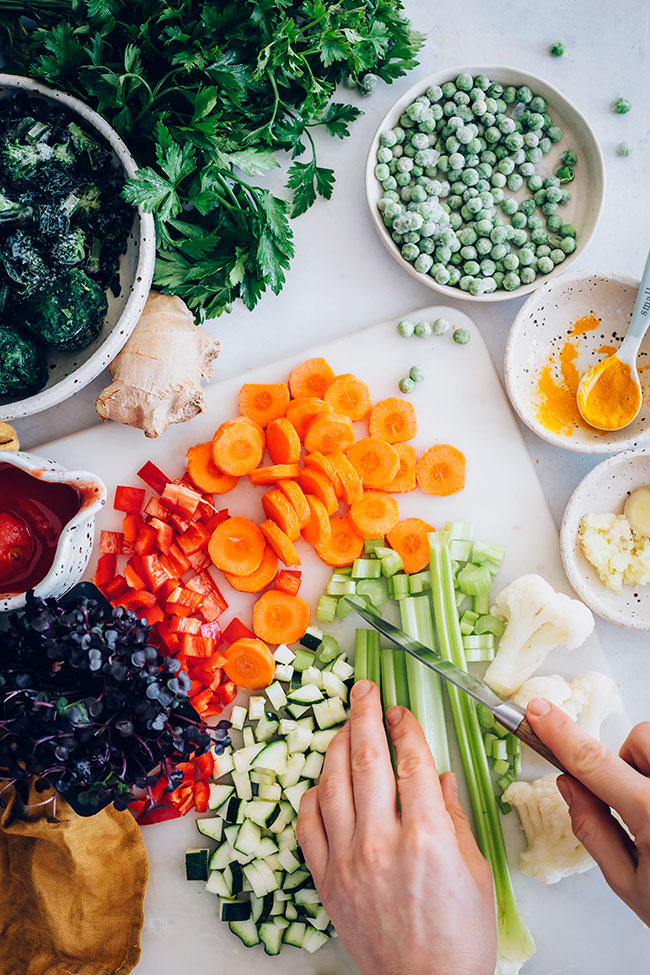 Pin
My favourite vegetable soup is always packed with vegetables from different families, but also other ingredients to boost flavour and increase the nutritional load. Here are some ingredient ideas and my little secret for getting a healthy, rich vegetable soup that will make a meal on its own:
Basic vegetables that will give the classic 'soup' taste – yellow onion, celery or celeriac, carrot, parsnip, parsley root.
Superfood vegetables and leafy greens to boost the nutritional value and add healing properties to your soup – broccoli, spinach, kale, chard.
Healing herbs for extra flavour, minerals, vitamin and colour – parsley, sage, basil, thyme or oregano.
Healing spices to stimulate digestion and help your body cleanse and restore – turmeric (anti-inflammatory), ginger (antioxidant and digestive soothing), cinnamon (antioxidant), fenugreek (stimulate the kidney activity and detox).
Diced Tomatoes to add colour and enrich the soup consistency, plus loading it with lycopene, a powerful antioxidant.
Legumes for extra fibre, protein and minerals – cooked beans of all kind, cooked lentils and chickpeas, green peas.
My little secret that will make your vegetable soup a real healing medicine is serving it with fermented veggies (sauerkraut, kimchi, daikon radish kimchi), or adding a tablespoon of their brine to the serving bowl – this will not only give a delicious taste, but also boost your immune system and help you maintain a healthy gut-brain axis communication, by replenishing the microbiome.
HOW DO YOU MAKE VEGETABLE SOUP?
Pin
There isn't too much of a science behind making a vegetable soup. You basically simmer together a variety of vegetables, spices and purified water of low sodium vegetable stock, until everything is tender and all the delicious flavours are combined.
Sounds pretty easy, but there are still some basic steps you need to stick to:
Use cold water or veggie stock for your vegetable soup. The root veggies contain starch that need to be broken down before ingesting. Starting the soup with cold water also helps the vegetable nutrients to better resist to the overcooking effects.
Don't add all the ingredients at the same time. Different veggies require different cooking times, so start with the root ones and add all the green ones and leafy veggies within five minutes before turning off the heat, to preserve their nutrients.
More is better. Adding a wider variety of vegetables from different families means getting a wider variety of nutrients, so be creative!
IS VEGETABLE SOUP HEALTHY?
While some people consider it just a liquid with overcooked vegetables floating on it, take my advice – vegetable soup is definitely a healthy recipe.
All the vegetables, greens and aromatic herbs are packed with minerals, fibre and vitamins that will leak into the cooking liquid and create a healing, restoring soup.
Adding spices with health benefits will turn your soup into a real medicine, giving it anti-inflammatory, antioxidant, digestive soothing and remineralising properties.
WHAT CAN I ADD TO MY VEGETABLE SOUP FOR FLAVOUR?
Adding a wide variety of vegetables from different families is the first step for getting a flavourful vegetable soup. Aromatic herbs improve the flavour and add a delicious taste.
I like to use parsley for cold season soups, and basil for the summery ones. Make sure you add them just before serving, to preserve their nutrients, colour and flavour.
Different spices also do magic for boosting the vegetable soup flavour (turmeric powder, ground cumin or fenugreek, freshly grated ginger).
Making the vegetable soup with stock instead of water will also increase the flavour. As I was saying above, my little secret for boosting the flavour and nutritional load is to add some fermented veggies or a bit of their brine to my serving bowl.
Ready for the soup season? Try my very popular 3 Warming Soups for Liver Cleanse and Detox, my Anti-Inflammatory Lentil Soup, my protein packed Vegan Black Bean Soup or my Detox Soup for Weight Loss.
I love seeing your take on my recipes, so if you made this soup don't forget to tag me @theawesomegreen so I can see them and share with the community!
A Vegetable Soup Recipe for a Gentle Detox
Packed with minerals, fibre and vitamins, this healthy vegetable soup is just what you need to restore and detox during winter. Loaded with vegetables from different families, healing spices and herbs, this vegetable soup is served with fermented red cabbage for its immune boosting properties and a delicious sour taste.
Ingredients
1

yellow onion

1

carrot

2

celery stalks

1/2

zucchini

1

red bell pepper

1/2

cup

green peas

frozen, defrosted

1/2

cup

chickpeas

cooked

1

cup

diced tomatoes with juice

1

tbsp

avocado oil

1

small broccoli head

2-3

cauliflower florets

1

cup

frozen spinach

defrosted

1

large bunch

fresh parsley

1/2

inch

fresh ginger piece

grated

2

tsp

turmeric powder

Freshly ground black pepper

3

cups

low sodium vegetable broth

1/2

cup

sauerkraut or kimchi

to serve

microgreens, to garnish
Instructions
Prepare the vegetables: dice the carrot, zucchini and celery stalks, finely dice the onion and red pepper, and cut the broccoli and cauliflower into very small florets.

Add the avocado oil, turmeric, ginger and all the vegetables (except spinach, broccoli and parsley) into a medium soup pot and cook over medium heat for 5 minutes, stirring frequently.

Add the vegetable broth and diced tomatoes, and bring to simmer over medium heat.

Turn the heat to low, lid the pot and simmer for 25 minutes, until all the veggies are tender.

While the soup is simmering, chop the parsley.

Add the spinach, broccoli and parsley (save some for garnishing), mix and simmer for 5 more minutes without the lid.

Season with freshly ground black pepper.

Divide into serving bowls, garnish with chopped fresh parsley and microgreens, and serve with the sauerkraut.
Notes
Nutrition