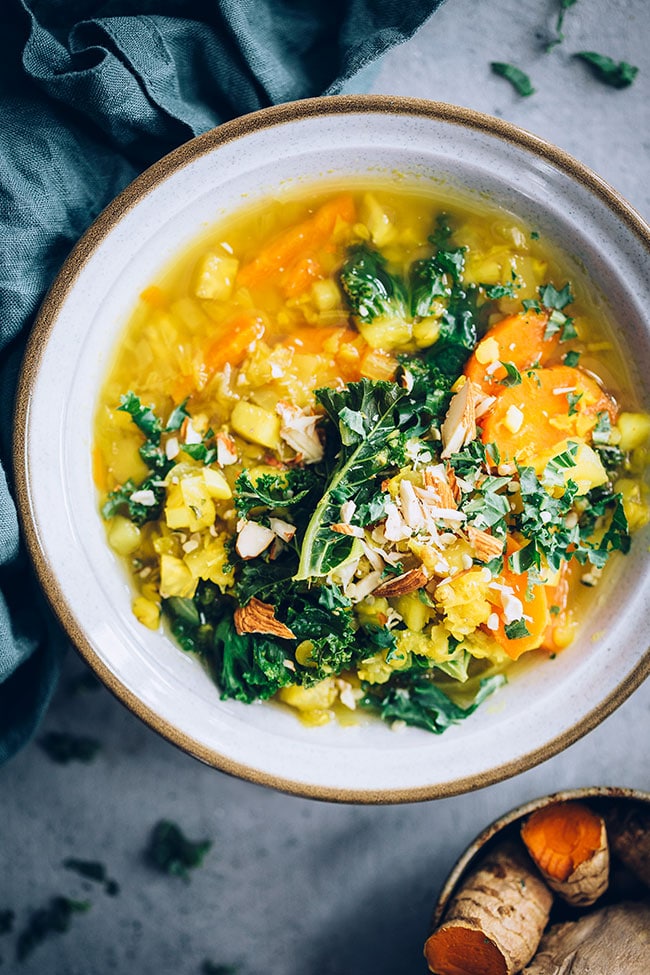 I find a lot of comfort into making soup from scratch, dicing the vegetables, watching them slowly simmering and tasting the first steamy sip. It's one of the easy ways to connect with the ingredients we choose, a way of mindfully eat our food. Warming soups packed with nutrients are my go-to winter food, and this anti-inflammatory lentil soup recipe became a favourite. Rich, traditional holiday food was a pleasure to enjoy at the family gathering, but back home I transitioned to our nutrient-rich functional food.
All those root vegetables, red lentils, greens and literally A LOT of turmeric made this cleansing soup a meal of its own, a great comfort for the digestive system, an all-alkaline treat and a little help for our cells to reducing inflammation caused by too much time spend indoors and my mom's sugary goods.
Inflammation isn't something to be scared of, as it's part of our everyday life – a natural process of concentrating immune cells into the tissues when our body deals with harmful factors – stress, refined carbs, processed foods and sugar, viruses and sedentariness. Think of inflammation as an instinctive way to preserve the health of its cells. However, when the factors aren't addressed, inflammation builds and turns into a chronic form, leading to major health issues.
You can avoid chronic inflammation by regularly exercising and by adopting a diet rich in whole ingredients. And turmeric with its magic active compound, curcumin, one of the most studied anti-inflammatory ingredient. We speak so much about turmeric and we try it sometimes in a drink or a curry, but we should really adopt turmeric as a constant staple of our cooking routine. I personally try to find more ways to eat it more often, adding it to most of my dishes, from granola to salad dressings and veggie meatballs.
This comforting lentil soup has everything you need for fighting inflammation – whole ingredients (lentils, veggies and greens) and plenty of turmeric. I love it because it's ready in 30 minutes, it's satiating because of the high amount of fibre and protein, and it doesn't require any skills or fancy ingredients.
Looking for more anti-inflammatory dishes? Here are some of my favourites: Super Easy Red Lentil Soup with Butternut Squash, Vegan Meatballs in Pumpkin Tomato Sauce, or my Healing Red Lentil Curry.