There are two main types of kimchi: one made with napa cabbage and the other with daikon radish. If you've never tried the latter, you're seriously missing out!
Daikon kimchi has something napa and other types of kimchi don't: crunchiness. Thankfully, this crunchiness remains even after a couple of days of fermentation.
Daikon kimchi is also made in almost the same way as napa kimchi and has the pungent and sour flavor we know and love in kimchi.
This vegan version of daikon kimchi is no different. It calls for around a dozen ingredients and is ready in about 4 days. It's a fantastic side dish to Korean meals and provides many health benefits. Here is more on this delicacy and how to make daikon kimchi from scratch.
Pin
What Is Daikon Kimchi?
Daikon kimchi, also known as kkakdugi, is a Korean side dish made by seasoning and fermenting cubed daikon radish.
Daikon radish is a unique type of radish native to East Asia. It's sweet, juicy, and less peppery than other radishes.
Its mild flavor and slightly sweet taste make it the perfect vessel for seasoning used to give kimchi its signature spiciness. Its sugar content also allows for easy and quick fermentation.
Recipes for daikon radish vary greatly from one region to the next, but they usually include a combination of green onion, onion, ginger, garlic, Korean chili flakes, fish sauce, and salt. You can eat it immediately, although it tastes better after a couple of days of fermentation.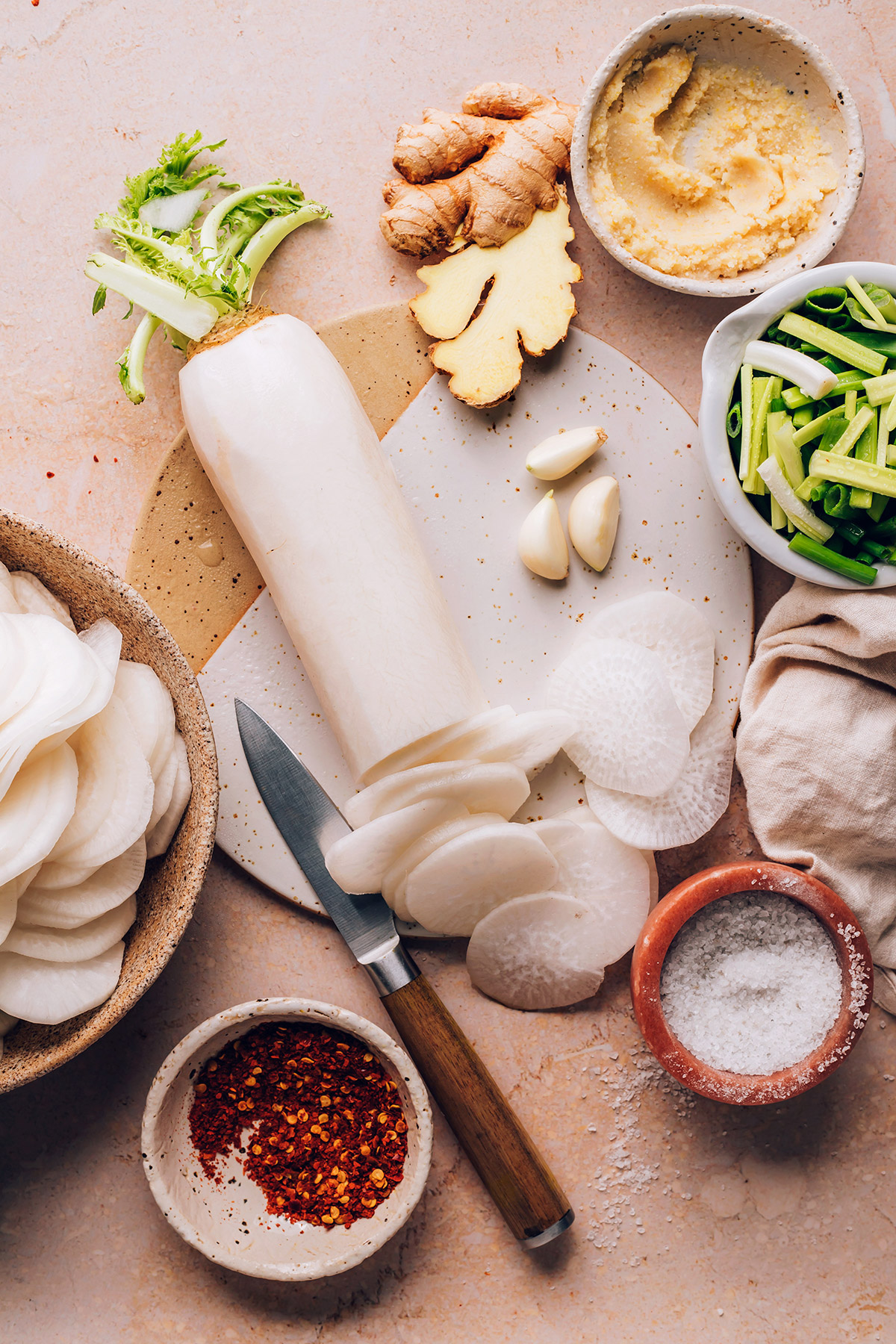 Pin
How to Make Daikon Kimchi without Fish Sauce
Fish sauce adds lots of salty, umami (savory) flavor to kimchi. But there are other, vegan-friendly ways to get the same boost of yumminess.
In this recipe, we've used white miso, also known as shiro miso. White miso also has a mild umami flavor. Its palace color will blend in easily with the colorful spices in this dish.
If you find that this veganized version of miso needs something else to replace that fish sauce flavor, you can use a bit of vegan fish sauce together with the white miso.
Vegan fish sauces usually combine ingredients like shiitake mushrooms, seaweed, and vinegar with light soy sauce to somewhat replicate the look and flavor of the original.
Pin
Choosing Daikon for Kimchi
When you go grocery shopping to make your homemade kimchi from scratch, choose the freshest, best quality daikon radish you can get your hands on. Things to look for in daikon include:
Heavy, plump, and straight
Firm and smooth skin
Feels heavy for its size
Mostly white color with a light green top
Vibrant green leaves
Pin
The fresher your daikon, the tastier your daikon kimchi will be. Daikon radish tends to become rubbery as it ages, and that won't give you the crunch that makes this recipe worthwhile.
And now the question pops up: can I use regular radish in kimchi?
Besides using daikon radish, some recipes for this type of kimchi also use peeled and cubed apples for an extra layer of sweet taste.
There are so many kimchi variants made with everything from cucumbers and eggplants to mustard greens and even seaweed.
So, sure, you can use regular radish to make kimchi. However, it won't taste like kkakdugi. Regular radish has a sharp spicy to zesty taste that can overpower the other ingredients, depending on the variety.
Pin
Radish Kimchi Benefits
There are more benefits to making kimchi a part of your daily diet than we can count. But let's cover some of its science-backed health benefits.
Kimchi is a low-calorie food, with one serving providing just over 30 calories.
Besides having a low-calorie count, this vegan kimchi has almost 3g of fiber and around the same amount of protein. Both of these nutrients are known to increase feelings of fullness, protein by taking up a lot of energy to be digested and fiber by slowing down digestion.
As a fermented food, kimchi contains lactic acid bacteria, which are known to aid in digestion and support digestive health.
More specifically, these gut-friendly bacteria reduce your risk of colorectal cancer, prevent constipation, and break down dietary fiber. By supporting a healthy gut, they also indirectly support the immune system, boost brain health, and prevent skin conditions — all often linked to a dysregulated gut microbiome.
The probiotic benefits of this vegan kimchi are even greater thanks to the addition of miso.
Miso itself is a source of probiotic bacteria, also notably lactic acid bacteria. However, to get the benefits of these probiotics, it's best to eat kimchi raw. Exposure to heat tends to kill these gut-friendly bacteria quickly.
Kimchi can also be helpful for weight loss.
The chili flakes used in this recipe contain a compound linked to increased feelings of fullness called capsaicin. Studies show that exposure to capsaicin prevents overeating.
Pin
Now that you know why kimchi is so good for you, below is how to make it from scratch.
Daikon Kimchi (vegan Kkakdugi)
Tasty, spicy and super healthy, this vegan version of the Korean daikon radish kimchi is a must have next to any comforting meal.
Ingredients
2

lbs

about 1 kg raw daikon radish, peeled and cut into thin slices

1

tbsp

ground salt

1

tbsp

white miso

1

tbsp

red pepper flakes

Korean Gochugaru if available

2

green onions

roughly chopped

3

garlic cloves

halved

1-

inch

ginger piece

sliced
Instructions
Place all of the ingredients into a large bowl and toss everything to evenly coat the radish. Cover the bowl with a clean towel and set aside for two hours at room temperature, until the radishes release their juices.

Transfer into an airtight jar and press the ingredients down to remove any trapped air bubbles. Let ferment at room temperature for 4 days, until small bubbles appear on top and the mixture smells sour.

Transfer into the refrigerator until ready to serve.
Nutrition
Serving:
125
g
|
Calories:
32
kcal
|
Carbohydrates:
6.2
g
|
Protein:
2.8
g
|
Fiber:
2.7
g