Curious about this little known legume with amazing health benefits?
This article covers different ways to incorporate lupini beans into your diet: what are they, how to cook, nutrition plus a simple weight loss recipe using lupins.

Lupini beans are also known as lupin beans or lupine. All the same thing.
What Are Lupini Beans?
They are legumes from the same family with peas, lentils or peanuts (called the Fabaceae family).
These beans are pretty popular in the Mediterranean countries but gaining fame around the world given their exceptional nutritional profile. 
Lupins are loaded with proteins (double the amount of the ones in chickpeas), contain little starch or sugar, and are packed with prebiotic soluble fiber that keeps your microbiome happy and prevents cardiovascular disease. 
Their popularity also seems to be growing with the introduction of sweeter varieties (traditional lupini have a strong, bitter taste).
Lupini beans are quite difficult to prepare, which is why most people buy them pre-cooked and sold in brine.
They're most commonly enjoyed as a snack in the Mediterranean but are also eaten in salads or as an antipasto dish.
What's interesting about lupini beans is that they contain almost no starch. Instead, they're loaded with fiber and protein, making them exceptionally filling and great for weight loss. 
Another thing to note about lupini is that they can have a bitter taste, although there are sweet varieties of lupin that have been now widely grown in Europe. Once cooked, lupin beans have a fairly neutral flavor, although some find that they taste somewhat "beany".
Lupini Beans Health Benefits
Many people wonder: are lupini beans healthy? And the answer is a hard yes.
 There are several many benefits associated with eating lupin beans. Some of these include:
Weight loss

Improved digestion

A healthy heart

Better skin tone
Their unique macronutrient profile makes them a great meat substitute in many recipes. It's also a great alternative to soy for people concerned about soy phytoestrogens.
Lupini beans contain a small amount of fat, most of which is the heart-healthy unsaturated kind. The fat content of these beans means lupin bean calories are reasonably low, with a 100g serving providing just around 120 calories.
The minerals in lupins include iron, calcium, magnesium, zinc, and potassium. Lupin beans are also a great source of vitamins B, C, D, E, K, and folic acid.
Lupins also contain moderate amounts of beta carotene and lutein.
Some people are concerned about bitter compounds called alkaloids in these beans. Alkaloids can be toxic at high doses, and lupin poisoning can happen when these beans are not prepared correctly. 
Luckily, the sweet variety of lupin contains few alkaloids, and cooked and canned varieties don't pose such dangers.
Lupini Beans FAQ
Where to buy these beans?
Lupin beans are available in health food stores and on sites like Amazon. You can find them sold in glass jars, as cooked dry beans, as a crispy snack, and more.
Is it OK to eat lupini beans while pregnant?
Yes, as long as they're prepared correctly. They are high in folate ( B9 vitamin) recommended during pregnancy to fuel the fetus's growth and prevent neural tube defects.
If you are pregnant and want to give this lupin beans recipe a try, purchase pre-cooked beans or follow manufacturer instructions for dry beans.
Do lupini cause gas?
Like most beans, lupins can cause flatulence. They're very rich in both soluble and insoluble fiber, making some people bloated and gassy. Keep your intake of these beans moderate to avoid this problem.
What are other uses for lupins?
They're used in Mediterranean-style recipes as a complete protein source, and they're also included in the gray area of the Keto diet, alongside peanuts and soybeans.
Lupin beans and their seeds are also used to make lupin-based products, like lupin flour, lupin protein powders, and even lupin milk.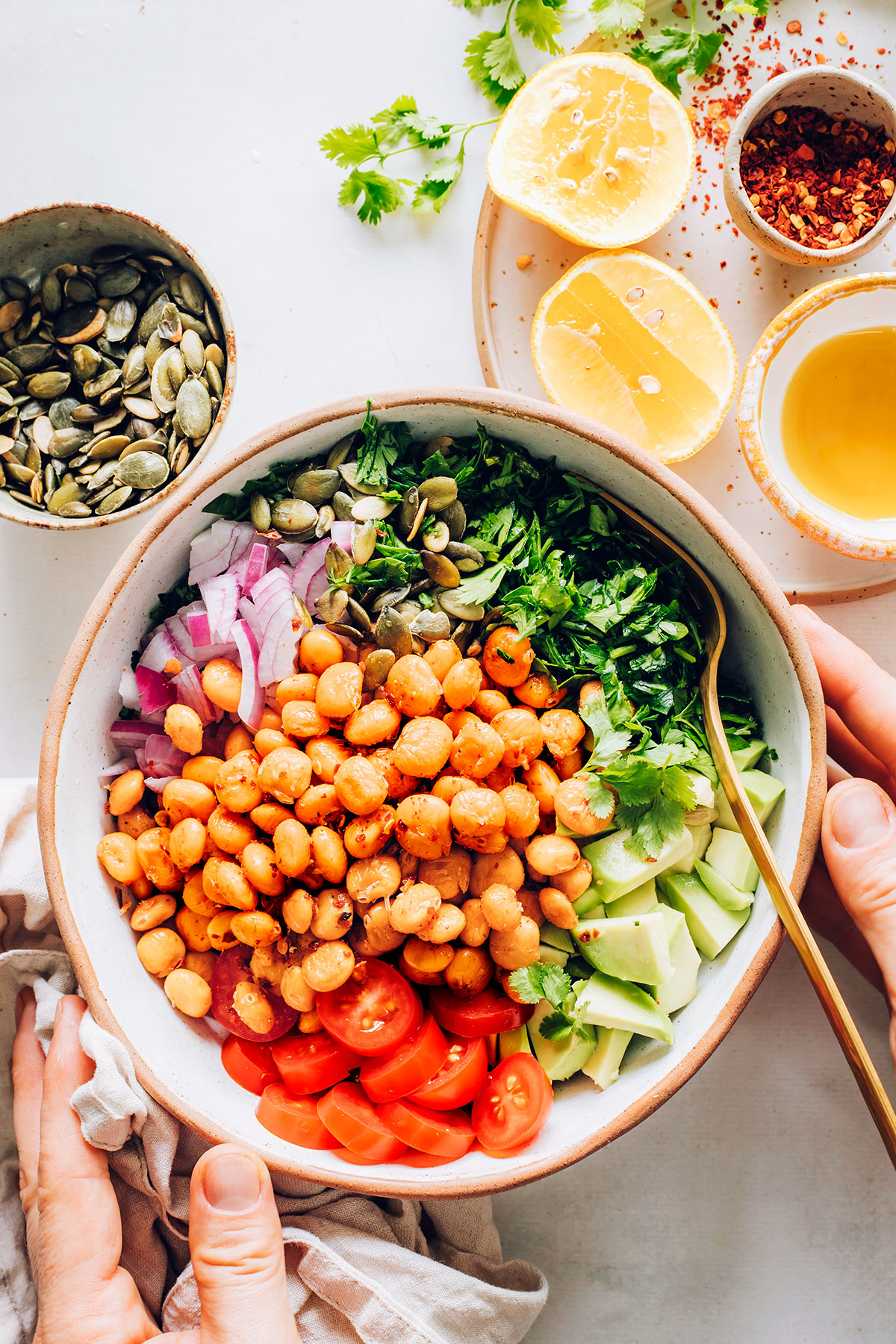 Pin
Lupini Beans Salad for Weight Loss
Making this salad recipe is easy. All you need is lupini beans, avocados, seeds, cherry tomatoes, olive oil, and a couple of herbs and spices.
To make this recipe simple, I recommend buying cooked lupini beans sold in jars with brine. Cooking lupini yourself can be tedious and a time-consuming process — sometimes lasting up to 6 days. So save yourself the trouble and go for the cooked stuff.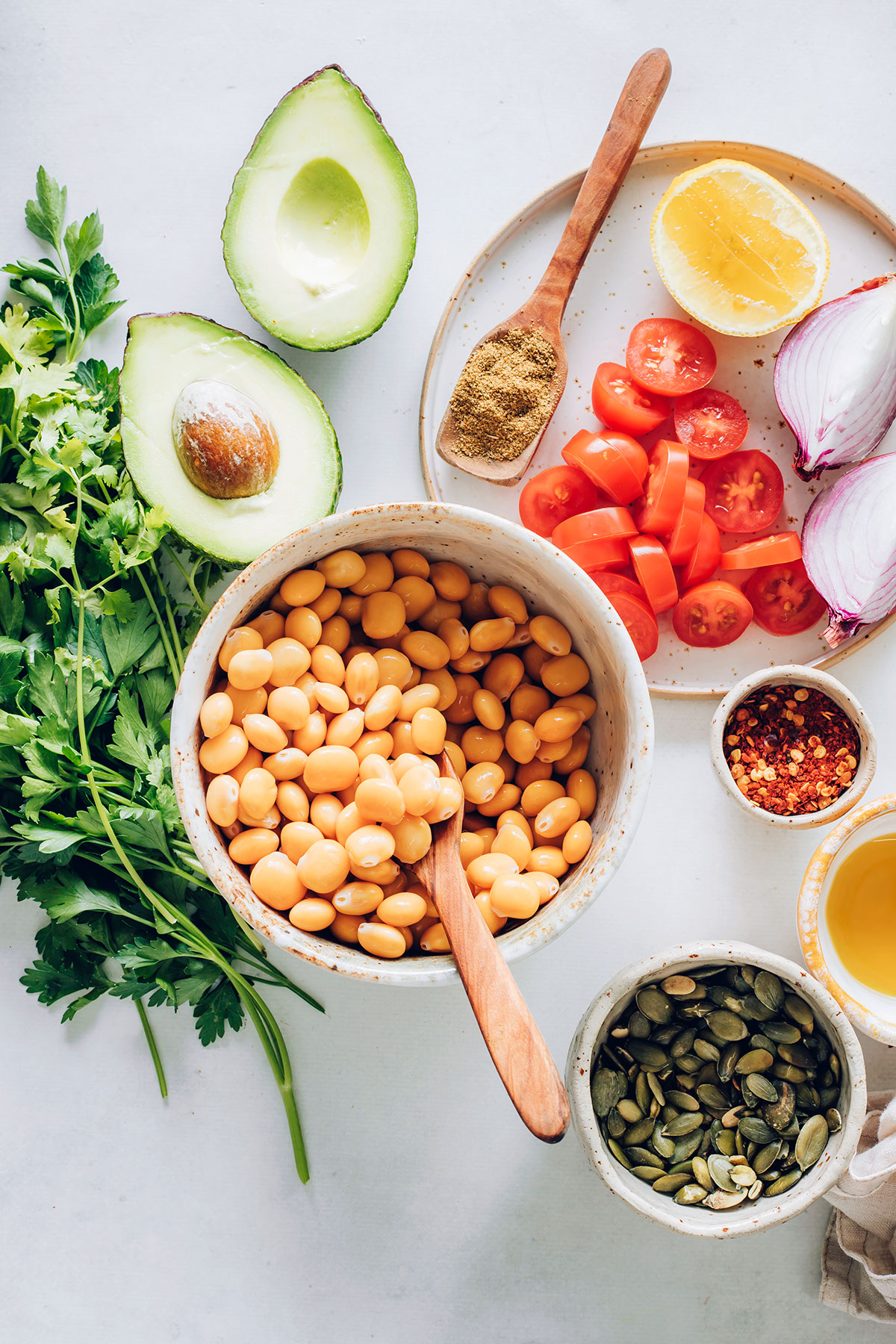 Pin
Roast the lupin beans with some spices and olive oil to add a bit of crunch to the mix. When the lupins are ready, add them to a bowl with everything else, season well, and mix. And that's it: you got yourself a salad that's super nutritious and healthy. 
Paired with MUFA-rich avocados, antioxidant-loaded tomatoes, heart-healthy olive oil, and other wonderful ingredients, this recipe is super tasty and ideal for heart and liver health.
At only 368 calories per serving, but with a generous amount of protein, this dish can definitely help you shed pounds if included into a weight-loss diet.
If you are bored of rotating the same carbs in your salads, try the lupini beans instead, and I bet they'll become a regular.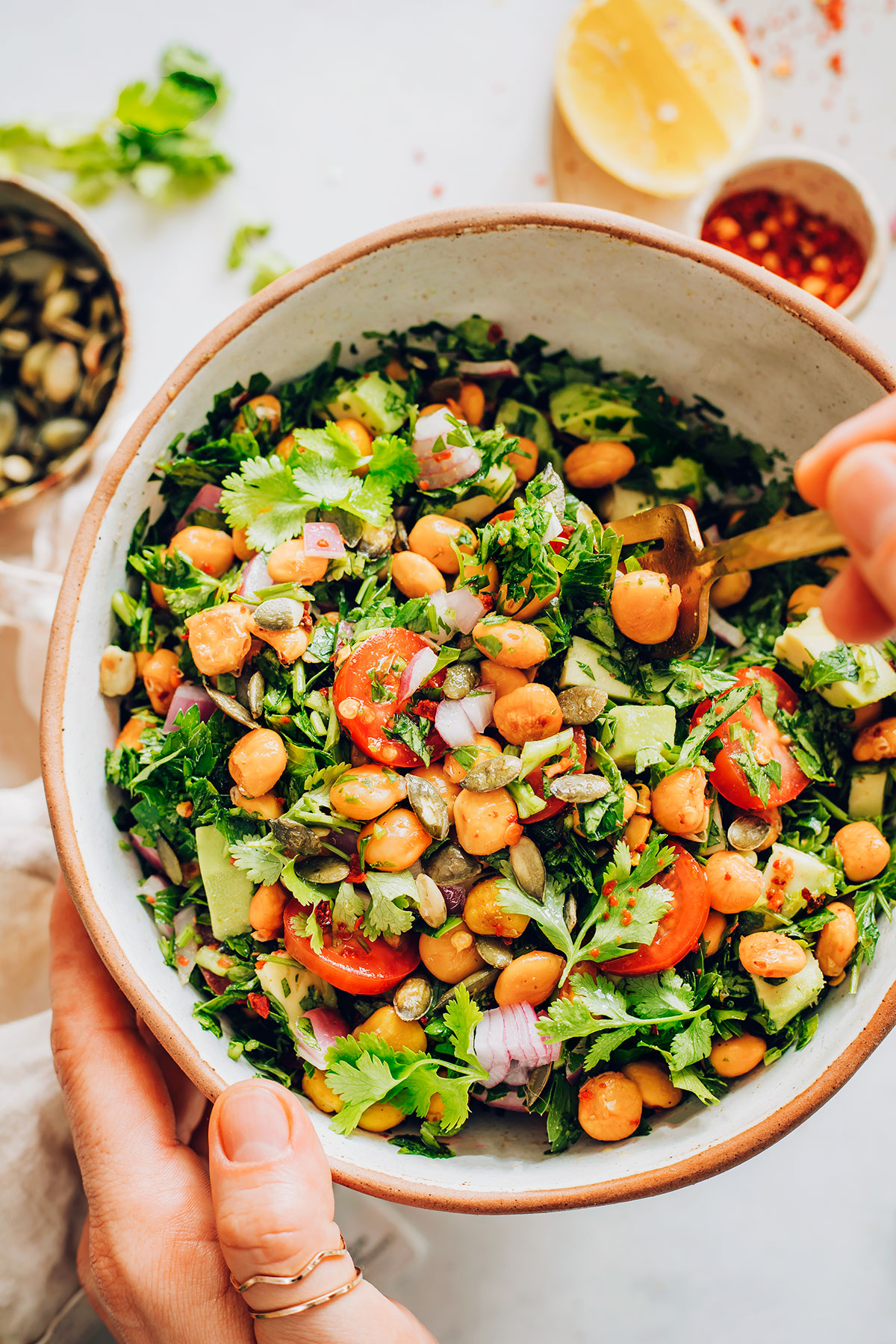 Pin

Interested in more weight loss recipes/ Check this ones:

– Oatmeal Smoothie for Weight Loss

– Detox Water Recipe for Weight Loss
Lupini Beans Recipe for Weight Loss
Protein and fibre-packed roasted lupin beans are mixed with fresh veggies and healing herbs to create a satiating weight loss recipe.
Ingredients
2

cups

cooked lupin beans

(in brine, drained)

2

bunches

fresh parsley (about 2 cups)

roughly chopped

1

bunch

fresh cilantro (about 1/2 cups)

roughly chopped

1

avocado

peeled, cut into cubes

10

cherry tomatoes

halved

1/4

cup

pumpkin seeds

lightly toasted

1

medium red onion

finely diced

1 tbsp

olive oil

2

tbsp

lemon juice

freshly squeezed

1

tsp

ground cumin

1/2

tsp

chili flakes

1/2

tsp

salt
Instructions
Preheat the oven to 180C/356F and line a baking sheet with parchment paper.

Drain and rinse the lupin beans, transfer them to the baking sheet.

Drizzle with olive oil, season with ground cumin and chili flakes, and toss to coat evenly.

Roast for 20 minutes until crunchy, then remove from the oven and let cool for a few minutes.

Add all the salad ingredients into a large bowl, add the roasted lupini, drizzle the lemon juice, season with salt and toss well to combine.

Serve immediately or store in an airtight glass container in the refrigerator for up to two days.
Nutrition
Calories:
368
kcal
|
Protein:
36
g
|
Fat:
29
g
|
Fiber:
17
g