I want to enjoy the holidays, but still maintain a balanced state of mind and a healthy diet. How can I do this, when despite its magic and beautiful spirit, Christmas is actually the time of overindulgence? Family dinners, office parties, a cocktail with friends, a hot chocolate with refined sugar, airplane food, plain flour baked goodies – they all require a lot of your energy and nutrients. Extra socializing, sipping one more drink, or having one more chocolate chip cookie makes us hectic and unbalances our immune system. It's no wonder that we find ourselves with colds or headaches during the holidays. For keeping your body happy and for balancing your energy you need a bit of discipline and some little tricks to enjoy all your holiday plans.
START YOUR DAY THE HEALTHY WAY
There's nothing lovelier than starting the Christmas day with hot coffee and a home-baked cookie in the morning, but it will actually create an energy breakdown and won't help your body cope with the rest of your busy day. Your cells need quality fuel to boost your metabolism and produce energy. Ready in no time, refreshing and delicious, here are some of the breakfasts I always start my Christmas mornings with one of these:
A Green Juice
Pin
Loaded with chlorophyll and fresh antioxidants, a green smoothie will help your cells to fight against all the free radicals produced from metabolizing the refined sugar, alcohol, baked goodies, and fats that are usually served at Christmas tables. Your body cells will receive the oxygen, vitamins, and minerals they need for boosting their natural detox function and producing energy.
A Pink Smoothie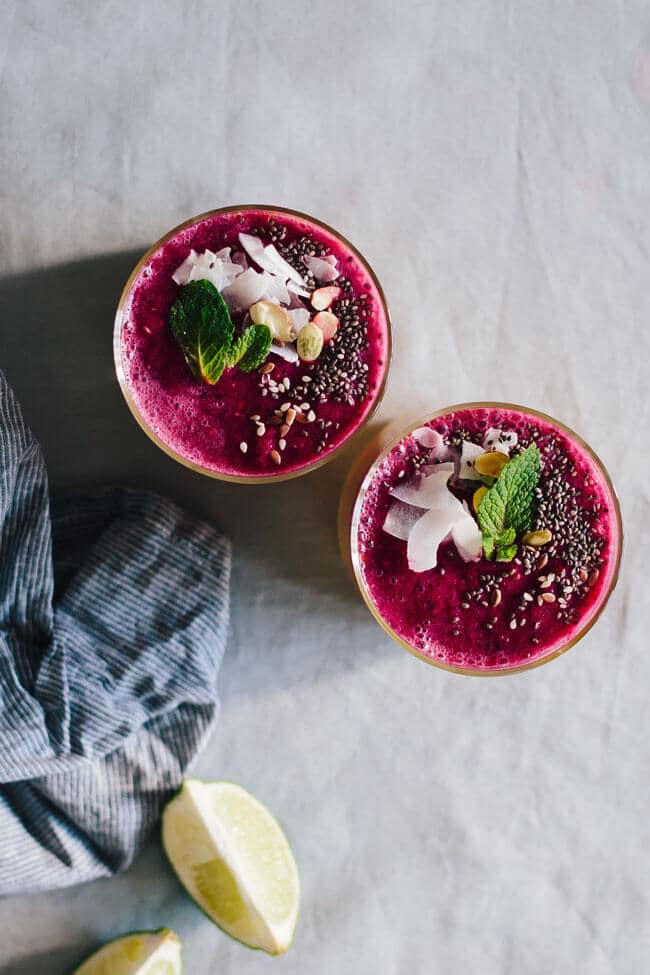 Pin
Smoothies make a satisfying breakfast, especially if you serve them in bowls, topped with superfoods. Pink is my go-to color – beets, berries, and/or pomegranate – they are all antioxidant-rich foods, taste delicious, and act as triggers for the natural detoxification processes within our bodies. As most of the festive meals do not contain fresh ingredients, this smoothie is a good chance to get your daily portions of fresh fruits and veggies.
A Light Porridge
Pin

Oats contain high concentrations of dietary fiber, both soluble and insoluble. These reduce the amount of time the food stays in your system, balances cholesterol levels, and gives your body a good cleanse by helping it to eliminate toxins and excess estrogen. Plus, porridge tastes delicious and can be combined with your favorite Christmas ingredients – cinnamon, chocolate, or banana.
STAY HYDRATED

Pin
Hydration helps your cells maintain healthy activity throughout the day by eliminating the excess sodium and toxins. It also reduces the damage of alcohol intake and helps your liver to metabolize and eliminate it quicker from your system. Although nourishing you with concentrated antioxidant doses and giving you energy boosts, coffee, hot chocolate, and green tea have strong diuretic properties and dehydrate your cells. Choose matcha lattes or superfood hot chocolate, and always keep a bottle of purified water, ginger and lemon water, herbal tea, or cold pressed juice with you while shopping for presents, preparing food, or dining with your loved ones.
COOK WITH HEALTHY INGREDIENTS

Pin
Refined sugars, plain flour, loads of butter – they all have healthy substitutes to help you create delicious and festive recipes for your Christmas dinner. Use whole wheat and almond flour for baking, replace butter with coconut oil, sweeten your desserts with honey, unrefined sugar, stevia, or dates, and always serve plenty of fresh salads and veggie dishes. Choose antioxidant and fiber-rich vegetables, such as sweet potatoes, beets, carrots, kale, or brussels sprouts. Here are some of my favorite Christmas desserts made with healthy ingredients only:
Raw Chocolate and Almond Butter Fudge Bars
Rich Chocolate Tart (Vegan+GF)
HAVE A FEW DETOX DAYS BETWEEN CHRISTMAS AND NEW YEAR'S EVE

Pin
The last week of December is probably the most intense and body-challenging one in the whole year. You have to plan for dinners, shop for food, clothes, and presents, and pack and plan for eventual traveling. While handling all this, you also need energy for playing with your kids and doing your usual routine. Give your body a break from digesting heavy foods and infuse its cells with quality nutrients. Try my top-rated Warming Soups for Liver Cleanse or my 3-Day Detox Program, which is easy to follow, gives you energy, and stimulates the natural detox function of your body's cells.
    5. MEDITATE
Starting your day with a few minutes of mental silence will help you stay focused throughout the whole hustle and bustle of the Christmas days. Allow some time just for yourself, silence your thoughts, and focus on your breath. Mental awareness is the key to enjoying all the beautiful things that the holidays will bring to your life.