I'm not really a fan of desserts, but if it's something involving chocolate, you definitely caught my attention. As for these delicious treats – name one person who doesn't love brownies! I think they're my favorite dessert also, so I definitely had to find an option to include them in my healthy diet without worrying about the sugar or white flour load. I'm not a specialist in desserts, so I did a little research to find a recipe that fits my needs – gluten-free, refined sugar-free, and vegan. That's how I came across Deliciously Ella's recipe of sweet potato brownies, which I think is the perfect healthy version of the classic brownies.
Pin
If you are wondering what a veggie like the sweet potato has to do with a dessert, well you would be surprised. Not only does it add sweetness and glorious orange color to the mixture, but it perfectly substitutes eggs, banana or flax, bringing the batter together. It also load the brownies with powerful anti-inflammatory and antioxidant properties, nourishing with high amounts of vitamin A (one cooked sweet potato contains twice the daily recommended intake of vitamin A), vitamin B6, potassium and fiber.
Given the fiber intake, these brownies keep you full for a long time and help maintain a healthy digestion. Studies show that steaming or boiling is the best way to preserve the nutritional properties of sweet potatoes, while combining them with healthy fats increases the uptake of their powerful antioxidants. This is why I decided to add a bit of virgin coconut oil to the brownie batter.
Pin
Don't expect the same taste, texture or sweetness that normal brownies have. This is their healthy version, and it's absolutely normal to have a slightly different taste, but if you are used to sugar replacements such as dates and with the nutty flavor of the buckwheat flour, you will love these sweet potato brownies. The texture is gooey and moist, just like a brownie should be.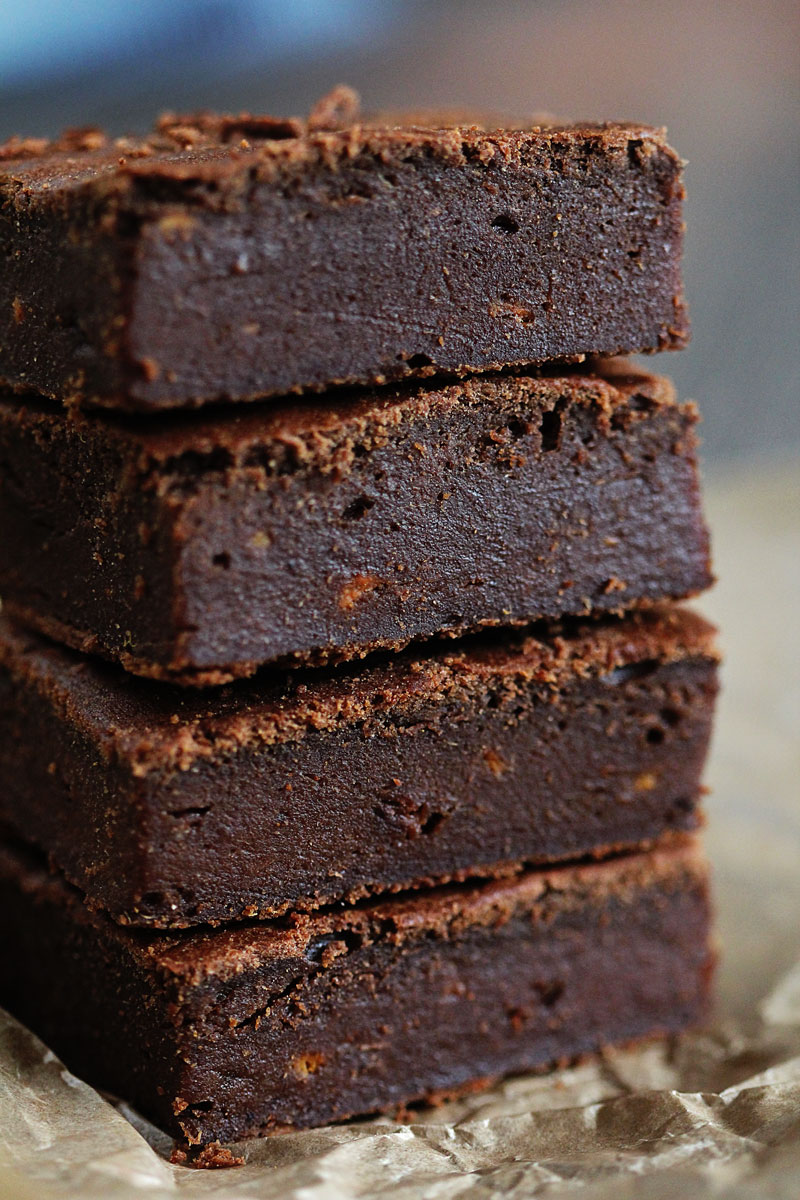 Pin
Gluten-Free Sweet Potato Brownie
Vegan, gluten and sugar free, with moist texture and chocolaty taste, these sweet potato brownies are the perfect healthy version of the original dessert. Packed with antioxidants and vitamins from the sweet potato. Delicious!
Ingredients
2

medium sweet potatoes

orange flesh

1

cup

almond meal

1/2

cup

buckwheat flour

1

tbsp

virgin coconut oil

2

tbsp

raw cacao powder

3/4

cup

sugar-free vegan chocolate

2

cups

dry pitted dates

soaked overnight

1

tsp

baking powder

2

tbsp

vegan milk of choice

1/2

tsp

pink Himalayan salt
Instructions
Preheat the oven to 180°C/356°F.

Peel the sweet potatoes, cut in cubes, place in a pan with enough water to cover them, bring to boil and simmer for 15 minutes over low heat. Drain well and set aside to cool.

Add the sweet potatoes, soaked dates and coconut oil in the food processor, and mix to obtain a puree.

Add almond meal, buckwheat flour, cacao powder, vegan milk, salt and baking powder, and process to create an smooth batter.

Melt the vegan chocolate and pour over the mixture, then pulse two times, to incorporate.

Pour the mixture into a lined baking pan and cook for 25 minutes.

Remove the baking pan from the oven, and set aside to cool for 10 minutes.

Remove the brownie from the pan, let cool completely before cutting in squares. Store in the refrigerator for a maximum of four days.
Notes