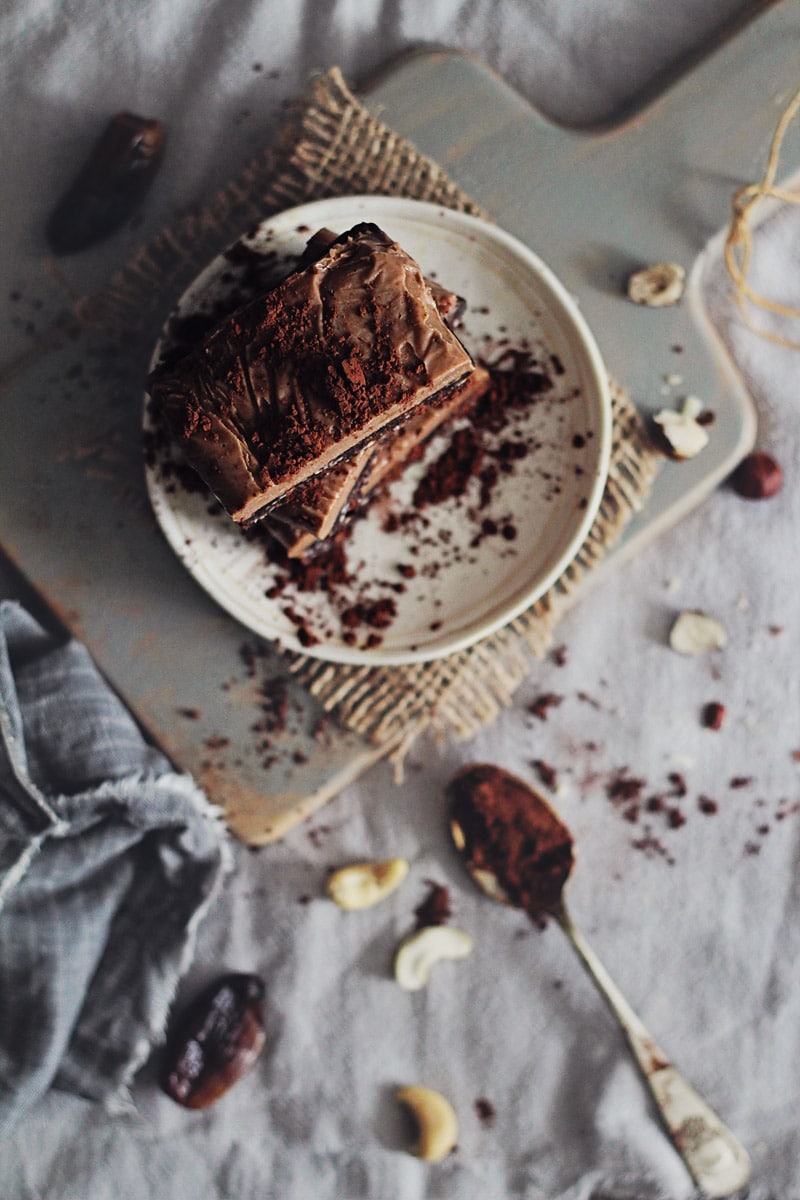 It's been quite a few years since I excluded refined sugar from my diet and I have absolutely no desire for it, even when I see the creamiest, most lush, deliciously-flavored dessert. Well…except chocolate. When it comes to chocolate desserts, everything changes and my heart starts to beat faster and faster. I love Sacher torte, brownies, cupcakes, frosting, ice cream, and everything that involves chocolate. How do I manage to survive? The answer is…raw!
The incredible versatility of raw desserts saved me from breaking my decision to eliminate refined sugar from my diet. I don't know if you can recreate any dessert using raw ingredients only, but the most popular chocolate delights definitely have a delicious and healthy raw version. Lucky me!
These gorgeous fudge bars are packed with excellent nutrients: potassium (from both banana and dates), healthy fats and minerals. And because we're talking about chocolate, it is the raw cacao powder that loads the bars with even more high-quality nutrients, especially antioxidants. There is a big difference between raw cacao powder and the cocoa powder you will find in all supermarkets, which is the one most people use. Regular cocoa powder is obtained after the cacao nibs are fermented, dried, sometimes treated with additives, and processed to obtain chocolate or cocoa powder – so many of its nutrients are destroyed or reduced in the process.
The raw cacao powder is a real superfood, loaded with antioxidants, proteins, antioxidants (flavonoids), calcium, magnesium, sulfur, copper, iron, zinc, potassium, healthy fats, fibers, and vitamins E, B2, B1, B5, B3, and B9, with multiple health benefits. So, when you're preparing your next raw chocolate dessert make sure you use the real deal!