Last month I traveled a lot, and often there were times when I didn't manage to keep my diet on the usual path. The meal hours were changed, the quality of ingredients differed, and sometimes I indulged in some refined sugar treats – all these confused my body and it reacted with an acidic environment. After I came home and switched back to my normal routine and whole ingredients based diet, everything started to go back to normal. I drink a lot of lemon water, eat a lot of fresh vegetables, and I make this alkalizing green soup as often as I can to nurture my digestive system and help it to recalibrate.
Pin
Maintaining an alkaline balance is essential for our health, because acidity reduces our body cells' ability to absorb minerals and other nutrients, resulting in low energy production within the cells, along with a decrease in the ability to eliminate toxins, heavy metals, excess hormones, and sodium. Our cells will not have the necessary nutrients and energy to restore and repair the damage, and will slowly fall into fermentation and eventually into chronic diseases, like cancer. As our bodies need 20 parts of alkalinity to neutralize 1 part of acidity, it's better to prevent it and to include highly alkaline foods into our daily diet. Avoiding stress, negative emotions, and toxic overload is also a way to reduce the risk of decreasing the alkalinity of your system.
Pin
Most vegetables are highly alkaline, but it very much depends on the soil where they've grown. This is why I always recommend choosing organic as often as possible, especially when you are trying to cure a disease by switching to a plant-rich diet. Consuming them fresh ensures that your body gets the maximum benefit from their alkalizing properties. Lightly cooking them preserves most of their nutritional value, and this soup is a great choice for healing your digestive system with the combined powers of different alkaline foods.
Pin

Here are some examples of alkalizing ingredients I always keep fresh in my fridge, ready to throw them into a big salad or turn them into a healing soup:
Green leafy vegetables: kale, spinach, parsley, chard, lettuce, beet greens.
Green and white vegetables: zucchini, asparagus, celery stalk, onion, fennel, turnip, parsnip, broccoli, peas.
Red and orange vegetables: beet, carrot, sweet potato, tomatoes.
Other alkaline foods like avocado, blueberries, mango, or tomatoes.
Lentils.
Lemons, lots of lemons!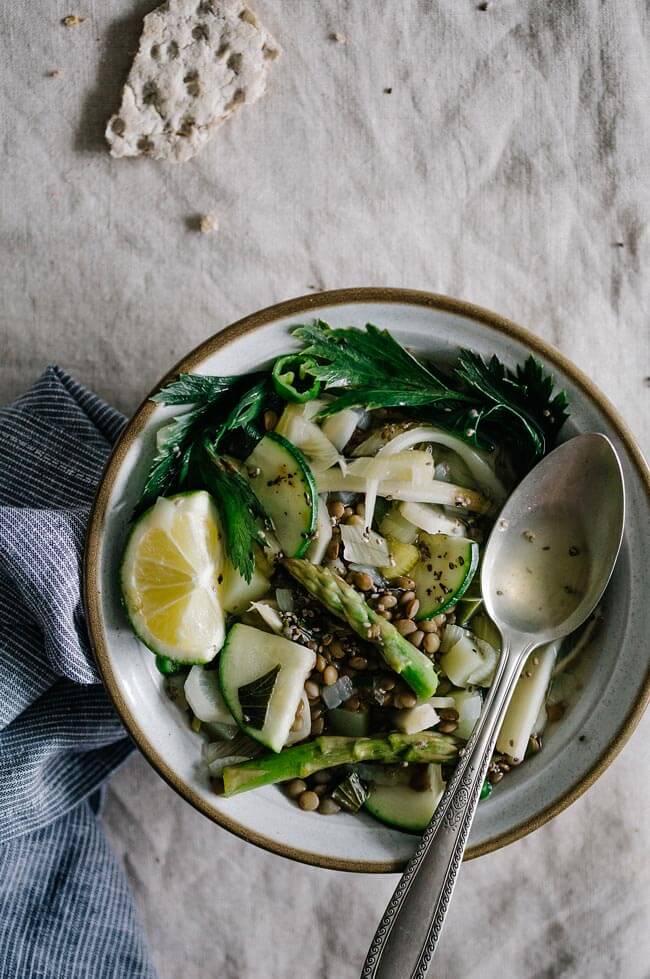 Pin
Looking for more soup inspiration? Pick one that suits you: Detox Soup for Weight Loss  Vegetable Soup for a Gentle Detox,  or the 3 Warming Soups for Liver Cleanse and Detox.
If you make any of these recipes don't forget to tag me on Instagram @theawesomegreen so I can see them and share with the community!
Alkaline Green Soup
Loaded with fresh alkaline nutrients, this rich green soup reduces your acidity and nurture your body cells with potassium for a natural detox.
Ingredients
1/2

cup

cooked green lentils

1

parsnip

peeled and finely diced

1

onion

finely diced

2

garlic cloves

crushed

1

green bell pepper

cut into small cubes

4

asparagus spears

1

small zucchini

cut into slices

1

small fennel bulb

finely diced

2

celery stalks

finely diced

1

small bunch celery greens

or other greens available - kale, spinach beet greens, roughly chopped

1

lime

juice only

2

cups

low sodium vegetable both

1

tsp

chia seeds

to garnish

Freshly ground black pepper
Instructions
In a medium sauce pan water fry the onions and garlic for two minutes, stirring frequently.

Add the celery stalks, fennel, zucchini, bell pepper and parsnip, together with the vegetable broth.

Bring to boil, then simmer on low heat for seven minutes.

Add the lentils, asparagus, celery greens and lime juice, and turn the heat off.

Serve warm, garnished with chia seeds.
Save