This power-packed apple cider vinegar and lemon juice recipe is wonderfully refreshing. With five simple ingredients like ginger, turmeric, black pepper, apple cider vinegar, and lemon juice, 10 minutes of your time, and a high-speed blender, you'll end up with a smashing detox drink, also boasting weight loss benefits. 
While the apple cider vinegar is the star ingredient here, let's quickly review the health benefits of the other ingredients:
Ginger and turmeric are powerful aromatics, potent anti-inflammatories, and they beautifully complement the acidity of ACV and lemon juice.

Black pepper helps the activity of turmeric at cellular level, and adds a touch of zing to the drink.

Lemon juice is the primary source of vitamin C and helps with digestion. 
Pin
The many health benefits of apple cider vinegar
Apple cider vinegar has numerous health benefits. Often advertised as the 'detox' drink, ACV helps with:.
Regulating blood sugar levels –

Some research indicates that drinking vinegar can delay the emptying of the stomach, thereby reducing the release of sugar in the blood.

Heart-healthy effects –

Studies conducted in animal models suggest that vinegar can lower levels of bad cholesterol and triglycerides, which help lower blood pressure.

Antioxidant source –

ACV with mother is enriched with vitamins, potassium, magnesium, phosphorous, and amino acids. And when combined with the goodness of vitamin C from lemon juice, it is a potent antioxidant.

Fighting harmful pathogens –

Acetic acid helps fight infections caused by helicobacter, E.coli, and even candida. A topical application of ACV helps in reducing skin infections and dandruff too.
Apple cider vinegar with mother v/s without
Yeast uses sugar from crushed apples to make alcohol. The added beneficial bacteria then ferment alcohol to acetic acid.

This natural form of apple cider vinegar, with all the goodness of yeast and good bacteria, is called 'the mother'. These natural microorganisms serve as probiotics and aid in eliminating harmful bacteria from our gut. 
When this raw apple cider vinegar is filtered and pasteurised to eliminate any cloudy sediments, you get a relatively clear apple cider vinegar. This ACV is what we call without the mother.
The active ingredient in both kinds of vinegar is still acetic acid, so you'll obtain similar benefits from both ACVs. However, 'the mother' boasts additional probiotic benefits.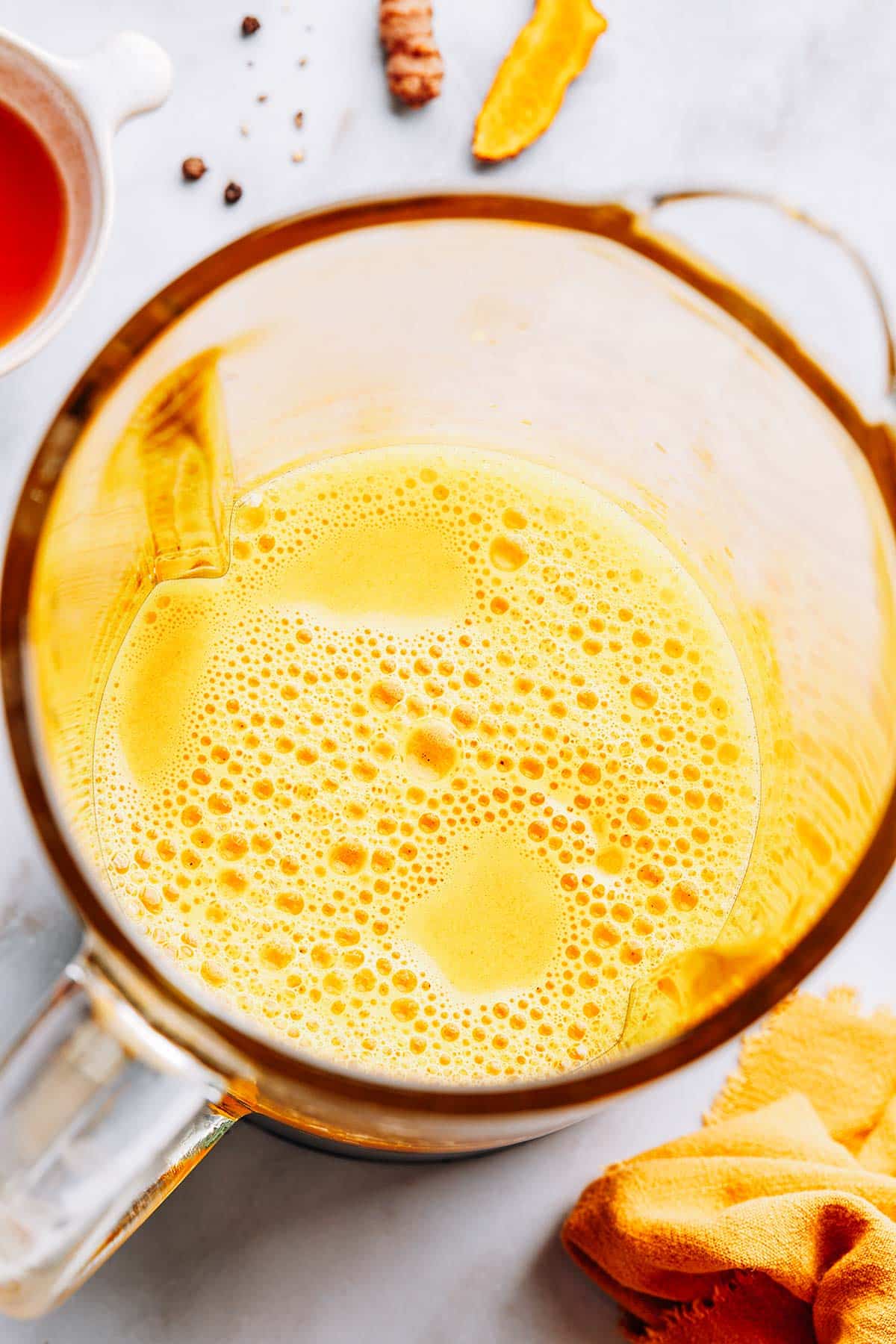 Pin
Recipe variations for a healthy drink 
Use stevia instead of natural sweeteners
This juice could be too sour or somewhat bitter for some people. You can add maple syrup or honey to sweeten it. However, if your diet doesn't allow you to consume natural sweeteners, go for stevia.
Add more spices
Use spices like cinnamon or cayenne peppers if you fancy a spicy drink. Black pepper helps in the absorption of turmeric.

Add herbs
If you love the fresh aroma of herbs, you may add some fresh herbs. Go for basil and rosemary, or choose lemongrass and mint. It will result in flavourful and aromatic juice.
Substitute lemon juice
If you have limes instead of lemons, use lime juice for this recipe. Alternatively, you could also use orange or tomato juice. Either squeeze it fresh or use an unsweetened version.
Tips for making a tasty juice

Always dilute apple cider vinegar
Apple cider vinegar is essentially acetic acid. Its high concentration is detrimental to your health and can cause some damage to your internal organs. Dilute it with either ice, water, or some fruit juice before consumption.
Always shake the apple cider vinegar bottle before use
This step is essential for the ACV with the mother. Which means that it has particulate matter that settles at the bottom of the bottle. To enjoy maximum benefits, shake to homogenise the contents and then use two tablespoons for this recipe.
Remember to drink it with a straw
Because of the high acidic content, drinking apple cider vinegar and lemon juice could damage the enamel coating of your teeth and cause tooth sensitivity. To avoid that, you can use a straw for drinking.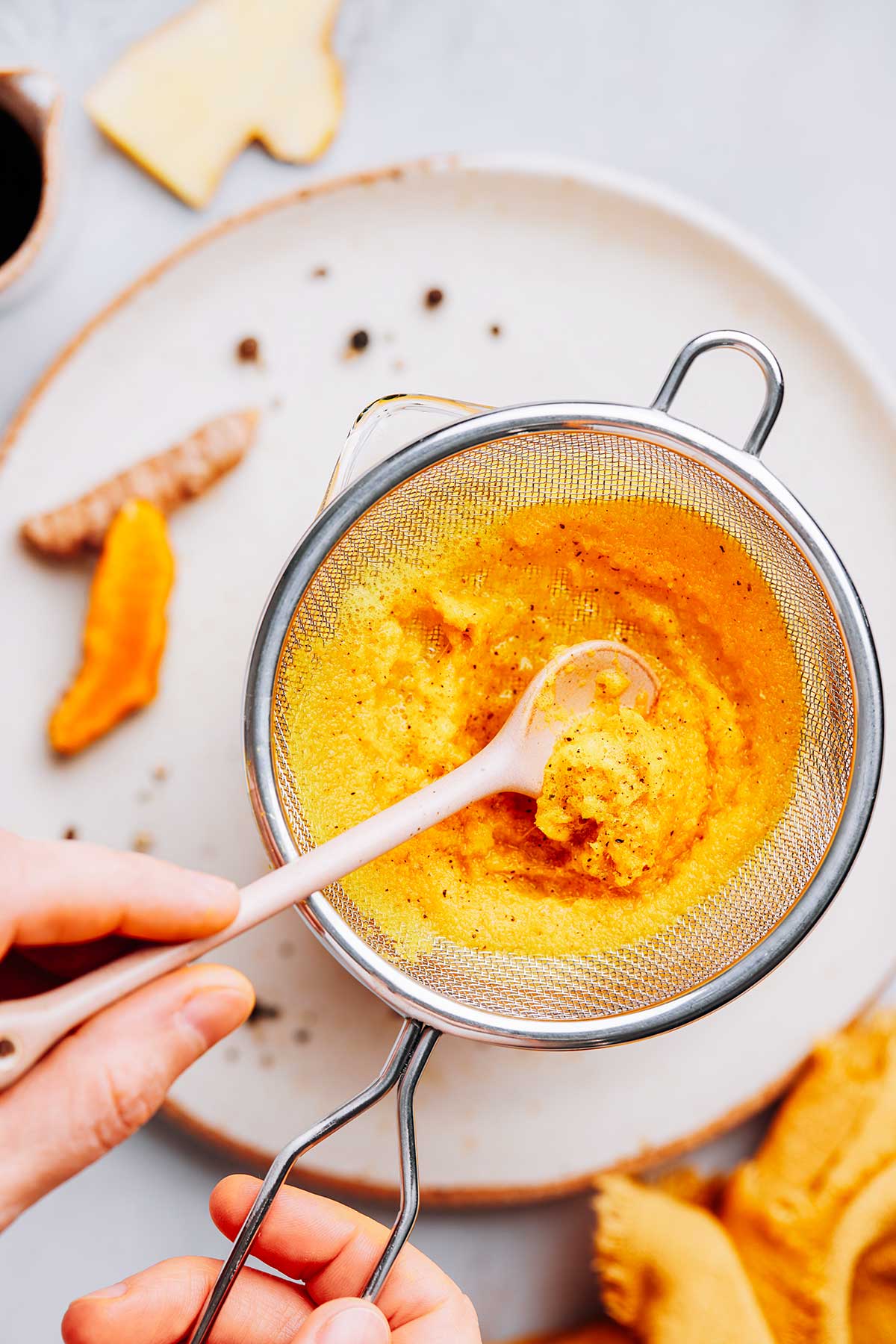 Pin
Other ways to use apple cider vinegar and lemon juice
As a salad dressing


Because of its acidity, this juice is perfect for pickling cucumber, radish, beets, and carrots. Remember to add some salt to the mix. Also, this apple cider vinegar and lemon juice make for a killer dressing. Be it a simple green salad, or Asian cabbage salad, it makes for a refreshing salad dressing.

As a marinade


You can marinate your tofu, tempeh, cauliflower, or broccoli. Feel free to add some rock salt and oil to enhance its taste.

Use in warm tea


In this recipe, the juice is served on the rocks. If you enjoy warm beverages, dilute apple cider vinegar and lemon juice with a cup of warm water. Avoid using boiling water to consume this drink as it will alter the probiotics and mother from apple cider vinegar. 
Best way to store apple cider vinegar and lemon juice
It is best to enjoy this juice fresh. However, you may store it in an airtight container inside the refrigerator for up to a week. 
FAQs
How much of this juice can one drink daily?
Typically, one can drink up to 2 tablespoons of apple cider vinegar daily, diluted with water. As for lemon juice, there is not an established limit, so use your best judgement.
Can you mix apple cider vinegar with lemon juice?
Yes, there is no harm in mixing apple cider vinegar and lemon juice. Their acidities complement each other well.
When should you drink ACV with lemon juice?
You may consume apple cider vinegar and lemon juice at any convenient time. Some people prefer to drink it first thing in the morning, some like it before bedtime, while some consume it in small portions throughout the day. You will enjoy its health benefits if you do not exceed recommended doses. 
Does ACV have side effects?
Yes, ACV is highly acidic. Hence, it can erode your teeth enamel. Some people experience soreness in the throat and esophagus, indigestion, and a burning sensation. Also, if you take medications, consult your physician before drinking apple cider vinegar and lemon juice.
Can you lose weight by drinking apple cider vinegar and lemon juice?
Studies have shown that food stays longer in your stomach when consumed with ACV or lemon juice. You feel fuller and don't end up over-eating. However, for a steady and healthy weight loss, you must supplement apple cider vinegar and lemon juice with a healthy diet and regular exercise.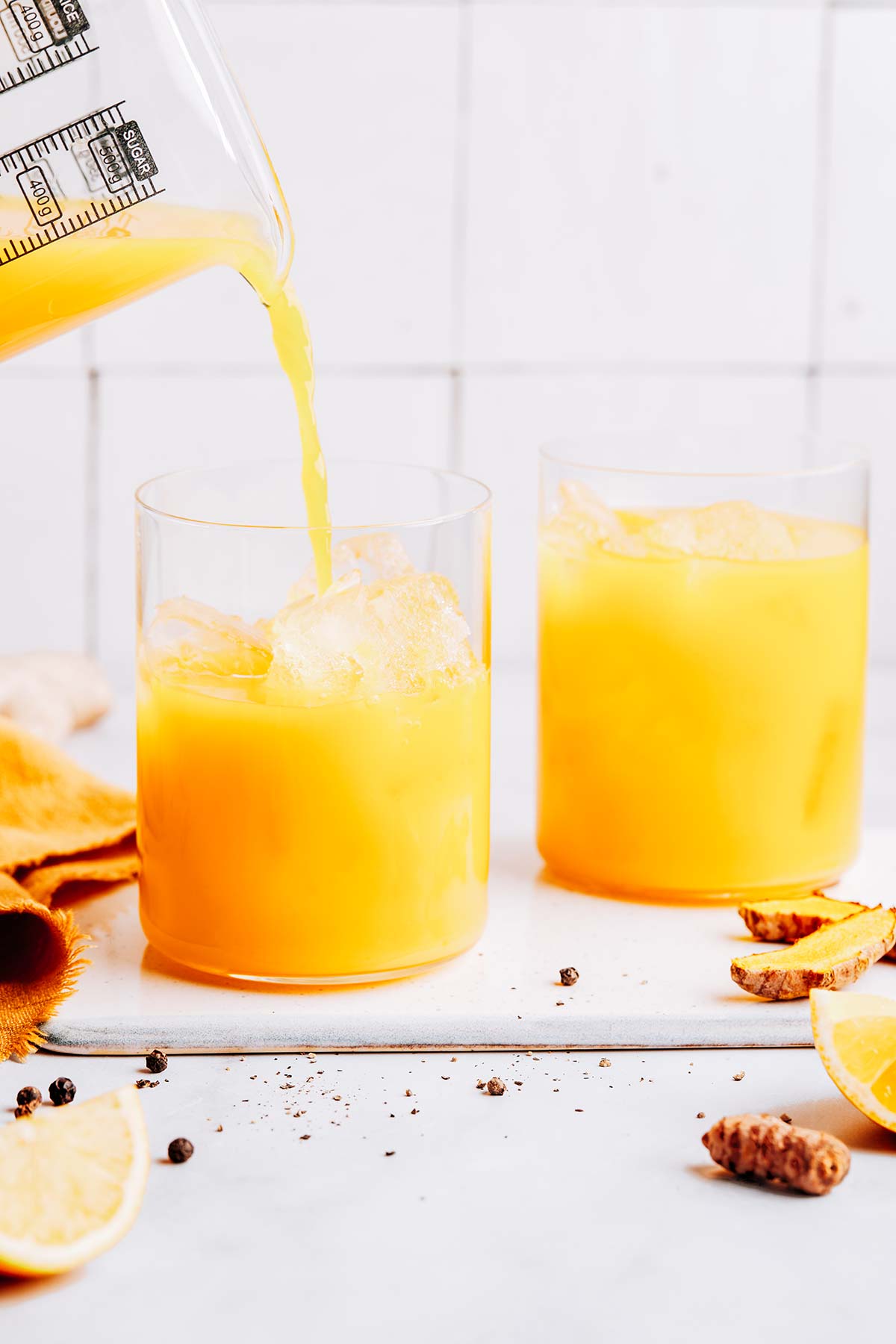 Pin
Are you a fan of ACV? Try this recipes:
Apple Cider Vinegar and Lemon Juice
An easy-to-make refreshing drink, loaded with health benefits for detox and weight loss.
Ingredients
2

tbsp

apple cider vinegar with mother

2

tbsp

lemon juice

freshly squeezed

1/2

inch

fresh ginger knob

grated

1/2

inch

fresh turmeric root grated

(or 1 tsp turmeric powder)

1/8

tsp

freshly ground black pepper

2

tsp

raw honey or maple syrup

*Optional
Instructions
Add all the ingredients into a blender and process at high speed for a minute.

Strain using a fine mesh strainer to remove the ginger root fiber.

Fill serving glasses with ice cubes, evenly pour the drinks into glasses, stir and serve.