Spring bloomed in force over here, turning all of us upside down. All of a sudden, the temperature raised from 0 to 13 degrees, the lilac bushes got tiny green sprouts, and the parks got crowded. After such a long time without seeing the face of the sun, its first rays put me in the mood to plan for holidays. No, we're not going to Thailand yet (although I'd love to), but I'm celebrating the beginning of spring with colors, in my kitchen.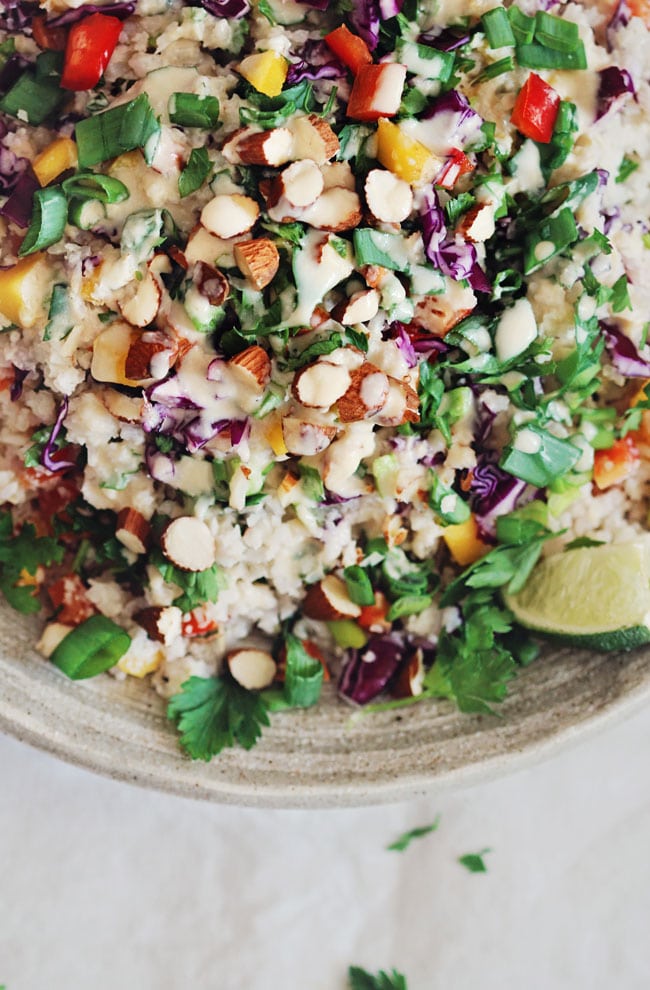 Pin
In my family, cauliflower was far from being popular. We only ate it gratin from time to time, and I pretty much hated it. Last year, I decided to give cauliflower another chance, and roasting it was one of my bigger revelations. Ever since, I add it to salads, patties, or curries, but this time, I thought I'd do something really different. I first saw the cauliflower rice idea at Oh My Veggies and I found it genius, especially because I'm on a vegan diet right now (I'm fasting until Easter), and I try to reduce the temptation of having a high carb intake and replace as much as possible with vegetables.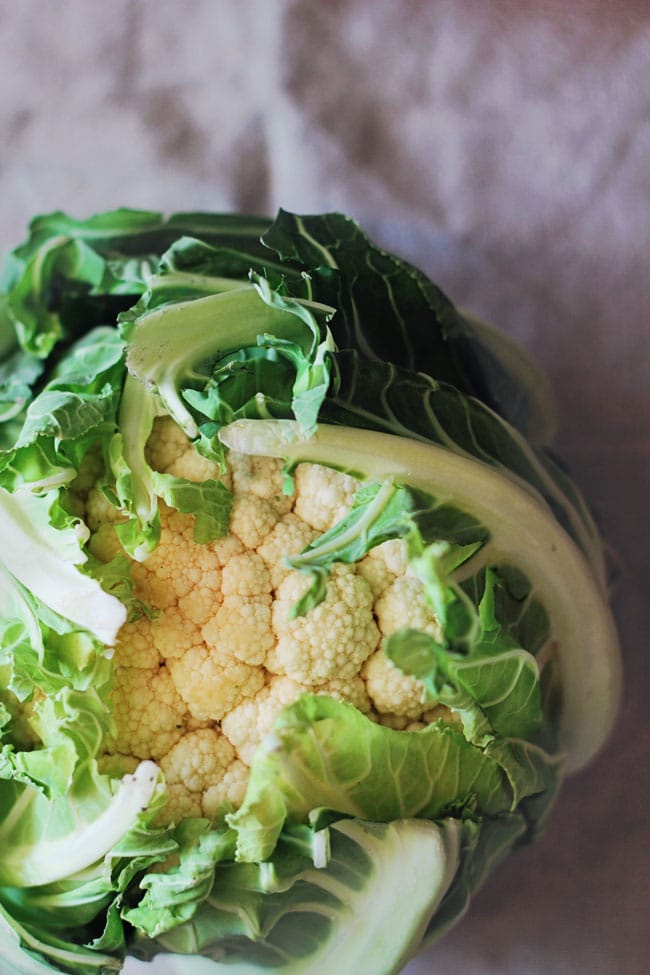 Pin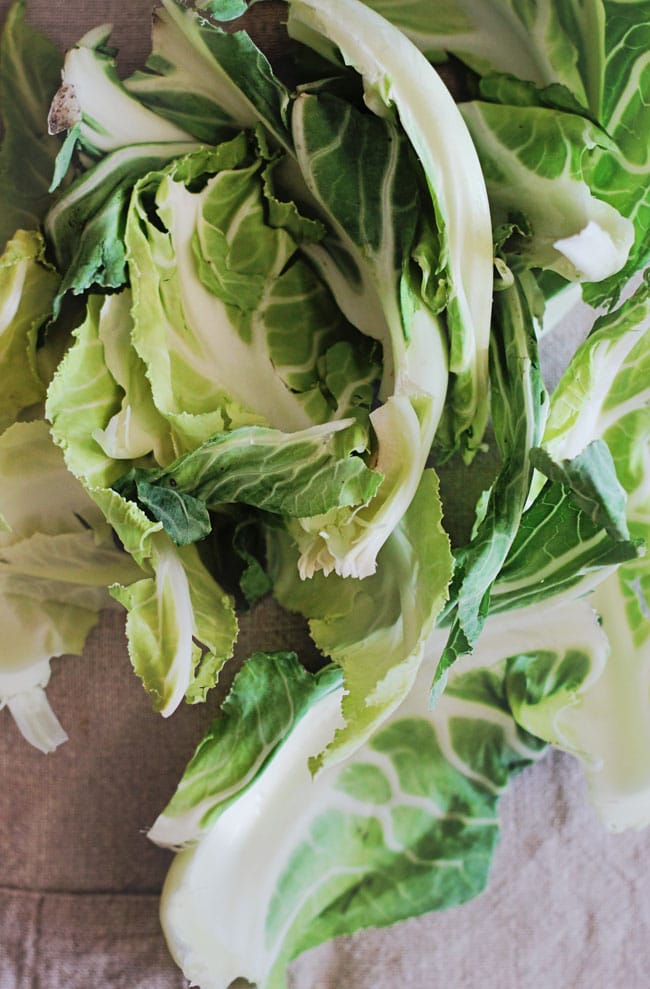 Pin

When I introduced cauliflower into my diet, I also found out more about its amazing nutritional values. The humble cauliflower is no less than its popular cruciferous relatives (kale, brussels sprouts, or broccoli), and it has exceptional effects on our bodies' health, especially when eaten raw or lightly cooked.

One of the main benefits of cauliflower is its implication in prevention of many types of cancer (bladder, breast, colon, prostate, and ovarian cancer), especially because it's loaded with powerful antioxidants, but also for its nutrients that stimulate the natural detox function of our bodies. The glucosinolates in cauliflower activate the enzymes responsible for detoxification and regulate their activity. Some of these are metabolized into sulforaphane, a compound that prevents bacterial overgrowth of Helicobacter pylori in the stomach.
Pin
Cauliflower is loaded with vitamin C (1 cup provides about 70 percent of the daily recommended intake), a core antioxidant that helps our bodies reduce the oxidative stress in our cells, but also with a broad spectrum of other antioxidants (such as beta-carotene or quercetin) that supports our detoxification function and reduces the risk of chronic diseases like cancer.
Pin
Most of the cauliflower's nutrients are available when we consume it raw or lightly cooked, because heat destroys nutrients like vitamin C, for instance. To obtain the cauliflower rice, you simply have to cook it for five minutes on low heat with coconut milk a safe and recommended method which preserves most of the nutrients. Cooking it lightly is also a good method to maintain a crispy texture and to get rid of the sulphur smell. The phytonutrients release this smell when heated, and the more you cook the cauliflower, the stronger the smell.
This cauliflower rice had a fantastic taste and that ginger-peanut-lime sauce took everything to a new level. And oh, those colors!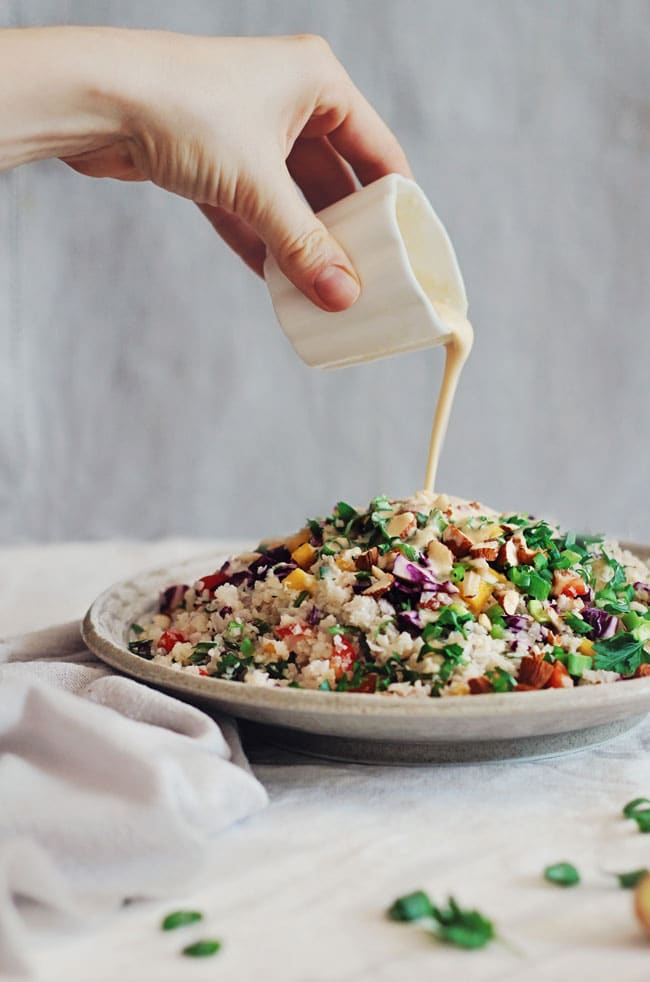 Pin
For more nourishing salad recipes check out my Roasted Veggie Salad for Hormone Balancing, Vegan Pasta Salad, the Very Green Version or the Sprouts Salad. Or as a twist, you can try using my pistachio butter recipe instead of peanut butter, it will taste different but equally good!
I love seeing your take on my recipes, so if you make this salad don't forget to tag me on Instagram @theawesomegreen so I can see it and share with the community.
Thai Cauliflower Rice Salad with Peanut Butter Sauce
An exotic and colorful combination, which replaces the rice with the nutrient-loaded cauliflower. The secret of this dish is a delicious ginger-peanut butter sauce.
Ingredients
For the salad

1

medium cauliflower head

1

cup

coconut milk

1

small onion

finely diced

2

garlic cloves

minced

1

small bunch fresh parsley

2

spring onions

roughly chopped

1/4

cup

toasted almonds

chopped

1

mango

peeled and cut it small cubes

1

bell pepper

cut in small cubes

1/2

cup

red cabbage

finely chopped

1

tsp

coconut oil

For the sauce

2

tbsp

peanut butter

1

inch

ginger piece

peeled

2

limes

juice only

1

tsp

organic raw honey

1/4

cup

water

1/2

tsp

sea salt
Instructions
Remove the cauliflower greens, cut in florets, rinse and drain well.

Place the florets in the food processor and pulse until you obtain the rice size.

Heat the coconut oil in a large skillet, add the onion and garlic and fry for a minute.

Add the cauliflower and coconut milk, mix to combine and cook for five minutes on low heat, until the cauliflower is tender, but not mushy.

Remove from the heat and let cool.

Add the cauliflower, mango, bell pepper, red cabbage, spring onion and parsley in a large bowl and mix to combine.

Place the sauce ingredients in the blender, and pulse to obtain a smooth, creamy liquid.

Pour over the cauliflower salad and toss carefully, to combine.

Top with fresh parsley and almonds and serve.
Notes