Pistachio butter opens a whole new world of culinary possibilities. It's naturally sweet, vibrant green, and loaded with pistachio flavor — something you can't get with other nut butter. Plus, it's really good for you since it's free of added saturated fats or sugar.
You can get pistachio butter at health food stores, or make your DIY pistachio butter at home by following this recipe.
You won't need to pre-soak the nuts, thankfully, but you will need to prep them for a couple of minutes before processing into butter. The whole process takes less than 30 minutes, using simple kitchen tools.
Pin
Pistachio Butter vs Pistachio Paste
Pistachio butter is a nut butter made by grinding pre-roasted nuts until creamy and smooth. Sometimes, spices and vegetable oil are added to improve the texture and taste.
Pistachio butter is different from pistachio paste and pistachio spread. The latter are made with added sugar, emulsifiers, and often low-quality vegetable oils. But sometimes, these terms are used interchangeably to refer to the same product.
You can find pistachio butter in health food stores or make your own at home, which is a much better option. That's because homemade pistachio butter is fresh, customizable, and much cheaper.
How to Make Pistachio Butter
To make pistachio butter from scratch, you will need 3 ingredients, a food processor (or high-speed blender), and half an hour of your time. The ingredients you'll need are:
Pin
Pistachio kernels
Shelled pistachios will save you time, and your fingers! For a vibrant green butter, removing the skins by blanching and then peeling the pistachios is necessary. Otherwise, you'll get brownish-green nut butter.
Salt
A little bit of salt enhances the naturally sweet flavor of pistachios in this nut butter. It also helps prevent spoilage for a couple of weeks.
Cardamom 
Cardamom and pistachios are a compatible duo in many traditional recipes. Cardamom has a complex flavor that can be described as fruity, zesty, and piney all in one. It perfectly complements the earthy and sweet tones of pistachio.
Once you have assembled and prepared the ingredients, throw them into your high-power blender (or processor) and blend until smooth and creamy.
This will take you anywhere between 5 and 15 minutes, depending on the power of your tool. The end product is a creamy paste that you can use instead of your usual peanut or almond butter.
If you'd like to get extra creamy butter, add a teaspoon or two of coconut oil and a tablespoon of maple syrup.
Reel free to customize with your own choice of spices, or set aside a couple of chopped pieces to make crunchy pistachio butter.
Pin
How to Use the Butter
Use pistachio butter as you would any other nut butter: in smoothies, oatmeal, cookies, and on toast. Think of it as an alternative nut butter to add a touch of green color and pistachio flavor where needed.
Other popular uses of pistachio butter include:
Pistachio macarons
Basil pesto (instead of pine nuts)
Flavoring in mousse, ice cream, and buttercream
Danish filling
In jelly sandwich
In parfait
In vinaigrette
There are countless other ways to enjoy this tasty ingredient. The possibilities are endless.
Pistachio Butter Benefits
Pistachio butter has health as well as environmental benefits.
Like most nut butters, it's a plant-based alternative to dairy butter that's low in saturated fat and minimally processed.
Pistachio butter is also a good source of plant protein, with 2 tbsp providing 6g of this filling and muscle-supporting nutrient. The same amount will also give you 3g of fiber as well as a little bit of calcium and iron.
Research shows pistachios contain more potassium than other nuts. They're also a source of unsaturated fats, fiber, numerous vitamins, and antioxidants, all of which were found to support a healthy cardiovascular system.
Regularly consuming pistachios was found to lower blood triglycerides and boost weight loss.
Besides being good for you, pistachio butter seems to be a more sustainable type of nut butter. According to FoodPrint, pistachios require less irrigation than other nuts, thus leaving a smaller water footprint. And because pistachios are usually grown in deserts, some manufacturers make use of this environment by powering their facilities with solar energy.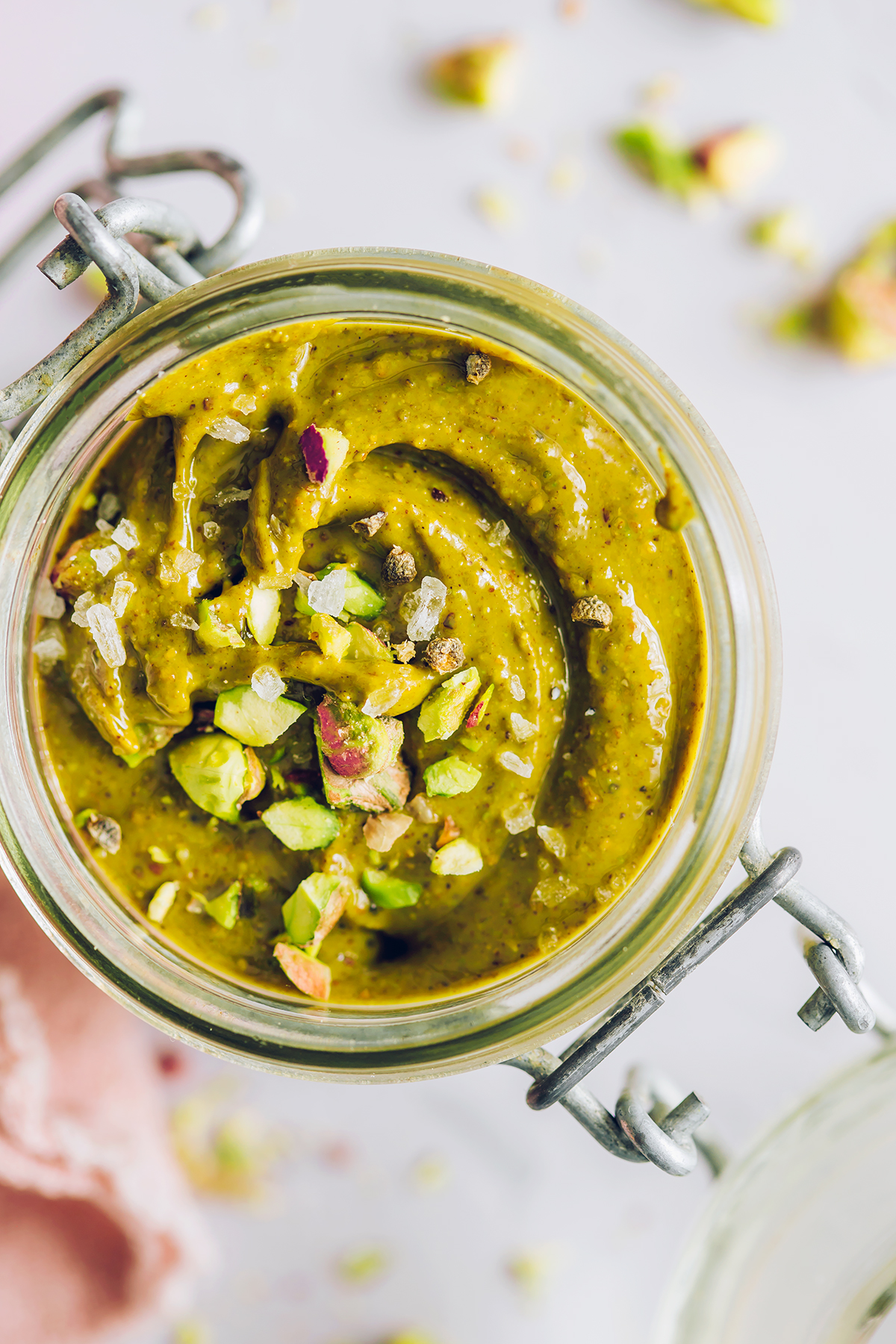 Pin
Pistachio Butter FAQs:
What does it taste like?
Unlike some other nut butter, pistachio butter is great on its own. It's earthy, nutty, and mildly sweet. It has a noticeable pistachio flavor, which is enhanced with the addition of salt and cardamom.
How long does it last?
Homemade pistachio butter will stay fresh for a month in the fridge. It does not have preservatives and isn't pasteurized, so it will spoil unless you store it properly. The oils in it may also turn rancid in hot environments.
Is pistachio butter keto?
Pistachio butter is lower in fat and higher in carbs than other kinds of nut butter, so it's not the best keto option. Although, you could make it work if you keep your intake moderate (1tbsp per day).
How do you store it?
Place pistachio butter in a glass airtight container and keep it in the fridge or cool and dry pantry. If you're making large batches, you can store them in the freezer.
Is pistachio butter good for weight loss?
Yes, it is. Pistachio butter is high in fiber and protein, both of which increase feelings of fullness. A 12-week weight-loss trial found pistachios fared better than a refined carb snack when it comes to weight loss.
If you like experimenting, you can replace the peanut butter used in the following recipes with pistachio butter: Peanut Butter Overnight Oats, Peanut Butter Granola Bars, Chocolate Almond Butter Fudge Bars. It will taste different, but equally delicious!
If you make any of these recipes don't forget to tag me on Instagram @theawesomegreen so I can see them and share with the community!
Easy Pistachio Butter at Home
A creamy pistachio butter recipe to make at home, with a natural cardamom flavour. Use this pistachio butter as it is or as a snack with fresh fruits, in oatmeals or ice-creams.
Ingredients
3

cups

raw pistachio kernels

shelled, unsalted

1/2

tsp

1/2 tsp salt

*Optional: the seeds from 4 cardamom pods

or 1/4 tsp cardamom powder
Instructions
Preheat the oven to 165C/329F and line a baking sheet with parchment paper.

Place the pistachio kernels on the baking sheet and roast for 10 minutes. Remove from the oven and let cool completely on the sheet.

Transfer to a S-blade food processor (or a high speed blender) and process with pauses to avoid the engine overheating. Stop and scrape the sides if necessary.

Depending on your processor, it will take anything between 5 to 15 minutes to get a smooth, creamy pistachio butter. The longer you process it, the smoother the consistency.

After you got the desired consistency, add salt and cardamom and process for a few seconds to incorporate.

Transfer into an airtight glass container and keep in the refrigerator until ready to use.It keeps for 1 month if stored in the refrigerator.
Nutrition
Serving:
16
g
|
Calories:
86
kcal