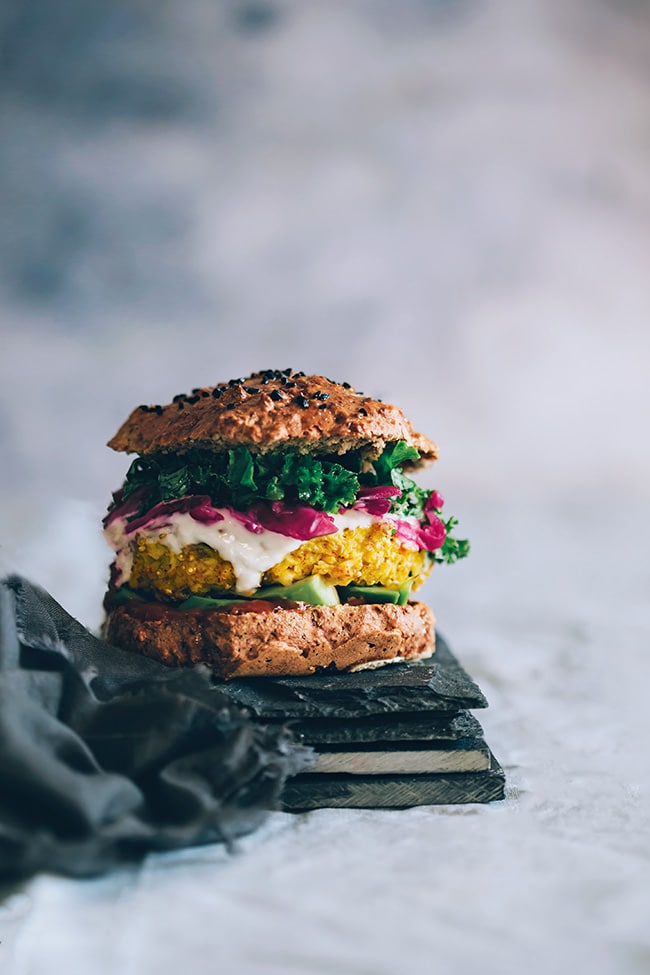 There's nothing more comforting than turning fresh vegetables loaded with energy into nourishing food. I see the whole process - handpicking the ingredients from the farmers' market, watching the yellow leaves falling on my way back, the grey sky, the basket on the kitchen shelf, the water breaking into drops while rinsing the vegetables, the first cut, choosing the spices, a sip of coffee, the grey sky, and half of my face mirroring in the window.
And then, turning on the oven, hands going deep into the mixture, coconut oil sizzling in the pan, the meal that hides inside the farmer's time, the energy of the land where it comes from, and my peaceful thoughts while cooking it – it's simply a form of meditation. Attention to details, staying present, connecting to the things that create your universe, yes, all these while simply shaping cauliflower burgers.
Cauliflower is November's favorite vegetable. One of the last fresh gifts. One of nature's miracles – an enormous white inflorescence that doesn't look and feel like any other flower.The humble appearance doesn't announce its incredible load of nutrients – minerals, antioxidants, vitamins, and fiber – comparable to all its green relatives from the cruciferous family.Its glucosinolate and antioxidant phytonutrients are especially important; their key role being to support the natural detoxification processes of our bodies. I always prefer lightly cooking the cauliflower rather than boiling it, because many of its nutrients leak into the cooking water and some are destroyed because of the high temperatures.For these burgers, I used lightly sautéed cauliflower which preserved its texture and nutrients.
The best way to turn a mediocre veggie burger into a superstar is to add the right combination of flavors. Most of my favorite spices and aromatic herbs go perfectly with the taste of cauliflower – turmeric, cayenne, cumin, za'atar, nigella seeds, lemon zest, black pepper, parsley – and mixing some of them is what made this cauliflower burger a winner. And of course, pairing this burger with the sauerkraut was a great idea.
Save
Save
Save
Save
Save
Save
Save
Save