Oats have been a longstanding staple for my breakfast and I just love that they're a minimally processed option, that's as close to nature as possible. Unlike many other breakfast cereals in the supermarket, there's no marketing gimmicks when it comes to good 'ol oats!
Oats have a low GI, meaning they release energy over a sustained period of time, not to mention their ridiculous nutritional content. Because no one likes to put breakfast on repeat day in day out, I decided to get a little creative in the kitchen and turn my regular pot of oats into something special.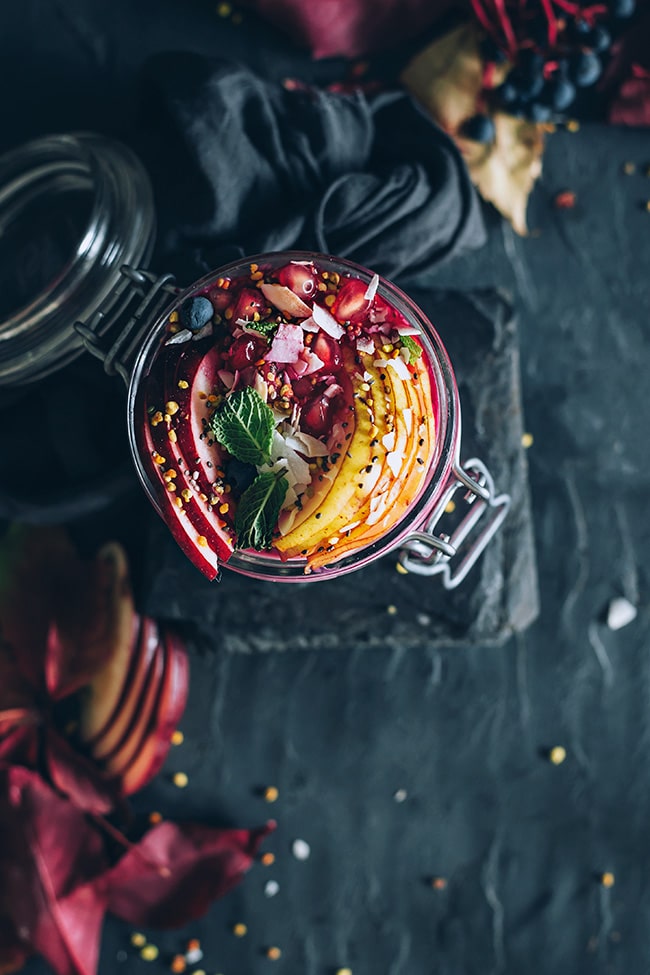 Pin
I could talk all day about the nutrients found in basic rolled oats. Of most potency would have to be the levels of magnesium, with 0.25 of a cup offering almost 100% of your recommended daily intake. You may not know just how many biochemical reactions this little mineral is responsible for. So far, over 300 have been recognized within the body!
This includes proper muscle function, heart health and immunity. In the same 0.25 cup of oats, you will also find over 60% of a nutrient called molybdenum, which helps to breakdown amino acids, 29% of phosphorus for healthy teeth and bones and 27% of copper for a healthy central nervous system.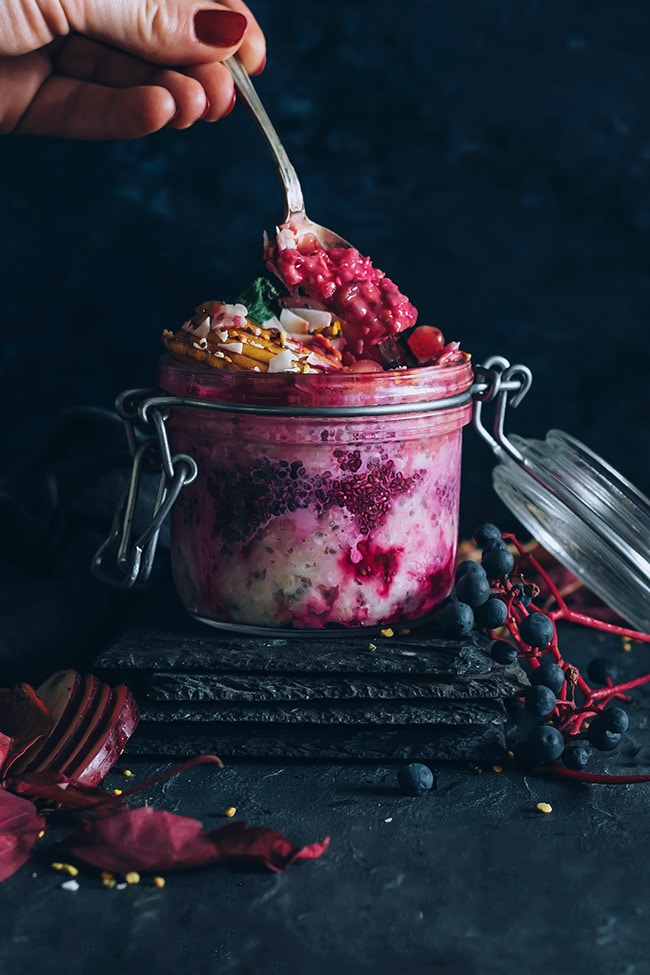 Pin
Beetroot goes great with morning oats, not only for flavor and their vibrant color, but also for their ability to fight inflammation and help to remove toxins from the body. They are high in folate, an important B-vitamin for vegetarians, and have been shown to carry anti-cancer properties.
Pomegranate is rich in antioxidants, which are known fighters of modern day disease. Pomegranate also assists with digestion, due to their fiber content and improves the appearance of skin, thanks to their high levels of polyphenols, which are known compounds for anti-ageing.
One of the main reasons for using coconut milk as a base for this recipe, is due to its creamy texture and unique fatty acids. Adding good fats into your diet is important as a vegetarian, given our diet is predominately plant based. You will find half of your recommended daily intake of manganese from the coconut milk contained in this recipe!
Soaking the oats overnight improves digestibility by reducing the levels of phytic acid, which also helps to absorb key enzymes contained in oats!
If you're an oatmeal fan, don't miss my Peanut Butter Overnight Oats, Chocolate Overnight Oats, or my Overnight Oats for Digestive Cleanse.
If you try any of these recipes don't forget to tag me on Instagram @theawesomegreen so I can see them and share with the community!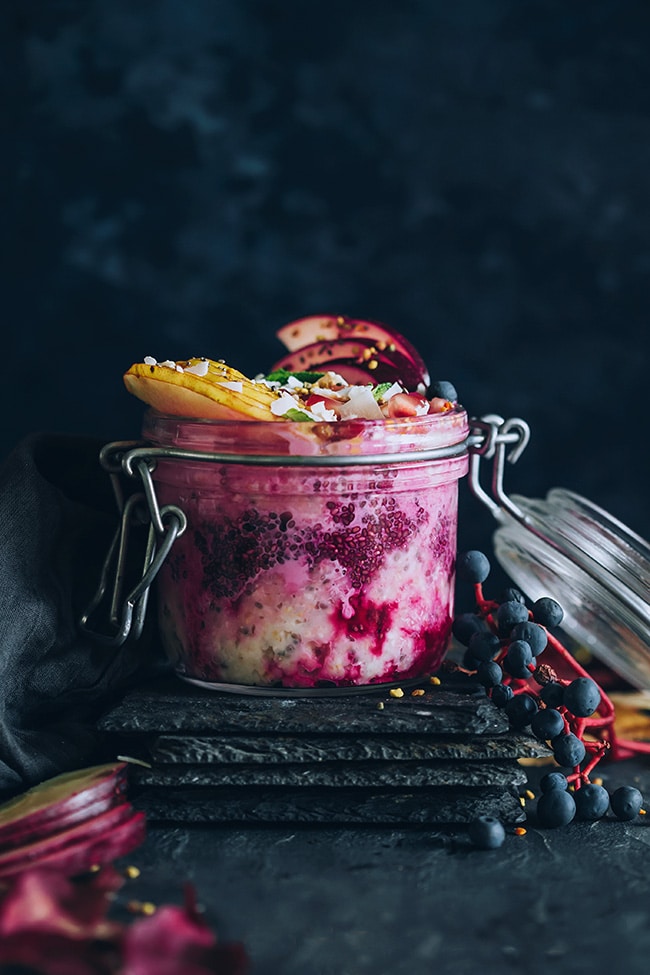 Pin
Overnight Oats with Beet Juice and Coconut
Take your healthy oats bowl to the next level by adding fresh beet and ginger juice, fresh fruits and bee pollen.
Ingredients
1

cup

rolled oats

1

tbsp

chia seeds

1

cup

purified water

1/2

cup

full fat coconut milk

2

beets

peeled

1

inch

ginger piece

peeled

1

pomegranate

seeds only

1

tsp

pure maple syrup

To garnish: fresh fruits

bee pollen, toasted coconut flakes
Instructions
In a large lidded jar mix the oats and chia seeds.

Add the coconut milk, water and maple syrup, and mix to incorporate.

Lid the jar and let sit overnight in the refrigerator.

In the morning juice the beets, pomegranate seeds and ginger, and mix the resulted liquid with the oats.

Divide into serving jars, garnish with fresh fruits, bee pollen and toasted coconut flakes and serve or pack to-go.
Notes