If your childhood was anything like mine, your parents most likely treated you to those shake and bake bottles of powdered pancake mixes. Then you became an adult and transformed into your own little guru on nutrition, educating yourself on the amount of sugar and unknown additives and preservatives that are actually in those bottles. Maybe every so often you still revert to these ultra-convenient packet pancakes?
Regardless of your guilty pleasures, I'm here to show you a super easy and nutritious pancake recipe that might just become your staple breakfast! 
Did you know that your body reacts to white flour the same way that it reacts to sugar? Yup that includes that crazy sugar high before crashing back down! That's why I've used oat flour for the base of these pancakes. Unlike white flour, oat flour doesn't have all its nutrients stripped from it and is packed with protein.
The protein from the oat flour in this recipe alone contains almost 60g from the two cups included! Oat flour is a great source of manganese, selenium, iron and thiamine.  There's also plenty of other trace minerals and vitamins to boost your intake from this delicious recipe.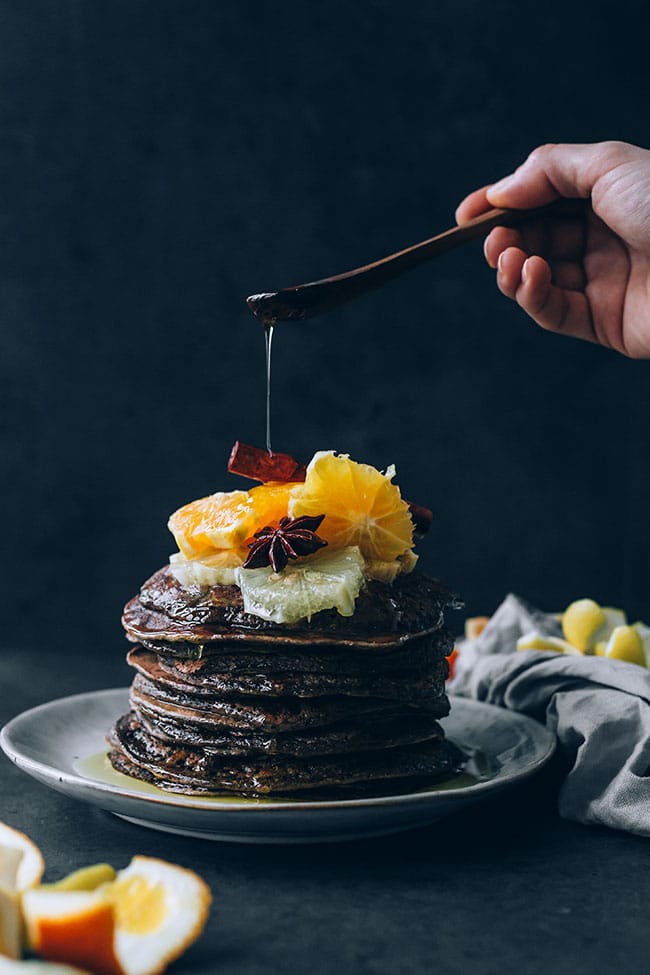 Eggs are a powerhouse for nutrients and I believe one of the best ways to start the day. From two eggs you meet 70% of your recommended daily intake (RDI) of choline. You may not be familiar with its name, but it's an essential nutrient that's needed for communication between cells, and supporting healthy brain function.
You could compare it to some B vitamins, as choline is also responsible for energy production. Other nutrients in eggs include selenium, biotin, vitamin B12 and iodine. Protein is around 12g for two eggs used in this recipe. 
Rather than cow's milk, I've selected almond milk as it's an alternative source of calcium. Surprisingly, it also contains omega-3 fatty acids which you usually find in fish sources. Omega-3's have been linked to improved brain performance and memory. Couple regular consumption of almond milk and eggs, and you'll be feeling pretty sharp when tackling any academic tasks! Almond milk is also a great source of iron, potassium, vitamin B6 and vitamin E. 
For the compote, the combination of oranges and lemon add a great flavor while also boosting your vitamin C levels, which is an essential vitamin for improving immunity.
Lemons remain one of the most talked about foods in the health world, due to their protective properties and functionality within the body. Oranges and lemons are each great sources of antioxidants, which help to prevent  many modern-day diseases and keep all of your healthy cells untouched by toxins and foreign invaders.