Let me introduce you to my favorite comfort breakfast – the gluten free, completely vegan, but still incredibly delicious buckwheat banana pancakes.
You know I'm not a heavy breakfast girl, so don't think there's anything hearty about these pancakes. The first time I made them I used a mix of plain flour and buckwheat; lately I discovered their best version – buckwheat flour only.
The texture is fantastic – fluffy, aerated, and the nutty taste of buckwheat is paired perfectly with the banana flavor. This dish is another great example of a healthy yet delicious version of an American classic.
Pin
Are Buckwheat Pancakes Healthy?
If you're not yet familiar with the superpowers of the tiny pyramids of buckwheat, it's just about time to give them the important place they deserve in your diet.
It's not only about the nutty flavor, or only its versatility. It's all about the high concentration of nutrients in such a small little seed that buckwheat is.
Manganese and phosphorus (responsible for healthy bone structure and production), good quality proteins and fibers – they are all packed in high amounts in buckwheat.
Pin
And there's more about this little seed. Adding it constantly to your diet is a great way to reduce bad cholesterol (LDL, linked to cardiovascular disease) and regulate the production of good cholesterol (HDL), because buckwheat contains powerful flavonoids, particularly rutin.
Flavonoids are phytonutrients with antioxidant properties, that helps maintain the blood flow and protects the cholesterol against oxidation from free radicals.
Magnesium, another mineral found in buckwheat, has relaxing properties over the blood vessels and improves the action of nutrients delivery when blood pressure is low. Flavonoids make a great pair for a healthy cardiovascular system.
Buckwheat can successfully replace the rice or legumes to create protein-packed dishes, but it can also be eaten raw, in puddings, or smoothies, after overnight soaking. If ground, buckwheat is the best gluten-free option for any baked goods, giving a mild nutty flavor and enriching the dish with nutrients, unlike plain white flour.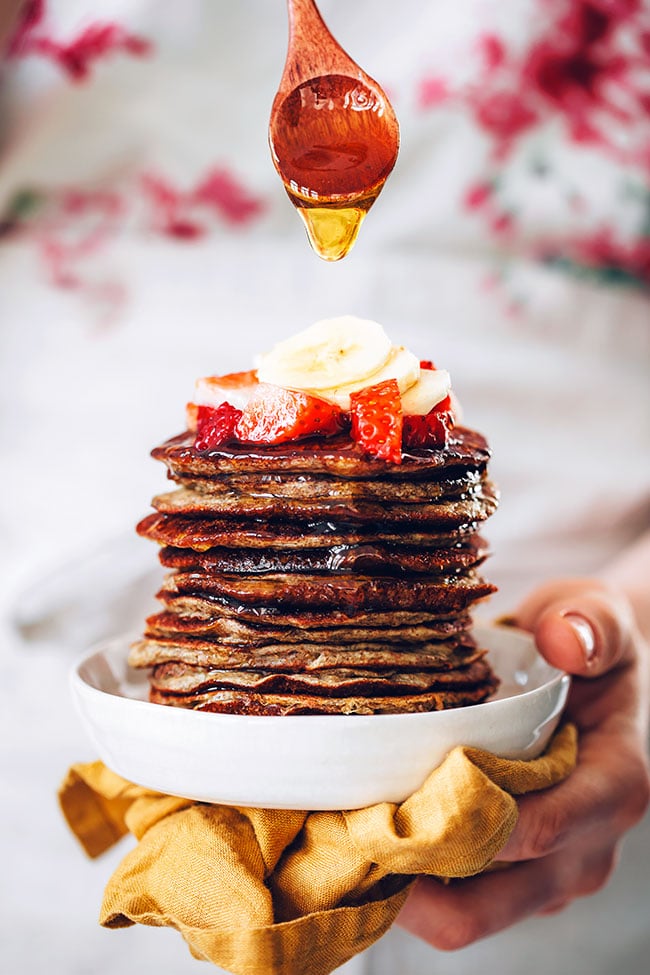 Pin
Little Tips for Making The Best Buckwheat Banana Pancakes
This is a later edit, since my initial recipe was posted I kept experimenting with it on different occasions and I'm happy to share my findings for making the perfectly delicious buckwheat banana pancakes! I also took a completely new set of photos so if you arrived on this page from a saved pin on Pinterest and the photos look different, don't worry, you're in the right place, just with better photos 🙂
– The initial recipe called for 1 cup plant milk and the batter turned a bit too thick – I tried adding 1/2 cups more plant milk according to some of your comments and it worked just fine.
– If you don't have flax seed you can use chia seeds – they will work perfectly as an egg replacement.
– Improve the flavour – a teaspoon pure vanilla extract, 2 tsp ground cinnamon or 1/2tsp cardamom powder will make your kitchen smell like holidays!
– If you aren't a big fan of bananas, use applesauce for the same buckwheat pancakes consistency.
– Instead of agave syrup I tried using maple syrup and it worked deliciously. I also used it for garnishing instead of honey, to make the recipe completely vegan.
– Serve with with any of your favorite fruits – fresh berries or strawberries can be added to the batter too, or served fresh or stewed as a topping.
– For a creamier alternative, add 1 tbsp coconut oil to the buckwheat pancakes batter.
– To keep the buckwheat pancakes warm while prepping  the remaining batter, preheat the oven to 100C/200F and keep the pancake plate inside until reef to serve.
Pin
Do you want to experiment more with gluten-free pancakes? Try my Oat Pancakes with Citrus Compote.
I love seeing your take on my recipes, so if you try this delicious pancake recipe don't forget to tag me @theawesomegreen so I can see them and share with the community!
Gluten-Free Buckwheat Banana Pancakes
Delicious gluten-free, sugar-free and vegan pancakes, with banana flavor, crunchy toasted almonds and bathed in raw honey.
Ingredients
1

cup

buckwheat flour

1

tbsp

agave syrup

1&1/2

cup

unsweetened almond milk

1

ripe banana

mashed

2

tbsp

ground flax

1

tsp

baking powder

1

tsp

baking soda

1

tsp

freshly squeezed lemon juice

1/8

tsp

pink Himalayan salt

Coconut oil

for the skillet

Toasted almonds

banana slices,diced strawberries and maple syrup to serve
Instructions
In a large bowl, mix the buckwheat flour, ground flax, salt, baking powder and baking soda.

Add mashed banana, vegan milk and agave syrup to the dry ingredients and mix to combine, until you obtain a thick but runny batter.

Grease a cast-iron skillet and heat over medium heat.

Scoop 1/4 cup batter into the skillet and cook until little bubbles appear on the surface (about two minutes). Flip over and cook for two more minutes.

Transfer on a plate and cover with a clean towel to keep warm.

Continue the same with the remaining batter, greasing the skillet every time you start a new pancake.

Before serving, top with banana slices, toasted almonds and a drizzle of organic raw honey.
Notes
Nutrition