What I love about my mostly plant-based diet is the variety of ingredients that feature across many recipes, and also the array of flavors you can create from those many ingredients. That's my main focus in this Buddha bowl, a hearty lunch or dinner that you can truly look forward to devouring or busting out at dinner parties.
It's a recipe that's simple enough that almost anyone can make, but carries high nutritional value, enticing you to want to create this meal every week!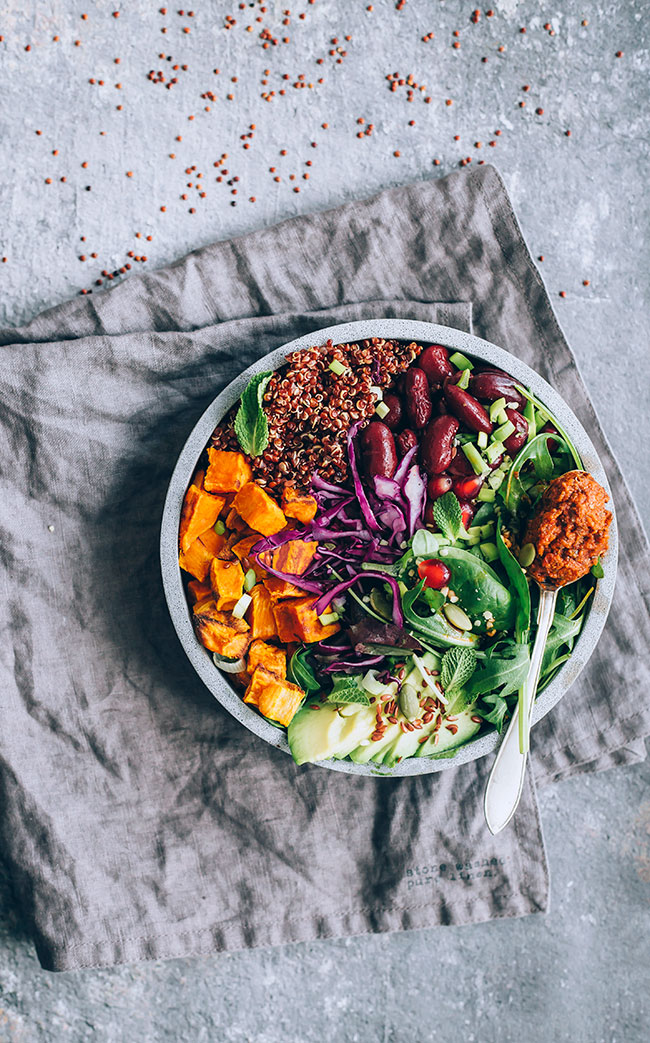 Pin
Legumes are a common feature throughout the vegan diet, that's because they're an excellent source of protein, vitamins and minerals. For this recipe I've used red kidney beans, which contain around 15g of protein per cup.
Of that cup, you'll find 45% of your daily fiber needs, nearly 60% of folate and a whopping 295% of molybdenum. This is an essential mineral that helps to breakdown amino acids in the body.
Red quinoa is one of the healthiest foods you can add into your meals, as it's a great source of manganese, copper, phosphorus and powerful antioxidants. Quinoa contains all nine essential amino acids, which is a great combination with the molybdenum found in the red beans, as those amino acids can be rapidly absorbed and put to use in the body!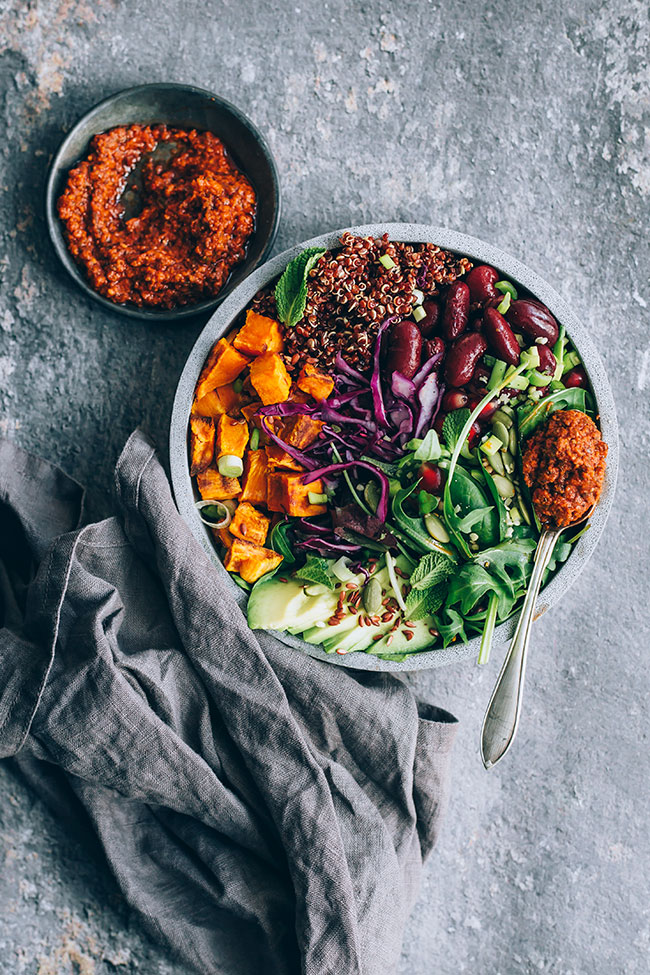 Pin
If you've been looking for alternative sources of probiotics, then look no further as I've included one whole cup of red cabbage sauerkraut. You can easily make this on your own at home, or buy readily made jars at your local health food store, making sure it doesn't contain any additives or preservatives.
Sauerkraut contains beneficial bacteria that help to balance out the good and bad bacteria in your gut. As 80% of our immune system is located in our gut, gut health is incredibly important for maintaining overall health and for disease prevention.
I've used many healing spices throughout the Buddha bowl, including paprika, turmeric and cayenne. Cayenne pepper in combination with other herbs and spices has been shown to increase their efficiency once consumed. Turmeric has to be one of the most powerful anti-inflammatory spices known to man.
As inflammation is the root of many modern-day diseases, consuming turmeric regularly will help to balance any acidity in the body. Particular compounds have even been found to be more powerful than man-made medication!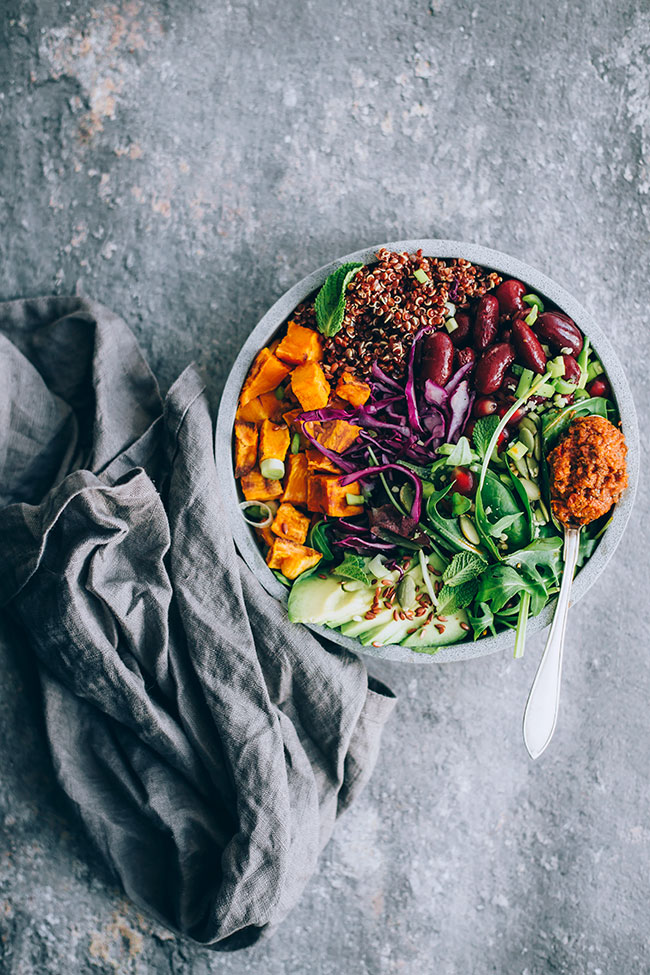 Pin
Buddha Bowl
A glorious combo of red quinoa, fresh greens, red beans and avocado, topped with a delicious sun-dried tomatoes dressing - the perfect lunch or dinner you can make for scratch or assemble from fridge leftovers.
Ingredients
1

can cooked red kidney beans

drained

1/2

cup

red quinoa

cooked (about 1 cup cooked)

1

cup

red cabbage sauerkraut

1

avocado

peeled and cut into slices

1

cup

fresh greens mix

arugula, spinach, chard, fresh mint

2

medium sweet potatoes

peeled and cut into small cubes

2

tsp

coconut oil

1

tsp

smoked paprika powder

2

tsp

raw flax seeds

2

tbsp

lemon juice

freshly squeezed

1/2

pomegranate

seeds only

Sun-dried Tomato dressing

6

sun-dried tomatoes

drained

5-6

fresh basil leaves

1

tsp

nutritional yeast

1

tbsp

extra virgin olive oil

2

garlic cloves

1/2

tsp

grated ginger

1/2

small shallot

diced

1

tbsp

apple cider vinegar

1

tsp

turmeric

1/2

tsp

cayenne

1/2

cup

purified water
Instructions
Preheat the oven to 175C/346F.

Line a baking sheet with parchment paper and add the sweet potato cubes.

Drizzle with coconut oil, add smoked paprika powder and toss to coat evenly.

Roast for 20 minutes, then remove and set aside.

Add the dressing ingredients into the blender and process to obtain a smooth liquid.

Divide the ingredients into the serving bowls, add with sun-dried tomatoes dressing, drizzle with lemon juice and serve.