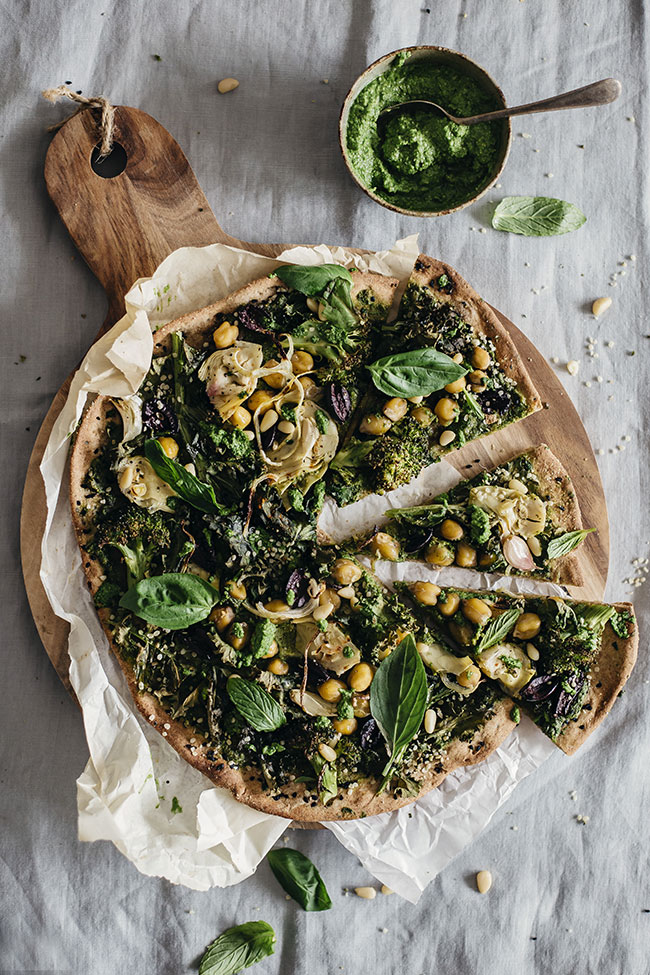 Who says that pizza is all about melting mozzarella and decadent toppings? Why wouldn't it be about a healthy and tasty meal your body will actually enjoy? I love pizza in every way, but to have it as often as I want, I'm always experimenting with lighter versions and healthier toppings. And since my fridge is stuffed with spring produce, today's pizza couldn't be anything but green.
I don't advocate taking classic recipes and veganizing them by all means, but we need to pay attention to what we eat. Sticking to a healthy diet doesn't mean cooking boring meals, but actually changing your perspective. If you crave pizza, why not adjust the ingredients to offer yourself a nourishing treat? You can replace the plain flour with a whole wheat one or even make a cauliflower crust pizza. You can replace the tomato sauce with a delicious, homemade greens pesto.
You can add different nuts and seeds for texture and flavor, reduce the mozzarella quantity and add a lighter cheese instead or simply eliminate it. I like to keep my eyes open for options and see beyond the classic combinations, so rather than thinking about the melting mozzarella and plain flour crust and feeling frustrated that it always gives me stomach burns, why not have a green pizza for dinner and actually enjoy its delicious taste?
This pizza is all about green and fresh and tastes amazing! It combines a thin and crunchy whole wheat flatbread crust with the combined magic powers of different members of the cruciferous family. I used kale to create that glowing green pesto, broccoli to add texture and cress for decoration. Fiber, minerals, calcium, antioxidants, cancer-protective and anti-inflammatory ingredients—all their exceptional nutrients and properties are cumulated in this pizza to ease digestion and make my body feel great. I added pine nuts and hemp hearts for a lighter version of the mozzarella fat, and to insure better absorption of the vegetables' nutrients, especially the antioxidants.
If you feel like adding mozzarella, go for it, but only use a small quantity, just to bring the ingredients together. The kale pesto was creamy enough for me, I didn't miss the cheese, and I also wanted to keep it vegan. Adjust the ingredients as you prefer—every little step is a fantastic one for your healthy lifestyle journey!