Bread used to have a major place in my diet, served alone or along with my favorite dishes, but as the years went by and I became interested about nutrition, bread changed its role in my diet from filling to nourishing.
I love making bread at home from time to time – the kneading process, the feeling while it miraculously raises, the smell and the fact it always gathers people 'round the table. I also like to buy freshly baked sourdough specialties from artisan bakeries, almost every Saturday morning. But when it comes to my day-to-day diet, I prefer to keep away from traditional bread and to prepare sprouted bread instead.
Pin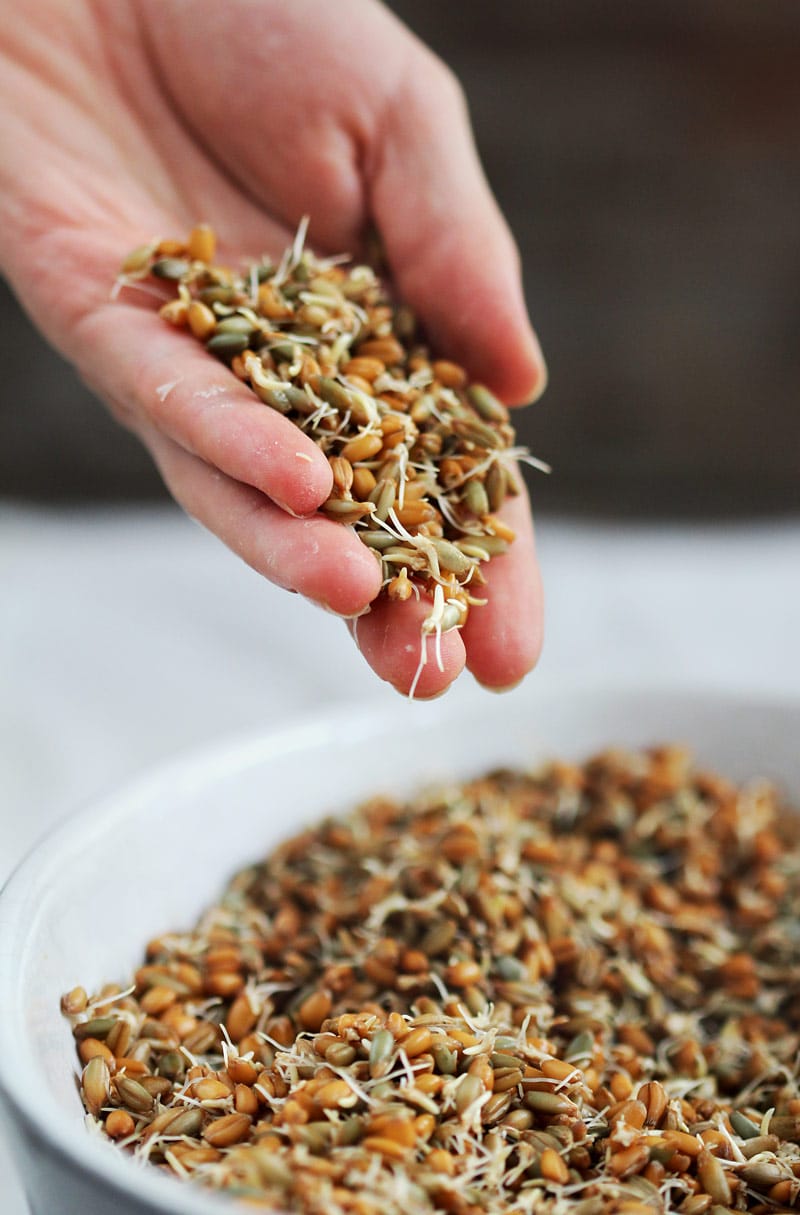 Pin
Why choose sprouted bread instead of normal whole wheat specialties? Because sprouting is an incredible process, miraculously transforming the chemistry of the little seed and releasing vitamins, enzymes, minerals, and amino acids. Whenever I sprout grains, I'm amazed again and again by the miracle that makes that tiny, dry wheat berry to transform into a little plant, just by soaking it in water.
Sprouting activates enzymes that break down the proteins and carbohydrates in grains, releasing the necessary vitamins and minerals to start a new life. Genetically, seeds contain anti-nutrients (phytic acid) and enzymes inhibitors that enable them to sprout before the time is right. These help in preserving the minerals and vitamins for this particular moment, and even making some seeds inedible when eaten raw in high quantities. These anti-nutrients will be neutralized when soaking the seeds in water.
When consuming whole traditional breads, the body loses a big part of the nutrients, being unable to fully absorb them during digestion (cooking doesn't completely neutralize the anti-nutrients). When eating sprouted bread, all the nutrients are immediately absorbed by our bodies.
Pin
Sprouting is a very easy process and you don't need fancy equipment to experiment with it. Wheat or rye berries sprout easily – after soaking overnight, in about two or three days you'll have ready the necessary sprouts for creating the nourishing sprouted bread.
Sprouted Bread (Wheat and Rye)
A nourishing bread, without added sugar, packed with minerals, perfect for a healthy breakfast.
Ingredients
1

&1/2 cups wheat berries

1/2

cup

rye berries

1/2

tsp

sea salt

1/2

tsp

Nigella seeds

to decorate
Instructions
Wash the wheat and rye berries in plenty of water, then place in a big pan and cover with double their volume of water and let soak overnight.

The next morning, remove the water, and spread the soaked berries on a large baking tray. Place in a warm place and make sure you keep them moist by spraying them with water and tossing them at least two-three times a day. At the end of the second day or at the beginning of the third, the sprouts should be ready.

Preheat the oven to 165 °C/329°F.

Transfer the sprouts into the food processor, add the salt and process to obtain a wet dough.

Line a baking sheet with parchment paper, and use your hands to create little buns, or any other bread shape you prefer.

Top with nigella seeds, and bake in the oven for 30 minutes.

When ready, remove from the oven, and let cool completely before eating.
Notes
Store in the refrigerator for 3-4 days.