Breakfast in a glass, this smoothie is one silky, healthy drink. Don't be distracted by the beautiful color and the pina colada vibes. It has its flavor and taste, but the nutritional value that the real pina colada can only dream of. 
I chose each ingredient in this smoothie carefully to improve digestive health. Good gut health is only the beginning of your weight loss journey. With only a handful of ingredients, a blender, and 10 minutes of your time, you can take your well-being into your own hands.
But many of you will wonder:
Is pineapple smoothie good for weight loss?
Because of its natural sweetness, low-calorie value, high water content, and fiber content, pineapple is called a weight-loss fruit! This smoothie has no added sugars. With the goodness of dietary fiber and added high protein content, this smoothie will keep you full longer, which means fewer cravings.
The smoothie also contains kefir and chia seeds, which aid digestion and bowel health. This plays a vital role in detoxifying the body so nutrient absorption can improve. 
For weight loss purposes, replacing your breakfast with this smoothie could work. However, it needs to be supported with exercise and other healthy eating habits to achieve visible weight loss.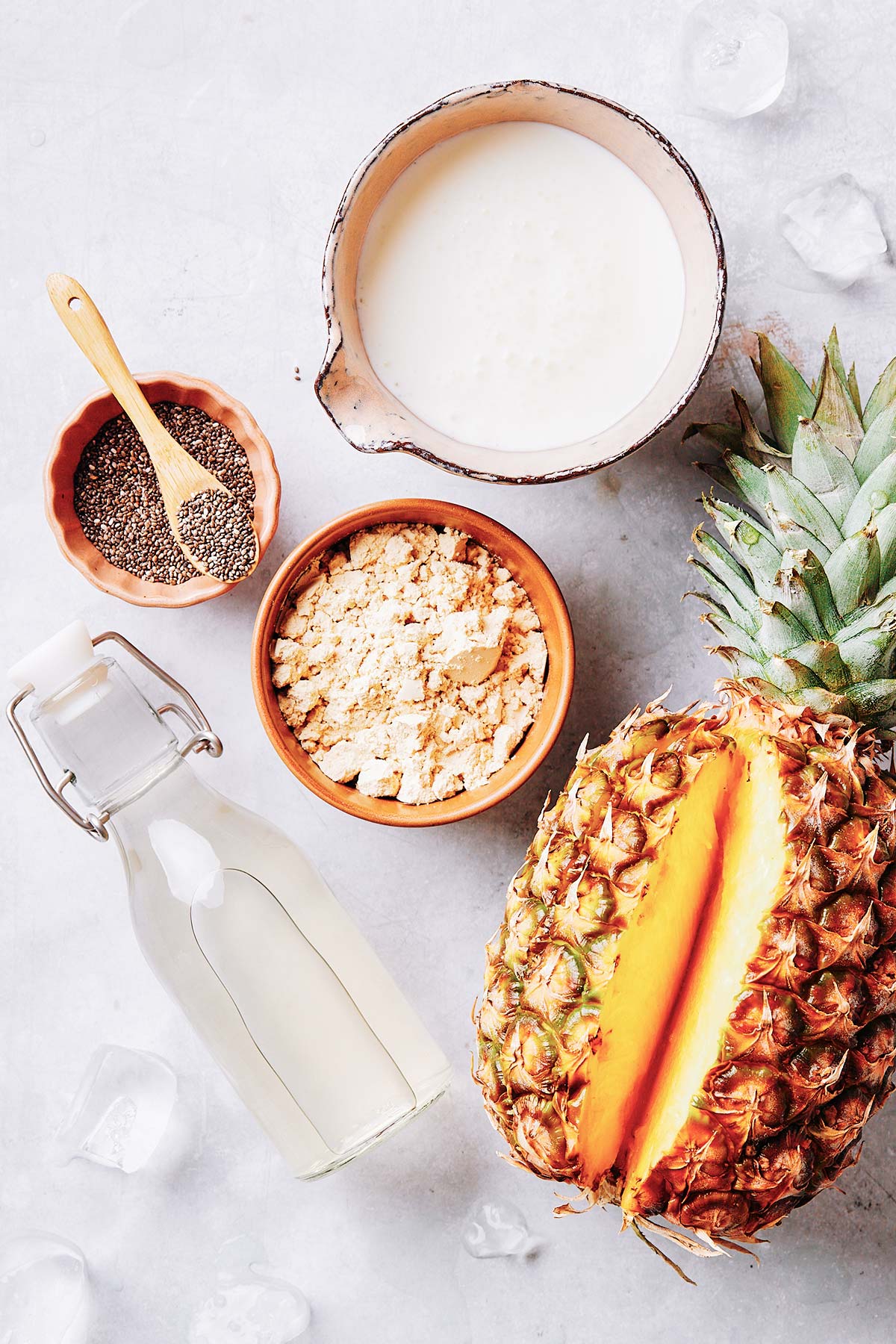 Pin
Ingredients and their health benefits
Pineapple
Pineapple is naturally sweet, abundant in dietary fiber, and rich in bromelain. Bromelain is a known anti-inflammatory enzyme that improves digestion. It is also beneficial for cardiovascular health and helps in pain relief. According to recent studies, 
bromelain has been recommended for the treatment of cancer, inflammation, and autoimmune diseases like rheumatoid arthritis. It also counteracts toxins released by bad gut bacteria and helps maintain a healthy gut microbiome.
Pineapple is also rich in vitamin C and manganese. One cup of pineapple satisfies about 80% of your vitamin C and manganese needs.
Kefir
Kefir is a cluster of more than 60 different yeast and beneficial bacteria (lactic and acetic acid making) trapped in a polysaccharide-protein matrix. When kefir grains are added to plant-based or animal-based milk, the sugars ferment over a period of time to form a probiotic yogurt-like drink. 
For vegetarians, kefir is an excellent source of vitamin B12 and proteins.
A classic probiotic, it can alleviate symptoms of irritable bowel syndrome, gut dysbiosis, and other digestive issues. It also benefits bone health, allergies, and asthma and may possess anticancer properties.
Coconut water
Coconut water is rich in calcium and minerals. Naturally sweet, it is low in calories and rich in electrolytes like magnesium and potassium. These properties make it an ideal hydration post-workout drink.
Protein powder
Proteins need to be a substantial portion of every meal. Protein powder is a great way to ensure this. Because smoothies are easy to consume on the go, this is the easiest way to get your daily dose. Choose a plant-based or whey protein powder of your preferred flavor to add to this smoothie. Proteins are also burned down slowly by your system so you won't feel hungry too soon.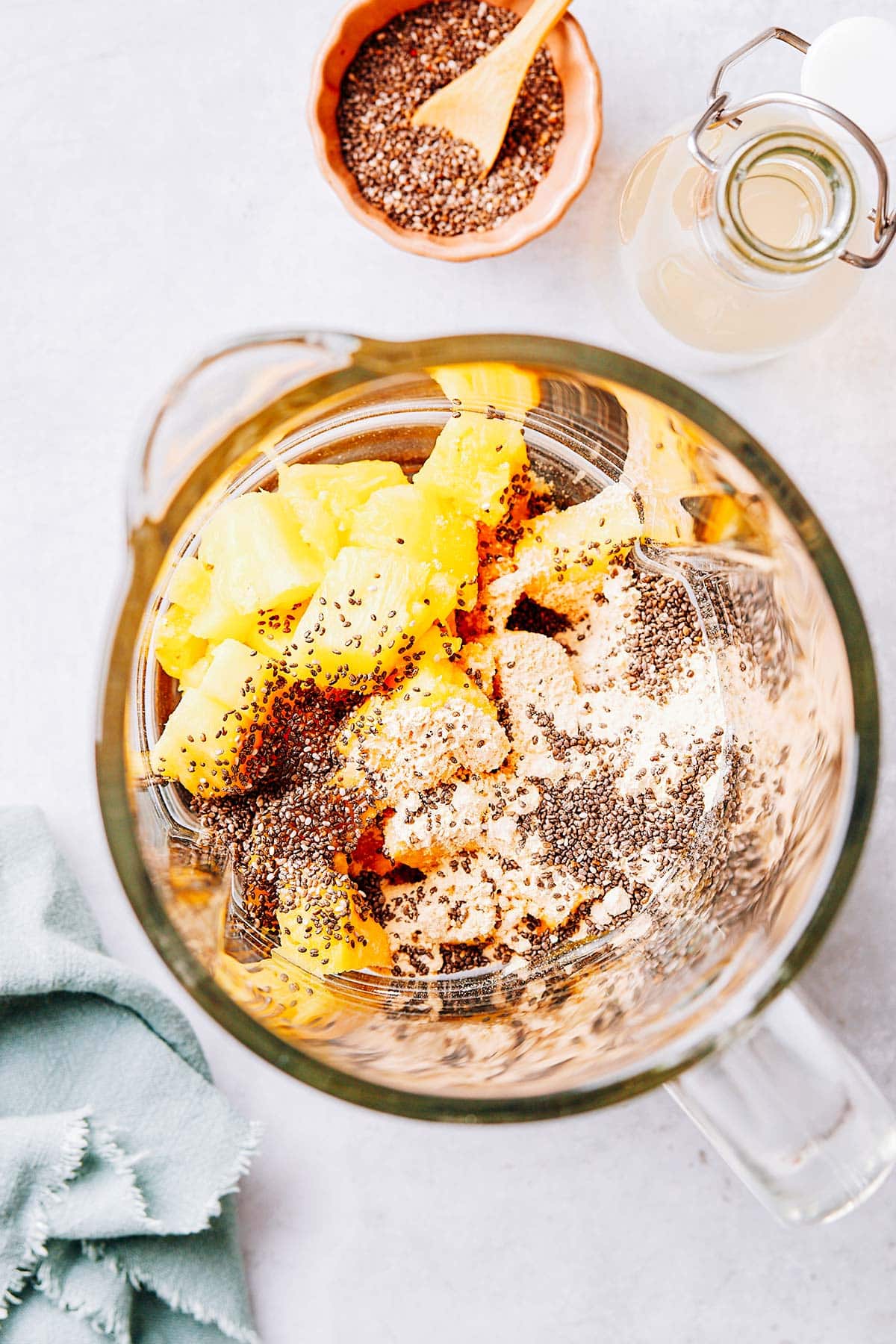 Pin
Add-ins or swap in options for the pineapple smoothie
Coconut yogurt instead of kefir
For all the vegan fans out there, you can get vegan kefir too. But if you are unsure about kefir, you can also get a tasty probiotic substitute in the form of coconut yogurt. Since it goes well with the tropical theme, it'll blend in effortlessly.
Add cucumber instead of coconut water
Getting coconut water could be problematic at times. In such cases, use cucumber. They are 95% water and have mostly no calories. Cool and fresh!
Add greens to the pineapple smoothie
Don't be shy about adding your favorite greens to this weight-loss smoothie. Adding kale or spinach to get iron and vitamins is always a good idea.
Add other tropical fruits
Melons, mangoes, watermelons, etc. Choose your pick of tropical fruits and add them to this smoothie. They all go well with pineapple and make killer smoothies. 
Make a smoothie bowl
If you enjoy eating your smoothie, turn it into a bowl. Add a few banana slices, your preferred seeds, and a few berries for a burst of color.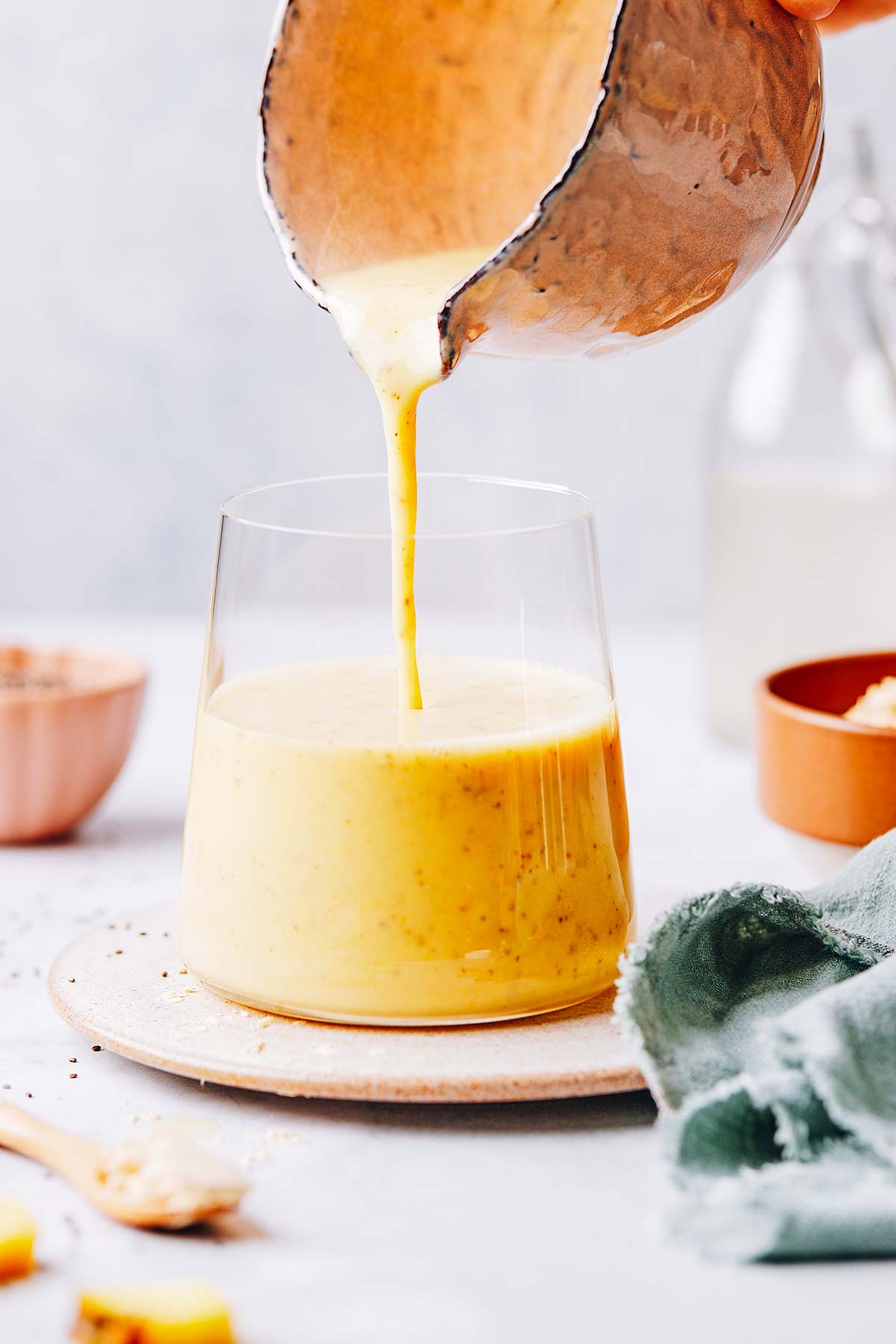 Pin
Tips for making the tastiest pineapple smoothie for weight loss 
Use a sweet pineapple
Use a sweet pineapple so you don't need to add extra sugar. Also, because kefir is kind of tart, sweet pineapple works better to balance out the flavors.
Avoid using pineapple juice
Pineapple juice has two drawbacks. First, it lacks the fiber and structure of the fruit, so your smoothie's consistency won't be thick enough. Secondly, it may contain added sugars and preservatives, which you don't need in this healthy smoothie.
Frozen fruits create thicker smoothies
If you have frozen pineapple, don't be afraid to use it in your smoothies. They make really good, thick smoothies. If you use frozen fruits, you can skip adding ice cubes too.
Use a high-speed blender
Using high-speed blenders ensures quick and efficient homogenization. The faster the process, the thicker and more concentrated the smoothie will be. You can enjoy it for a little longer.
Storing suggestions 
In the fridge
Although consuming a fresh smoothie is best, you may store it in an airtight glass bottle in the refrigerator for one day. If left undisturbed for long, the juice settles and separates. Remember to stir before you drink. 
In the freezer
If you have some extra smoothie, freeze it in ice cube trays. The frozen smoothie will remain unspoiled for 2-3 months. When you need it, toss the smoothie cubes into the blender and enjoy it within minutes.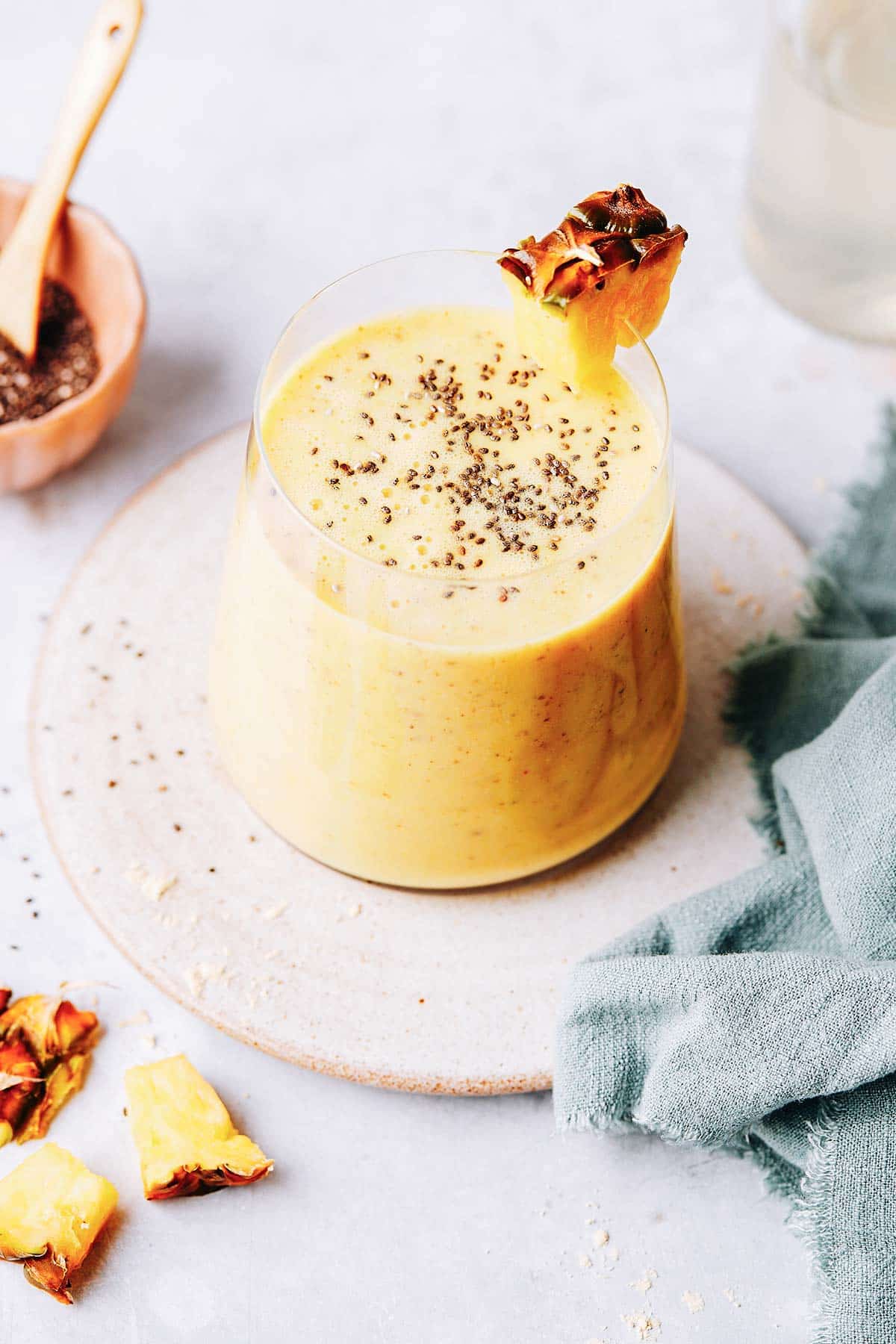 Pin
Recipe FAQs
How many calories are present in 1 glass of pineapple smoothie?
On average, 1 serving of this pineapple smoothie has 250 calories – perfect for a weight loss breakfast.
Does this smoothie help to lose belly fat?
The pineapple smoothie helps improve your digestion and is detoxifying. And an efficient digestive system is the starting point for losing belly fat. Supplement with a consistent exercise routine and a nutritious diet for better results.
Does the pineapple smoothie taste different with the frozen pineapple?
Frozen pineapple is a great substitute for fresh pineapple. With frozen pineapple, the taste is similar, but the texture is thicker and better.
Does pineapple smoothie taste different because of kefir? 
No, kefir adds a little bit of tartness to the smoothie. Just like lemon, it cuts through the sweet flavors of pineapple and coconut water.
Pineapple Smoothie (for Weight Loss)
This is the best smoothie to start your day with if you're looking to lose a few extra pounds without feeling hungry.
Ingredients
1

cup

pineapple

cut into cubes (we used fresh, but frozen works as well)

1

cup

coconut water

1

cup

kefir

2

tsp

chia seeds

1/3

cup

protein powder

4-5

ice cubes
Instructions
Add all the ingredients into a high speed blender and process until smooth andc reamy.

Drink straight away or pack or keep in a glass bottle at the refrigerator until up to one day.