You may not have heard about moringa tea, and that's because it's not as spoken about as the well-famed matcha. But if moringa's not a part of your daily routine, then you're missing out on some pretty powerful nutrients!
While teas like black tea and English Breakfast are very soothing and easy to drink, they are actually quite acidic to the body. Rather, introducing teas into your world that boast numerous health benefits is the key to unlocking a bountiful of energy.
Pin
Moringa tea is rich in antioxidants, which help to clear toxins from your body. Antioxidant rich foods and beverages, allow numerous systems such as your digestive and immune system to function optimally.
Sometimes man-made additives to foods you consume, such as preservatives and sprays, can build up in your body, allowing inflammation and disease to form. Antioxidants not only scavenge out toxins, or free-radicals, they go one step further by protecting your tissues and cells from harm. And yes, this also means youthful and radiant skin!
In this day and age, it's so important to ensure your diet is plentiful in antioxidant-rich foods, given the rapidly growing number of cancers now being diagnosed.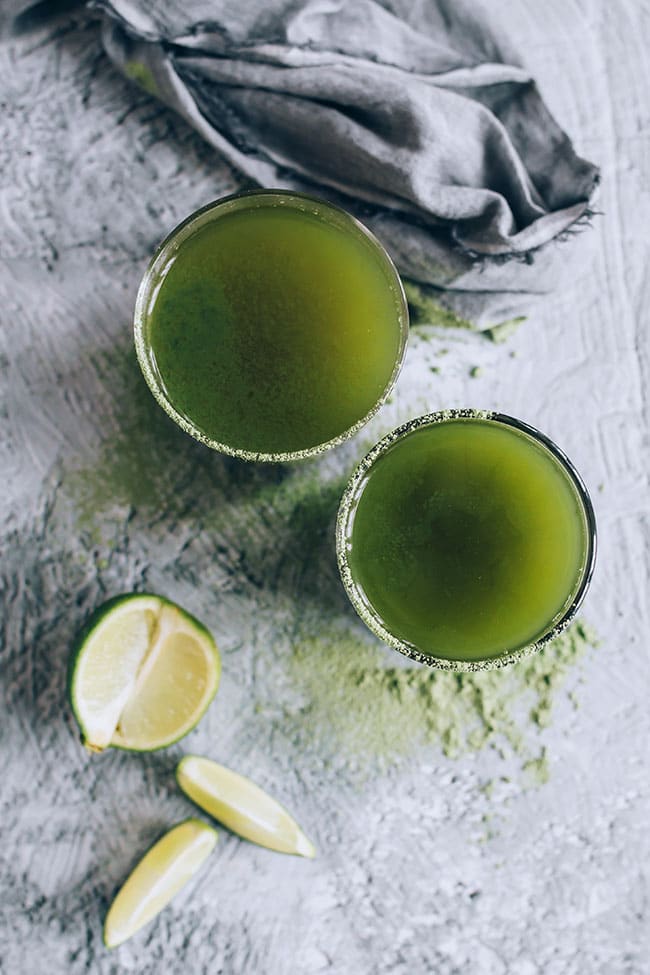 Pin
I've focused this tea to match a vegan diet, as moringa contains all nine essential amino acids, and is actually about 25% plant protein. Finding this level of protein from any plant source is quite rare, and it's important to get a diverse range of amino acids in your diet as a vegan, and of course protein!
Much like spirulina, moringa is also an excellent source of iron, with 10g of moringa powder making up nearly 50% of your recommended daily intake.
Pin

Combining green tea in this beauty booster guarantees a potent mix of antioxidants from two rich plant sources. Green tea will help to raise your alertness in a much gentler way than that of coffee, due to the natural levels of caffeine found within. Green tea is a powerhouse for nutrients including vitamin E, folic acid and vitamin C.

Chlorophyll is also an important component found in both moringa and green tea, an incredibly healing green pigment that has been found to contain anti-cancer properties, hold detoxifying effects and purify the blood.
Pin
Looking for more healthy, comfort drinks inspiration? Check  my Fasting Tea Recipe with Healing Spices, my Liver Detox Tea with Ayurvedic Spices,  the Ginger Turmeric Tea for a Quick Immunity Boost or my Matcha Latte with Maca, the Super Healthy Energy Drink.
Moringa Tea for Healthy Skin
Loaded with antioxidants, minerals and protein, the moringa tea is an exceptional beauty-boosting drink, promoting skin health and natural detoxification.
Ingredients
3

cups

purified hot water

about 80 degrees C

1

tsp

moringa powder

1

tsp

green tea

10

fresh peppermint leaves

1

tbsp

freshly squeezed lime juice

Optional: 1 tsp pure maple syrup or raw honey

for the non-vegan version
Instructions
Add moringa powder, green tea and peppermint leaves into a pitcher, and cover with hot water.

Infuse for 5 minutes, then strain and cool until comfortable to drink.

Add the lime juice and sweetener, mix and serve.
Nutrition