Jamie's Italy was my first cookbook, and this wonderfully talented guy won my heart and a special place on my kitchen shelf ever since. I still find inspiration in his work after all this time, and I'm always happy to watch every show or project he's up to. Last year, in one of the episodes of his Friday Night Feast show, he had to dream up a burger together with vegan guest star Ellie Goulding, and boy, they sure did it! That green monster bathed in spicy vegan mayo haunted me and soon turned into a favorite in our house (of course, after my signature Ultimate Veggie Burger :).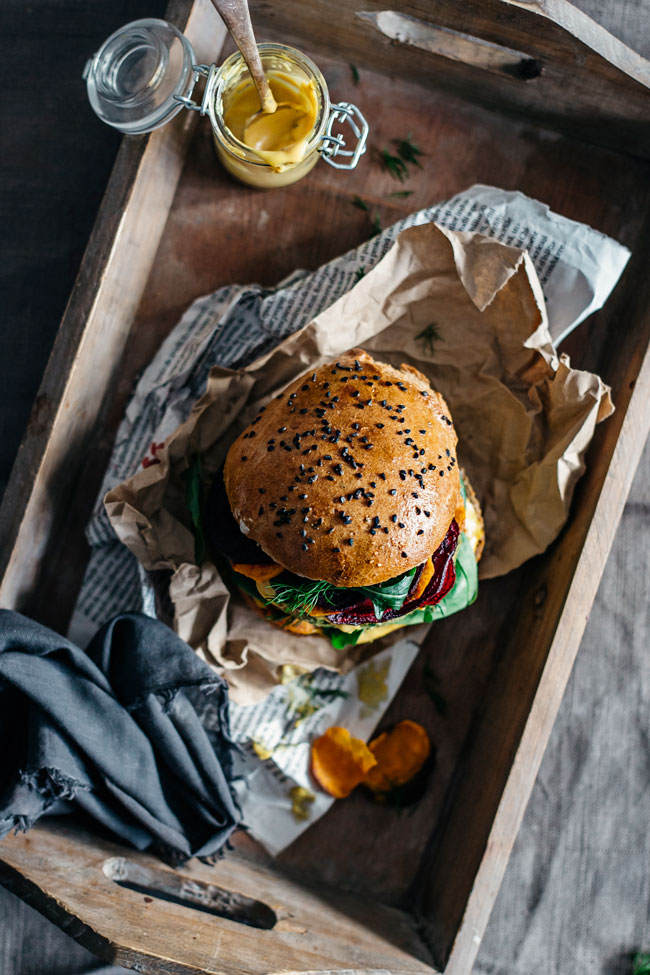 Pin
Making a vegan burger that actually stays together and yet tastes delicious is an incredible challenge. While it's so easy to add an egg or two and get the job done, for the vegan version, most of the time you end up with unedible pieces of mashed food that question your presence in the kitchen. Last year, I decided to exclude eggs from my diet for a few weeks every once in a while, and this vegan burger was a great savior for me. I have it with a side salad, in a bun, or simply as a snack, because it is so well flavored and filling that you simply don't need anything else.
I did make some little changes to Jamie's burger. I replaced the plain flour with a whole wheat one (you can also use a gluten-free version), added cannellini beans instead of broad beans (because I don't manage to find them very often), added some aromatic herbs to enhance the taste and gorgeous green color, skipped the onion rings because I try to stay away from too much frying, and instead, served them with sweet potato and beet chips. The taste is simply gorgeous, but what really makes these burgers a hit is the spicy vegan mayonnaise, because of the genius idea of adding a sundried tomato paste, which gives that umami taste everybody was talking about a while ago.
Pin
Nutritionally speaking, this vegan burger enriches your diet with fiber, protein, and minerals. The unique antioxidants in green peas also offer protection against chronic stomach diseases, and also promotes heart health with their anti-inflammatory properties. It's so amazing to take a bite of something so delicious, and yet nourishing and filled with health-promoting nutrients. Of course, calories aren't something to think about when having a burger!
Pin
Monster Vegan Burger by Ellie Goulding and Jamie Oliver
Made with peas and sweet corn and served with beet and sweet potato chips, this delicious is bathed in a genius spicy vegan mayo!
Ingredients
1

cup

frozen sweetcorn

1

cup

frozen peas

1

cup

cannellini beans

canned

1

small onion

finely diced

½

bunch of fresh coriander

1

bunch fresh parsley

75

g

whole wheat or gluten-free flour

1/2

tsp

ground cumin

1/2

tsp

cayenne pepper

1/2

tsp

sea salt

Freshly ground black pepper

1

tbsp

sesame seeds

1

tbsp

sunflower seeds

Coconut oil for frying

1

handful fresh arugula

rocket

3-4

dill springs

1

handful baby spinach leaves

fresh

2

pickled cucumbers

sliced

1/2

lime

juice only

4

large good quality whole wheat or gluten-free buns

For the spiced vegan mayo

1

spring onion

A pinch cayenne pepper

½

garlic clove

1/2

cup

chickpeas

canned

3-4

sun-dried tomatoes

soaked for at least 30 mins into warm water

1

teaspoon

Dijon mustard

1

lemon

juice only

3

tbsp

extra virgin olive oil

For the beet and sweet potato chips

1

medium beet

peeled

1

medium sweet potato

peeled

1

tsp

coconut oil

1

tsp

apple cider vinegar

A pinch sea salt
Instructions
Place the frozen veggies into a bowl and set aside to defrost, about 15 minutes.

Preheat the oven to 190°C/375°F.

Transfer the defrosted veggies into the blender, together with the cannellini beans, onion, coriander, parsley, flour, cumin, cayenne, salt and pepper, and pulse to obtain a rough paste.

Add the sesame and sunflower seeds, and pulse again to incorporate.

Shape the mixture into four burgers using your palms, cover with a plastic foil and freeze them for 10 minutes, then transfer into the refrigerator. (the last steps are important for keeping them firm).

Cut the beet and sweet potato into thin slices using a mandolin, place them on a baked sheet, drizzle with coconut oil and vinegar, season with salt and toss to coat evenly. (you can separate the sweet potato from the beet to avoid the pink coloring of the last one).

Bake for 15 minutes until crispy, then remove and set aside to cool.

Add the spring onions, garlic clove, chickpeas, sun-dried tomatoes, Dijon and lemon juice into the blender, and process to combine, then gradually add the olive oil until you obtain the mayonnaise consistence.

Spray a cast-iron skillet with coconut oil, add the burgers and cook over low heat for 5 minutes on each side, until golden.

In a medium bowl add the arugula, spinach and dill, drizzle with extra olive oil and lime juice, and mix to combine.

Cut a burger bun into halves and toast them for a few minutes on a hot griddle pan or under the grill

Spread some mayonnaise on a burger bun base, add a vegan burger, top with another bit of mayonnaise, then layer 3-4 beet and sweet potato chips, 1 slice of pickled cucumber and fresh greens salad, close with the bun top, then continue the same with the other burgers.

Serve warm or pack to go.
Notes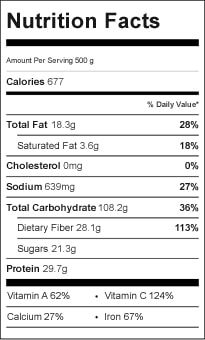 Nutrition