Jamie's Italy was my first cookbook, and this wonderfully talented guy won my heart and a special place on my kitchen shelf ever since. I still find inspiration in his work after all this time, and I'm always happy to watch every show or project he's up to. Last year, in one of the episodes of his Friday Night Feast show, he had to dream up a burger together with vegan guest star Ellie Goulding, and boy, they sure did it! That green monster bathed in spicy vegan mayo haunted me and soon turned into a favorite in our house (of course, after my signature Ultimate Veggie Burger :).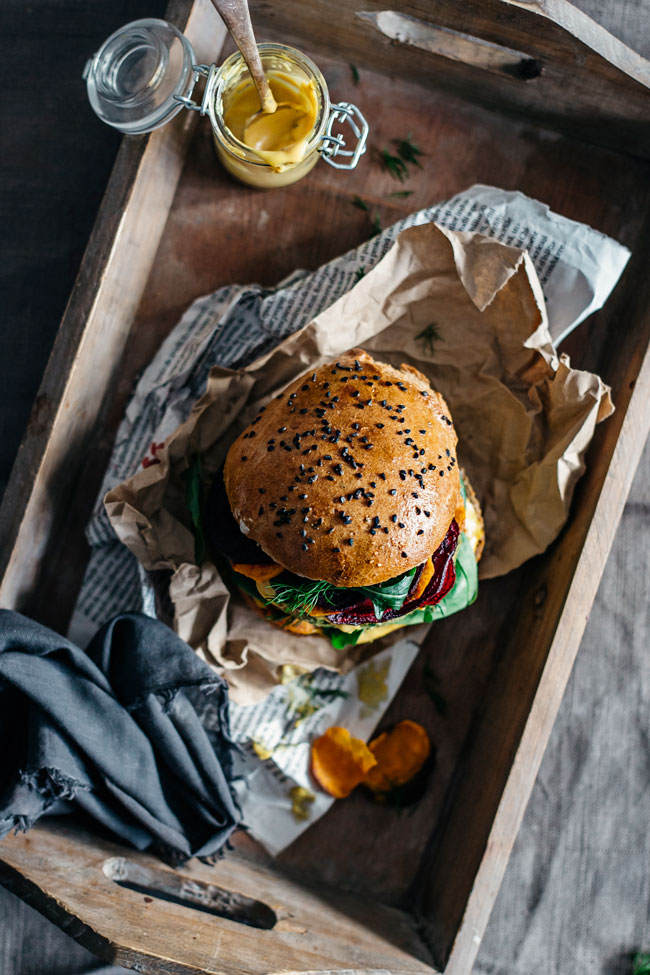 Making a vegan burger that actually stays together and yet tastes delicious is an incredible challenge. While it's so easy to add an egg or two and get the job done, for the vegan version, most of the time you end up with unedible pieces of mashed food that question your presence in the kitchen. Last year, I decided to exclude eggs from my diet for a few weeks every once in a while, and this vegan burger was a great savior for me. I have it with a side salad, in a bun, or simply as a snack, because it is so well flavored and filling that you simply don't need anything else.
I did make some little changes to Jamie's burger. I replaced the plain flour with a whole wheat one (you can also use a gluten-free version), added cannellini beans instead of broad beans (because I don't manage to find them very often), added some aromatic herbs to enhance the taste and gorgeous green color, skipped the onion rings because I try to stay away from too much frying, and instead, served them with sweet potato and beet chips. The taste is simply gorgeous, but what really makes these burgers a hit is the spicy vegan mayonnaise, because of the genius idea of adding a sundried tomato paste, which gives that umami taste everybody was talking about a while ago.
Nutritionally speaking, this vegan burger enriches your diet with fiber, protein, and minerals. The unique antioxidants in green peas also offer protection against chronic stomach diseases, and also promotes heart health with their anti-inflammatory properties. It's so amazing to take a bite of something so delicious, and yet nourishing and filled with health-promoting nutrients. Of course, calories aren't something to think about when having a burger!