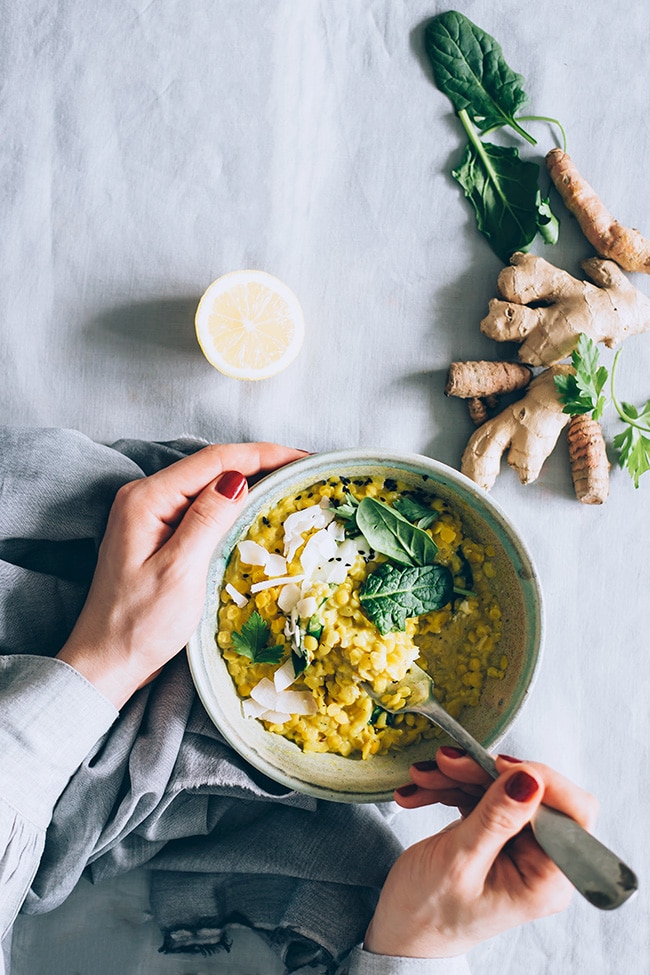 There is something about making curry at home that resembles a ritual. Maybe because you're adding so many spices together, one by one, maybe because of the cozy smell that brings the whole family together around the table, or maybe because of its healing properties that almost turn it into a digestive medicine. I know for sure that there's nothing more comforting and gently soothing in wintertime than having a warm bowl of homemade curry.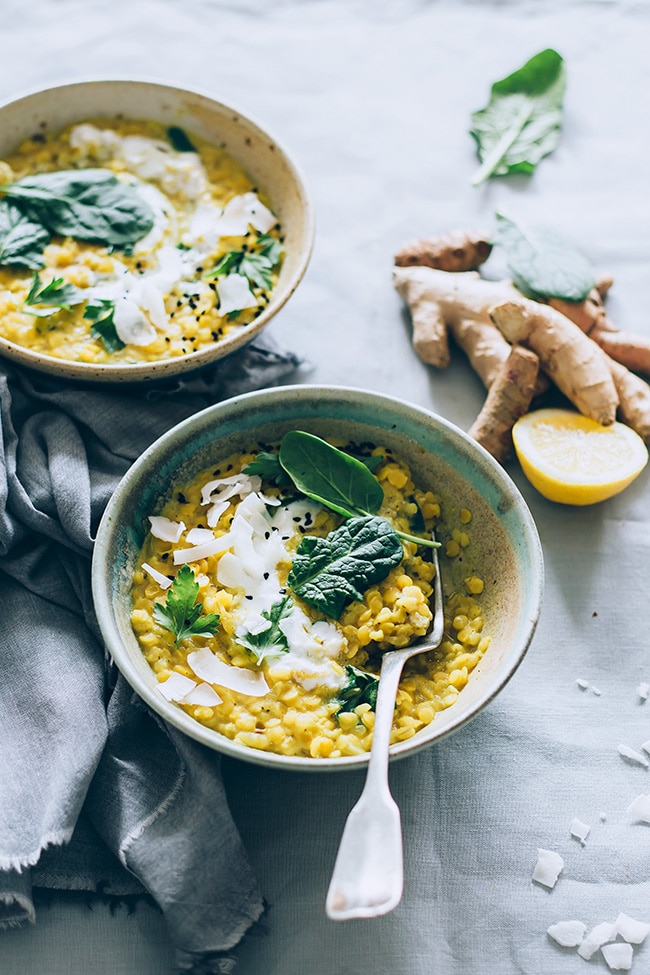 Maybe it sounds a little strange to call this dish "turmeric curry", because the spice is a main ingredient for the traditional dish, but this one is made with a lot of turmeric. I just can't get enough of this curcuma spice, and although there's been so much said about and done with turmeric, I still need to highlight its amazing properties and add tons of it, both powder and raw, in my dishes, every time I get the occasion.
I also love the fact that it adds this electric yellow color and intense flavor to any food, making it so alluring, stimulating conscious eating and gratitude towards the food.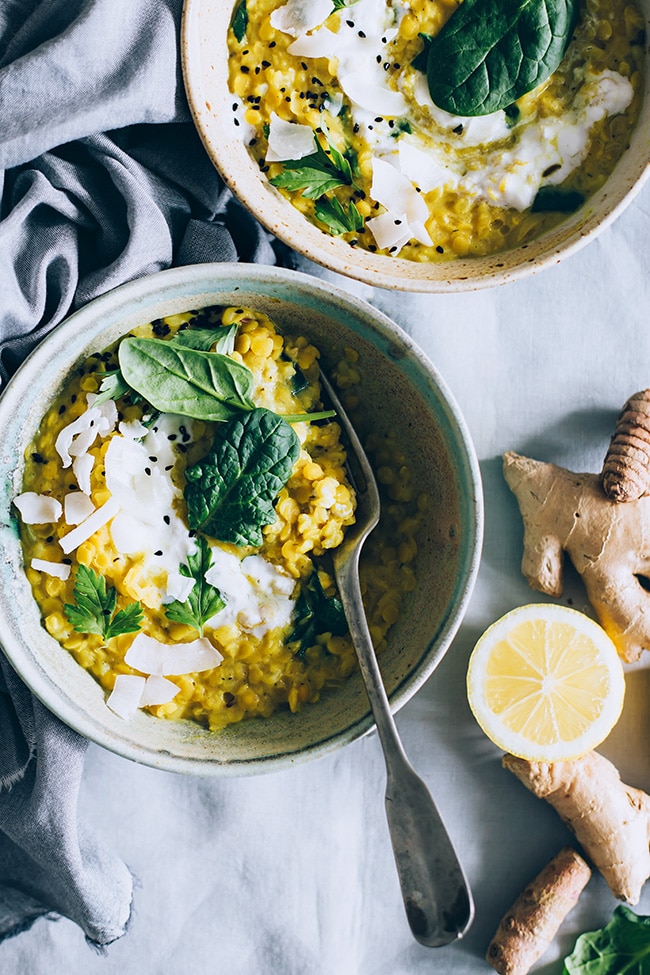 The range of health benefits of turmeric are much more than just its anti-inflammatory and antioxidant effects. The digestive soothing properties, decreasing the risk of cancer, improving the brain and kidney function, and reducing the pain in arthritis are just a few of the reasons it was used in Ayurvedic medicine for thousands of years.
The ways in which turmeric influences our health are multiple and remarkable, and most of them are due to its active substance, a polyphenol called curcumin.This triggers antioxidant processes, anti-inflammatory reactions, and immune-boosting and enzyme-related actions by stimulating the natural detoxification processes within our cells and balancing the cells' cycles.
The imbalance of our functions is the root of illness, and turmeric is a spice I like to think of as the recalibrator, one that heals the body with its nutrients and the mind with its flavor.
I used raw turmeric to make this curry because I happened to find the tiny yellow roots at the market (which is quite rare), but you can use the powdered kind.
This turmeric curry is not only alluringly colored and flavored, but also packed with protein from the lentil-brown rice combination, and makes a filling dish for your season transition evening dinners.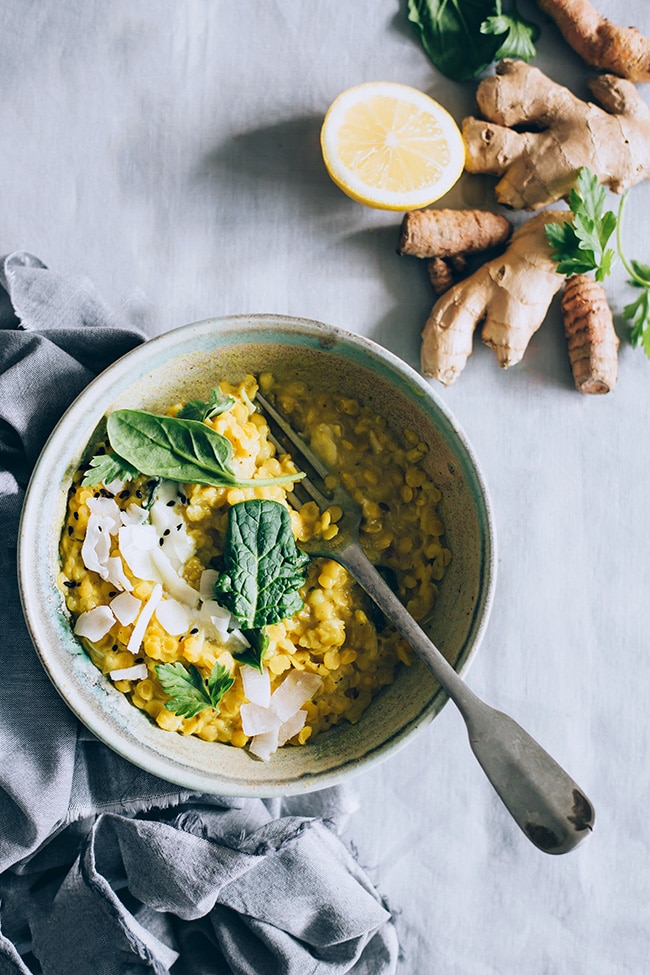 Save
Save
Save