There is something about making curry at home that resembles a ritual. Maybe it's because you're adding so many spices together, one by one. Or due to the cozy smell that brings the whole family together around the table. Or maybe because of its healing properties that almost turn it into a digestive medicine.
I know for sure that there's nothing more comforting and gently soothing in wintertime than having a warm bowl of homemade curry.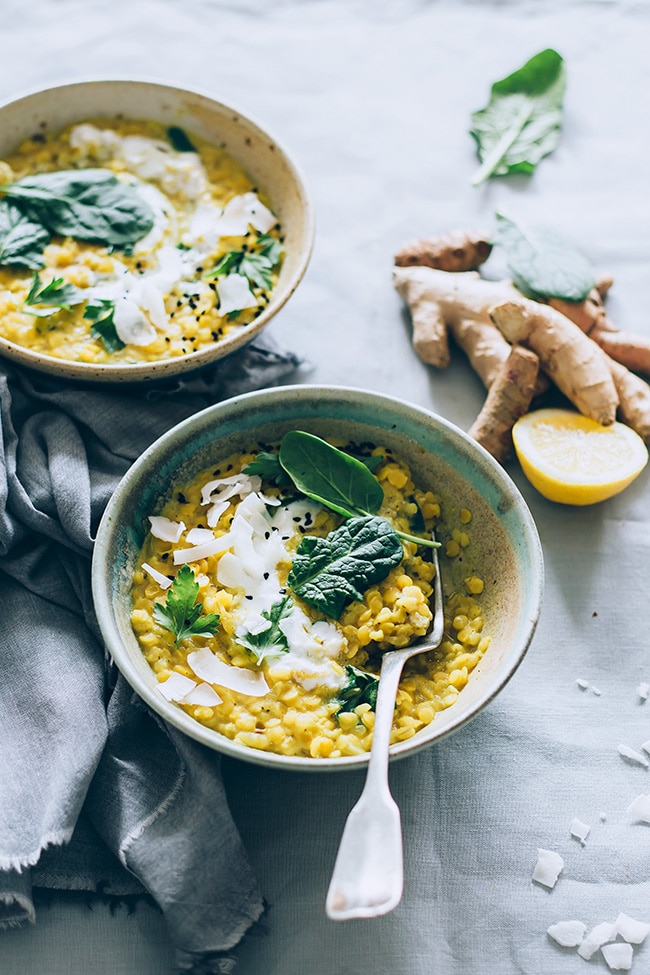 Pin
This curry is made with a lot of turmeric. I just can't get enough of this curcuma spice, and although there's been so much said about turmeric, I still need to highlight its amazing properties. I  add lots of it, both powder and raw, in my dishes every time I get the occasion.
I also love the fact that it adds this electric yellow color and intense flavor to any food, making it so alluring, stimulating conscious eating and gratitude towards the food.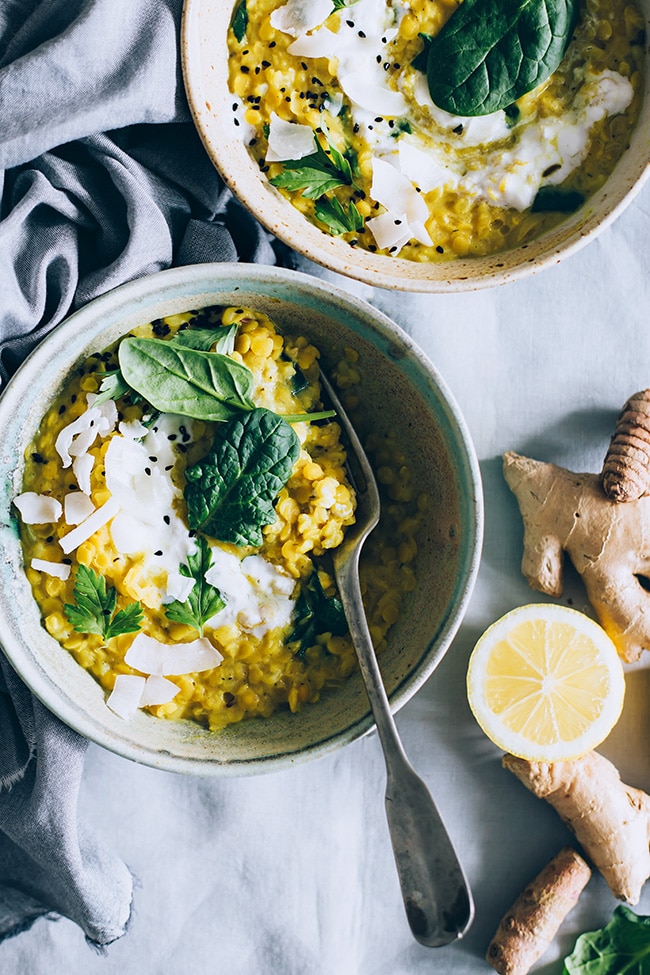 Pin
The range of health benefits of turmeric are much more than just its anti-inflammatory and antioxidant effects.
It has digestive soothing properties, decreasing the risk of cancer, improving the brain and kidney function, and reducing the pain in arthritis. These are just a few of the reasons it was used in Ayurvedic medicine for thousands of years.
The ways in which turmeric influences our health are multiple and remarkable, and most of them are due to its active substance, a polyphenol called curcumin.
It triggers antioxidant processes, anti-inflammatory reactions, immune-boosting and enzyme-related actions by stimulating the natural detoxification processes within our cells and balancing the cell life cycle.
The imbalance of our functions is the root of illness, and turmeric is a spice I like to think of as the re calibrator, one that heals the body with its nutrients and the mind with its flavor.
I used raw turmeric to make this curry because I happened to find the tiny yellow roots at the market (which is quite rare), but you can use the powdered version.
This turmeric curry is not only alluringly colored and flavored but also packed with protein from the lentil-brown rice combination, and makes a filling dish for your evening dinners.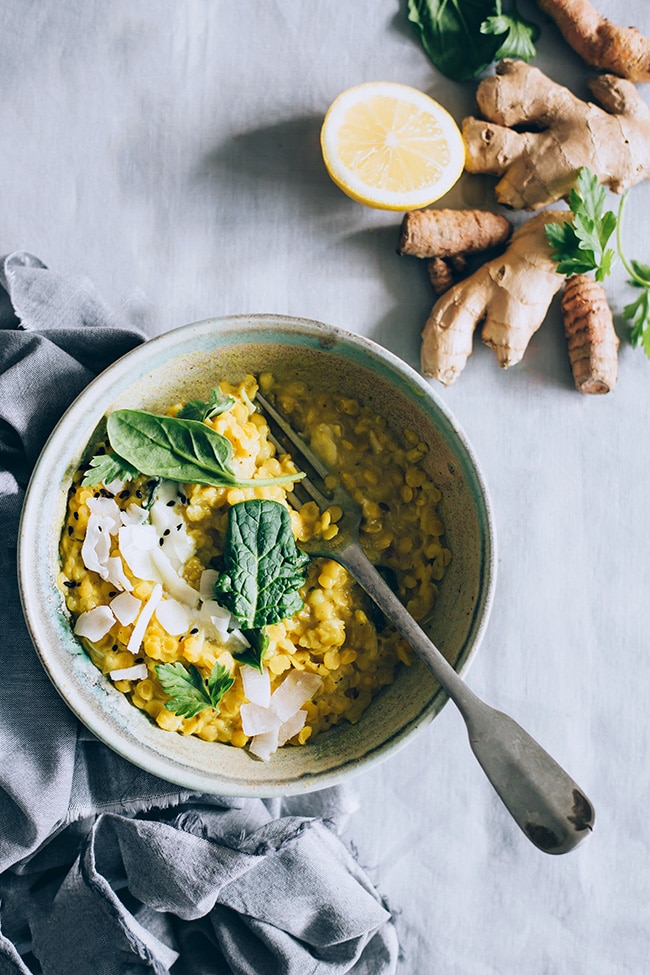 Pin

If you try this, or any of my recipes don't forget to tag me on Instagram @theawesomegreen so I can see them and share with the community!
Healing Red Lentil Curry with Turmeric and Spinach
This Ayurvedic spiced curry is a healing medicine for digestive issues and makes the most comforting winter dinner dish.
Ingredients
1

cup

red lentils

1/2

cup

brown rice

2

cups

low sodium vegetable broth

1

cup

full fat coconut milk

1

medium yellow onion

finely diced

1

tbsp

turmeric powder

or 2 medium turmeric roots, peeled and grated

3-4

cardamom pods

2

cloves

1

inch

ginger knob

peeled and grated

1

tsp

cumin powder

1

tsp

caraway seeds

1/2

tsp

ground coriander seeds

1/2

tsp

cinnamon powder

1/2

tsp

cayenne pepper

2

garlic cloves

minced

1/2

cup

coconut yogurt

1

cup

fresh spinach leaves

2

tbsp

fresh lemon juice

1/2

tbsp

virgin coconut oil

1/2

tsp

sea salt

Freshly ground black pepper

Coconut flakes

nigella seeds, fresh parsley leaves, to garnish
Instructions
In a medium pot heat the coconut oil, add the onion and cook for three minutes over low heat, stirring frequently until translucent.

Add garlic, spices, lentils and rice, mix to combine and cook for two minutes, stirring frequently.

Add the vegetable broth, bring to boil then simmer for 15 minutes, until the brown rice and lentils are cooked.

Add the coconut milk and lemon juice, season with salt and pepper.

Add the spinach leaves, mix to incorporate, turn off the heat.

Divide into serving bowls, top with coconut yogurt, garnish with coconut flakes, nigella seeds and fresh parsley, and serve warm.
Notes
Nutrition
Save
Save
Save