You may know ginger as a fragrant spice for making gingerbread, chai-tea, spiced latte, or Asian cuisine. But did you know that you can make super tasty and healthy ginger juice at home? I use it regularly to improve digestion and boost immunity.

With some fresh ginger roots, lemon, water, and a high-speed blender, you can have a refreshing juice, ready to drink within 10 minutes. 
Ginger has been used in traditional medicine for ages and has many therapeutic benefits. Not only does it help with mild indigestion, bloating, and nausea, but it is also a potent anti-inflammatory agent. Combined with lemon juice, it makes for a delicious drink, perfect for hydration and your dose of vitamin C.
Also, with no added salt or sugar, this ginger juice is suitable for all diets and for detox. You can drink it first thing in the morning, pre-workout, or with your meals. Whether you serve it chilled during summer or hot during winter, this recipe is a must-try.
Pin
Benefits of drinking ginger juice
Drinking ginger juice has plenty of health benefits. These are just some of the ways it positively influences your health:

Is the flu season knocking at your door? With your flu shots, also take some ginger shots to boost your immunity. It is known to provide relief from congestion and sore throat.
Pain relieving properties
Due to its anti-inflammatory properties, it is also an excellent analgesic. It will not only relieve your stomach pain due to indigestion, but will also help with menstrual cramps. People who have rheumatoid arthritis have experienced alleviation of their pain after consuming ginger juice.
May help to lower blood pressure.
Some animal studies have revealed that active compounds in ginger counteract the bad cholesterol and triglycerides, contributing to a healthy heart.
May help with stomach issues

. 
Although enough evidence does not support it, ginger juice has been used to treat symptoms of indigestion, nausea, and vomiting since historical times, throughout many cultures. 
May support your weight loss journey.

 
When consumed after a meal, ginger juice helps you feel fuller, preventing over-eating.

Ways to juice ginger
High-speed blender
Using a high-speed blender is the quickest and easiest way to juice ginger. Check the recipe section to learn how to make ginger juice using a blender. 
Juicer
If you have a juicer at home, use that to juice your ginger root. The juicer method works well if your ginger roots are fresh and hydrated. If you use dried or older ginger roots, it will be challenging to extract the juice. 
Ginger grater
You can make ginger juice without a high-speed blender or a juicer. 
To extract juice from ginger, grate it using a box or a cheese grater. Then, squeeze out the juice from the ginger flesh using a muslin cloth or a nut bag. Pass over some warm water through ginger to extract maximum flavor.

Recipe variations

Make it sweet or savory
Add some rock salt for a savory and zingy drink. And if you love the flavor of ginger drops candy, feel free to add your preferred sweetener. Or add a little bit of both for a tangy ginger lemonade.
Add herbs
Add some crushed mint or basil leaves for some herby goodness. The classic combination of ginger, lemon, and mint will not disappoint you.
Substitute lemon juice with kombucha
Kick things up a notch by adding fermented kombucha to the mix. Surprise your party guests with this fantastic mocktail idea.
Add other juices to the mix.
Add fresh or frozen fruits like kiwis, berries, oranges, or vegetables like cucumber, carrots, beetroot, and kale to the blender.
Tips for making the tastiest ginger juice 
Always clean and peel the ginger.
Ginger root grows underground, so it could have soil and dirt clinging to it. Always scrub the ginger clean before using it. It takes a little time, and you'll not lose a lot of flesh.
Avoid using ginger powder.
Although it might seem intuitive to use ground ginger or dried ginger powder in this recipe, I advise against it. Fresh and dried ginger flavors are drastically different and cannot replace one another. So just use fresh ginger for this recipe.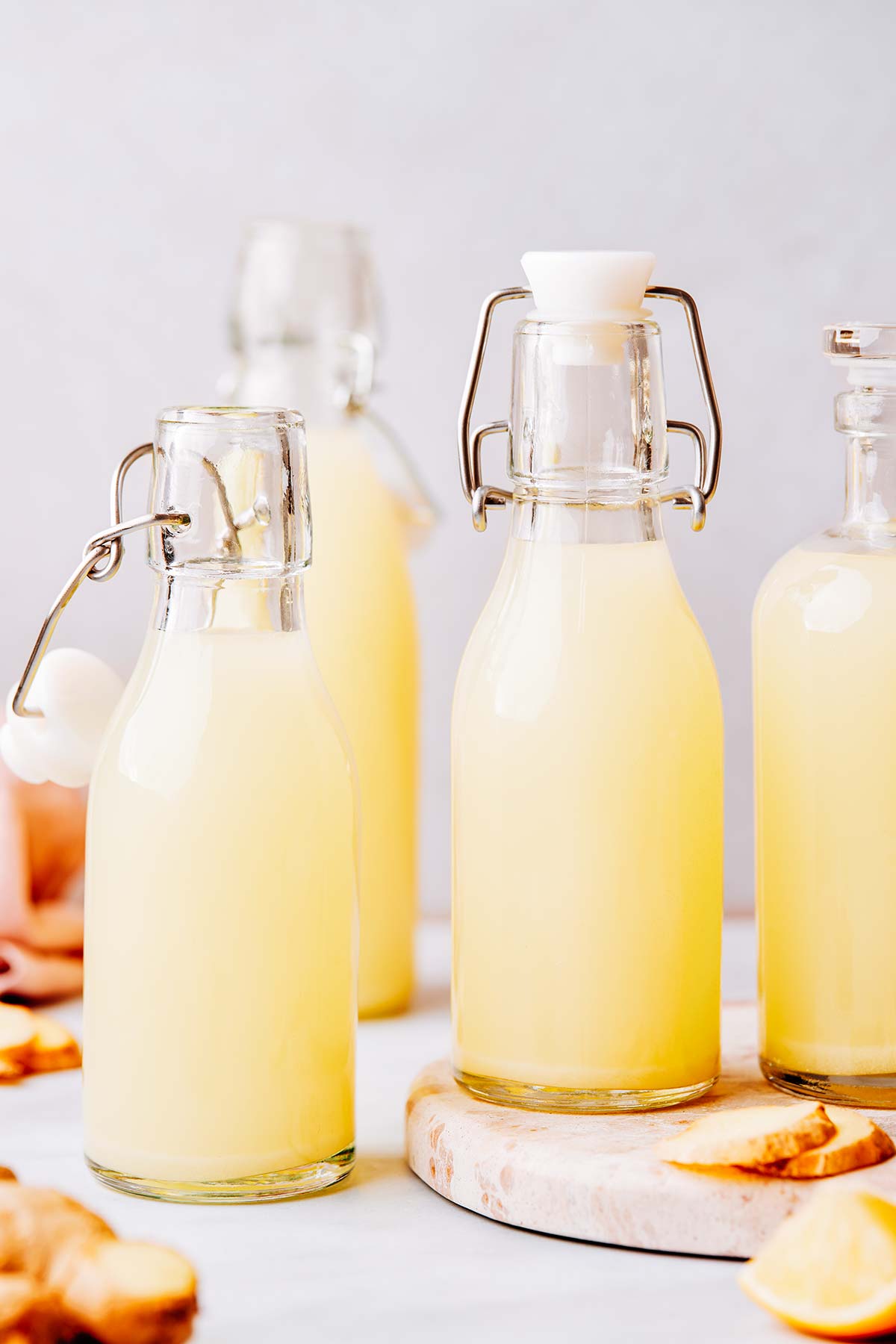 Pin
Different ways to use the juice
In a tea
If you prefer warm ginger juice, steep your tea leaves in this concoction. The combination of ginger and lemon complements the flavors of green and black tea.
To make fragrant rice
If you love the spicy warmth of ginger juice, make some rice by boiling it in this juice. Serve it with a side of coconut-based curry. 
Mocktail mixer
Use this juice as a mixer for making fancy mocktails. Mix with some tomato, guava, or pineapple juice, or even substitute regular water with coconut water for a refreshing drink.
Best ways to store ginger juice
Although I recommend consuming it fresh, you can refrigerate ginger juice at 4°C in an air-tight container for up to seven days.
You could also batch-freeze the juice in ice trays and transfer it to a freezer-safe bag later. Thaw the cubes and enjoy the drink whenever you feel like it. When stored this way, ginger juice will remain unspoiled for up to six months.
Pin
FAQs
Is peeling ginger mandatory for this recipe?
There may be dirt on the ginger skin. Also, ginger skin can make your juice bitter. It is better to peel ginger before use.
Can I use leftover ginger pulp?
Yes, certainly. You could save the ginger pulp and use it for making tea. Alternatively, you could freeze the ginger pulp for later use in curries. Or dry the pulp and make ginger powder.
What is the recommended per-day dosage?
In most of the cases, you may consume 3-4 grams of concentrated ginger extract daily. However, if you take medications, consult with your doctor before drinking ginger juice. 
How does the ginger juice taste?
Ginger juice has a peppery and zingy taste. Your fingers might feel hot if you handle ginger for a long time. This happens because of the active compound, called gingerol. Many people find ginger juice tastes too intense. But with a bit of honey or maple syrup, you can make it tastier and enjoyable.
Can you drink concentrated ginger juice?
Yes, you may consume ginger shots if that is more to your liking. But be wary that concentrated ginger could be overwhelming for your taste buds.
Can pregnant women drink ginger juice?
Yes, ginger juice can help combat the feelings of nausea and vomiting during pregnancy. 
Ginger Juice
Ginger juice is a refreshing and hydrating drink made from fresh ginger roots, used often for its therapeutic benefits and flavorful taste.
Ingredients
150

g

fresh ginger root

4

cups

filtered water

1

lemon

peeled

1

tbsp

raw honey or maple syrup

optional
Instructions
Peel the ginger roots and cut into small pieces. Cut the lemon into quarters.

Add all the ingredients (including the sweetener if using) into a blender and process at high speed for two minutes.

Strain using a fine sieve or nut bag, to remove the ginger root fiber.

Transfer into a jug or airtight container and refrigerate, until ready to serve.