Fermented garlic honey is an excellent two-ingredient recipe. It serves as a delicious condiment and a potent home remedy.
You can enjoy it at home using fresh garlic, raw honey, a lidded glass jar, patience, and beginner-level fermentation skills.
The pungent garlic becomes more palatable when combined with honey and fermented over a long time. And together, they make a soothing immune-boosting natural medicine against the common cold.
Health benefits
Garlic and honey, individually and together, boast immense therapeutic benefits that you can reap from this delicious recipe.
Immunity boosting properties
Studies have shown that honey relieves cough in children and reduces cough duration. But note that honey cannot be given to children under one year because their digestive system is not fully developed.
Similarly, garlic helps prevent and manage the common cold and flu better.
Antimicrobial and anti-inflammatory properties
Both honey and garlic are excellent antibacterial, antifungal, and antiviral agents. Traditionally they have been used to treat skin infections and prevent sepsis in wounded areas.
The topical application of honey has been used for thousands of years to treat skin burns and diabetic wounds.
Heart and bone healthy properties
By lowering blood pressure and bad cholesterol levels, garlic helps strengthen heart health. And because of a high level of antioxidants, they help fight oxidative damage.
Pin
Ingredient Notes
Use raw honey
Use only raw, good-quality, organic honey for this recipe. You can easily get it at local farmers' markets or supermarkets.
Do not get pasteurized honey; it will not have the bacteria and natural wild yeast essential for fermentation.
Use fresh garlic
Use fresh and plump garlic for fermentation. Dried and shriveled ones won't release enough juices and may not ferment properly.
Why ferment garlic with honey?
Although you can benefit from garlic's therapeutic properties in its cooked form, it's raw/ uncooked version has the most benefits. But because of the pungent taste and overwhelming aroma, eating raw garlic may not be your favorite thing to do.
That's where the fermented honey garlic totally shines.
When combined with honey, juicy garlic loses its crunch and moisture, bringing honey to a consistency perfect for fermentation. Then, the naturally present bacteria and yeast in the mixture ferment the sugars over the next 30 days.
Eventually, you end up with chewy mellowed down garlic that you can enjoy as candy and delicious garlicky honey syrup that you can slurp away, spoonfuls at a time.
Pin
Tips to make the best honey-fermented garlic
Use sterile glass jars
Since fermentation takes place over a long time, use sterile glass containers instead of plastic ones. Chemicals from plastic may interact with the ferment and leech into the honey.
Just like any other fermentation, this, too, needs to be done in a sterile environment to avoid the growth of unwanted bacteria. Use clean hands and utensils for prepping garlic for the best results.
Remember to flip the jar
This step ensures that garlic is entirely submerged in honey and that fermentation happens efficiently.
Leave ¼ of the jar free and burp the ferment
This space is essential to let the mixture breathe. As the honey ferments, carbon dioxide is released, which accumulates in the free area.
Opening the jar daily to burp the accumulated gases creates space for the next day's fermentation byproduct.
The last thing you need is a bursting honey jar.
Don't use too much honey
If you add excessive honey, garlic juice moisture may not be enough to achieve the consistency favorable for fermentation.
Keep a plate below to avoid spillage
Because you'll flip the jar daily and place it inverted, I suggest you keep a plate below your jar to avoid unexpected spillage.
Pin
Different ways to use it
As a salad dressing
You can make a lovely salad dressing by adding olive oil and balsamic vinegar to the garlicky honey. It goes great with feta walnut green salad.
As a toast topping
If you love fig and goat cheese toast, I highly recommend you drizzle it with fermented honey garlic to take the dish to the next level.
As a glaze
If you love roasted tofu, cauliflower, or pumpkin, glaze it with fermented honey syrup for a delicious meal. It also tastes great on top of silken tofu.
As a cough drop
Honey soothes the sore throat, and garlic helps build immunity to fight the flu and cold better. You can eat garlic with a teaspoon of fermented honey instead of a cough drop.
Recipe variations
Make it spicy
You may add some chili flakes or black peppers during fermentation for a spice kick. It makes for a superb pizza topping.
Add some acidity
Besides preventing the growth of botulism causing harmful bacteria, apple cider vinegar also complements flavors of honey and garlic wonderfully.
Suggestions for storing fermented garlic honey
Because of the natural anti-microbial properties of garlic and honey, you don't need to store it in the refrigerator.
I just store it on the shelf in a cool, dark, and dry place. If stored properly, you can use it for up to a year and even longer.
Remember to use clean spoons to remove the honey garlic, ensure that the garlic is submerged in honey at all times, and close the lid tightly after every use.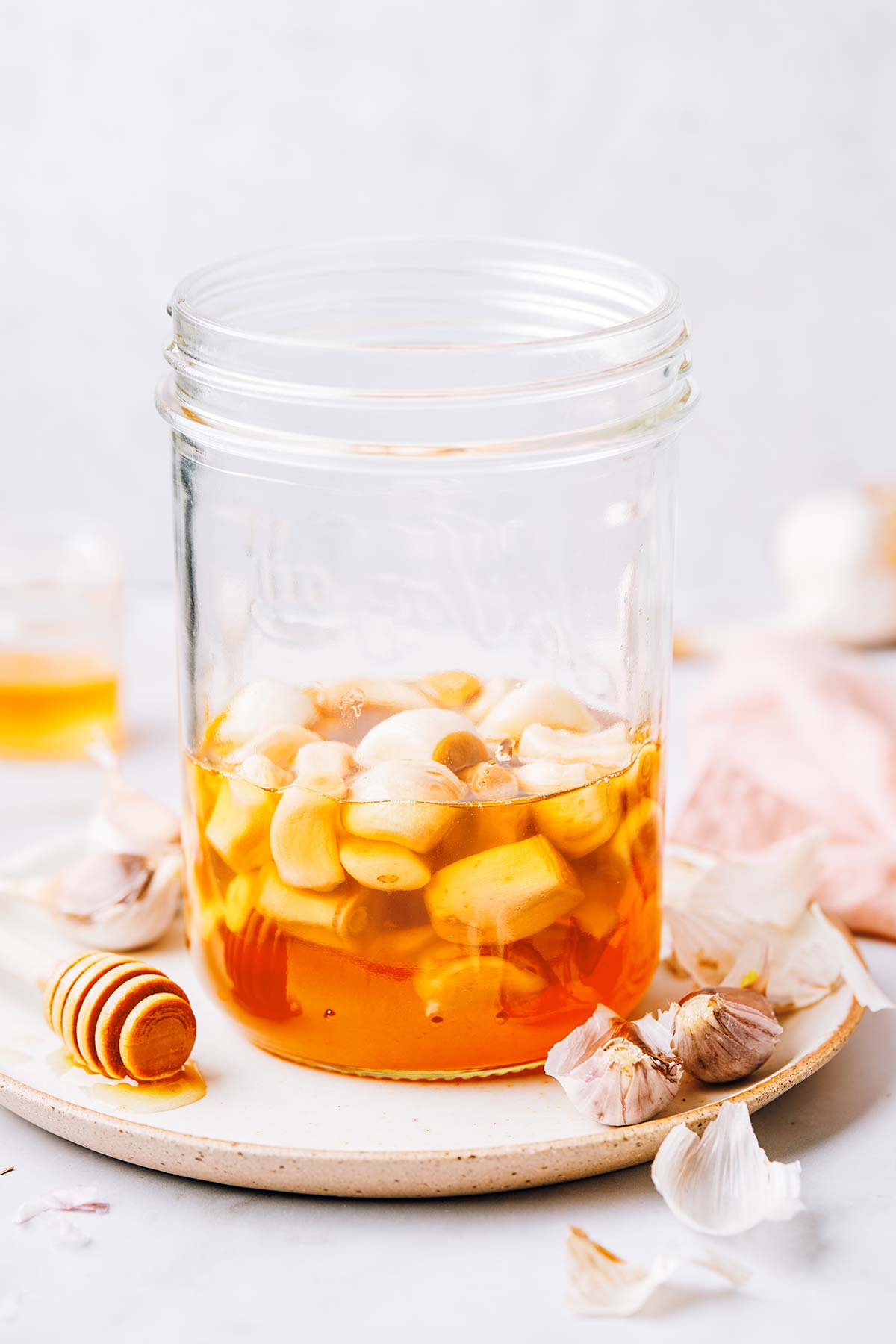 Pin
FAQs
Should I mince my garlic before use?
You certainly don't need to mince garlic. If you have large cloves, cut them into two pieces. Slight crushing with the broad knife blade should be enough to release the juices into honey.
Can I use agave or maple syrup instead of honey?
I have never used maple or agave syrup for this recipe. Also, raw honey has natural bacteria and yeast that these plant syrups lack. Unless you add culture externally, the fermentation may not work.
Can I scale up this recipe?
Yes, you can easily scale up this recipe. You can ferment garlic and honey in a large jar; divide it into smaller jars once it is complete.
My garlic looks greenish blue. Should I throw it?
Although unlikely, you may see this change in garlic color. It is safe to consume as long as you don't see visible mold accumulating on the garlic.
How to use semisolid raw honey for this recipe?
Raw honey could sometimes be solid/ semisolid due to sugar crystallization. To liquify it, place the jar in a warm water bath. Avoid heating at high temperatures to save the good bacteria and yeast needed for fermentation.
How different does raw garlic taste from fermented garlic?
You may find raw garlic's taste unpleasant and overwhelming. Fermentation dials down the strong garlic notes while retaining its therapeutic benefits. With honey and the chewy texture, it almost tastes like garlicky candy.
Fermented Garlic Honey
This fermented garlic honey recipe is an easy-to-follow, no-cook recipe that uses natural bacteria in raw honey to ferment garlic into a delicious condiment and a homemade remedy for cough, cold, and flu.
Ingredients
4

garlic bulbs

1

cup

raw honey
Instructions
Crush the garlic bulbs and peel the garlic cloves (you aim for 30-35 large garlic cloves).

Gently press each garlic clove with the back of a spoon or a knife to sightly crush for helping the fermentation process.

Place the garlic cloves into an airtight jar, then pour the honey and use a wooden spoon to stir. Lid the jar, turn it upside down, then set it aside on the countertop for 30 days.

In the first couple of weeks, release the accumulated gas daily. To do so, briefly open the jar to release gas, then turn it upside down to cover the garlic with honey, then set it aside until the next day. Foaming is a normal process showing that the fermentation is going well, and the good bacteria are thriving.

Leave undisturbed for the next two weeks until the garlic is fully fermented.

Store in a cool place for up to a year.