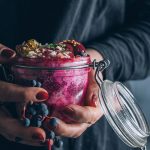 Print Recipe
Overnight Oats with Beet Juice and Coconut
Take your healthy oats bowl to the next level by adding fresh beet and ginger juice, fresh fruits and bee pollen.
In a large lidded jar mix the oats and chia seeds.

Add the coconut milk, water and maple syrup, and mix to incorporate.

Lid the jar and let sit overnight in the refrigerator.

In the morning juice the beets, pomegranate seeds and ginger, and mix the resulted liquid with the oats.

Divide into serving jars, garnish with fresh fruits, bee pollen and toasted coconut flakes and serve or pack to-go.