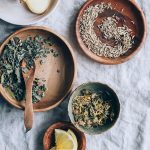 Print Recipe
Liver Detox Tea
A home-made blend of healing herbs and Ayurvedic spices, this is a gentle detox liver tea designed to nourish your cells and trigger the natural cleansing process.
1

tsp

dried calendula leaves

3

tsp

dried dandelion root

3

tsp

fennel seeds

10

cardamom pods

3

tsp

milk thistle

3

tsp

burdock root

1

tsp

licorice root

1

tsp

crushed fenugreek seeds

3

cups

purified water

boiling hot

1

tsp

freshly grated ginger

Optional: fresh lemon juice

maple syrup or any preferred sweetener
In a large airtight jar add all the tea ingredients, lid the jar and shake to combine the herbs.

To prepare the tea add 3 tsp of the herbal mix into a kettle, add grated ginger and cover with boiling water.

Let infuse for 7 - 10 minutes, then strain and let cool until comfortable to drink.

Add lemon juice and sweetener before serving.

Note: You can have this tea twice a day between meals, or you can prepare it in the morning and drink it during the day. Herbal infusions have results after at least a month of daily drinking.