It only takes one hearty vegetarian soup to ignite craving for more within your taste buds! The best time to indulge in hot soups is when the thermometer drops, but this shouldn't stop you from enjoying this recipe any other time of the year!
I've selected all the simple base ingredients: split peas, onion and potato. I've then added in some zestful lemon, infused by some of my all-time favorite healing herbs to create a comforting soup that deeply nurtures the body cells!
Pin
Split peas are an ingredient I've only discovered recently, and decided to add it constantly to my pantry. I use frozen peas any time of the year but never knew that the humble split peas can add such a lovely creaminess to the soups and stews, while making them so filling and flavorful. They are harvested when pea pods are mature so all the nutrients are at their peak.
Split peas are packed with fiber (about 65% of their weight) and minerals, especially manganese and copper, the key ones involved in the natural detoxification process. Vitamin B1 and B9 (folate), responsible with energy production and cell regeneration are also present in high concentrations in split peas.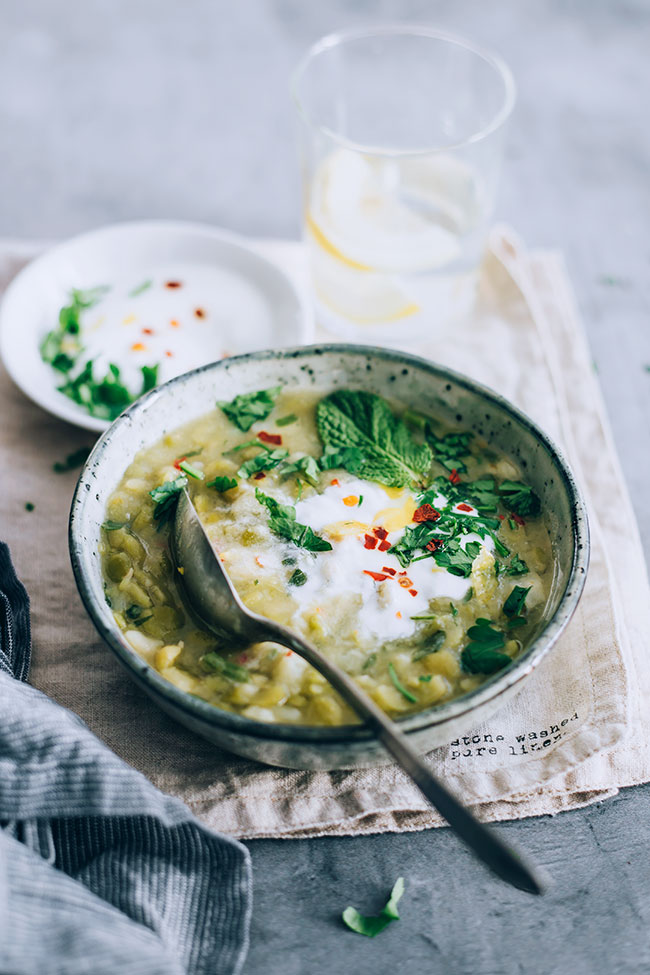 Pin
Their fiber is both soluble and insoluble, with health benefits of stabilizing blood sugar, nourishing the microbiome and stimulating the immune system. It is also useful for absorbing the old oestrogen, cholesterol and toxins and preventing them from leaking back into the blood stream.
Parsley is a reliable source of vitamin K, with just half a cup offering well and above your recommended daily needs. Parsley is also a great source of vitamin C which performs a myriad of functions in the body, such as repairing tissue, fighting off free-radicals and giving your immune system a good boost.
I've included mint due to its full-bodied flavor, but also because it's been shown to possess anti-cancer properties and sooth the digestive system.
You may not think of celery as a common addition to soup however, you'll notice that its distinctive taste blends exceptionally well with parsley and mint. Celery offers protection to the digestive tract, which is great if you have any digestive issues such as heartburn, bloating or acid reflux.
Celery is also good for upping your intake of vitamin K, much like parsley. Your body needs vitamin K to regulate calcium absorption, that's why it's renowned for building healthy strong bones.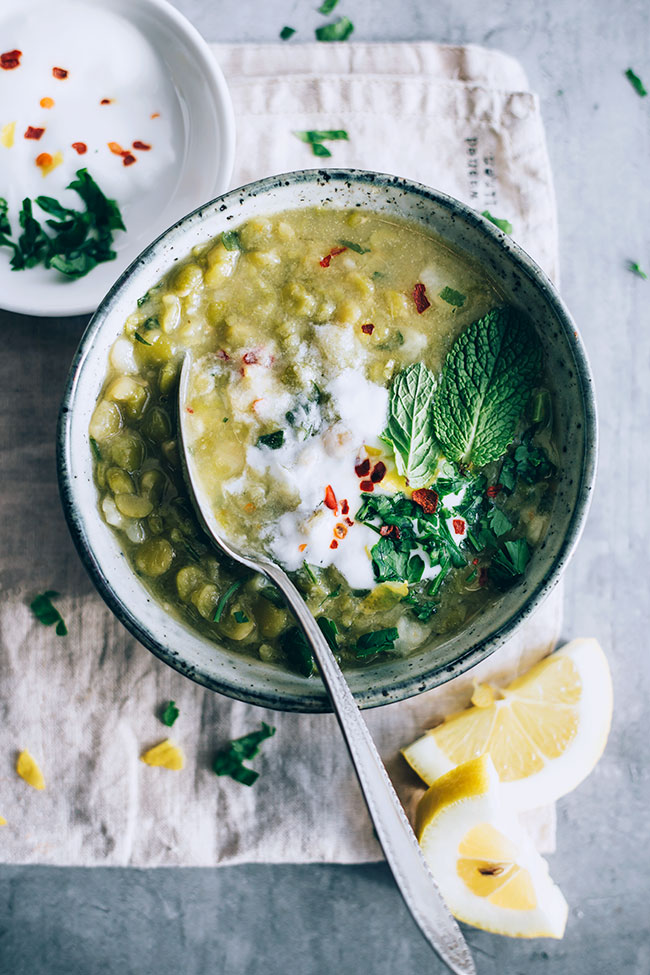 Pin

I find lemon to be important in this recipe, not only for added flavor but for its array of health benefits. It helps with weight loss, hydrates and clears the skin of blemishes, freshens breath and detoxifies the body.

This soup quickly became a favorite for its creaminess and filling effects, being also a good ally for whenever I feel burdened and need a gentle digestive cleanse.

Looking for more soup recipes? Try one of these: Vegetable Soup for a Gentle Detox, Detox Soup for Weight Loss or the Alkaline Green Soup.

If you make any of these recipes don't forget to tag me on Instagram @theawesomegreen so I can see them and share with the community!
Vegetarian Split Pea Soup for Digestive Cleanse
Fiber-loaded and packed with detoxifying minerals and vitamins, this creamy soup helps your digestive process and eliminates toxins, cholesterol and old oestrogen accumulations.
Ingredients
1

&1/2 cup split peas

4

cups

water

2

medium yellow onions

finely chopped

2

celery stalks

chopped

1

medium potato

peeled and cut into chunks

1

small bunch fresh parsley

finely chopped

1

small bunch fresh mint

finely chopped

1/2

tsp

sea salt

1/2

lemon

juice only

1

tsp

turmeric powder

1/2

tsp

chili flakes

1

tbsp

extra virgin olive oil

Organic lemon zest

Greek yogurt – to serve
Instructions
In a medium soup pot add the olive oil, split peas, potato, onions, celery stalks, turmeric and chili flakes. Cook for five minutes over low heat.

Add the water, turn the heat to medium and bring to boil.

Simmer for 20 minutes over low heat.

Add the parsley, mint, and lemon juice and mix to combine.

Process two or three times with an immersion blender, just to obtain creaminess but still preserving some texture from the peas.

Divide into serving bowls, add a dollop Greek yogurt, garnish with lemon zest and serve warm.
Nutrition
Serving:
418
g
|
Calories:
391
kcal