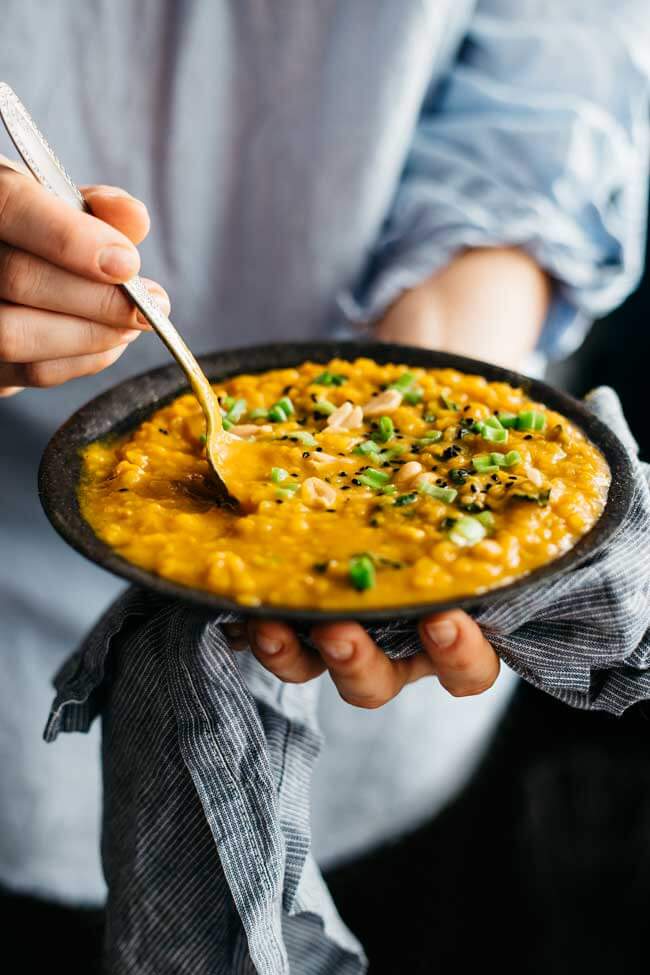 Beautiful October started lovely, with yellow and red tones, photogenic grey skies, and new inspiration. I received the two new books I've been longing for since I first heard about their projects: Vegan by Food52 and Heidi's Near and Far. These are probably the best things October has brought so far, besides the beautiful pigeons that started visiting me every day in the afternoon for a seed snack on my kitchen window sill.
Like everything Food52, Vegan is a collection of simple recipes. For people who are willing to work more healthy foods into their diet, these are plant-based, vegan recipes everyone can afford or prepare. Nothing fancy, just the ones you really need – real food with vibrant whole ingredients. A good granola, a nourishing porridge, a creamy vegan soup, or a veggie hamburger that really stays together – you need to make these almost every week, but never have a really good recipe, and you always waste time browsing hundreds of Pinterest ideas to find a reliable one.
Gena Hamshaw, certified nutritionist and the author of these recipes, had a great contribution to changing the way people think about food, both through her website and her New Veganism column on Food52. There are some vegan classics that everyone's making these days, but there is always somebody that made them first or made them really balanced.
The photos in Vegan are the perfect celebration of the recipes – simple and vibrant, with minimal styling, in the unmistakable style of Food52's favorite photographer, James Ransom.
The sweet potato and kale stew is definitely a hit that everyone's heard about, and although there are hundreds of variations, Gena's genius idea of adding peanut butter to infuse creaminess turns this recipe into my fall favorite. This stew is not only hearty and comforting, but also a great way to nurture your digestive system during the cold season. It contains a great deal of antioxidants, especially betacarotene, fiber, potassium, and healthy monounsaturated fats. Ginger soothes the digestive system, while turmeric reduces inflammation and protects your body's cells against oxidative stress. The taste is sweet and sour, the texture is velvety, it's warm and smells delicious – can you think of a better treat for a rainy day?