What a lot of people are realizing today is that food can be incredibly healing. This is an exciting movement, where some are even re-thinking their entire diet and moving towards foods that truly make them feel alive.
Women are discovering that irregular periods and fluctuating hormones can be balanced out through alterations in their diet, and especially eating specific foods for each ovarian cycle phase (follicular, ovulation and luteal). 
If we think of all the additives in our foods and the science behind each ingredient we begin to understand how they can upset our hormones to such a large extent. This is pretty powerful stuff, and this superfood salad with pomegranate and quinoa recipe is dedicated to all women looking at improving their hormonal health. 
Pin
Quinoa makes the perfect base for a filling salad because it is a complete protein source and a fiber one, helping you feel satiated and nourished. 
Adzuki beans are an excellent source of molybdenum, folate, fiber and copper. Folate in particular is recommended for women during pregnancy, in order to develop a healthy fetus and protect their baby from developing birth defects.
Outside of pregnancy, folate helps to produce red blood cells and prevents anemia, a condition that can really throw out your menstrual cycle. As folate is a water-soluble vitamin, it's important to obtain folate regularly through your diet. 
Adzuki beans also contain manganese, which is one of the most important minerals for women's health. It's known to reduce mood-related symptoms of PMS and also breast tenderness, and is vital for healthy functioning of the thyroid. 
Pin
Sprouting your beans enhances their nutrient availability and makes them easily to digest. Their soluble fibers binds with cholesterol, old oestrogen and toxins from the colon, and flushes them out, preventing their leak back into the blood stream. 
Fermented foods have been shown to assist in balancing hormones, by reducing the overproduction of estrogen. Kimchi is one of those fermented foods, that is easy to add to many recipes across your diet, and this quinoa superfood salad makes no exception. It's been recognized as a powerful superfood, due to its high nutritional value and beneficial bacteria. Kimchi helps to eliminate toxins thanks to potent antioxidants, is a great source of B vitamins, fiber and has anti-ageing properties.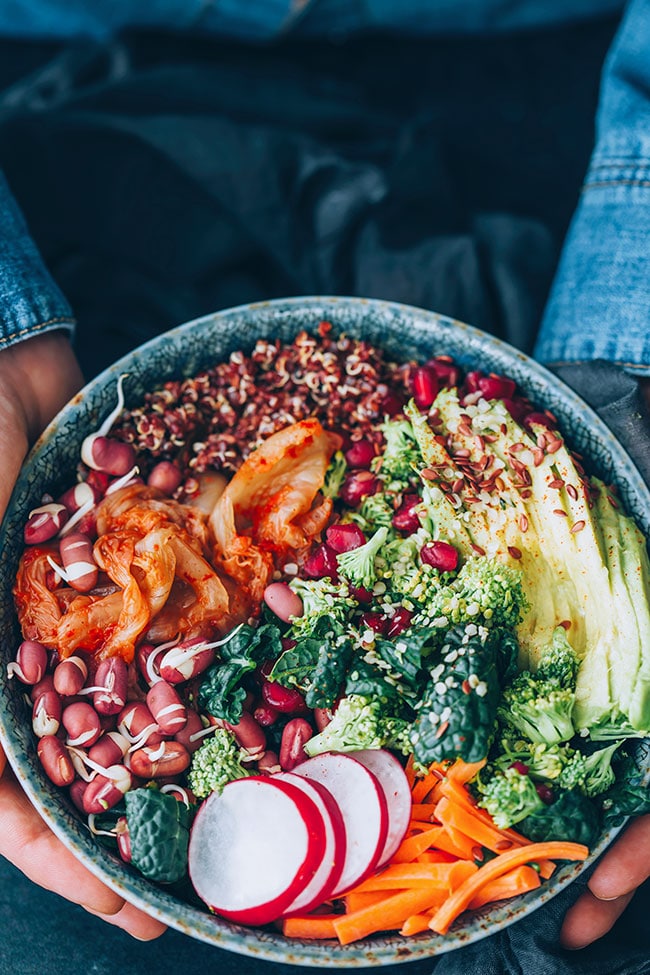 Pin

Flax seed oil is also great for balancing out estrogen levels due to the unique compounds found in this special oil. It's even been used to successfully treat fertility issues! Flax seed oil is also an excellent source of omega-3 fats, cooper, manganese and vitamin B1. It adds a slightly bitter taste to this superfood salad mix, which is perfectly balanced by the tangy lemon juice. 

Returning to the basics of food has profound health benefits, rather than going down the route of expensive pharmaceuticals and hormone replacement therapy. By altering your diet, you naturally give your body a chance to heal from the inside out. 

Salads are one of my favorite ways to get my nutrient intake and solve health issues at the same time. For detox you can use this detox salad recipe (my favorite!), this quinoa salad , this recipe with kale, roasted chickpeas and beet detox salad or the roasted vegetables salad for hormone balancing.

You can incorporate any of these salads into my 3 day detox diet. Or you can simply enjoy a spring salad or a red cabbage and kale slaw with turmeric tahini dressing for the beauty of their ingredients and taste! 

I love seeing your take on my recipes, so if you make this salad don't forget to tag me on Instagram @theawesomegreen so I can see it and share with the community.
Superfood Salad for Hormone Balance
Nourish your body and balance your hormone production by eating nutrient-rich, healing foods. This superfood salad mix combines the nutrient powerhouse of sprouted adzuki beans with protein-packed quinoa, immune boosting kimchi, fresh kale and healthy fats from avocado, flaxseed and hemp. Antioxidants and anti-inflammatory compounds are also included - radishes, broccoli and pomegranate seeds. A filling superfood salad!
Ingredients
1

cup

cooked red quinoa

1/2

cup

sprouted adzuki beans

1/2

cup

kimchi

diced

1

avocado

peeled and sliced

1/2

small broccoli head

cut into florets

1

carrot

cut into thin strips

1

cup

fresh kales leaves

chopped and massaged

3

radishes

cut into thin slices

1

pomegranate

seeds only

2

tsp

flax seeds

crushed

1

tbsp

hulled hemp

1/2

lemon

juice only

1/4

tsp

pink Himalayan salt

2

tsp

flaxseed oil
Instructions
Mix all the ingredients into a large bowl, drizzle with lemon juice and flaxseed oil and serve.
Notes