The last half of February is definitely more about spring and so much less about winter. I stuff my fridge with fresh greens, open the windows wide to let the fresh air wipe out every bad thought left from the winter darkness and take long walks in the park, concentrating to hear the tree buds making their way to the light. I cannot think about anything bad – my heart is filled with love and gratitude for enjoying a new spring and new beginnings in my life. Green and fresh are the way of translating this onto my kitchen table, and this salad is just as my life is these days – vibrating, pulsing with energy, fresh and filled with gratitude.
Pin
Eating seasonally is one small but very important step towards a healthier diet. Nature gives us everything we need and exactly when we need it for maintaining good health; we only have to follow the natural cycles and not complicate things unnecessarily. After a long winter when our bodies were deprived of fresh nutrients, the first spring plants give us just what we need – fresh enzymes, minerals and vitamins for helping our cells to detoxify naturally and regenerate.
Pin
The key color is green – nettles, spinach, asparagus, scallions, ramsons, watercress – every little green spring herb has something we need for restoring our energy and nutrient reserve and get things started for the new opportunities ahead. You don't need expensive superfoods or faraway miracle healers, you just have to unwind, open your eyes and enjoy the little things that are here for us – the fresh air, the fresh seasonal and local food and the sound of nature awakening for a new cycle.
I named this The Gratitude Salad because it is made with natural and fresh spring ingredients which nourish the body's cells, give them oxygen and help them restore. I am grateful for being healthy and able to choose what is right for me, for having access to the farmers' market and for finding so many fresh ingredients that are good for me. And, grateful for the sunlight that made these rise and for the bright green color that will fill my cells with energy.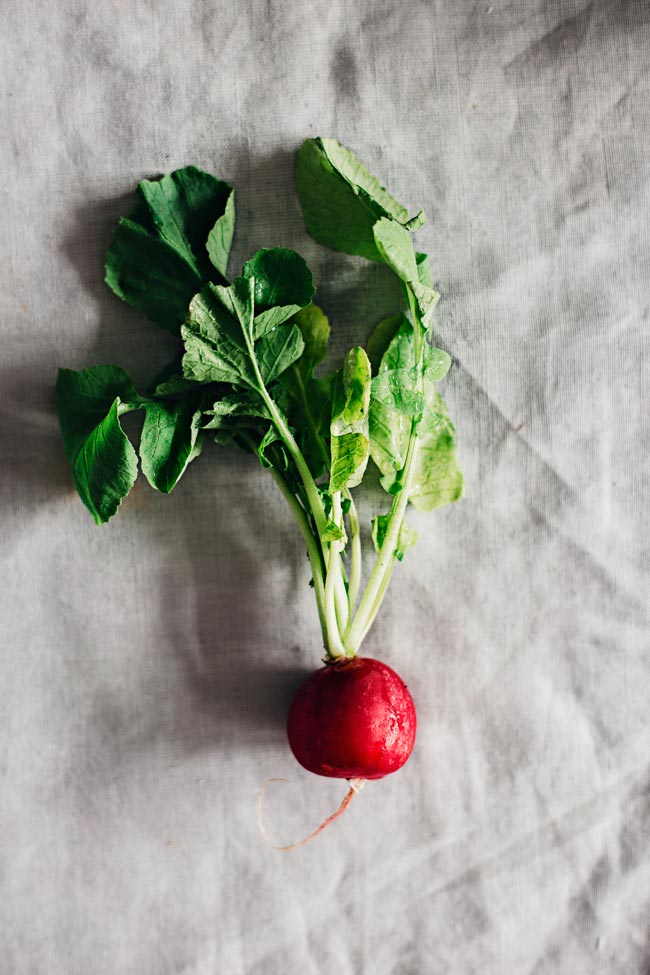 Pin

You can pretty much add every fresh spring greens to this salad. I used fresh spinach for its anti-inflammatory, antioxidant and anti-cancer nutrients, asparagus for its inulin, a nutrient that feeds the good bacteria and maintains the health of colon, parsley for its essential oils that activate the glutathione-S-transferase enzyme in Phase II of our bodies' natural detoxification process, and radishes for a nice crunch, a splash of color and an extra antioxidant kick.
Pin
Creamy avocado facilitates better absorption of the nutrients, while brown and wild rice are loaded with magnesium for a mood boost and fiber for supporting natural detoxification. The simple honey-mustard dressing adds a delicious taste and nutritional value to this delicate spring salad. Keeping things simple, eating seasonally, being grateful and enjoying the little things are the basic steps for a healthier lifestyle.
Spring Gratitude Greens Salad
Eat seasonally and get energized with this simple and nutritious spring salad made with fresh greens, crunchy vegetables and wild rice, all bathed in honey-mustard dressing.
Ingredients
1/4

cup

rice

I used a blend of wild, red and brown rice, but any of these would work

4

asparagus springs

chopped

1/2

cucumber

chopped

1/2

cup

fresh watercress

1/2

cup

fresh spinach leaves

4

radishes

cut into thin slices

1

ripe avocado

peeled and sliced

1

small bunch cup fresh wild garlic

2

celery stalks

chopped

1/2

fennel

roughly chopped

1/2

red onion

finely diced

1

small bunch fresh parsley

6-8

fresh mint leaves

1/4

cup

lightly toasted almonds

crushed

Black sesame seeds

to garnish

*Optional: Parmesan flakes

use a mandolin

For the dressing

2

tsp

Dijon mustard

1/2

lemon

juice only

1

tbsp

extra virgin olive oil

A pinch sea salt

Freshly ground black pepper

1

tsp

organic raw honey

replace with agave nectar for the vegan version
Instructions
Cook the rice according to the instructions (about 15 minutes), then set aside to cool.

Make the dressing by adding the ingredients into a blender to obtain a creamy liquid.

Add the brown rice into a large bowl, pour the dressing and mix to combine, then set aside for 10 minutes to allow the flavors to be absorbed.

Add chopped cucumber, radishes, avocado, fennel, celery stalks, parsley, wild garlic, red onion, Parmesan (optional) and crushed almonds into the rice bowl and toss to combine.

Garnish with black sesame and fresh mint leaves and serve.
Notes