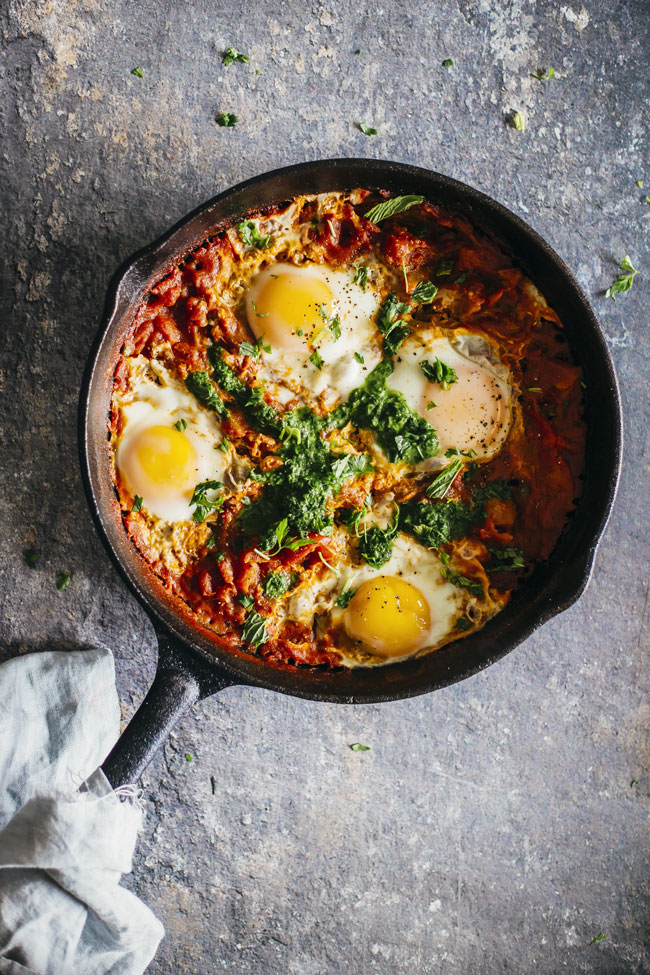 This is probably the most popular, most nourishing and most convenient to cook (even for the most unskilled) egg recipe I've ever encountered in my searches and travels. Originally a North-African dish, the shakshuka recipe spread to most of the Mediterranean countries and was adapted according to the local cooking traditions. I love this dish, especially in the summertime when I can cook it with fresh, very ripe tomatoes and hand-picked aromatic herbs, and serve it over hummus or with pita bread. But, it's actually a delicious choice for a rich, nourishing Sunday brunch in any season.
I like the egg-tomato combination, not only because of the fantastic taste, but also because it is a very nourishing nutrient pairing. Tomatoes are rich in lycopene, a powerful antioxidant, immune-booster, and cancer-inhibiting nutrient. Lycopene is part of the carotenoid family of antioxidants, and needs to be combined with a healthy fat to be properly assimilated by our body's cells.
The anti-inflammatory omega-3 essential fatty acids found in high concentration in egg yolks are among the best pairing for tomatoes to stimulate the absorption of lycopene (avocado and extra virgin olive oil being my other favorite healthy fats sources to pair them with).
Always search for pastured eggs from happy, free, and grass-fed hens, because these have a higher nutritional quality and value. Remember that organic doesn't mean the hens have access to grass and fresh air, but most often means they are fed with organic grains, but live in cages.
Because I cook shakshuka quite often, I'm always searching for healthy variations. While the "Eggs in Purgatory" recipe from Heidi's last book, Near and Far, was definitely this winter's Sunday favorite, ever since spring popped in, I've felt like adding a dash of greens to my shakshuka.
The inspiration came (as it does so often!) from Ottolenghi, in the form of a green chili sauce called zhoug, originating from Yemen and made with fresh aromatic herbs, olive oil and spices. Its flavor is perfectly balanced and gives a fresh zing to the classic shakshuka.