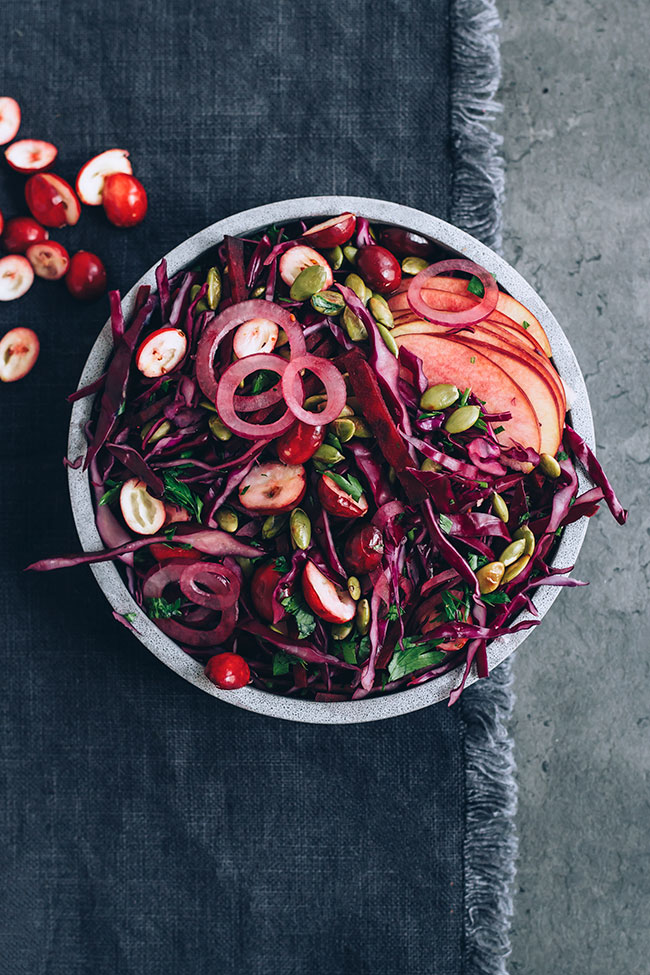 The awareness of gut health is one area of medicine that has absolutely exploded in the Western World. On the contrast, in the East, they have known for many centuries that all disease begins in the gut. This is due to over 80% of your immune system actually being located in the gut, or digestive system to be exact. Therefore, maintaining a healthy balance of good and bad bacteria in your gut, serves as a strong focus if you're looking towards optimal health.
Some foods contain tiny microorganisms that are bursting with good bacteria! You've probably heard of these as probiotics, and these foods commonly feature live bacteria and yeasts that help to keep your gut healthy. And that's exactly why sauerkraut has become a popular superfood. Many health foods sell quite pricey and heavily marketed sauerkraut in glass jars, but it's actually ridiculously easy (and cost-effective) to make your own sauerkraut at home.
You can use either red or white cabbage in this recipe. Both varieties are excellent sources of vitamin K, vitamin C, vitamin B6 and many other trace minerals. Vitamin K plays a key role in the body as it helps to support circulation. It also teams up with other nutrients, including calcium and vitamin D, to help create strong and healthy bones. If one of your food plan goals is disease prevention, then sauerkraut should be an important feature throughout.
Beetroot not only adds vibrant color to your sauerkraut mix, but comes with some pretty impressive health benefits. Beetroot features great levels of folate, manganese and potassium. Notably, as vegans we need to focus on our intake of B vitamins. Folate is a significant B vitamin that helps to make DNA and other genetic material in the body.
This is important for women following vegan diets, who are looking to have a baby in the future. That's why you've probably noticed that folate is heavily marketed for pregnant women as a supplement!
I've noticed that more traditional sauerkraut recipes don't contain any seeds, but I think it's a great touch to have lightly toasted pumpkin seeds throughout! Maybe it's just me getting a bit cheeky and squeezing in more nutrients from one food source. Pumpkin seeds are well known for their high levels of manganese, phosphorus, magnesium and copper. Their healthy fats increase the absorption of the powerful antioxidants from the other ingredients, especially the carotenoids in cranberries.
In fact, just 0.25 of a cup provides you with 50% of all of these nutrients as your recommended daily intake! So have a play around with your sauerkraut ingredients and customize it to your own taste buds, you might be surprised at all the flavors you can create!