My work as a freelance food photographer and healthy recipe writer makes me browse for inspiration among hundreds of recipes weekly, and I often find myself cooking and eating the same thing every day because I don't have the time to think about or make some proper food for myself. Most of the time it is a salad or a stew, and although it's always something healthy, I often crave for some diversity.
When I realize that, I try to make a little time for myself and immerse in the pleasure of preparing a food to nurture my body and soul. This is when I go baking or roasting. Those minutes when I chop every vegetable pulsing with life and energy, when I combine the spices, when I set the oven timer and read something nice while the kitchen is filling with flavor, this is when I find joy and peace of mind, while waiting to nurture my body with respect-treated food.
Pin
I love to go to the farmers' market and pick every vegetable by hand. There is something holy in the process of making food, from the moment you pick the ingredients from your garden or from the market stalls, to seeing them merrily crowding on your kitchen table. Properly preparing and eating them always gives me the feeling that everything is just as it should be.
Maybe roasting vegetables doesn't exactly mean cooking, but it definitely involves this ritual of body and mind. I always look for colorful roots to create a delightful visual spectacle and stimulate my taste buds, also keeping in mind the nourishing diversity they offer. Roasting definitely destroys some of the nutrients, especially the vitamin C that most of the fresh veggies contain, but their powerful antioxidants and minerals remain mostly available.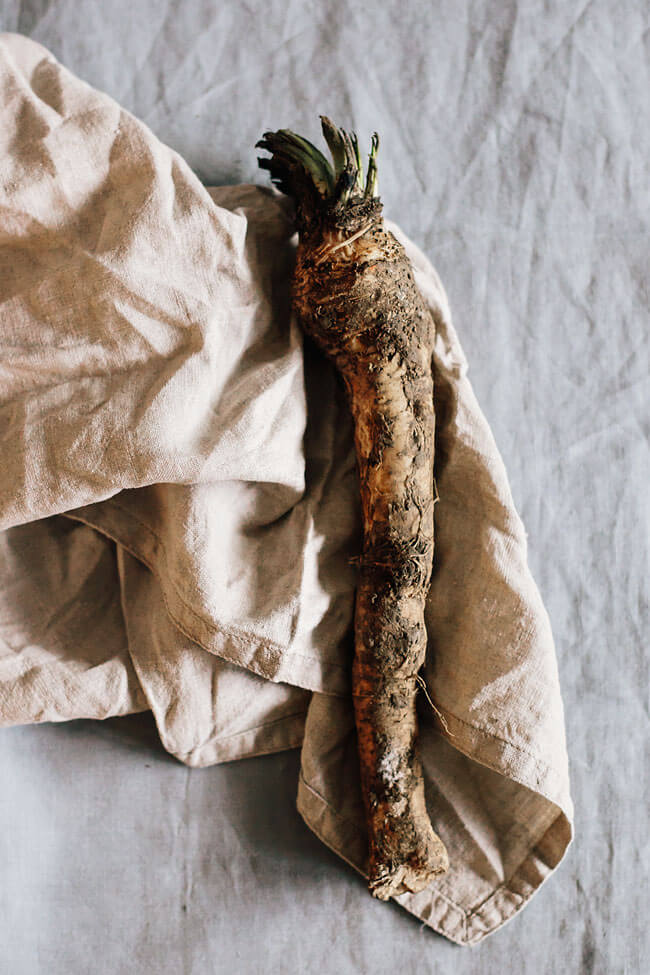 Pin
Roasted vegetables are especially great for maintaining the alkaline balance because they contain loads of potassium to help our body's cells flush out excess toxins, water and sodium, preventing them from falling into fermentation and reducing the risk of inflammation and chronic diseases like cancer. Most of the root vegetables contain important quantities of manganese, involved in the activation of antioxidant enzymes, such as superoxide dismutase, also in the metabolism of E and B1 vitamins, and also in reducing the free radical damage that makes us age. Beets, cauliflower and carrots are always among my choices because of their high content of antioxidants—betacarotene in carrots and betalains in beets—important for sustaining the natural detox function of our bodies. The mustard-ginger-horseradish dressing enhances the flavors and gives a delicious twist to these roasted veggies.
Pin
Roasted Roots with Mustard Horseradish Dressing
A seasonal blend of veggies, lightly roasted for preserving their nourishing properties and served with a delicious spicy mustard-horseradish sauce.
Ingredients
2

small beets

cut into quarters

5-6

Brussels sprouts

well trimmed and cut into halves

1/2

medium head cauliflower

cut into small florets

2

parsnips

peeled and cut into halves

4

carrots

peeled and cut into halves

2-3

slices

of a small kabocha squash

1

medium onion

cut into quarters

4

garlic cloves

crushed

1/4

tsp

good quality sea salt

Freshly ground black pepper

2

tsp

coconut oil

1/2

cup

green lentils

1

bay leaf

1

bunch fresh parsley

finely chopped

Toasted pine nuts

to garnish

For the dressing

1

tbsp

Dijon mustard

2

tbsp

lemon juice

1/4

cup

warm low sodium vegetable broth

1

tsp

extra virgin olive oil

2

inch

horseradish piece

peeled and grated
Instructions
Preheat the oven to 175°C/347°F.

Add the cut vegetables into baking pan, drizzle with coconut oil, season with salt and pepper, toss to coat evenly and roast for 30 minutes.

While the vegetables are roasting, add the lentils and bay leaf into a sauce pan with water, bring to boil over medium heat, then turn the heat to low and simmer for 15 minutes, until cooked. Set aside. (use one part lentils and one&a half parts water, to ensure the lentils absorb all the liquid, and you won't loose the minerals leaked into the cooking water).

Prepare the dressing - add the mustard, olive oil, horseradish and vegetable broth into the blender and process to obtain a creamy liquid. Add the lemon juice and pulse to incorporate. Set aside.

Remove the roasted veggies from the oven, add the lentils and chopped parsley and toss to combine.

Serve with warm horseradish sauce.
Notes