Loaded salads are my favorite dinner dishes, and there is so much you can do to turn a boring salad into a satiating meal. As I'm approaching my 40's, I know that my body needs more protein to support the brain function, hormone production and so many other important activities, so I try to eat quality plant protein and/or eggs at every meal.
This kale salad with avocado is a great way to reach your 75 grams protein a day, as it's packed with greens, beans and a nutritious tahini sauce, all of these being quality amino-acids sources.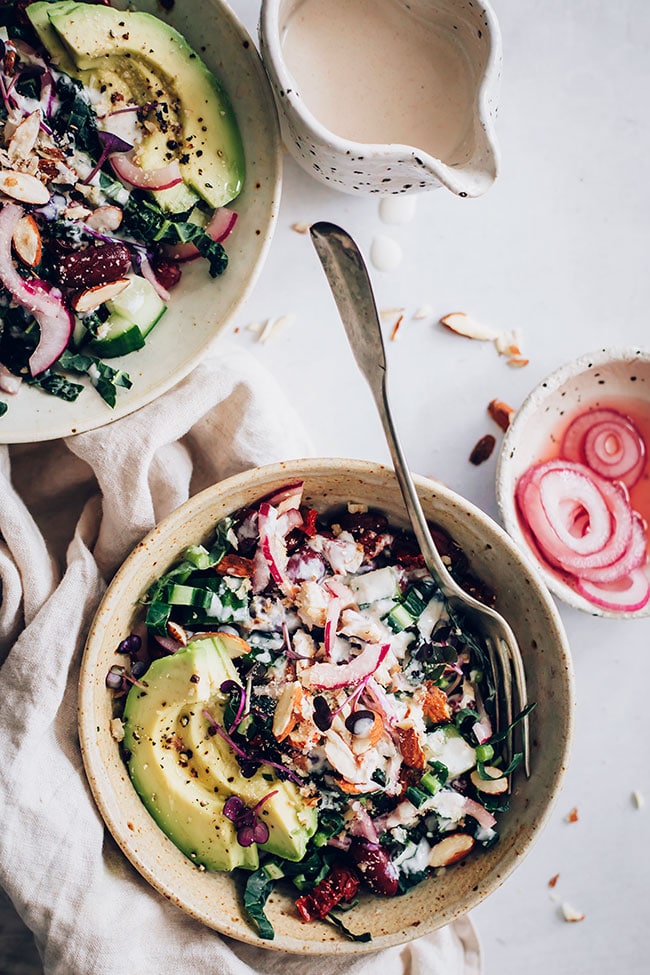 Pin
CAN YOU EAT RAW KALE IN A SALAD?
If you are wondering about this, you must be discouraged by the stiffness of a kale leave but you shouldn't worry at all! Kale is one of the best candidate for a filling salad, exactly due to its fibre-rich texture and of course, due to its exceptional nutritional load.
I always apply a simple trick for taming the kale leaves: massaging. Simply add the chopped kale leaves into a large bowl, add a pinch of salt and use your hands to massage them until their texture becomes less stiff. This will also help for an easier digestion.
HOW TO MAKE A KALE SALAD?
Although I named this recipe "kale salad", the kale leaves are just a starting point for building a nutrient-rich and protein-packed salad. I love plant based protein, as it enables you to combine your favorite ingredients to get all the amino-acids your cells need for building the protein blocks.
Here are some nice combinations to get complete protein: hummus+whole wheat bread, legumes+nut butter, whole wheat bread+nut butter. If you add fresh greens of any kind to these combo, your body cannot be happier, as it will get all the amino acids it needs, together with fiber, minerals, vitamins, prebiotics and enzymes.
These are the ingredients I used for creating this raw kale salad. It's only the kale leaves that are raw, some of the other ingredients are cooked: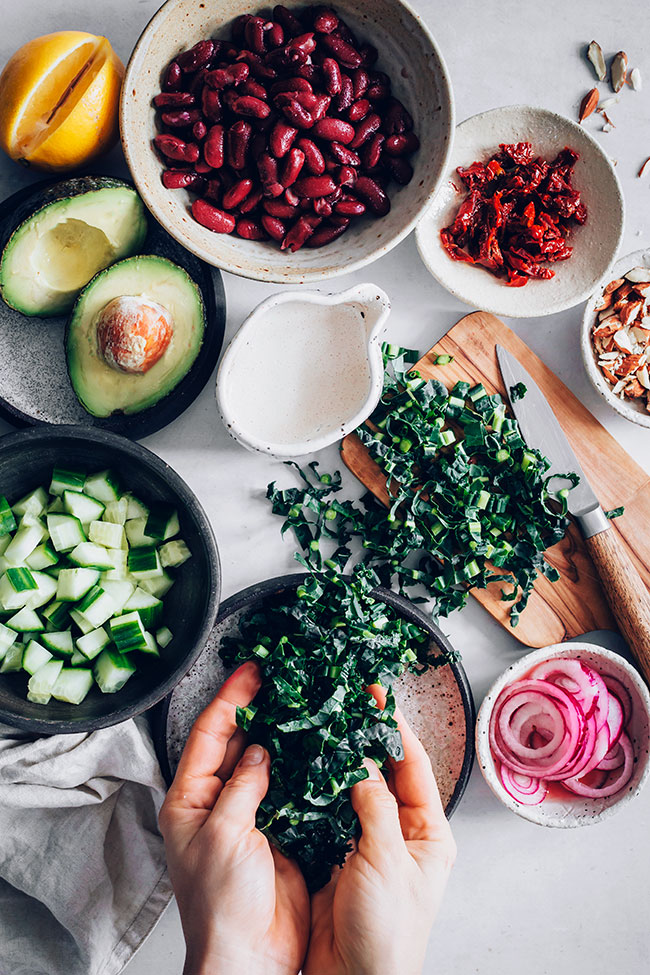 Pin
Raw kale leaves – I used Lacinato kale, because I love its deep green color, but you can use any other kale variety. Among the most important health benefits of kale are its anti-inflammatory and antioxidant effects, and its cancer preventing benefits, due to its high load of the active compound glucosinolate.
Cooked beans – I used red kidney beans but any other cooked beans will work just fine. Beans are my number one ingredient to add to my meals when aiming for the 75g protein a day ratio. Adding 1 cup (about 200 g) cooked beans to your lunch or dinner gives you 12g protein, and also fiber, magnesium and iron.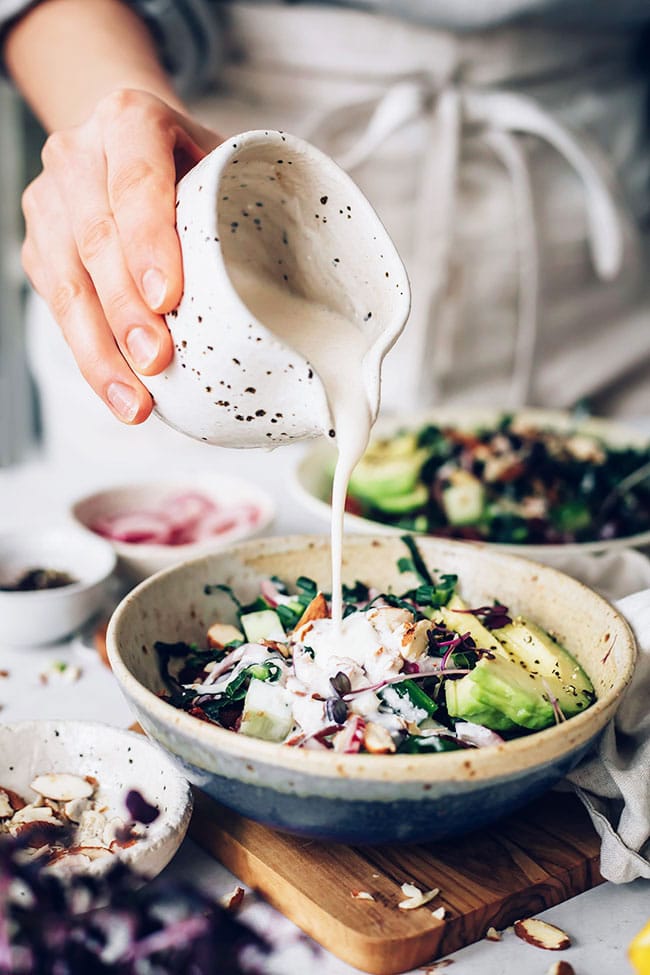 Pin
Avocado – I make my plant-based dishes more satiating by adding healthy fats such as mixed nut butter, tahini sauce or avocado. The monounsaturated fats from avocado support the hormone production and brain activity, while its magnesium+B6 combo regulates the sleep cycle, helps you relax, stimulates the progesterone production and improves your mood.
Toasted nuts and seeds – this is another trick for making filling salads, and also for boosting their protein load.
Sun-dried tomatoes – when bought from a verified source, this simple ingredient is a nutrient powerhouse. Think vitamin C, vitamin A, magnesium, B6, fiber, alkalizing potassium and yes, protein, about 5g protein per 2 cups.
Tahini sauce – for its healthy fats and protein load (17g protein per 100 g).
Other tasty add-ins – cucumbers for fresh enzymes and a bit of crunch, pickled red onion, micro-greens.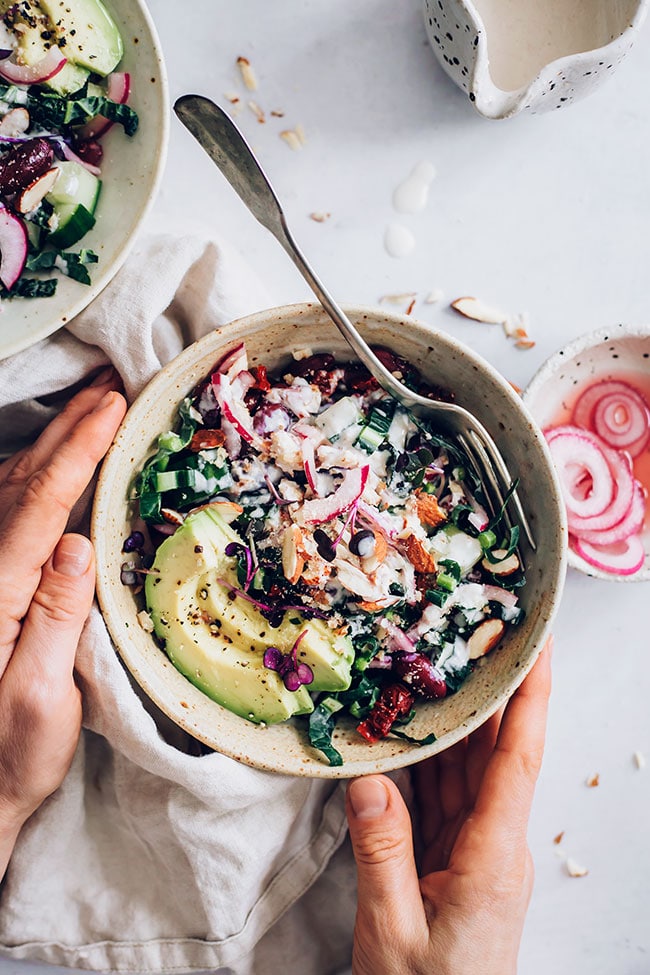 Pin
For more delicious salad ideas check out my Roasted Veggie Salad for Hormone Balancing, Detox Salad with Kale, Roasted Chickpeas and Beet or the SuperFood Salad.
I love seeing your take on my recipes, so if you make this salad don't forget to tag me on Instagram @theawesomegreen so I can see it and share with the community.
Protein-Packed Kale Salad
This kale salad with avocado, beans and tahini dressing provides 28g protein per serving - a filling dish that makes a meal on its own.
Ingredients
2

cups

raw kale leaves

chopped

1

cucumber

cut into large cubes

2

cups

red kidney beans

cooked, from can

1

avocado

peeled, cut into slices

1/2

cup

quality sun-dried tomatoes

diced

1/4

cup

pickled red onion

1/2

cup

lightly toasted almonds

crushed

1/2

tsp

salt

Micro-greens

to garnish
For the Tahini Dressing
2

tbsp

tahini

2

tbsp

lemon juice

1/2

tsp

salt

1/4

cup

water

1/2

tsp

cayenne

2

tsp

nutritional yeast
Instructions
Add the chopped kale into a large bowl, sprinkle with salt and use your hands to massage them for a minute, until their texture gets softer.

Add the rest of the ingredients except avocado and toss to combine.

Add the dressing ingredients into the blender and process to obtain a creamy liquid.

Pour the dressing over the salad, mix to combine.

Divide into the serving bowls, top with avocado slices, garnish with micro-greens and serve.
Notes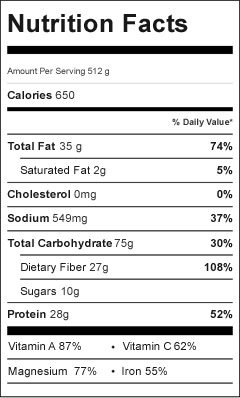 Nutrition
Calories:
650
kcal
|
Fat:
512
g