I'm filing some old photos and drinking hot tea. January is having its cold way again, and there's really nothing much to do outside. I wanted to make some scones to pair them with our afternoon tea, when I realized it's been quite a while since I've baked some bread. The pleasure of mixing the ingredients, the joy of seeing it rise, the lovely baking smell in the whole kitchen, and oh, the crunchy crust! While I try to avoid making bread a constant presence on our table, I wouldn't give up the good, happy moments baking it gives us, especially on cold winter days like this one.
I don't like to precisely follow recipes, and with sourdough pretty much being a difficult math equation I never managed to solve, when I saw Beth's no-knead country loaf on Food52, I knew I found my kind of recipe. This bread doesn't require much attention or special techniques, and you can actually play with the ingredients any way you like. It comes with easy instructions, a lovely baking flavor, and a crunchy crust, so it actually has everything I always wanted from a loaf of bread.
I love to add savory flavors to my breads (sun-dried tomatoes, garlic, and olives are actually my favorite ones), but this time I wanted something really nourishing, so I decided to go for a combination of rye, buckwheat, and wholemeal flours enriched with seeds and nuts for a crunchy texture. I love the buckwheat bread I buy every now and then from our favorite artisan bakery, so I thought I could recreate its rich, nutty taste in my lazy, homemade version. And it actually worked.
Pin
Using whole flours is not just a matter of taste, but also a way to enrich your diet with minerals. Plain white flour doesn't have many nutrients, and it actually needs your body's minerals to be processed. It's also difficult to be metabolized and burdens your system, so if you decide to have a slice of bread, a whole flour one is always the best alternative for your health.
Whole flours are rich in magnesium, manganese, copper, and phosphorus, but with fiber as well, so they are energizing and nourishing, but also help the digestive system and help regulate the sugar levels in the blood. I also added nuts and seeds for a nice texture, but also for their healthy fats, minerals, and fiber load. This bread is nutrient-dense, healthy, and so easy to make – you just need to mix ingredients and let it do its thing. The rest is magic!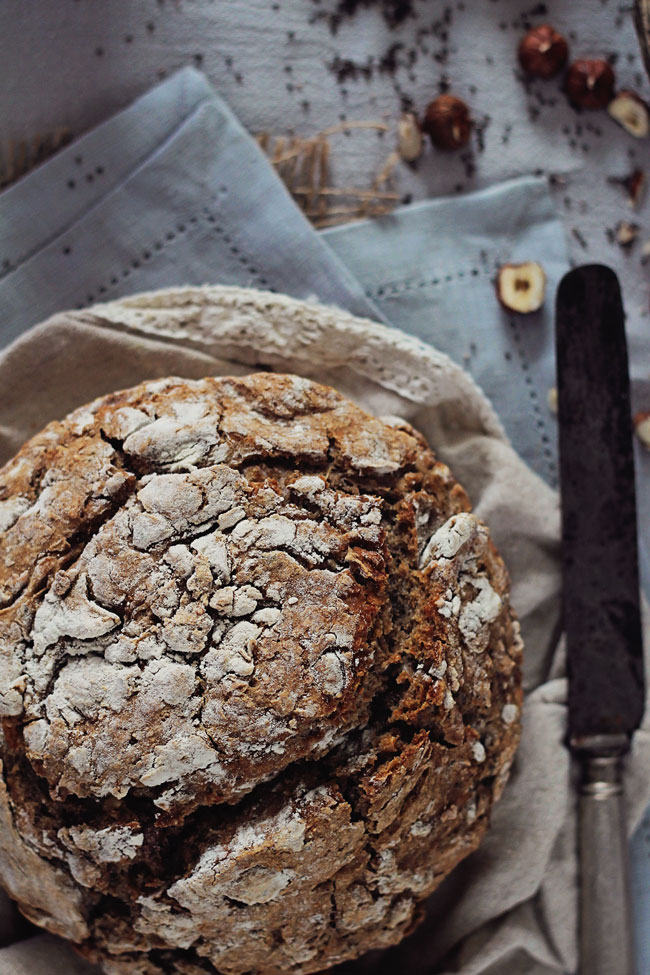 Pin
No-Knead Bread with Buckwheat, Rye, Seeds and Nuts
Loaded with fiber and minerals, the no-knead bread doesn't require any baking skills and comes with a delicious crunchy-crust and nutty flavor.
Ingredients
2

cups

whole-wheat flour

wholemeal

1

cup

buckwheat flour

1

cup

rye flour

1

tbsp

chia seeds

1/2

cup

toasted hazelnuts

1/2

cup

walnuts

1/2

cup

toasted sunflower seeds

1

tsp

instant yeast

1

tsp

salt

2

&1/2 cups purified water

*extra flour to sprinkle the working surface and bowl
Instructions
In a large bowl combine flour, yeast, salt, nuts and seeds, then add water.

Stir to combine and obtain a sticky dough.

Cover the bowl with a clean towel and let the dough rise at room temperature for for 12 hours (until bubbles appear on its surface).

Sprinkle a working surface with flour, transfer the dough on it, fold it once or twice and give it a ball shape.

Sprinkle abundantly the bowl with flour, place the dough inside, cover with a clean towel and let it rise for two more hours (it should double its size).

With about 20 minutes before the dough is ready, heat the oven at 220ºC/450ºF and place a cast-iron pot or a clay one into the oven, empty, to accumulate heat.

Remove the pot from the oven, carefully transfer the dough into it, cover with a lit and bake for 30 minutes.

Remove the lid and bake for 40 more minutes.

Remove from the pot and let cool for a 10 minutes before slicing.
Notes
Nutrition