If you're a pasta addict but want to make some positive changes within your diet, this lentil pasta might just be what you've been looking for. I try to resume my pasta and gluten-rich meals to once a week, but my limited time would accommodate them more than once because they are so easy to make.
Traditional white pasta recipes may be delicious and addictive, unfortunately they're high in refined flour and carbs. Whole wheat pasta is easier to digest but if I can put my hands on a gluten-free one, I know I won't have any issues after eating it. That's why this red lentil pasta recipe is great choice, packed full of nutrients and a great source of protein.
Among the red lentil pasta benefits are their high levels of iron, calcium and vitamin C. In particular iron and calcium form an important part of the vegan diet.
If you're not tracking your intake you can become deficient in either of these nutrients over time . Regularly including nutrient packed recipes like this in your diet, will help keep your bones healthy and strong!
Lentils are a great source of folate, vitamin B1 and B6, which again are typically derived from animal products. These play key roles in production of energy, creating genetic material like DNA and also in the creation of new cells within the body.
A deficiency in B vitamins throughout a plant based diet is very common, and might explain persistent low energy levels.
I added a bountiful of fresh kale into this pasta because it is one of the best sources of vitamin K, which works hand in hand with calcium! Emerging studies are showing that vitamin K plays a key role in preventing weak bones and conditions such as osteoporosis, rather than calcium being solely responsible.
One cup of kale provides you in excess of 1000% of your recommended daily intake (RDI) of vitamin K! You will also find close to 100% of your RDI of vitamin A and 70% of vitamin C in that one cup. There are so many other trace minerals found in kale, which helps to understand why it's such a popular superfood.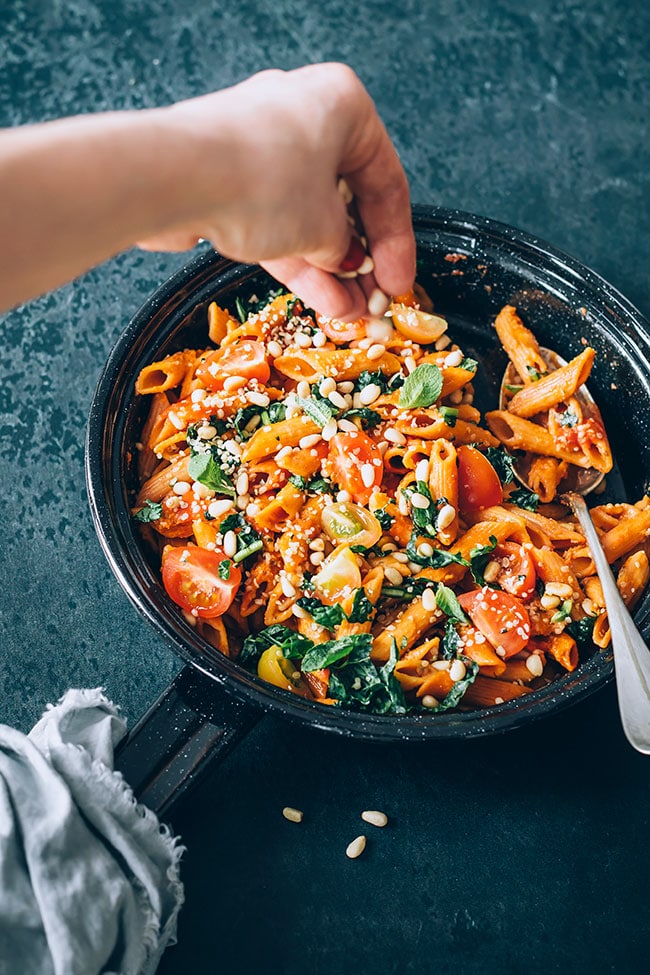 Simple pasta with sauce is definitely boring, so I always try to make it more appealing by adding lightly toasted nuts and hemp.
It's not only about the crunch and texture but also about their healthy fats and amino-acids that help the cells build the protein block, by combining with the ones in lentils. A little bit of Mediterranean flavor from mint, basil or oregano is also a nice touch.
If you're a pasta fan make sure to try my vegan pasta salad, my homemade rye pasta with fresh pesto and roasted tomatoes or this delicious lasagna with spinach and mushroom ragu.