If it is to define my eating philosophy, it would be in four words: fresh, whole, seasonal, homemade. It's a little more difficult to fulfill all of these in wintertime, because it's hard to find good-quality, fresh ingredients. Summer is the best time of the year. With so many fresh, organic ingredients from local farmers' markets, I don't have any problem to fire up my oven in the middle of a hot summer day, to slow cook in clay pots, to knead, or bake.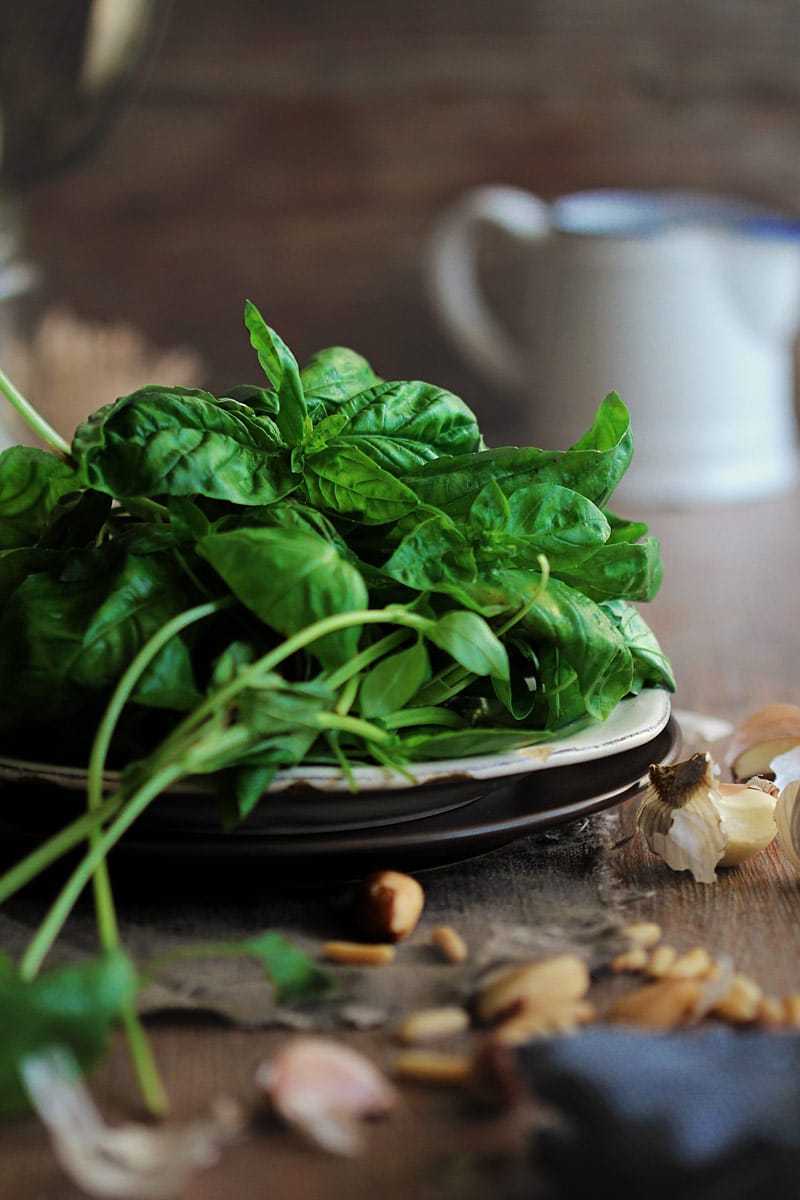 Pin
Yesterday I bought a huge basket with organic-grown summer veggies and when I saw the alluring green of the fresh basil and the lovely little tomatoes, I knew I wanted something Italian. What could you pair with tomatoes and basil better than pasta? Fresh, whole flour, homemade delicious pasta, bathed in flavored pesto and topped with roasted tomatoes and garlic. Can you think of something better for a summer dinner?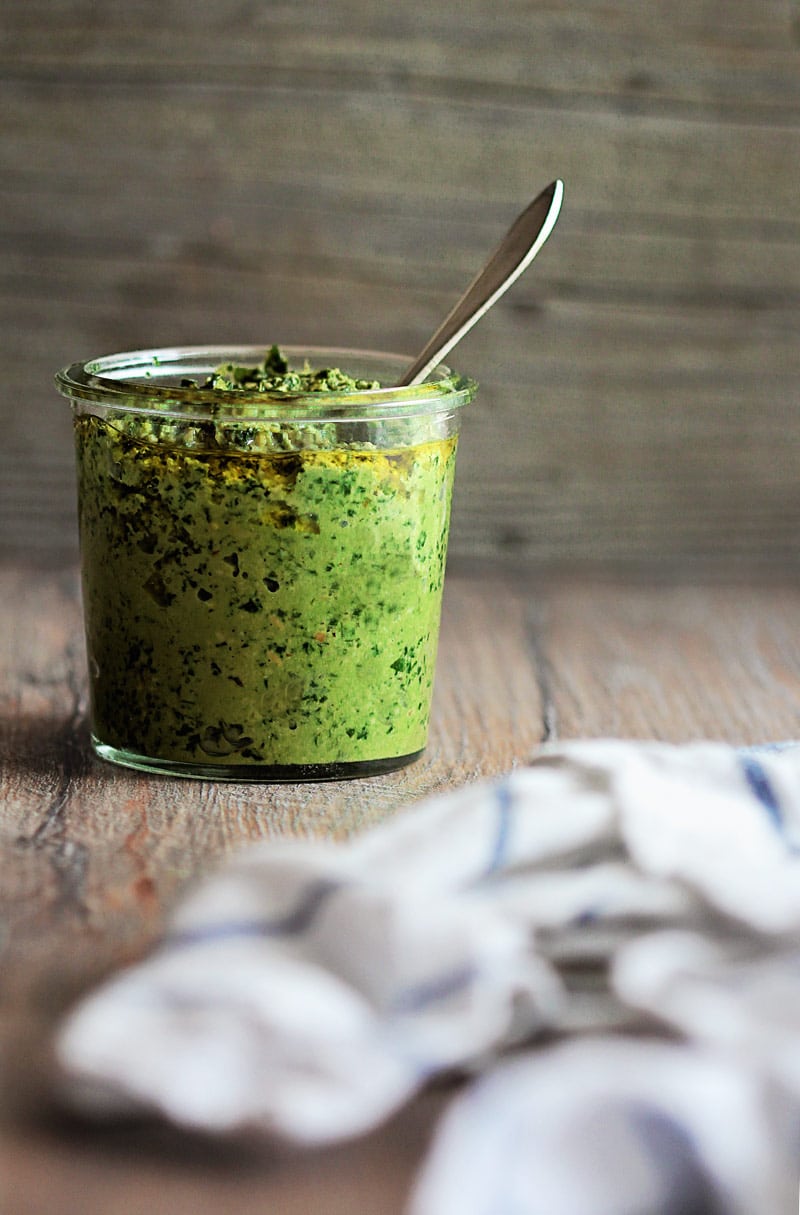 Pin
Although I'm always searching for special types of pasta to buy and bring home from my Italian travels, and though I've found a lot of interesting varieties, I like to make homemade pasta every time I'm in the mood for comfort food. Preparing the ingredients, kneading, cutting, and simmering pasta gives me time to relax my mind, recalling the beautiful moments in Italy and thinking of the lovely things life is giving us.
Making homemade pasta also gives me the freedom to play with different whole flours to enrich the dish with more fibers and minerals. This time I've chosen a mix of whole rye flour and wholemeal to make homemade fettucine, and they turned out rich, hearty and delicious.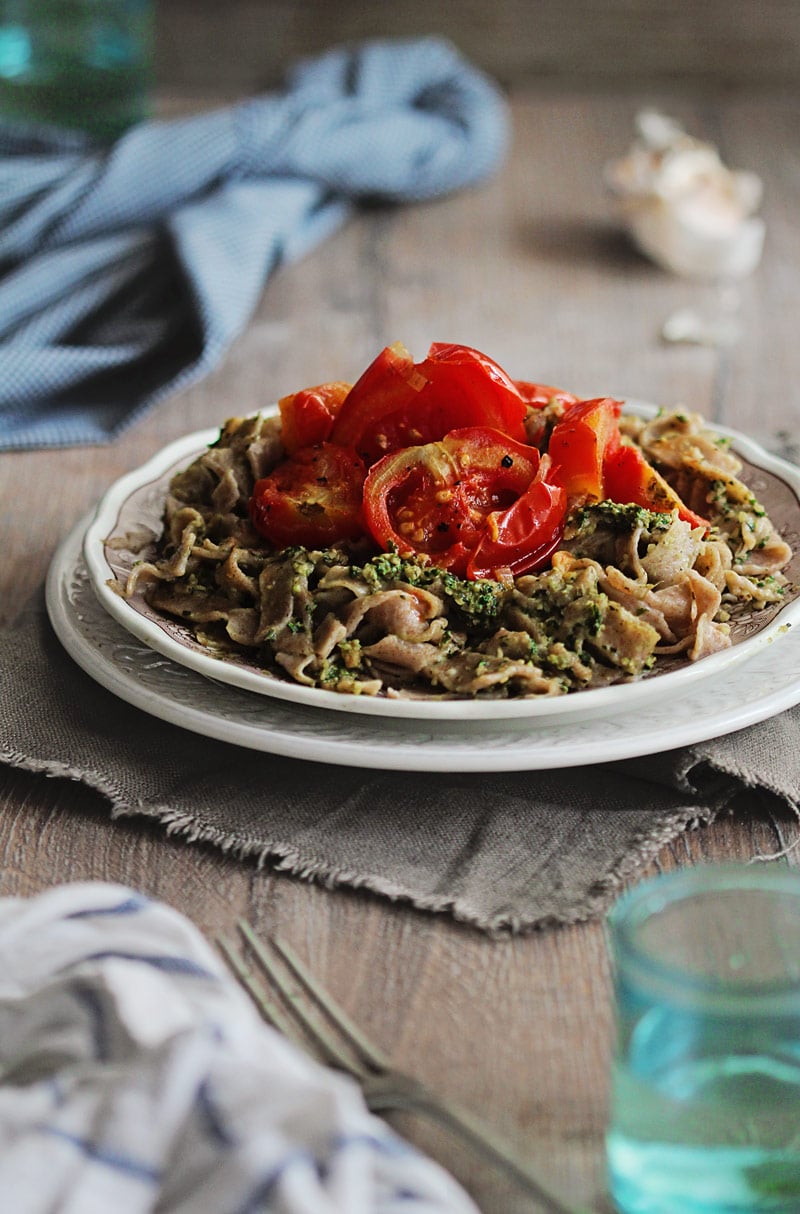 Pin
Choosing rye flour instead of wheat is a great thing to do for your health. Rye flour retains a large quantity of nutrients, because it's difficult to separate the bran while processing the flour. The flour is packed with Manganese (necessary for bone production and skin integrity), Magnesium (responsible for the Sodium-Potassium exchange at cells level) and fibers (promoting the gastrointestinal health). As the white flour is completely emptied of nutrients during processing, rye seems to be a reliable alternative.
Cooking with rye flour might be just a little more difficult, as it absorbs a lot of water, but you'll figure it out very quickly.
Homemade Rye Pasta with Pesto and Roasted Tomatoes
Comfort food at its best! A hearty Italian dish, with homemade fettuccine rye pasta, freshly made pesto and roasted tomatoes with garlic.
Ingredients
For pasta

1

cup

rye flour

1/2

cup

plain flour

1/2

tsp

pink Himalayan salt

1

large organic egg

1/4

cup

filtered water

For pesto

2

cups

fresh basil

2

tbsp

extra virgin olive oil

1

tsp

sea salt

2

garlic cloves

1

cup

pine nuts

For the roasted tomatoes

5-6

ripe tomatoes

2

garlic cloves

crushed

1/4

cup

good quality dry white wine

1

tbsp

olive oil

Freshly ground black pepper
Instructions
To prepare the pasta, mix the flours with salt in a big bowl, make a hole in the middle, add the beaten egg and water, whisk to combine and knead for 10 minutes to obtain an elastic dough. Set aside to rest for 30 minutes.

Put the pesto ingredients in a food processor and pulse to obtain a creamy mixture. Transfer in a serving jar.

Wash the tomatoes with plenty of water, drain well and cut in quarters.

Heat the oil over medium heat in a cast-iron skillet, add the crushed garlic and fry for 30 seconds, just to flavor the oil.

Add the tomatoes, wine and freshly ground black pepper, stir to combine, cover the skillet with a lid and let simmer for 5-7 minutes over low heat, until the liquid starts to thicken. Remove from the heat.

Roll the pasta dough as thin as possible with a rolling pin on a well-floured surface, or use a pasta machine. Use a sharp knife to cut fettuccine strips, powder them with rye flour so they don't stick, and simmer in salted water for 2-3 minutes, for al dente texture.

Drain water and add the pesto in the pan. Mix well to combine.

Distribute on serving plates, top with roasted tomatoes and a drizzle olive oil.

Serve right away.
Notes