It's great to see so many cereal companies releasing healthier ranges of breakfast granola, but they still need to do some work on reducing sugar content! I always find breakfast to be one of the most important meals of the day, and bit by bit I've been creating more nutritious options.
If you struggle with hormone imbalance like me, you have digestive issues or you simply want to give your body a break from gluten, then this gluten-free granola without oats is just what you need!
Pin
Nuts and seeds are a great addition to your daily diet, both as being an excellent protein source and also for their healthy fats and mineral content. If you are facing oestrogen dominance or low progesterone (or a combination of these two), you can actually use the effects of different seeds to regulate the imbalance.
For instance, sesame and sunflower seeds stimulate the production of progesterone, being a great daily supplement during the luteal phase (day 15th – 30th of your cycle) because of their high content of zinc and vitamin E with progesterone boosting effects. On the other hand, pumpkin seeds and flax are recommended during day 1st – 14th of your cycles, the follicular phase, for naturally boosting your oestrogen metabolism.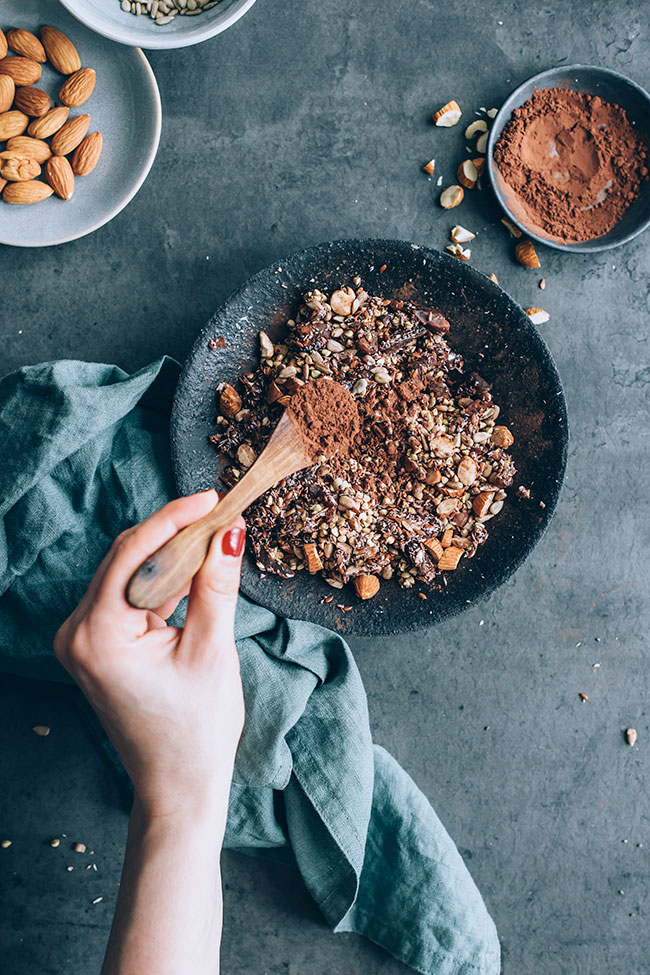 Pin
For supporting a balanced hormone production throughout the whole month, a mix of seeds and nuts sounds like the best option! I combined my favorite ones, such as almonds, sunflower seeds, flax and chia, with superfoods such as raw cacao powder and hormone balancing maca powder.
Almonds contain high traces of biotin, with about 50% of your recommended daily intake being found in just 0.25 of a cup.
Biotin is a type of B vitamin (B7) which assists in energy production and building healthy hair and nails. Almonds are also great sources of vitamin E, manganese and copper.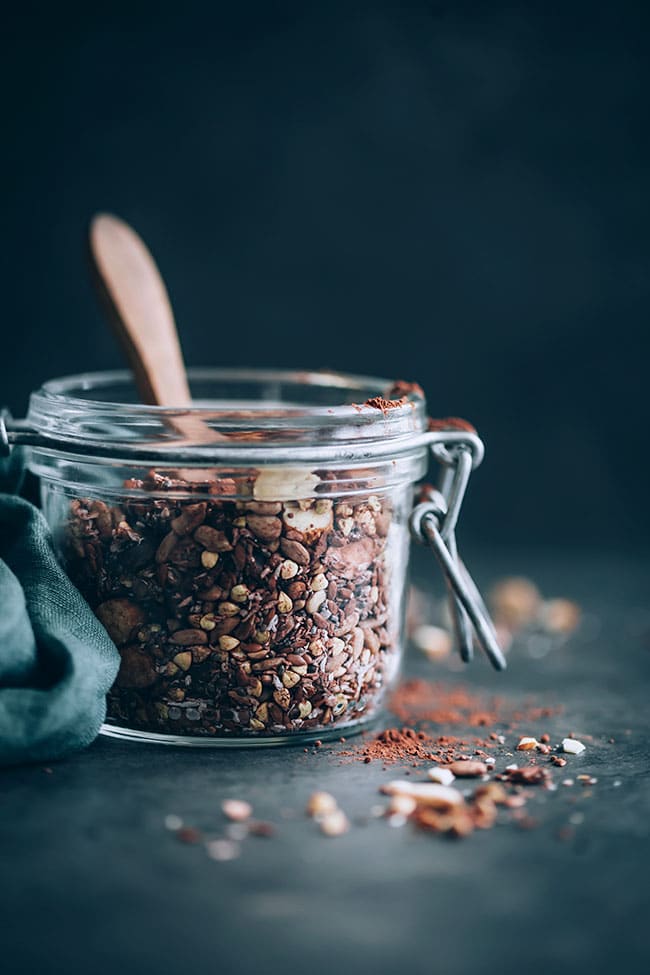 Pin

I've added in one cup of unsweetened coconut flakes to give the granola a bit of a tropical taste, and to add in some more healthy fats. The natural oil found in coconut products is made up of medium chain saturated fats which, much to a lot of controversy, are actually good for your health!

These unique fats also help to fight viruses given their powerful antibacterial properties and also promote healthy glowing skin.
Pin
If you need more ideas for healthy, delicious breakfasts check out my Decadent Chocolate Quinoa Breakfast recipe, the Gluten Free Buckwheat Banana Pancakes or the Millet Chocolate Energy Bars.
Grain-Free Granola
Ingredients
1

cup

unsweetened coconut flakes

1/2

cup

raw almonds

chopped

1/2

cup

raw hazelnuts

chopped

1/2

cup

raw sunflower seeds

1/2

cup

dry pitted dates

chopped

1/2

cup

flaxseeds

1/4

cup

chia seeds

1

cup

buckwheat

2

tbsp

raw cacao powder

2

tbsp

coconut oil

melted

2

tbsp

pure maple syrup

1

tbsp

maca powder

Pinch

pink Himalayan salt
Instructions
Preheat the oven to 175C/350F.

In a large bowl add the coconut flakes, buckwheat, hazelnuts, chopped dates, chia and sunflower seeds and mix to combine.

In a medium bowl combine the melted coconut oil, maple syrup, cacao, maca powder and salt, and drizzle the mixture over the seeds and nut mix. Mix to combine.

Line a baking sheet with parchment paper, and transfer the mixture onto the sheet.

Spread the mixture with a spatula to create an even layer, and bake for 10 minutes.

Remove from the oven, break the layer into chunks and set aside to cool.

Keep it in an airtight container inside the refrigerator.
Notes