The search for guilt-free, highly nutritious snacks is kind of a never-ending journey for me. But never-ending in a good way. I always find myself cringing at some of the daily snacks consumed by so many people I pass by as I go about my day. The common denominator seems to be high carb, high sugar and highly refined 'foods' straight out of plastic wrappers.
Sure they're great if you're on the run and simply don't have time for baking, but in the long-run they can be incredibly damaging to your health. They are packed full of additives, preservatives, thickeners and colors you shouldn't even feed to your pet hamster. Putting aside some time for meal prepping certainly pays off, as you can prepare healthy snacks that last the entire week. And these granola bars are ready in just 20 minutes.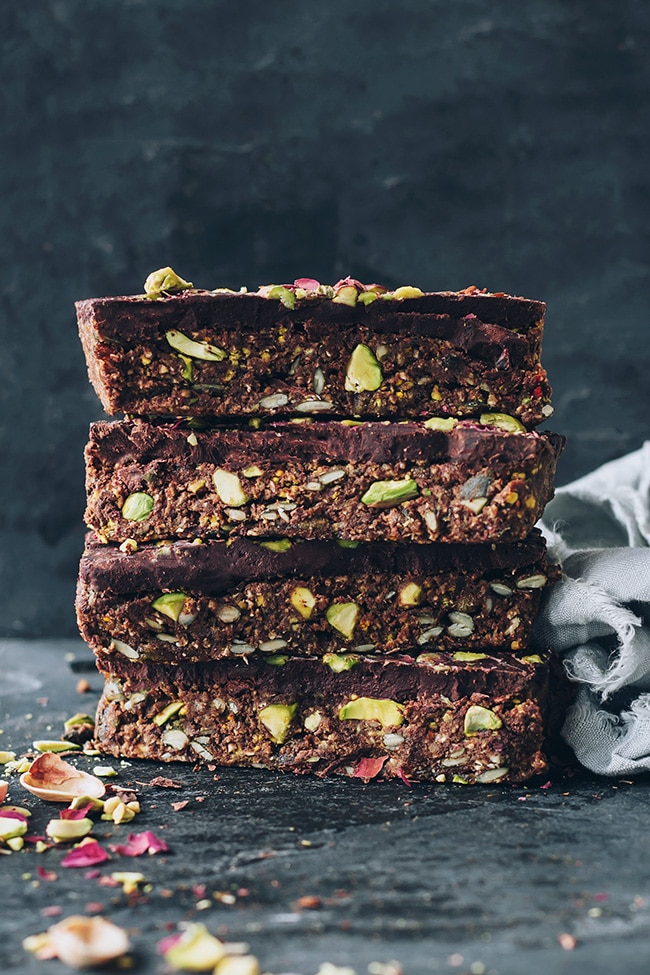 Oats are a staple food in my household. You can use them in so many endless ways, they go through very limited processing and have to be one of the world's healthiest foods. Of importance, the level of manganese per 40g of oats is almost 100% of your recommended daily intake. And I'm throwing in two cups to this recipe!
Manganese acts as the building blocks for healthy bones, connective tissues, regulation of blood sugar and helps to absorb calcium. This is pretty important for us vegans, given calcium is much easier to come by in animal products, we need all the help we can get to deliver this important mineral throughout our bodies.
Pistachios are not only a great source of fiber, but taste pretty amazing. Around 97% Americans are deficient in fiber, so it's certainly an underrated nutrient that we need more of in our lives. A high fiber diet helps to prevent many diseases from developing, including heart disease and diabetes. Pistachios also have quite high levels of vitamin E which has been linked to strong immunity, healthy skin and eyes.
With the added vegan chocolate layer added on top of the final product, you'll be able to satisfy your sweet-tooth without the usual cups of sugar added to commercial granola bars!