One of my favourite ways of putting together a quick nutrient-packed lunch, this grilled veggie wrap recipe is a summer hit. Fresh greens, avocado, roasted peppers and halloumi and a simple mustard dressing – this veggie wrap makes a satiating protein-rich lunch that keeps you away from the kitchen during the hot summer days.
You can make it ahead and pack to-go, make in bulk to serve at dinner parties or serve warm from the grill. Either way, this veggie wrap has everything you would expect from a summer meal.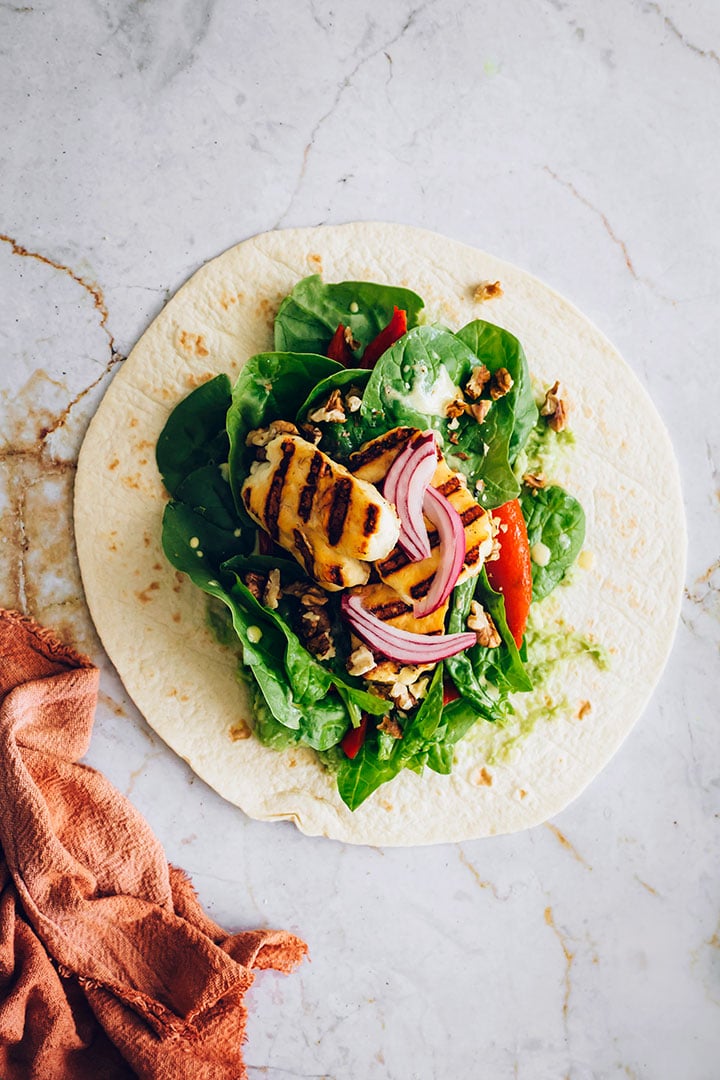 Pin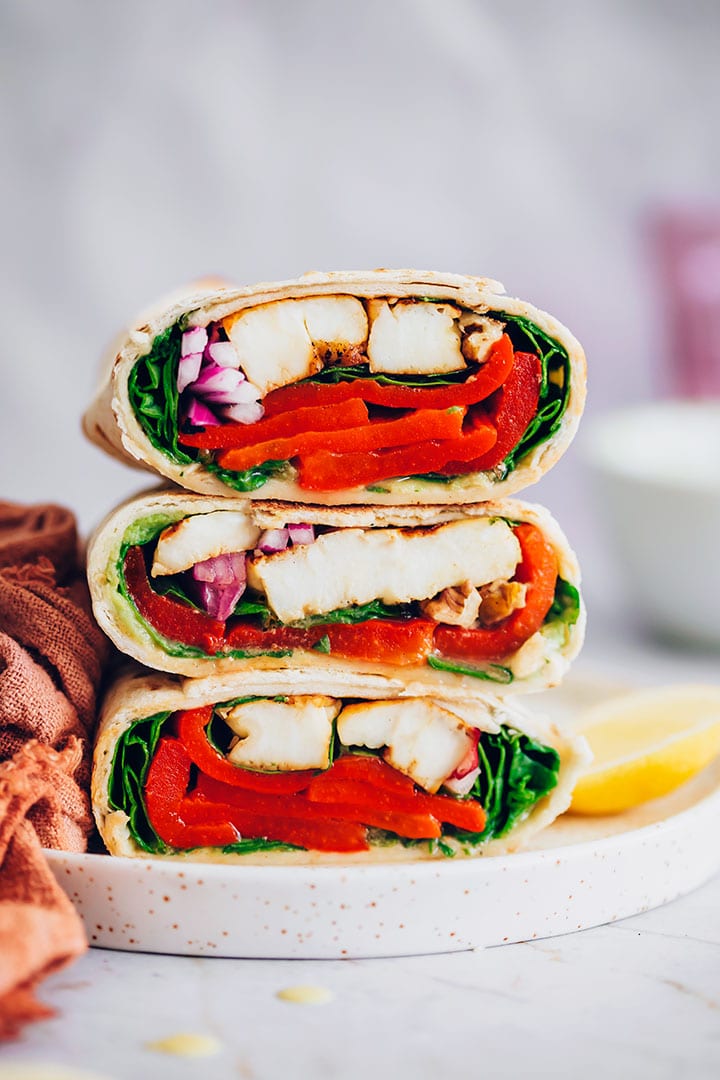 Pin
How To Make a Healthy Veggie Wrap
Putting together a veggie wrap is one of the easiest things to do. Just load, roll, grill and serve. However, the ingredients you choose can make a difference between a boring wrap packed with wilting veggies, and a healthy, vibrant one, packed with fresh nutrients. I think my veggie wrap colours speak for themselves, and you can tell that although I grilled it, the ingredients preserved their nutritional values. So, how do you make a healthy veggie wrap that stands out? Pick the right ingredients and layer them wisely. Here are my advices: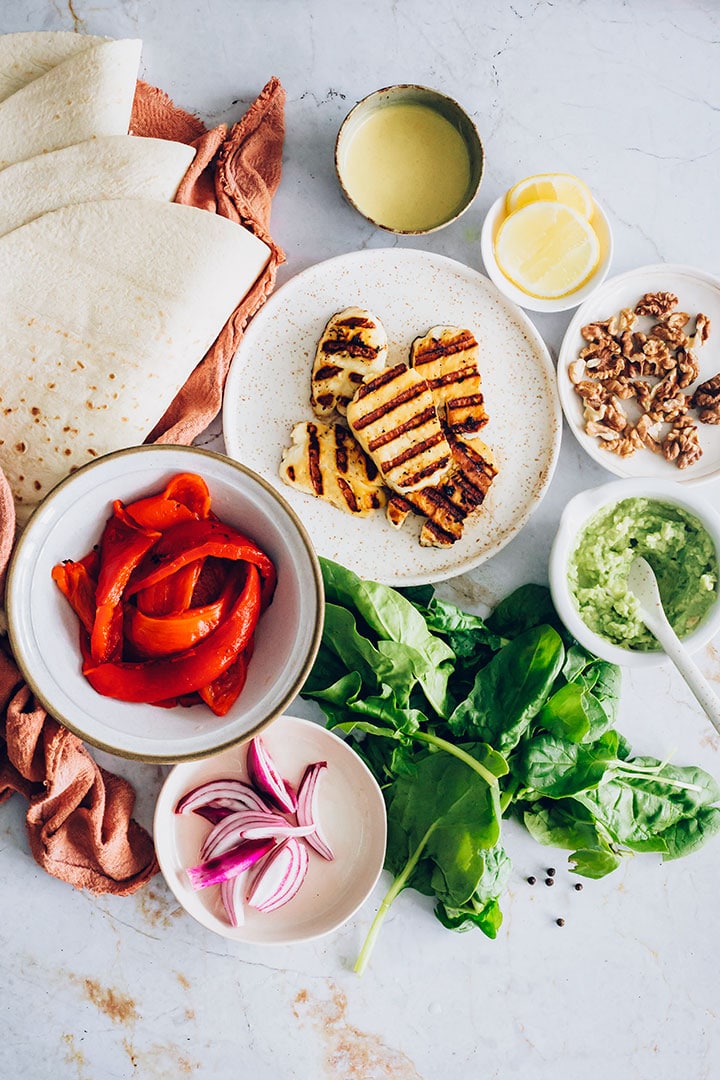 Pin
Start with the tortilla wrap – choose gluten-free whenever possible to make your wrap more digestive-friendly or go for whole-wheat one.
Choose your base – this is a very important step towards a healthy veggie wrap, because this layer will protect your ingredients from wilting during grilling. Mashed avocado, hummus, tofu or cashew cream cheese – they all work perfectly because of their isolating content of healthy fats.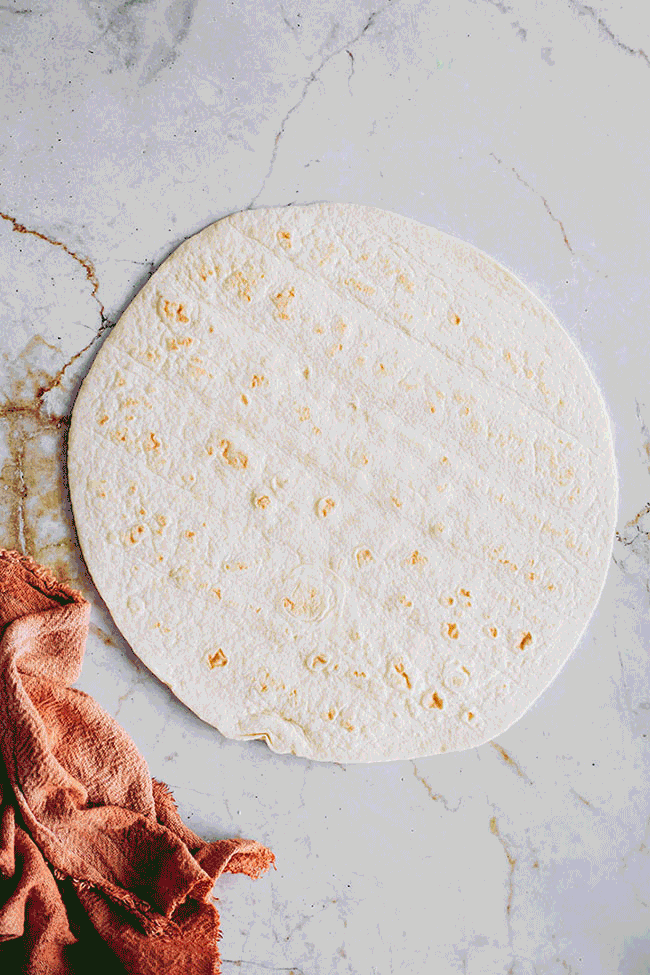 Pin
Layer smartly – having your isolation layer set, you can now play with colours and ingredients to create hearty vegetarian wraps that are still healthy. Always aim for a good dose of greens to load your veggie wrap with, to boost your liver function and support a balanced hormone production. Choose veggies that have a low water content and high nutritional value to avoid an eventual permeation of the tortilla and preserve most of their nutrition values during heating – fresh or roasted bell peppers, grated carrots, roasted sweet potatoes, roasted asparagus, fermented cabbage – these work best.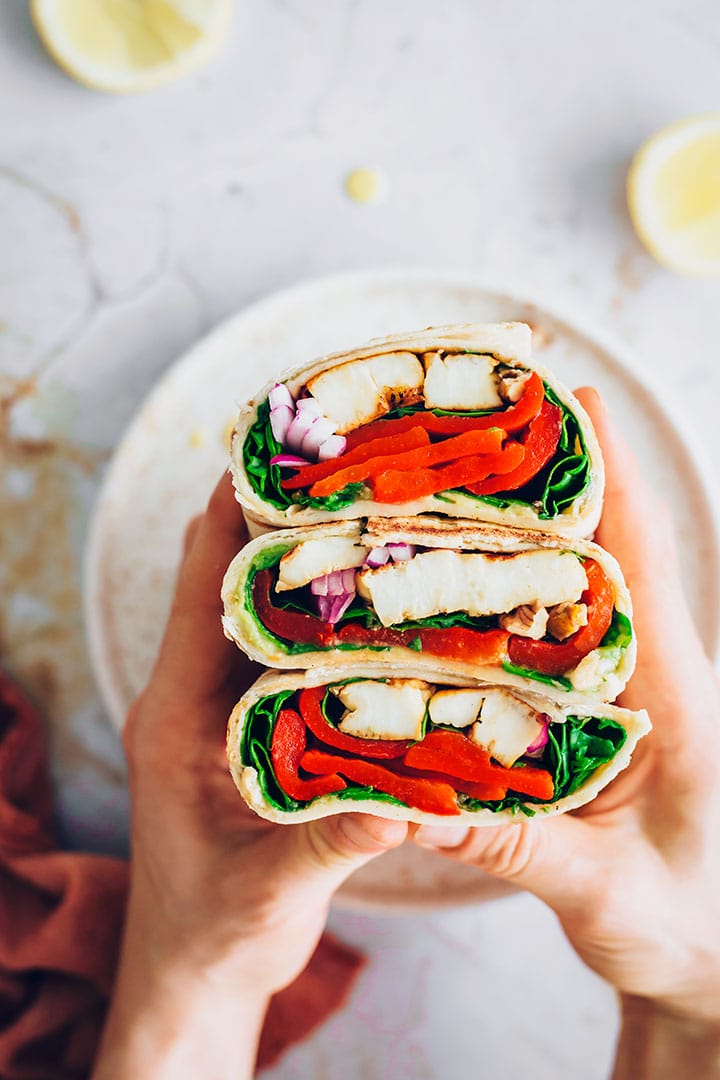 Pin
Dress it lightly – simple dressings made with olive oil, yogurt or lemon work best, but add small quantities just to highlight the ingredients taste rather than making your wrap soggy.
Don't forget your proteins – always add quality proteins to any of your meals, to support the hormone and key enzymes production and help your body rebuild and repair tissues, especially with ageing. Plant based protein such as cooked quinoa, beans of all kind, tofu, and, more rarely, eggs or halloumi are my favourite protein addition.
Don't count the calories – aim for a balanced macronutrients load. This veggie wrap comes with loads of proteins from halloumi, spinach and whole wheat, a lot of fats to support the brain activity and a healthy hormone production, most of these fats are unsaturated from avocado and olive oil, and unrefined carbs.
Perfect Veggie Wrap Tips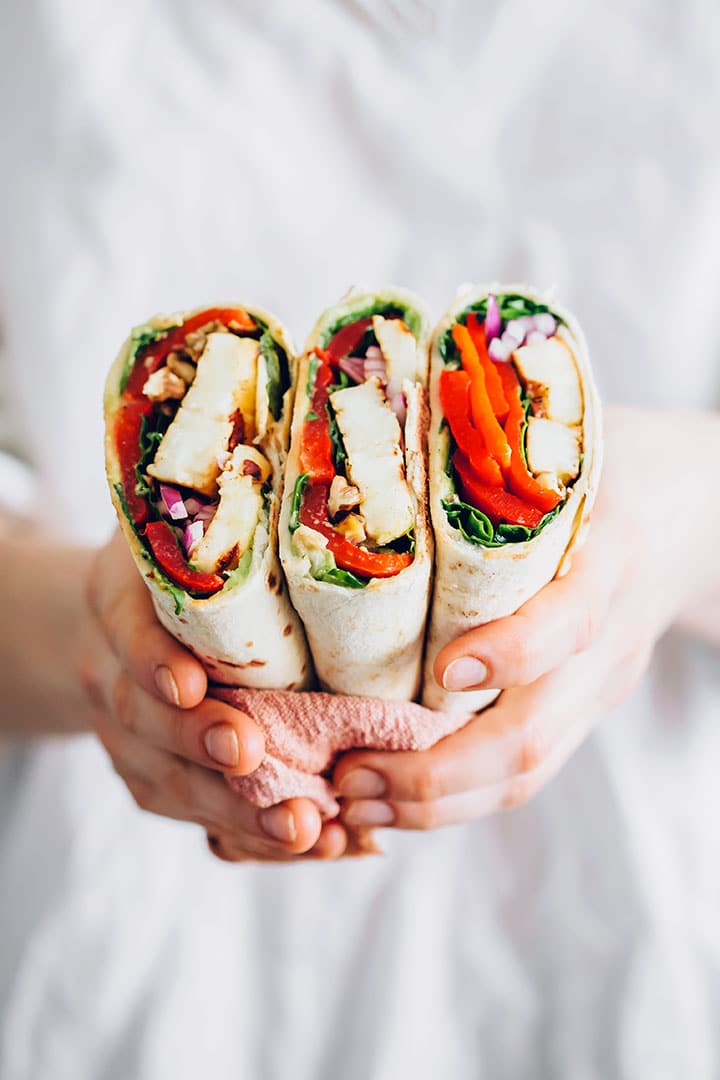 Pin
Stay away from soggy ingredients – water-loaded vegetables such as tomatoes can easily turn your veggie wrap into a soggy one. If you still want to add them though, make sure you remove as much as possible the watery parts (especially the seeds) and add them in small quantities.
Don't overload – rather than stuffing a single wrap with lots of ingredients, make multiple wraps and play with the nutrients and flavours. Especially if you plan to grill your wrap, make sure you add fewer ingredients and leave enough place for rolling.
Slice your ingredients – wether is chopping, slicing or dicing that's need to be done, make sure you do it. This will help your wrap roll easier.
Dress it separately – if you like your ingredients bathed into sauces and dressings, my advice to you – serve them separately. Prepare your dressing into a bowl, and serve it next to your wraps for dipping.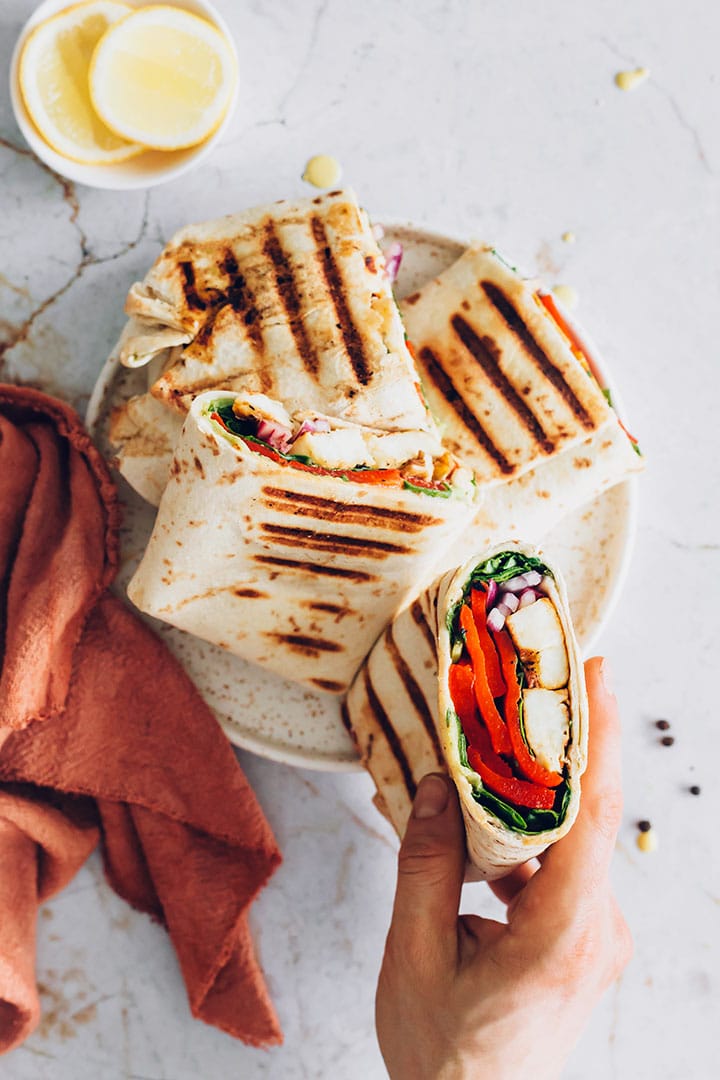 Pin
Looking for more easy ideas of veggie wraps? Try these:
Hummus Veggie Wrap with Sweet Potatoes
Vegan Breakfast Burrito with Beet and Tofu
I love seeing your take on my recipes, so if you made this recipe don't forget to tag me on Instagram @theawesomegreen so I can see it and share with the community!
Easy Veggie Wrap with Avocado and Halloumi
Easy grilled Mediterranean veggie wrap with halloumi, avocado and roasted peppers, just perfect for a nutrient-loaded lunch.
Ingredients
2

large tortilla wraps

gluten-free or whole-wheat

1

avocado

peeled, stone removed

4

oz (about 120g)

halloumi

sliced into 1/2 inch pieces

1

cup

fresh spinach

2

bell peppers

1

small red onion

diced

4

walnut kernel halves (about 10 grams)

crushed

1

tbsp

vinegar

1

tbsp

lemon juice

1

tbsp

Dijon mustard

2

tsp

extra virgin olive oil

1/2

tsp

salt
Instructions
Heat your grill - I use a simple grill skillet for quicker results in my kitchen, but any grill will do.

Use a fork to mash the avocado into a medium bowl, add 1 tsp lemon juice, mix to combine and set aside.

Add the lemon juice, mustard, olive oil and salt into a small jar, lid and shake well to get a creamy dressing.

Add the halloumi slices and bell peppers on the grill. Cook the halloumi for 3 minutes, then flip over and cook for 3 more minutes. Grill the red peppers turning them on each side, until well cooked (about 15 minutes)

Remove the halloumi from the grill and place into a bowl.

Remove the bell peppers from the grill, peel their skins, cut into stripes and remove the seeds and stems. Place in a bowl, drizzle with vinegar and set aside.

Keep the grill hot over low heat until the wraps are ready.

To assemble the wraps, start by spreading half of the avocado mash onto a tortilla, leaving 1 inch round from the side.

Add a few spinach leaves and top with a few drops of dressing.

Add half of the pepper slices, well drained of the vinegar, and cover with more spinach leaves.

Top with the half of the halloumi slices, red onion and crushed walnuts.

Add a few more drops of dressing and roll into a wrap.

Place on the grill and cook for 2 minutes on each side.

Remove from the grill, cut into halves and serve warm.

If you don't want to serve them right away, skip the dressing and wrap in plastic foil. Keep in the refrigerator and grill later. Keeps up to two days.
Notes
Nutrition
Serving:
348
g
|
Calories:
597
kcal