Putting together a healthy wrap might be one of the simplest things you do in your kitchen. Don't think fancy ingredients or superfoods – I always happen to have some extra roasted veggies from last night's dinner, maybe some hummus, an avocado, or some fresh aromatic herbs. You don't necessarily need a recipe, just let yourself play with the available ingredients, use spices, add eggs to enrich the nutritional profile, pack everything in a whole wheat or gluten-free wrap and you're ready for a healthy lunch on the go!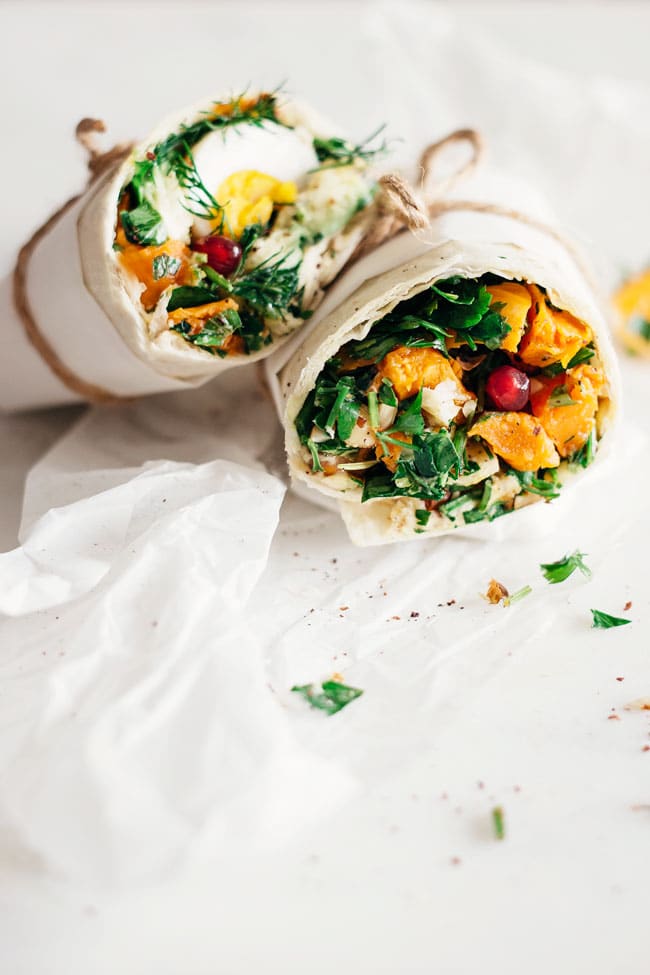 Pin
I love to roast sweet potatoes in batches, because I never know when I might use them – a salad, a stew, a sandwich, a nourishing bowl or wrap – sweet potatoes can take all these to a new dimension. They not only add an interesting texture and inviting color, but also nourishes your body's cells with exceptional nutrients. The high concentration of beta-carotene is the number one reason why you need to include sweet potatoes in your diet, but you should also consider their fiber load, with a positive impact on digestion and colon cleansing, and the minerals they contain, especially manganese, which is one that triggers the natural detox function of your cells. Potassium is also present in high concentrations, making sweet potatoes a perfect candidate for a low sodium diet, and provides the mineral your body's cells use to flush out excess sodium, water, and toxins, and to maintain an alkaline environment.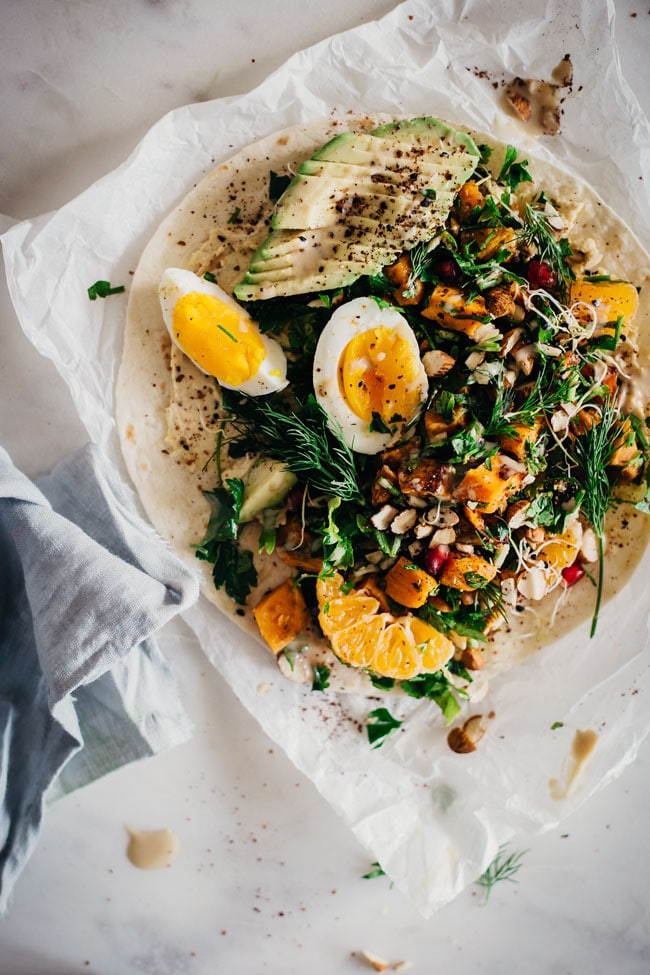 Pin
I like to balance the sweetness of this root vegetable with the sourness of lemon and the flavors of herbs. For this wrap, I made a simple salad with roasted sweet potatoes and fresh parsley to create an antioxidant and anti-inflammatory base, and added lightly toasted almonds and avocado for their healthy monounsaturated fats which facilitate better absorption of the beta-carotene. I also added a soft boiled egg for its complete protein (you can replace the egg with cooked quinoa, or simply skip it for a vegan version of the wrap), and a hummus spread to keep everything together and to add some fiber to the picture. I played a little with spices and the result was simply delicious – balanced taste, nice texture, nourishing and filling.
Pin

Here are some variations:

– Bean spread, roasted cauliflower, massaged kale, egg or quinoa, with a garlic sauce.

– Avocado spread, black beans, spinach, red onion, chopped tomatoes.

– Herbed yogurt, roasted eggplant, parsley, basil, chopped tomatoes and cucumbers, poached egg.

– Pesto, roasted beetroot, pine nuts, quinoa, spinach.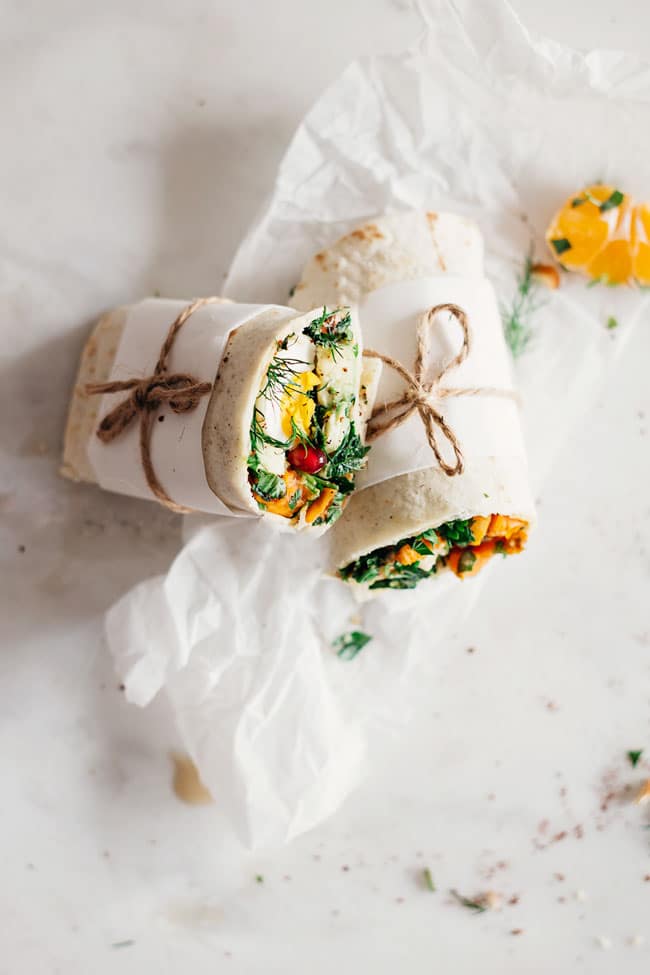 Pin
Make sure to also check out my Falafel Wrap recipe!
If you make any of these, don't forget to tag me on Instagram @theawesomegreen so I can see and share them with the community!
Easy Lunch Wrap with Sweet Potato, Hummus and Egg
A quick and healthy lunch on the run, with sweet potatoes and fresh herb salad, boiled egg, avocado and tahini sauce.
Ingredients
1

sweet potato

cubed, roasted

1

small bunch parsley

roughly chopped

1

small bunch dill

roughly chopped

1/2

pomegranate

seeds only

1

free-range egg

boiled softly and cut into halves

2

tbsp

hummus

1

ripe avocado

peeled and cut into slices

1

tangerine

peeled and cut into slices

1/4

cup

lightly toasted almonds

crushed

1/2

tsp

sumac

1/2

tsp

cumin

1

tbsp

fresh lemon juice

2

tsp

tahini

A pinch sea salt

Freshly ground black pepper

2

gluten-free or whole wheat tortilla
Instructions
In a medium bowl add the sweet potato, parsley, dill, pomegranate seeds, tangerine, almonds, sumac, cumin, salt, pepper, lemon juice and tahini, and toss to combine.

Spread one tablespoon hummus on a tortilla, add half of the salad, top with avocado slices and half boiled egg, wrap tightly and pack in foil to go.

Repeat the same with the other tortilla.
Notes