Ever since I've seen Dana's project of creating a rich DIY coconut yogurt, I knew I have to try it. A tangy, tasty and nicely flavored home-made yogurt is something anyone should try filling the fridge with at least once, because it's so difficult to track the way supermarket yogurts are made. The vegan ones especially come packed with additives to mimic the texture and flavor of dairy. This is a project I will definitely repeat and improve, but for a first trial with this easy coconut yogurt recipe I am really happy with the result!
Coconut yogurt benefits come from the exceptional nutritional profile of coconuts. These white lovelies are a great addition to your daily diet, as they are rich in heart-healthy fats. Given the brain is made up of over 60% fat, the amount of essential fatty acids you consume determines how your brain functions throughout the day. For this reason, don't be alarmed by the high levels of fat per serving of coconut milk.
If you're seeking more clarity, a boost in your mental performance and focus in tackling life's many challenging tasks then be sure to include more coconut in your weekly meal plan!
Pin
The specific saturated fat found within coconut cream is a Medium Chain Fatty Acid (MCT) which is quite unique in and of itself. This type of fat is easy for the body to metabolize, meaning that it won't store as fat within the body, rather it's sent straight to the liver and used productively as energy.
MCTs are rich in antioxidants, contain anti-inflammatory and anti-fungal properties, and some great vitamins and minerals to give your health a boost. Thankfully, we are hearing a lot more claims from medical experts that "not all fats are the same", which kind of throws out all of those concepts behind fat-free diet fads!
Pin
Choosing organic and additive-free ensures you consume nothing but the best quality, free of unnecessary chemicals that the body has trouble recognizing. Coconut milk is the by-product of processed coconut meat which gives its creamy texture, and this is why it is a lot thicker than coconut water itself.
Breaking down the vitamins and minerals in coconut milk, you'll find plenty of B vitamins, vitamin C, E, calcium, manganese, and essential amino acids needed for optimal function and fiber for digestion.
Probiotics have become wildly popular in the Western World, and for good reason. The need to place more emphasis on caring for the gut was a result of studies that showed 80% of the immune system is located in this particular part of our body.
Probiotics do an excellent job and balancing out the millions of good and bad bacteria in your gut. The key word being balance, as you don't want to completely eliminate bad bacteria. Probiotic capsules contain live bacteria and yeast to maintain digestion, boost immunity and overall well-being.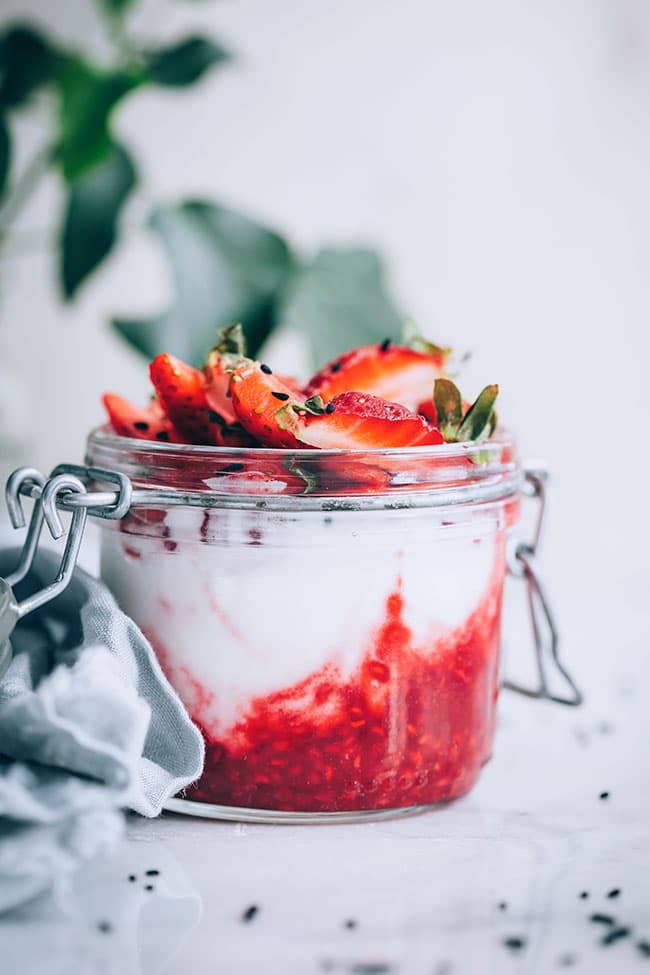 Pin

You can also use this easy coconut yogurt recipe as a healthy and delicious addition to my Vegetarian Curry Recipe, Thai Curry with Black Rice, or the Blueberry Raw Cheesecake. Enjoy!
DIY Coconut Yogurt
A revolution for your weekly staple, this DIY coconut yogurt is made with just two ingredient and it doesn't involve any cooking or a special machine. The tangy taste and creamy texture makes a perfect addition to your morning granola bowls or layered puddings.
Ingredients
3

cups

organic full fat coconut milk

a guar-gum improved one will turn into a thicker, creamier yogurt refrigerated for 2 days

3

vegan-friendly probiotic capsules
Instructions
Add the coconut milk into a large ceramic bowl and whisk to incorporate any liquid from separation.

Cut open the probiotic capsules and add them to the coconut bowl.

Whisk with an wooden spoon to incorporate.

Divide the mixture into sterilised jars, cover with cheesecloth to allow the air to circulate and place the jars into a warm place.

Let incubate for 48 hours, or more, until it gets the desired tanginess.

Store in the refrigerator and serve as it is, or with fruits or home-made jams or compotes.

*If your yogurt gets a strange, unpleasant smell it means that something went wrong throughout the process and you need to through it away. The taste should be tangy and pleasant.
Notes