A good smoothie is one of the best ways to start your day. Aside from being delicious, smoothies can be full of good fats and protein that can give you a good boost of energy for the day ahead.
The almond milk and avocado gives this blueberry vegetarian smoothie some healthy fats which provide a luxurious creaminess to this smoothie.
The pea protein powder provides a good shot of protein, and the blueberries and ginger are rich in antioxidants that aide in detoxing the body and promoting weight loss.
What are the Benefits of a Blueberry Smoothie?
Blueberries are the star ingredient of this vegan detox smoothie, and for good reason. They are rich in health boosting antioxidants as indicated by their deep, rich color. The antioxidants in blueberries have been known to alleviate inflammation and boost weight loss, among many, many other benefits.
Antioxidants fight free radicals in the body which provides a variety of health benefits, including preventing cell damage and combating disease such as heart disease, diabetes, and even cancer.
Blueberries have also been shown to improve brain health. Studies have shown that consuming a blueberry drink can improve cognitive performance and memory.
The polyphenols in blueberries have been found to reduce inflammation in the body which helps combat autoimmune diseases, heart conditions, and even depression.
Blueberries have also been shown to support digestion and promote heart health.
Pin
What Can I Put in My Smoothie to Lose Weight?

The blueberries in this vegan detox smoothie are one of the best things to add to a smoothie for promoting weight loss. One serving of blueberries contains over 14% of your daily fiber in just one serving. Fiber leaves you feeling full and reduces the inclination to snack and take in those unnecessary calories.
Studies have shown that consuming blueberries can fight obesity and help reduce belly fat.
Other foods you could add to your smoothie to improve weight loss include spinach for its fiber intake and beets for their muscle boosting benefits for more efficient work outs, helping burn excess fat.
Ginger is known to balance blood sugar and boost metabolism, reducing the desire to overeat. This allows you to be more intentional about the calories you do consume and enhances weight loss results.
Other foods that help sustain you for longer that go well in smoothies include coconut oil, chia seeds, flax seeds, and oat powder.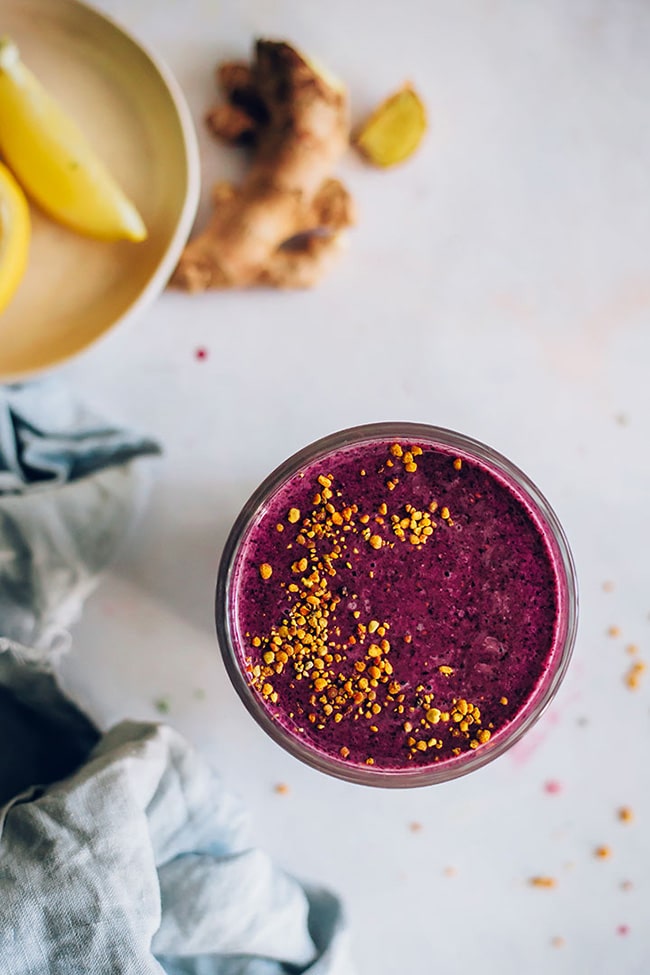 Pin
Do Fruit Smoothies Make You Fat?

A well-balanced vegan detox smoothie with healthy protein, carbs, and fat can significantly aid in weight loss and will not make you fat.
It is all in the ingredients you use. For example, blueberries are rich in antioxidants and other weight loss properties mentioned above.
However, blueberry juice, cranberry juice or other fruit juices often have sugar added, and significant amounts of it.
The added sugar in fruit juice will increase the carbs and the calories, adding to the scale.
Using unsweetened almond milk in this vegan detox smoothie recipe is one way to reduce the caloric intake while still getting a nice consistency to the smoothie.
If you need to go nut-free, hemp, rice, or pea milk are great options.
Looking for more smoothie deliciousness? Try these:
If you make any of these recipes don't forget to tag me on Instagram @theawesomegreen so I can see them and share with the community!
Detox Smoothie Recipe with Blueberries and Ginger
A delicious smoothie, packed with good fats and proteins, antioxidants and fiber that can help you gently detox and lose weight.
Ingredients
2

cups

frozen blueberries

½

inch

ginger piece

peeled, cut into slices

1

avocado

1

tbsp

pea protein powder

1

tbsp

lemon

1

tbsp

bee pollen

2

cups

unsweetened almond milk
Instructions
Add all the ingredients into the blender and process to obtain a creamy liquid.
Nutrition