Whether cooking sweet or savory delicacies, simple or complex curries or just garnishing your food, desiccated coconut is a widely used ingredient. 
If you're looking for a simple recipe to make desiccated coconut at home, this one is for you. Not only is it easy to make, it is also a cheaper and healthier alternative to the ready-made desiccated coconut you can find in stores.

For this no-fail recipe, you need fresh coconut nuts, a hammer, a grater, an oven, just over one hour of your time, and a little upper body strength. 
Once made, you can store it for a long time and use it at your convenience.
Pin
Different dehydrated forms of coconut meat
Depending on the levels of moisture/ fat retained in the end product, you can have different kinds of dried coconut. People often use these terms interchangeably, making it challenging to figure out the recipe.
Shredded coconut
Usually, shredded coconut has slightly longer strands of coconut, made using the larger side of the grater. When dried, it still retains moisture and has a softer texture. Its shelf life is shorter than that of the desiccated coconut.
Desiccated coconut
Desiccated coconut is a plain toasted version of the finely shredded coconut flesh. The desiccated coconut may have smaller or larger grated pieces depending on the preference. But it is dried thoroughly to get the desired texture and longevity. 
Coconut flour
Coconut flour is a highly processed coconut flesh meat sans fat content. Hence, avoid using it as a substitute for any dishes that call for shredded/ desiccated coconut.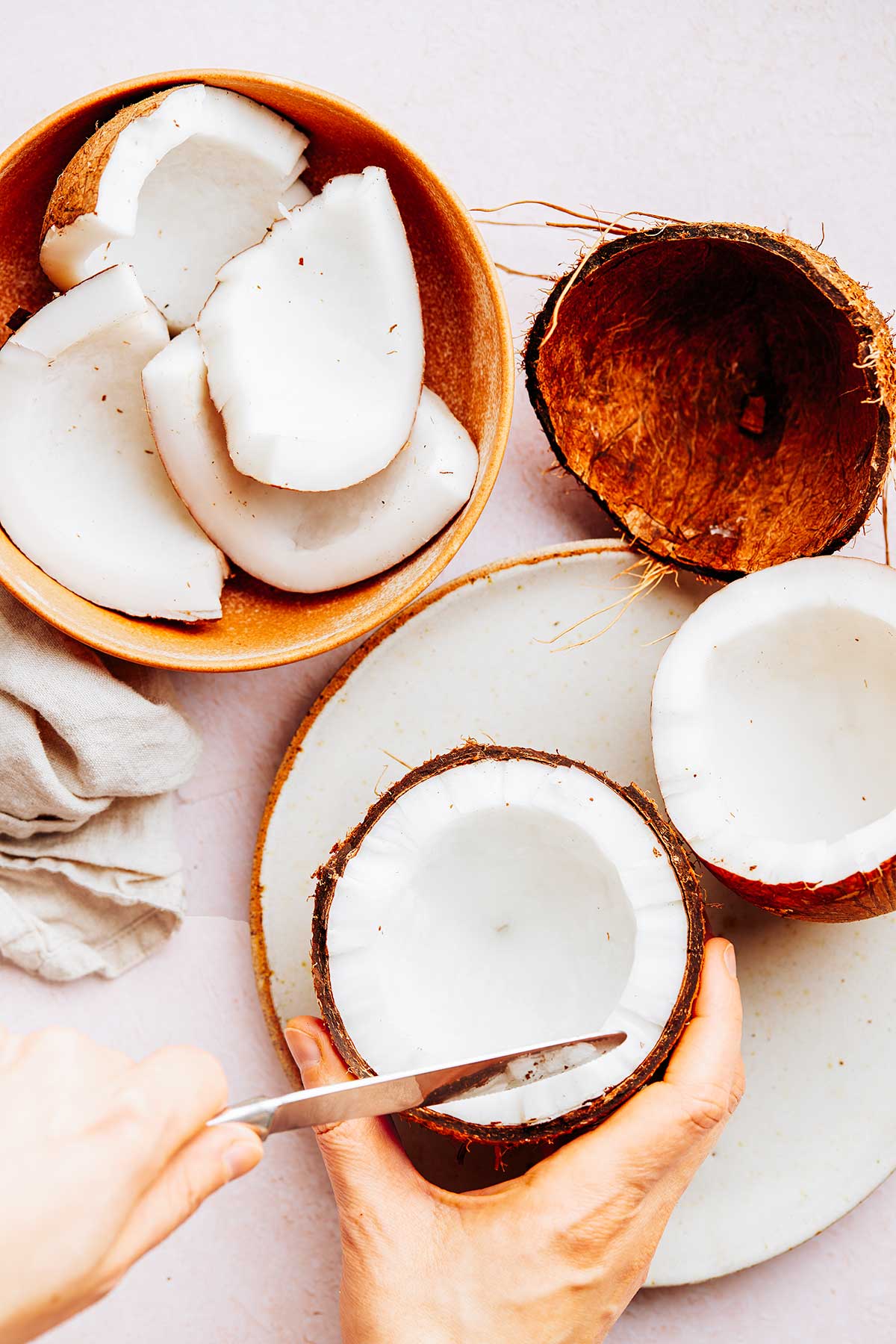 Pin
Three ways to separate coconut meat from the shell
Using a knife/ spoon
Separating coconut flesh from the shell can be tricky. Use a dinner knife or a spoon to remove the meat gently. Find the gaps to stick the edge in to get out the heart. Be careful while handling the knife. If mishandled, you can seriously hurt yourself.
Use the freezer method
Put the coconut nuts into the freezer overnight before cracking them open. The next day, use the hammer to open it. The frozen flesh will come right off the shell.
Use the oven method
Once you have the two coconut halves, put them into an oven for 15 minutes at 80ºC/175ºF. The coconut flesh will separate from the shell easily. 
Pin
Three ways to dry the grated coconut flesh
Use a pan
Put the grated coconut meat into a thick-bottom wide pan. Place it on the stove on low heat. Keep stirring as the water evaporates, transforming the creamy coconut into a brittle texture. Do not leave the coconut unattended.
Use a dehydrator
If you have a dehydrator, dry your shredded coconut using it. Set the temperature at 40ºC/105ºF and dry till you get crumbly coconut. It takes a slightly longer time, but the results are consistent. Also, there is no risk of burning/browning.
Use an oven
Check out the recipe details below for dehydrating the grated coconut flesh using the oven. 
Pin
Recipe tips

Use only mature coconuts
Use only mature brown coconuts for this recipe. Do not use the young, green, tender coconuts. Their flesh is too soft to make desiccated coconut from it.
Don't let your coconut burn
Use the recommended oven setting to dry your grated coconut. Even if the drying takes a long time, keep the temperature the same. Just extend the duration.
Increasing the oven temperature may lead to the browning of the shredded coconut and could burn it too. Don't forget to toss the baking tray in between to ensure uniform drying.
Ensure that the coconut is dried properly
When drying the coconut in the oven, ensure you get rid of the moisture completely. If not dried properly, then the coconut will spoil faster. 
Don't forget to peel
You may choose to retain coconut skin for some recipes. But for this desiccated coconut recipe, do peel the skin off. This way, you will get the perfect white desiccated coconut. 
Different ways to use desiccated coconut
Use it as a substitute for fresh coconut
Finding fresh coconut in all parts of the World is impossible. Hence, make the desiccated coconut whenever available and use it as a substitute for the fresh one. Although it won't replicate fresh coconut's exact taste, you can still use it.
Make healthy coconut-dry fruit balls
Pulse dried figs, palm dates, cashews, almonds, and desiccated coconut in a food processor together. Once the mixture starts coming together, roll it into bite-size balls. They are excellent snacks. 
Use it as a garnish
You can use desiccated coconut to add texture to your dish. Add it to your breakfast bowls, smoothies, or sauteed veggies for a nutty coconut flavor. You can also use it to roll chocolates or cupcakes.
Pin
Recommended ways to store desiccated coconut
When dried correctly, you can store desiccated coconut in an air-tight container at room temperature for up to six months. 
You can also store the desiccated coconut in the refrigerator or freezer for longer. However, after thawing, it could be moist. 
I suggest storing it at room temperature.
FAQs
Is desiccated coconut keto diet friendly?
Yes, you can adapt desiccated coconut to almost any diet, including keto, vegan, gluten-free, low-carb, grain-free, and nut-free. It is a superb allergen-safe ingredient.
What is the best way to crack the coconut shell?
The hammer works best. Be careful with the hammer, and be mindful of where your hand is. 
You could also pierce one of the three eyes of the coconut shells using a screwdriver to drain the liquid inside. Then, you can put the coconut in a bag and take it outside to bang it against an edge- like a concrete step. There may be more sophisticated ways, but this simple hack works. 
What are the health benefits of desiccated coconut?
You can enjoy all the benefits of fresh coconut in its desiccated form. Coconut is rich in dietary fibers, selenium, manganese, and copper. Although it has no cholesterol, it has high saturated fats so it's best to avoid excess consumption.
Desiccated Coconut (Make Shredded Coconut at Home)
This is a fool-proof recipe for making desiccated coconut from fresh coconut flesh. Use it to add texture and nutty coconut flavor to your dishes.
Instructions
Preheat the oven to 140F/60C and line a large baking sheet with parchment paper.

To open the nuts, use a hammer and hit firmly along the middle of the nut, twisting it as you hit. Crack the nuts open over a large bowl or a sink, as some coconut water might gush out.

Use a spoon or a knife to remove some pieces of the coconut meat from the shell – once you remove a piece, the rest will come out easily.

Refrigerating the whole nuts overnight might ease the prying out of the coconut meat.

Use a vegetable peeler to remove the brown skin from the pulp, then rinse to remove any brown leftovers, pat dry, and transfer into a bowl.

According to your preferences, use the larger or smaller side of a grater to grate the coconut meat. Alternatively, you can chop the meat into small chunks, place it in a food processor, and pulse it until it reaches the desired size.

Place the coconut onto the baking sheet and arrange it in a single layer.

Bake for 30 minutes, toss and arrange back into a single layer, then bake for 10 to 30 more minutes until dried (the smaller grated coconut will dry easier than the larger one).

Remove from the oven and let cool completely.

Transfer into an airtight jar and keep at room temperature for up to six months.